Why is there a statue of a naked man near this vineyard?
This is no ordinary vineyard. The small vineyard at the historic Leonardslee Lakes & Gardens, in southern England, is one of the strangest I've come across.
In what way?
Let me count the ways. Near the top is an enclosure for a colony of wallabies.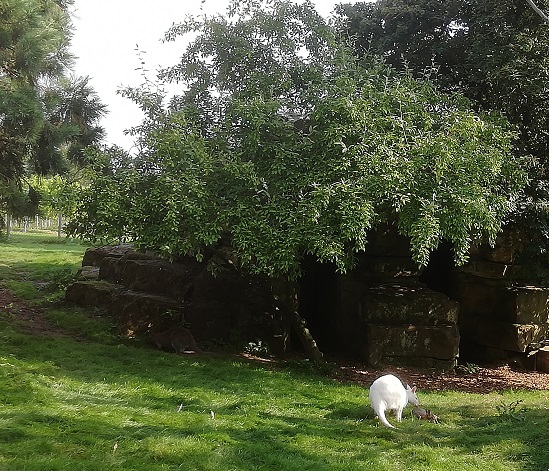 Wallabies? In England?
The gorgeous gardens were created in the late 1800s by Sir Edmund Loder, one of the great Victorian collectors of flora and fauna, and he thought the climate was similar to Tasmania, from where the wallabies originated. The wallabies, which roam the estate and help with mowing duties, are descendants of the original colony.
Okay, that's strange. What else?
South of the vineyard is a deer park.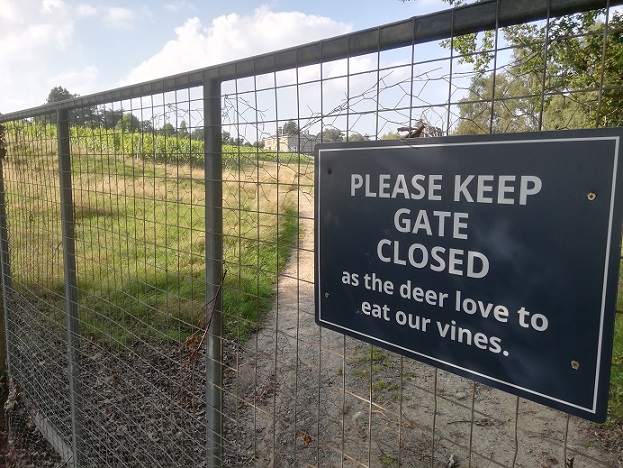 Oh deer.
Yes, there are more than 100 Sika and Fallow deer here.
I bet they love the grapes.
They do. But there are high fences to keep them out. They seem shy anyway. I went for a walk in the deer park and didn't see any.
What did you see?
More statues from South African artist Anton Smit. 
I also saw some of the lakes that inspired his new collection of sculptures. There are seven lakes on the estate – the gardens were dug out originally as 'hammer ponds' for smelting iron ore which produced cannonballs for Oliver Cromwell's armies. Smit loved the thought of this: "There is poetic synchronicity between the smelting of iron ore and the forging of massive sculptures and the creation of these beautiful gardens centuries ago," he says. "The intense heat, the roar and exhale of flames, the clamour of metal on metal; from this, great beauty is forged."
And I saw something I'd never seen before…
What?
A chef, clad in his whites, driving a golf buggy, collecting dandelion leaves.
Are you sure he wasn't a smartly dressed gardener out weeding?
The South African accent was the giveaway. He was definitely the estate's talented young chef, Jean Delport – only the second South African chef to win a Michelin star!
There must be a logical explanation for his preoccupation with weeds.
It's called foraging. It's a trendy way to get free stuff for the restaurant. It's great for the bottom line.
The estate's Michelin-starred Restaurant Interlude has built up a "seasonal, multi-course tasting menu with a hunter-gatherer theme of food that's foraged, cultivated or raised on the estate – or locally," according to Jean.
Such as?
Estate rabbit, winter purslane, hogweed cider and charcoal; fallow deer with local braai and sour raspberry.
Yum-yum. I bet the restaurant's beautiful.
It is. The mansion house (
below
) dates from 1855. But I think it's haunted.
How come?
The piano in the grand hallway was playing by itself.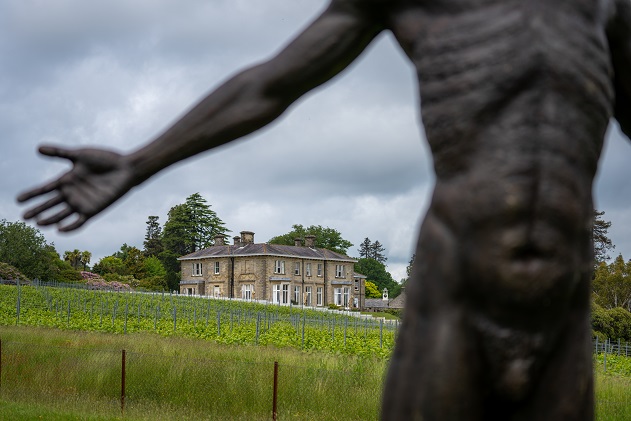 How very strange. And is there a good reason for the statue of the naked man?
The beautiful grounds around the vineyard are morphing into a sculpture park. This month it opens with a major exhibition of work by Smit.
Who is this artist? Is he famous?
He's known in South Africa for his large bronze sculptures. A collection of his work was exhibited during the inauguration of President Nelson Mandela at the Union Buildings in Pretoria in 1994. Nobel laureate Desmond Tutu and ex-minister Pik Botha have his sculptures in their collections.
Does he specialise in naked men?
No, there are more women in the exhibition at Leonardslee.
Busts?
Some are full-length. The exhibition, entitled The Walk of Life, comprises more than 80 figurative works, including Smit's signature colossal heads, female forms and warriors. The exhibition will run until 2024.
Here are a few of my favourites...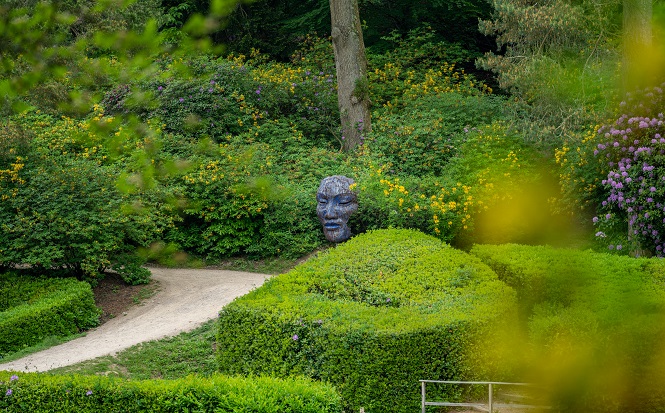 Agapé (
above
) and Ruth (
below
).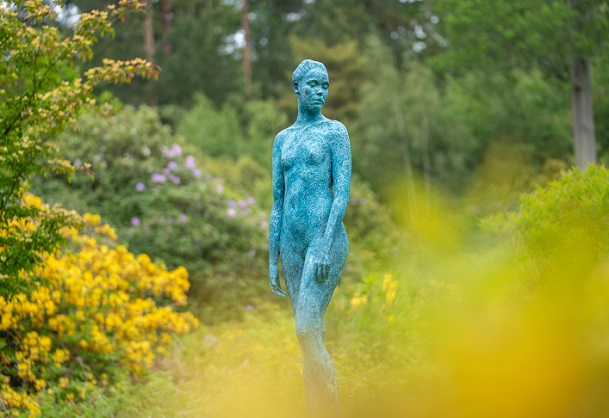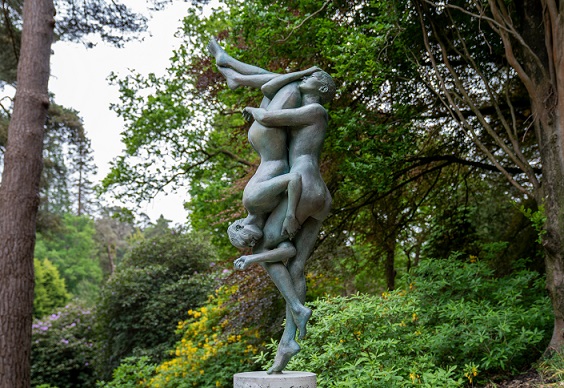 Entwined (
above
) and Ghemo Speed (
below
).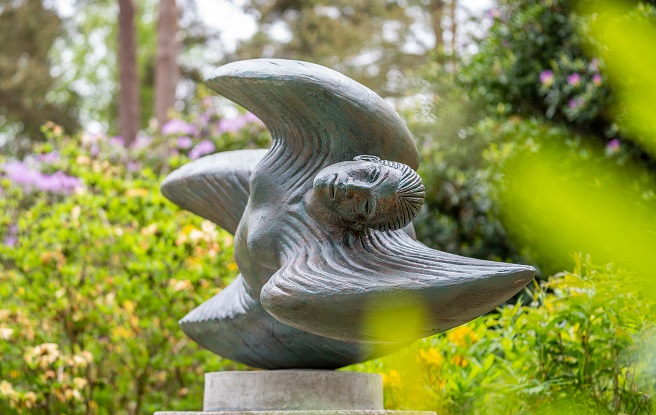 Are they the main works of art?
I think they may be dwarfed by 'Faith' (
below
). I think this was the piece still being erected when I visited. It's a monumental 7-metre sculpture sited between the vineyard and the Italianate mansion. Smit says: "It investigates the landscape of the soul, offering a fleeting glimpse of eternity. The dimness of our reflection in the mirror of the universe leaves us gasping for immortality as we sink into the abyss of the self."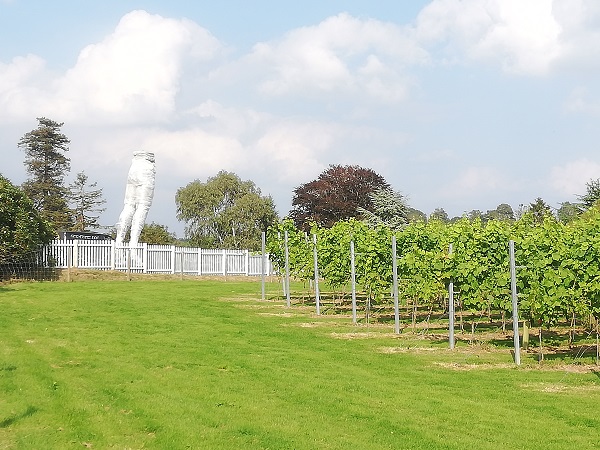 It's heavy stuff.
The sculptures were made from steel, clay, stone, cement and bronze at Smit's Cape Town and Gauteng studios.
That's not what I meant.
Oh. Smit's sculptures evoke themes of suffering, reconciliation, glory and sublimation, and are notable for their illusion of movement or gesture, according to the brochure.
How very poetic.
Funny you should say that. Smit is a poet as well as an artist. The statues are accompanied by verses of his own and others, adding further meaning to the works.
The plaque next to Faith reads:
"I lift my eyes to You,
To You whose throne is in heaven.
In complete submission to God."
The plaque next to Agapé quotes poet Zoe Howarth:
"They think they know me all so well,
But behind this mask I secretly dwell.
I hide my thought, my feelings too,
I hide so well from all of you."

Sorry to burst your bubble, but art and wine are a trendy pairing. Not so strange.
I know, lots of wineries and wine labels feature collaborations with artists. I visited another English vineyard, High Clandon (
a model boutique winery
) in the Surrey Hills. It runs an art and sculpture exhibition in the vineyard every year to raise funds for a local charity. The owners, Bruce and Sibylla Tindale, are also South African.
There seem to be a lot of namechecks for South Africa. Am I missing something?
Leonardslee Lakes & Gardens is part of the Benguela Cove group, which owns the Benguela Cove Lagoon Wine Estate at Hermanus in South Africa. Entrepreneur Penny Streeter OBE acquired this wine resort in 2013 and then bought a golf club in England in 2016 – ripping out nine of the 36 holes and planting 15ha of vines in their place. Mannings Heath Golf and Wine Estate is just three miles from the gardens.
Penny spotted the closed, neglected gardens and bought them in 2017, reopening them to the public after two years of intensive restoration work.
The gardens are managed by her son, Adam Streeter, while South African Barry Anderson runs Mannings Heath. And the winemaker, when the winery is built there, will be Benguela Cove's Johann Fourie.
I see.
Do you? The South African influence extends to some of the vines.
What do you mean?
The 0.5ha of vines at Leonardslee, planted in 2018, are Pinotage.
Pinotage? In England? You're kidding!
I said it was the strangest vineyard. They call it "the first commercial planting of Pinotage in the UK".
They expect there to be more?
The
first harvest
, last year, was a success. They made one barrel-load of wine, which has just completed MLF. "The plan is to bottle the wine under our Vinography range and we hope to release it mid-2022," Barry tells me.
How do the vines look to you?
Healthy. They are carrying a good crop. But they seem to have a long way to go before they fully ripen. It's been a very cool summer in the UK.
What have they got at Mannings Heath – Chenin Blanc?
No, it's more typical of other English vineyards: 60% Chardonnay, 30% Pinot Noir and 10% Pinot Meunier. They aim to produce 75,000 bottles of English sparkling wine annually, with the first release in 2023.
With a Cap Classique twist?
I'd be disappointed if there wasn't a South African influence.
Do they offer any wine tastings at Leonardslee?
Yes, of course, in Leonardslee House as part of the Ultimate Leonardslee Experience, and also in the Courtyard Café – which is destined to become 'a wine garden'. There's also a converted horsebox selling the wine by the glass near the vineyard.
You're right, it's very strange.
But it sort of all makes sense.
I suppose. Is that everything on the strangeness front?
There's a dolls' house museum in the greenhouse featuring an Edwardian estate and neighbouring villages at 1:12 scale.
I'm on my way…