Showing me his stockpile of bottles from France and corks from Portugal, winemaker Sam Lindo is ready for Brexit. Whenever that may be.
He also has 26kg of yeast in cool storage, ready for this year's tirage at Camel Valley, one of England's oldest and most successful wine estates.
'Preparing for Brexit has been a nice puzzle to solve' 
"We have got everything we need to bottle the 2018 vintage, disgorge what we need for sales for the next 12 months and all the labels for the next 12 months," Sam tells
Canopy
. "Preparing for Brexit has been a nice puzzle to solve with all the planning and forward thinking required. We have had to bring forward a lot of work so I think this summer will be very enjoyable, a bit like preparing to leave work to go on holiday so you don't have to worry about anything while you're away."
The year's supply of bottles – 210,000 – are stacked in the winery's recent extension, built so Camel Valley can age its sparkling wines on lees for longer.
Sam feels an average annual production of 140,000 bottles is the perfect level for the business, started by his parents, Bob and Annie Lindo, when they decided, in 1989, that the south-facing slopes of their 82-acre sheep farm could be suitable for vines. They planted 8,000 to get them started and now have 30,000 – providing about a third of the grapes they need. The rest comes from vineyards across the south of England from growers on long-term contracts.
"We're not trying to get any bigger anymore," Sam explains. "We feel this is a good size to be. Sales aren't a challenge currently; the bigger you are, the more effort you have to put into sales.
"When we were half this size we'd have the problem that we would run out a lot, but at this size it's a lot easier to manage stock levels. We don't run out but we don't have lots of stock left either."
As our tour of the solar-powered winery continues, I see many stainless steel tanks but no barrels. "With barrels you need experience," Sam says. He grew up helping his father make wine but has no formal training, apart from a year spent at Kim Crawford's winery in New Zealand.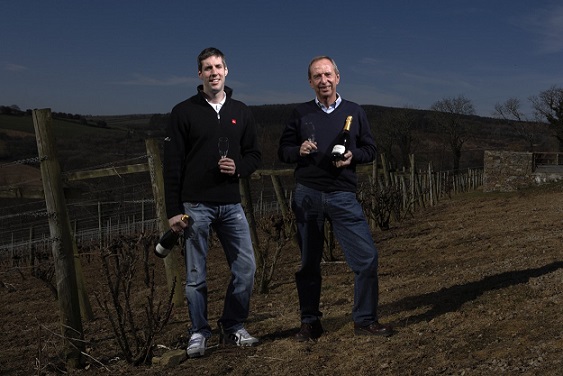 Sam, who studied mathematics at Bath University, was destined for a career in finance, until he opted for rural life and the challenge of building up his parent's business. He returned to the family farm in 2002 and took over winemaking duties from his father in 2005.
He soon tasted success. At the International Wine Challenge (IWC) in 2005, the Camel Valley 'Cornwall' sparkling wine received the only gold medal awarded to a non-Champenoise wine. Since then, Camel Valley has scooped six gold medals and five trophies, and Sam has been named 'UK Winemaker of the Year' on three occasions.
One of his star performers is a sparkling rosé brut made from Pinot Noir grapes. This wine won gold medals for the 2008, 2009, 2012, 2013, 2014, and 2015 vintages, and a silver for the 2016. The 2012 vintage also won the international sparkling rosé trophy and English sparkling wine trophy.
The secret?
"We crush the grapes so we get more fruit from them; the by-product is the pink colour. We're not trying to make a sparkling rosé," Sam replies.
'We don't try and add complexity to the wine'
By now, we're standing in front of one of Camel Valley's two presses. It's 14 years old and comes from Italy. Most of the other wine producers I've visited in England have Coquard presses and use similar techniques to Champagne houses.
Nearby is the disgorging line. Sam points out the lack of a neck freezer.
"We are not trying to copy Champagne," he confirms. "We don't whole-bunch press; we don't do extended lees ageing; we don't neck freeze; we don't do barrels; we don't do malolactic fermentation; we don't try and add complexity to the wine."
Is this the philosophy or are there practical reasons for this approach?
"It's a lot easier if you don't have to do that. We can crush and press ten tonnes of grapes and tidy up in three hours whereas the traditional Champagne presses take six hours and there's a lot more oxidation. So that's partly what drives it but we are in a cooler climate so we don't get as much colour from crushing and we don't get very much flavour either because we are already starting with a very light flavour. You couldn't do it this way in Champagne."
What impact does not doing all these things have on the quality?
"Knowing other people in England who do all of those things and comparing those wines with ours, essentially all the wines are very similar – you can tell the grapes are grown in England and it is the grapes that make the wine.
"You can do lots of things and they can maybe add certain things that ring people's bells when they taste the wine, but really it's as nice as it's going to be whatever you do. I don't think these extra things have a great deal of effect on the final quality of the wine."
Sam's still and sparkling wines go through a very similar process at the beginning, with the free run, different pressings and different blocks kept separately. "That gives us a lot more options" and minimises oxidation.
2018 was a record year for Camel Valley – and the rest of the UK wine industry – in terms of quantity. Camel Valley pressed more than 300 tonnes of grapes.
Although it was one of the warmest summers on record, the high yields helped to maintain high acidity levels. This is what gives English and Welsh wines their character.
"If you get grapes in England, they're going to make nice wine. You may or may not always get grapes but, when you do, the quality is always there," Sam states as we continue the tour into the wine shop and tasting room (
below
).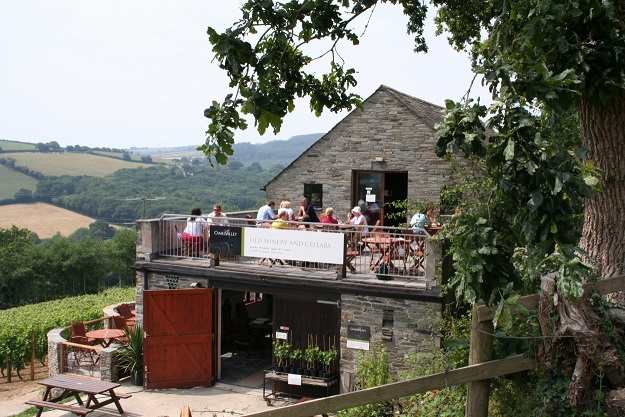 It's too cold to sit on the lovely terrace overlooking the original vineyard, now called Annie's vineyard as his mother is the only person who has ever
pruned it
.
On the shelves inside the shop, there's a wide range of vintage fizzes – from blanc de blanc to blanc de noir, rosés and the single-vineyard Annie's Anniversary Brut, made from Seyval Blanc.
"We feel you couldn't make any of these wines anywhere else in the world," Sam says proudly.
"Making wine in the UK is just like cooking fish – you've just got to cook the fish at the right temperature; the fancy sauces don't fundamentally change what you're having. The wines all have a delicate character – the least you do, the more you retain that character."
Camel Valley's main grape for still wines is Bacchus. "Bacchus is really nice when it's got good acidity and it's a slender wine," Sam emphasises. "When it's a low-acid, flabby wine, it doesn't work."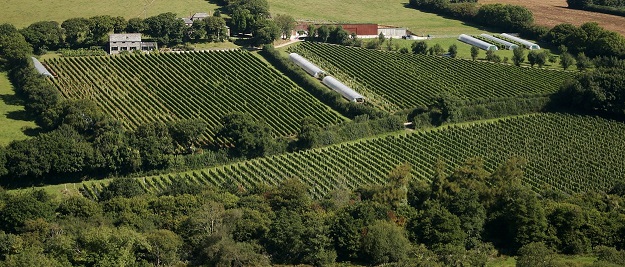 Camel Valley offers a special version from its PDO-status Darnibole vineyard, currently the only UK single vineyard to be awarded this accolade. To maintain the quality of the fruit, Sam crushes and presses the grapes within two hours of handpicking, cools the juice to 4°C for settling before fermenting in stainless steel tanks at 13°C.
There are no red wines on the shelves. They previously used the hybrid grapes Rondo and Dornfelder for a red, but it was never up to the high quality of their other wines.
The shop and tasting room has become a tourist attraction in Cornwall, helping to attract nearly 30,000 visitors a year.
"It's the biggest part of our sales and about 40% of the rest is because people have been here already," Sam says.
"Everything that's here is from selling the wine that we've made. We haven't borrowed and we haven't taken on any investors."
'If you have success, the Wine Challenge will market your wines better than any other competition'
A cabinet in the shop is dedicated to Camel Valley's awards. As I look at the IWC trophies and medals, Sam reveals it's their main marketing tool. "Entering the Wine Challenge is our marketing spend. That's it, that's all we do.
"The number one reason we enter is, if you have success, the Wine Challenge will market your wines better than any other competition, that's for sure. We also use it to benchmark our wines to see where we are with the quality of the wine, especially with our sparkling wines.
"It's great to get that independent feedback, and it's a really cost-effective way of doing that. Also, if the wine is in shops, people pick up wines with medals on."
Sam adds: "When we won best rosé sparkling in the world in the 2012 Wine Challenge, people came from far and wide to find out what the best sparkling rosé in the world tasted like."
As he pours the wine, Sam reveals the dosage is "wine plus 10g of sugar".
I ask if he has any sparkling wines with zero dosage but he calls it "a trap". He continues: "The wines can taste really good – you can taste characters that you don't taste when you add dosage, but they're just not drinkable. It's like non-alcoholic beer – it tastes like beer but you can't drink more than one. So it tastes amazing with zero dosage but you don't really want to drink it. It's a strange thing."
He believes in balancing the higher acidity you get in England with sugar, but the result is "the wine becomes more moreish. The acidity will clear your palate for the sugar and the sugar will clear your palate for the acidity. Whereas with lower acidity and lower dosage you don't have that same refreshing quality."
For his still wines, he keeps some sterile-filtered grape juice in reserve and adds 2-4g/L to the wine "if we need to".
What about using malolactic conversion to reduce acidity?
"We tried it a couple of times, but it took too long and was too difficult to manage, so we don't bother with that."
You really do like an easy life.
"If something's easy to do, you do it. If something's difficult to do, you might not do it as well as it needs to be done. We do everything that we need to do to make good wine."
I reflect on this as I swirl the salmon-pink Pinot Noir Brut and sniff the lovely strawberry aromas. They certainly do make good wines here in the Camel Valley. And they do it their own way.