There's a 30-year-old vineyard in Cornwall, in the southwest of England, which has only ever been pruned by one person. What's more, the woman who cuts the 5,000 vines each winter – 100 per morning, on dry days – also helped to plant them.
Annie Lindo is retirement age but has no plans to quit cutting her vines. "I hope to carry on as long as I can – I think physical work helps keep me fit and active," she tells
Canopy
.
Annie has been single-handedly tending the vines on the south-facing slope in front of the wine shop and tasting room at Camel Valley since 1989. That's when she and husband Bob, an ex RAF pilot, decided to establish a vineyard at their 82-acre sheep farm.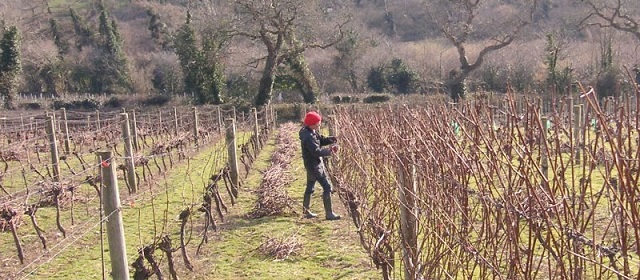 Over the subsequent 30 years, the wine estate has risen to become one of England's leading producers of still and sparkling wines, having scooped more than 400 awards, including six gold medals and five trophies in the International Wine Challenge over the last decade. Camel Valley is also the only English winery to hold a royal warrant for supplying the Royal family.
"Annie and I have been equal partners through all these years," stated Bob last year after picking up the IWC Lifetime Achievement Award. "In the beginning, we dug the holes, planted the vines and erected the trellis together and all by hand."
But it's Annie who's been looking after the original parcel. The estate now has 24,000 vines of its own and buys grapes from other parts of England – Devon, Sussex and Essex – to spread the risk and keep up with demand.
'I like the chance for quiet contemplation'
To commemorate Annie's 100,000th vine pruned and her 20th vintage (ten years ago), the winemaker – son Sam – created a special sparkling wine from the vineyard's Seyval Blanc grapes. Annie's Anniversary Brut has become Camel Valley's bestselling wine, and Annie has now pruned 150,000 vines.
"I do enjoy pruning," she tells
Canopy
. "It's a great opportunity to get outdoors, and I enjoy the peace of working on my own with just nature for company.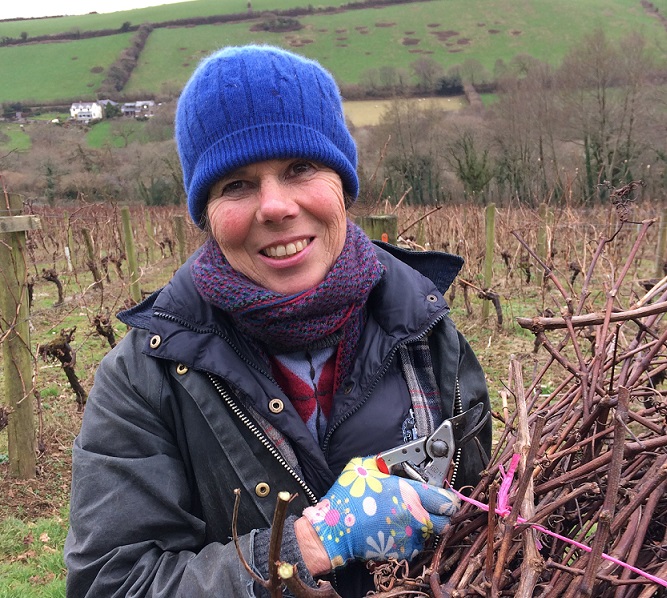 "I like the chance for quiet contemplation, and I don't listen to music or anything using earphones as I think it would distract from the natural rhythm of my pruning. I am currently learning Portuguese and often use the time to practise grammar by constructing sentences and phrases in my head."
Much of the trellis system is original but each year a few of the wooden end posts need replacing. Although many of the other parcels at Cornwall's largest vineyard have metal posts, there are no plans to move away from wood in Annie's vineyard. "Never," confirms Bob. "Annie is a Luddite in the nicest possible way and everything in her vineyard remains unchanged. Her vineyard remains a benchmark for the other vineyards to measure against. It's our little piece of history for Annie to keep it the same."
Typically, winter pruning starts in November. Annie explains: "I usually start pruning around my birthday, which is the 14th of November. It's probably a little early, but when you have a lot of vines to prune you can't do them all at the perfect time."
Annie's technique is to start by laying a long piece of string on the ground. "She lays each cutting or cane at right angles on top. Annie then ties the bundle with a knot for collection," explains Bob.
The whole team helps Annie to take the cuttings to a bonfire.
"The earliest I have finished is 30th of January, in 2008," says Annie. "In my mind I had to get it done before we went on a round-the-world holiday, but I was lucky that year as it was quite a dry winter with lots of sunny days."
This year, she finished on February 13.
Here Sam Lindo, three times 'UK Winemaker of the Year', talks about Camel Valley's award-winning sparkling wines:
"We don't try and copy Champagne, we don't whole-bunch press, we don't see extended lees ageing, we don't neck freeze, we don't do barrels, and we don't do malolactic fermentation…"