There are several reasons for the emergence of England as an exciting region for producing high-quality wines. A cool climate now perfectly suited to growing the traditional Champagne varieties of Pinot Noir, Chardonnay and Pinot Meunier is one of them. Wealthy landowners who love wine and are willing to invest in the most suitable sites, clones, equipment and talent is another.
Here, we look at the influence of five foreign winemakers who are developing the true potential of English wine.
All about the base
Exton Park's wine director, Corinne Seely, has developed an unusual blending method
since taking up residence in the rolling chalk hills of Hampshire, in southern England. Whereas most producers of sparkling wines use a large percentage of the most recent harvest for their base wines and top them up with reserve wines, this French winemaker uses mostly reserve wines and tops them up with only about 20% of fresh wines.
To show the effectiveness of this strategy, Exton Park this week launches its Reserve Blend range – a trio of classic-method sparkling wines that draw on the extensive library of reserve wines Corinne has built up since 2011. This method, she believes, is the only way to guarantee consistency of taste in a country where the weather "can be quite changeable and unpredictable".
A bit of an understatement, that.
She continued: "We can actually have four seasons in one day! I don't believe in making vintages every year. For me, it's important to create a style that's consistent, regardless of weather conditions.
"With a lot of patience, we have been building a library of reserve wines for the past decade. Only a small percentage of the last harvest goes into the blends. This is quite unique and enables me to maintain a consistent style and quality in every bottle of Exton Park wine."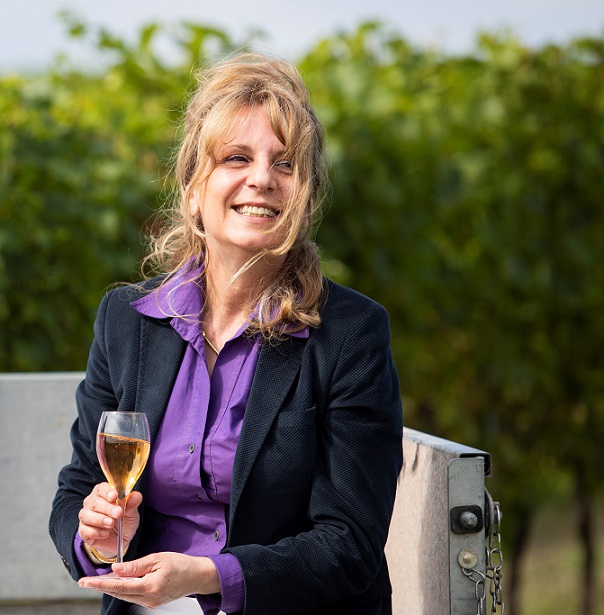 She explained her thinking to me a few years ago on a visit to the 24ha single vineyard near Winchester. As she showed me around the winery, built in the farm's former tractor shed, she pointed to the new custom-made, small-batch tanks and said: "I told Malcolm (owner Malcolm Isaac) I couldn't make good wine in England every year, so I persuaded him to buy extra storage tanks to build a library of wines."
'As a French winemaker I find English terroir fascinating to express'
Her goal then and now is for Exton Park "to be the ambassador of English sparkling wines around the world". During the tour, her passion for the site's chalky soil was obvious.
She told me: "As a winemaker, I appreciate the importance of terroir, and as a French winemaker I find English terroir fascinating to express. Some people think that it is strange that a French winemaker is working at an English estate, but I want to express the terroir of this estate and help English wines find their own expression and identity."
First planted in 2003, Exton Park's vineyard in the South Downs National Park comprises 40% Chardonnay, 40% Pinot Noir and 20% Pinot Meunier. Within this are nine individual plots, creating a patchwork of vines planted on different chalky soils with different altitudes and aspects.
Each plot is hand-harvested, and vinified and stored separately. Over the last decade this has built into an extensive archive of different flavour profiles for her to play with, and the new range has been named Reserve Blend (RB) in its honour.
Managing director Kit Ellen explained the use of this term: "Our Reserve Blend wines are a step away from the traditional terms of vintage and non-vintage, in a concerted effort to capture the nuances of our different approach to curating and blending our wines."
'Our library of reserve wines is what makes Exton Park so special'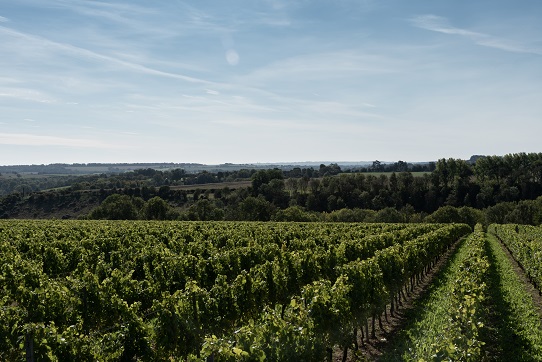 Corinne added: "Our library of reserve wines is what makes Exton Park (
above
) so special. When it comes to blending, it's like a puzzle in my mind and the reserves are my puzzle pieces. I feel privileged to be able to make such a diverse mix of wines from the same vines by blending the reserves in different ways."
The names of the three new wines give an indication of the average number of individual reserve wines that have gone into the blend:
Exton Park RB32 Brut (60% Pinot Noir, 40% Chardonnay)
Exton Park RB23 Rosé (70% Pinot Noir, 30% Pinot Meunier)
Exton Park RB28 Blanc de Noirs (100% Pinot Noir)
Corinne told
Canopy
: "We use the traditional method which I believe is the best way to make high-quality sparkling wine. However, I like to think that we have given it a new twist to suit the climate and terroir. I've always been passionate about creating a new style and identity for English sparkling wine and I think our Reserve Blends are a great example of this."
Corinne explained the difficulties behind this approach: "The main challenge is that there are many variables that need to be carefully balanced to achieve the level of quality that I am happy with. For example, my philosophy is based on a low-intervention approach which has to be balanced with preserving the freshness of the wine. This is the true art of winemaking."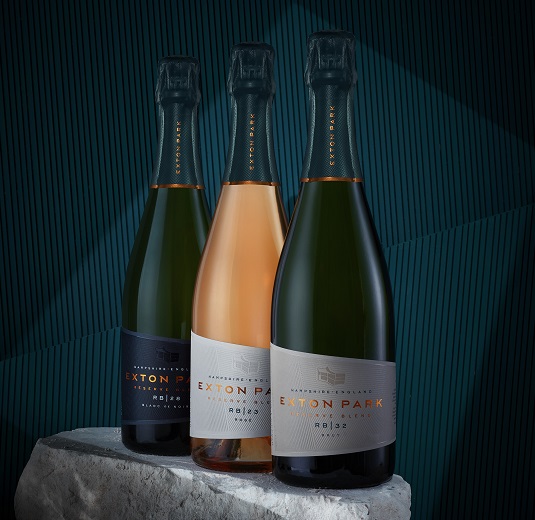 The new wines also show Exton Park's new brand identity with redesigned bottle labels and packaging and a new website. The new labels have a 'peel and reveal' neck foil unveiling one of four landscape photographs of the vineyard in the Meon Valley, a UK first. The rosé bottle labels use a debossed watermark paper with a pattern replicating the vineyard rows and plots, allowing the signature pale, blush pink of the wine to shine through.
Years of devoted cellar ageing
'I'm not making little delicate things'
German winemaker Ulrich Hoffmann
– who runs Hoffmann & Rathbone with wife Birgit Rathbone – specialises in small-batch, traditional-method,
vintage sparkling wines
, and a few unusual still wines. His USP is long ageing on lees. He says it's the key to managing England's mouth-puckering acidity because time on lees softens and tweaks the character of the acidity.
He told me: "I have always been a strong believer that the key to English sparkling winemaking is the long lees ageing. Long lees ageing gives the wine an extra dimension but foremost cuts down the acidity to mouthwatering strips of freshness that just need to get a touch of dosage for balance."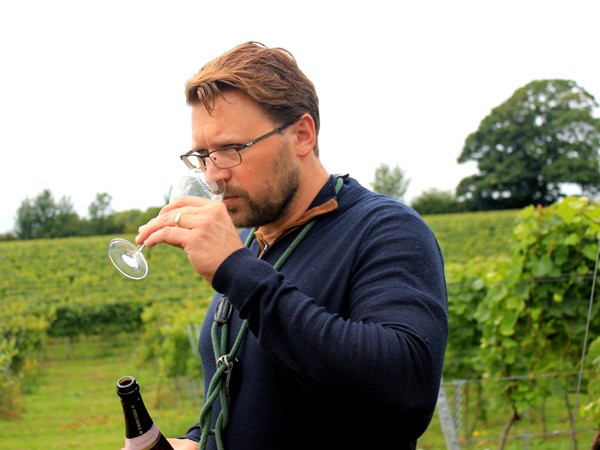 This spring's releases are a Blanc de Blancs and Rosé Réserve from 2012 and the Classic Cuvée 2014. Later this year, the East Sussex wine brand will release the 2010 magnum versions of all three wines.
It's surprising to see wines from 2012 being released, let alone released this late.
"I am very proud of the 2012 vintage, as it was declared one of the most disastrous years for the wrong reasons by most estates in the country," Ulrich said.
Being German, Ulrich is one of the few sparkling winemakers in the UK who didn't study either at the main UK oenology and viticulture college, Plumpton, or in Champagne.
"I trained in Germany at a wine estate where a seven-year lees-aged Riesling Sekt was the norm and worked all over the world, including at neck-breaking reds producers. All of this gave me a wider horizon to think out of the box and adapt to the everchanging climate in England."
His winemaking technique – picked up from stints in Germany, Bordeaux, Navarra, Napa and England – involves hand-harvested, handcrafted, hand-labelled wines. "Everything is done by hand," he declared.
Ripe grapes are picked into small crates and whole-bunch pressed to gently separate the juice from the skins. "We keep three press fractions – first, second, third – but rather than being dictated by volume per fraction, we go by taste and blend for fermentation accordingly. We happily use harder pressings fermented in oak to create wines with vinous intensity rather than little delicate things."
As far as yeasts go, he uses one non-Champagne strain "that supports our winemaking across the varietals and styles".
Looking around the New House Winery on the Mountfield Estate, it shows Ulrich's approach to winemaking: modern but minimalistic.
It has capacity for about 40,000L but he averages 10,000-12,000L annually because he only sources top-quality grapes from his own leased vineyard and others.
There's a variety of vessels for ageing in the winery: the French oak used for his sparkling wines and the German oak barrels of 500-600L capacity, Spanish chestnut barrels, terracotta eggs and acacia wood used for the small percentage of Bacchus and Pinot Noir still wines.
"Oak gives sweetness, chestnut gives maturity without oak flavours and aromas, acacia keeps it fresh and fruity and the egg shape keeps the vortex going to get the most out of a never-settling yeast. All in combination, with eight months of bâtonnage in all vessels," he said.
These are richer and more opulent than most English sparkling wines.
"My aim was always to make one of the best wines in the UK but bring in my own style," the IWC panel chair explained. "My wines are more luscious, vinous, they are richer; the rosé is more colourful. I think I will always find my own wine in a blind tasting; it is always a little bit different."
Wine tourism with a carnival atmosphere
Some of the wines at new winery Oastbrook, also in East Sussex, are made by Irishman Dermot Sugrue, one of the leading lights in the English wine industry, but I'm visiting the former Guinness farm and oast houses to meet America Brewer.
The Brazilian is one of English wines' most energetic characters.
Once met, never forgotten. She is adding South American flair to the wine tourism scene here.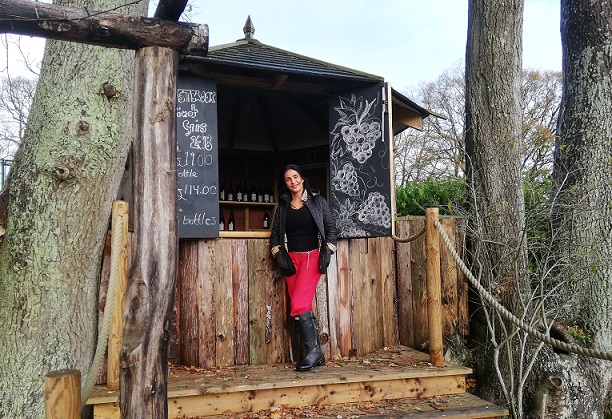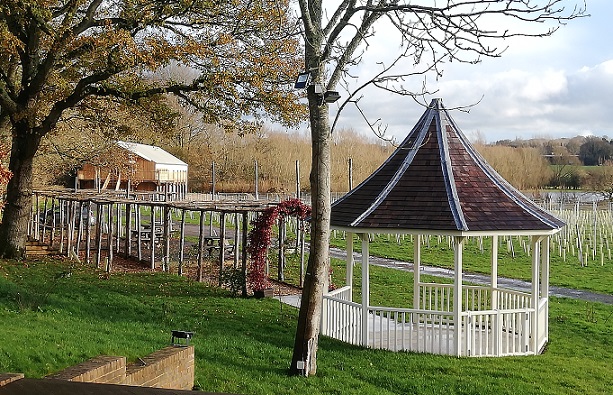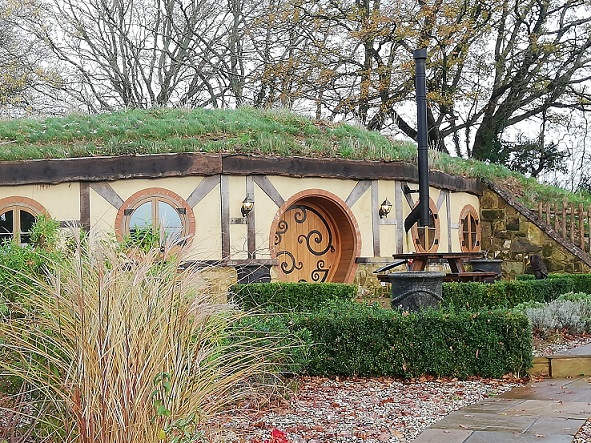 As well as a beach bar (
top
), carnival parties, a winery with a party room and a gazebo for events (
middle
), America has installed a luxury hobbit house (
above
) which sleeps four. It's a destination in itself – bringing a wider range of people to the vineyard. But people on vineyard tours also fall in love with what has been called England's 'quirkiest place to stay'.
Built into a grassy bank near the vines by local craftsmen using local materials, the house offers two double bedrooms (each with a king-size bed and ensuite bathroom), a living room with a spectacular vaulted and beamed ceiling, a woodburner, a kitchen, and a garden with a hot tub – a lovely place to enjoy Oastbrook's wines.
Prices this year are £1,250-£2,229 per week, with three-night breaks from £948.
There is also a Rivendell-inspired tasting room.
America, who hails from the Bahia region of Brazil, and English husband Nick planted the 20,000 vines in 2018 while America was studying wine production at Plumpton College. The estate focuses on still wines but also offers English sparkling wines. Grape varieties include Chardonnay, Pinot Noir, Pinot Blanc, Pinot Gris, and Pinot Meunier.
Oastbrook will unveil four still white varietals, the first made from its own fruit, this year: an oak-aged Chardonnay, a Pinot Blanc, a Pinot Gris and a Pinot Meunier. Yes, a white Pinot Meunier!
Touring the vineyard, which is surrounded by 250 red rose bushes, with America and her trusty dog, Lora (
below
), I comment that she seems very at home here. "After travelling the world in search of my diverse roots I found out I am in fact a little bit English by descent. I therefore feel very settled where I am now, in the heart of the English countryside."
It may explain why BBC Radio 4 is playing in the vineyard – to deter deers. How very English!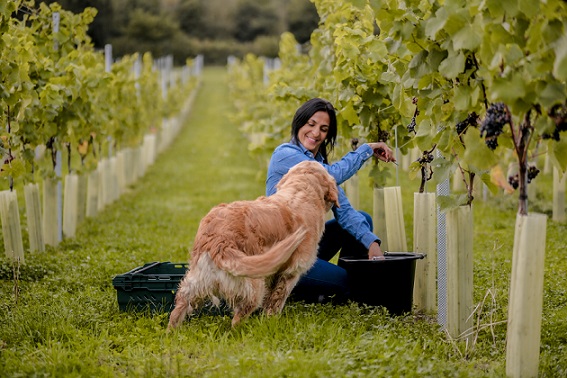 Keep things simple and focus on the details
Canadian winemaker Cherie Spriggs
is the first non-Champenois, and the first woman, to be crowned IWC Sparkling Winemaker of the Year.
Cherie and husband Brad Greatrix have been making English sparkling wine at Nyetimber, an historic estate owned by Dutchman Eric Heerema, since 2007. It's a very international set-up, but the sparkling wines from Nyetimber, the first estate in the UK to grow Pinot Noir, Pinot Meunier and Chardonnay for the sole purpose of making traditional-method sparkling wines, showcase the high quality potential of English fruit and English wines.
As for the winemaking, Cherie told
Canopy
: "There are no tricks here. We are very fortunate to be a company that only uses grapes from vineyards that we own, so that gives us the ability to really know our vineyards on a very intimate level. There are no conflicts of interest either, so we can do exactly what we need for those vineyards to get the best out of them. It's a very special situation."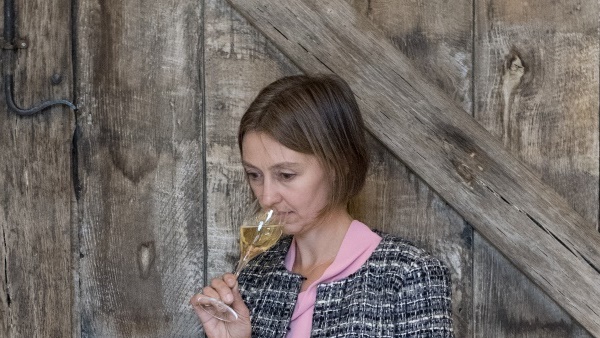 Asked about her winemaking philosophy, she replied: "We keep things pretty simple. We don't use strong techniques. Not because these techniques are bad, but we feel – because we have these amazing vineyards that we get know – a big part of our style can be to 'get out of the way'.
"So our philosophy is 'keep it really simple, fairly neutral' and then these beautiful flavours that we are so blessed with can just naturally come through."
However, she reveals that keeping things simple is hard work.
"Keeping things simple doesn't mean that it's the easy choice," she added. "In fact, I would argue almost the opposite. The only way that you can achieve greatness through taking the simple choice is by digging into all the tiny details.
"It is looking at everything we do, asking why are we doing that, is that the best way and is there anything else that we should consider? It's taking the time to look at every single detail. To give you one small example, many people ask why we have so many tanks in our winery when we only grow three varieties of grape. But, actually, over all of our vineyards I'm working with 90 different sub-blocks and we need at least that many tanks to allow us to keep all those little sub-parcels separate and to get the best out of every single sub-parcel that we've got. Why does that matter? The best analogy I can make is that it's a little bit like a painter who has a palette of colours. If you have three colours you can possibly make a great painting but if you have 90 colours to play with you've got more ability to push and pull, to refine and get the intricacies and details exactly the way you want them."
For the full interview, click here.
Serving clients
'It's probably the most exciting new country for sparkling wine at the moment'
New Zealander Nick Lane is the newcomer in the pack of expat winemakers. He arrived from France in November 2020 and, when I spoke to him, was yet to visit an English pub or check out the wine list at a UK restaurant. England has been in lockdown for most of the time since he arrived from Champagne to take up the job of head winemaker at the UK's first contract-only winery, Defined Wine, in Kent.
Instead, he's kept himself busy making 62 wines from the 2020 vintage. There are 45 still wines, 16 sparklings, and a base wine for a vermouth in the tanks of this new business, which CEO Henry Sugden started in 2018.
Grape varieties being processed in their 101 tanks (which range in capacity from 400-20,000L) include Chardonnay, Dornfelder, Pinot Noir, Rondo, Bacchus, Muskaris, Phoenix, Pinot Meunier, Schonburger, Pinot Gris, Seyval Blanc, Reichensteiner, Kerner and Regent.
Styles include traditional-method sparkling, pét-nats, red, white, rosé and orange wines. The 400-ton total of grapes processed in 2020 is split 81% sparkling and 19% still.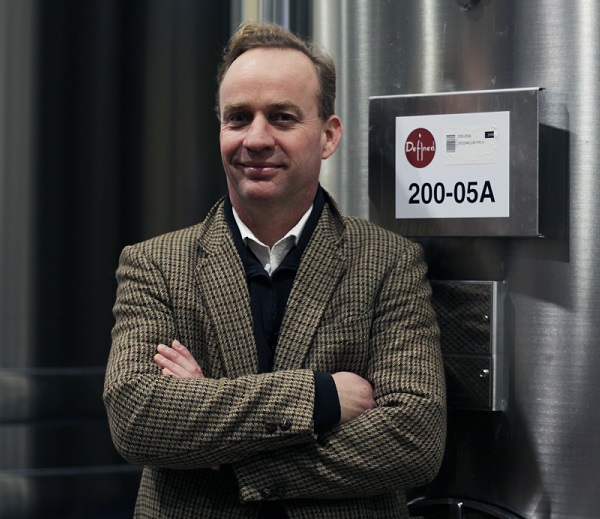 Born in Geneva to New Zealand parents, Nick (
above
) admits that his passion for the terroirs of France dates back to 1997, when he first came to France as a 17 year old. After studying science at the University of Auckland, he continued his studies in Toulouse and gained valuable harvest experience in the Dordogne, Burgundy and Languedoc. He then explored the vineyards of the New World, with stops in Hawke's Bay, California and Victoria.
Nick returned to New Zealand in 2003 and spent 13 years at Cloudy Bay Vineyards before returning to France and picking up more hands-on experience at Champagne houses Dom Pérignon, Veuve Clicquot and Moët et Chandon.
"But what brought me here was it's great being part of globally established brands that run very smoothly and are very successful but after many years I wasn't necessarily getting the personal satisfaction that I wanted. I really wanted to be part of something new," he said.
"At the moment, wine in this part of the world is very dynamic. It's probably the most exciting new country for sparkling wine at the moment, so I really wanted to be part of that."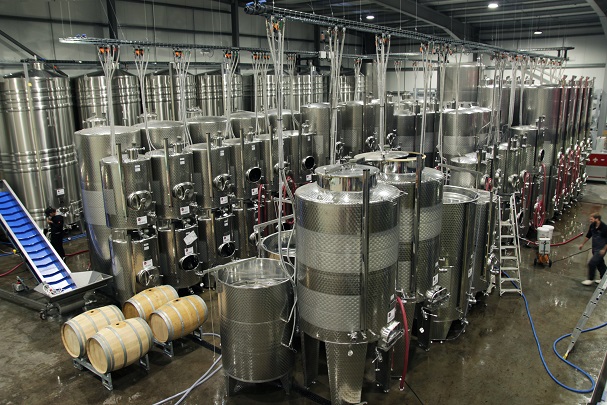 Defined Wine offers 'crate to case' full winemaking services, bottling, labelling, laboratory services, temperature-controlled storage, and riddling and disgorging.
Henry has invested more than £1.5m in the business, which has three presses (1T, 3T and 8T), 101 stainless-steel tanks and a dissolved oxygen meter (something of a rarity here), with everything tracked using Vintrace software.
Defined Wine focuses on producing wines for clients who define what they want. Once Nick has explained to customers why they can't have a Provence-style rosé, a blockbuster red from Rondo grapes or five different wines from an acre plot, they get down to the business of producing the best wines they can from the grape material that comes through their factory doors.
Henry said: "We don't want to have a house style. We want people to say what they want, we want to see how the grapes work out and go from there."
Nick knows this means he will have to put his own winemaking style, heavily influenced by his time in Champagne, on a backburner. "There's no shame in saying those wines, those styles, can be used as an inspiration for respective grapes and wine styles. But ultimately it comes down to what the customer wants. If our clients want just an absolute Champagne-style sparkling wine then we will do that for them. If they want something totally different, then we will do that. My personal style is secondary to what the client is looking for."