Precision viticulture has taken on a new expression at High Clandon, a model boutique winery in England's Surrey Hills.
South African owners Bruce and Sibylla Tindale even go as far as hand-manicuring the bunches of Pinot Meunier to make them less prone to rot.
In July, when the grapes are about pea-size, Sibylla trims the bunches to make them round, or as she puts it: "If the bunch is shaped like Africa, I nip off South Africa, Mozambique and Angola.
"The rest of the stem then grows and pulls the berries apart, so more wind goes through them."
Sibylla has been "nipping and snipping" for five years and says it "significantly" reduces bunch rot.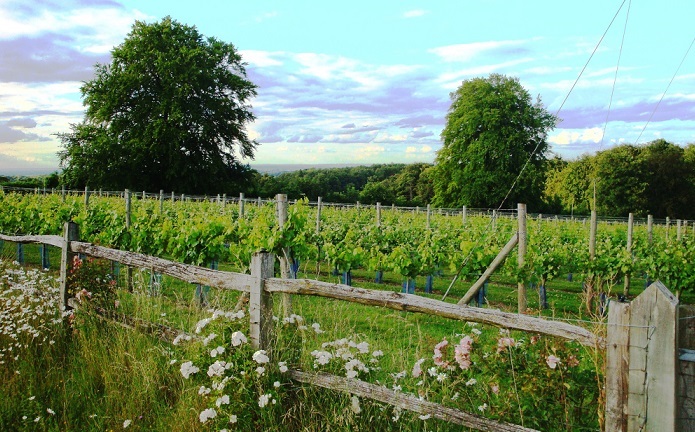 In late August or early September, the husband and wife team also "cull" a third of the grapes. Sibylla believes it's a more accurate term than 'green harvesting' as they drop every third bunch on the ground, ensuring "all the energy goes into two bunches. That's why we get some unbelievable flavours in our wines".
Their third important summertime intervention involves removing all the leaves from the fruiting zone, so "the sun rises and kisses one cheek and, when setting, kisses the other cheek but also can shine through and kiss the backsides of other bunches. We only do leaf removal in the fruiting zone and keep the rest of the canopy."
This helps to give them the healthiest and ripest grapes possible to send to their women winemakers – Sam Linter at Bolney Wine Estate until 2014 and Emma Rice at Hattingley Valley since then. The Tindale's philosophy, learned from their debut harvest in 2007, is that if you can't put the grapes on a cheeseboard, you shouldn't put them on the sorting table.
'When it comes to pruning, he's not allowed to touch my vines and I don't touch his'
Another difference at High Clandon is how the owners split their workload in the vineyard. "I'm the Pinot queen and he's the Chardonnay king," Sibylla reveals. "When it comes to pruning, he's not allowed to touch my vines and I don't touch his. But he's allowed to do the other bits of viticulture, like weeding and spraying."
It's a system that has paid off for High Clandon since viticulture students planted the 1,300 vines in a day in 2005 (50% Chardonnay, 30% Pinot Noir, 20% Pinot Meunier).
High Clandon is probably the most gold-awarded vineyard in England… per hectare, according to a recent article by Sixatmospheres. The one-acre vineyard produces one vintage sparkling wine a year and each has won at least one gold medal in different competitions, making their tally since 2008 seven gold medals and two silvers.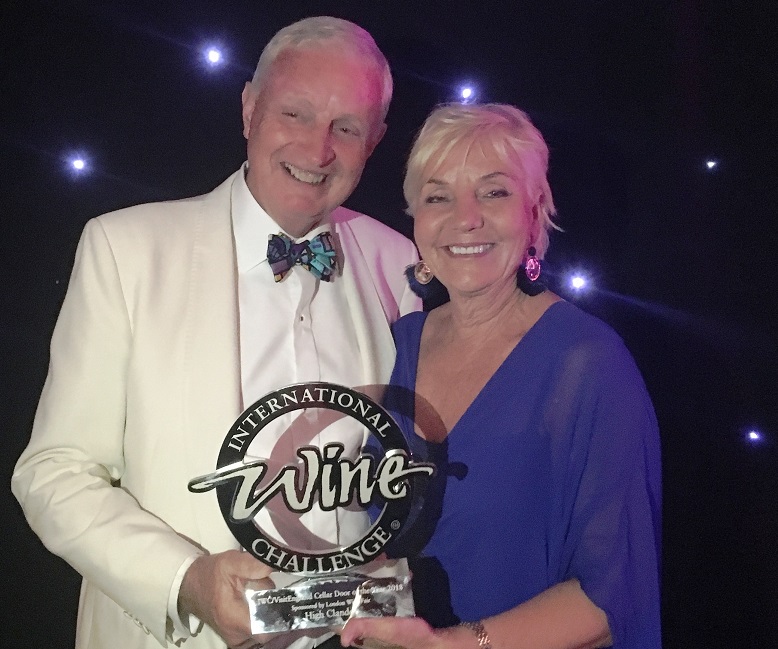 The estate has also won the IWC Cellar Door of the Year Award for the past two years. Their secret is that Bruce and Sibylla (
above
) do everything – from meeting and greeting to tending the vines – and their passion for this project and their little piece of England shines through.
Tastings take place in a beautifully converted 'glass barn' next to their stunning home. It has a very homely, South African ambience. "We treat everyone as a guest, not as a customer," Sibylla explains.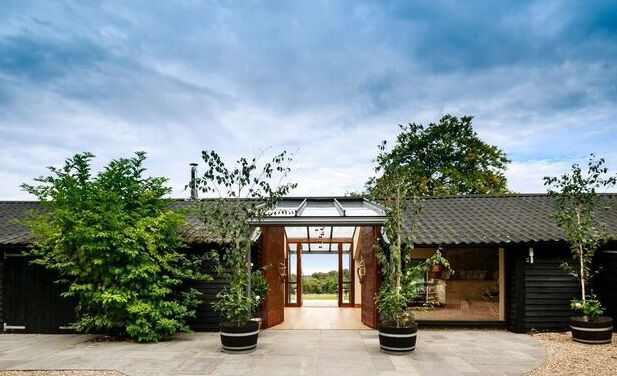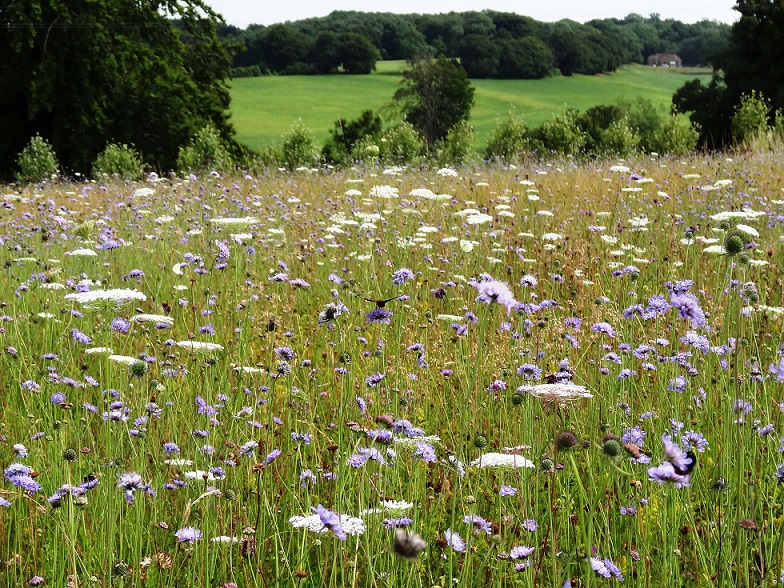 Outside the barn, there is a wild flower meadow leading to the vineyard, a little further down the slope, beyond the bee hives. At this time of year, the meadow also contains sculptures by local artists. The view from this high vantage point is of London's skyline, about 20 miles away. Iconic buildings such as The Shard are easy to spot.
When
Canopy
popped in to see Bruce and Sibylla, who have lived in England for more than 35 years, they were preparing for one of their busiest periods:
A series of open days to celebrate the launch of their new vintage wine, after five years' maturation;
Garden and cocktail parties for 300 VIP buyers;
An art and sculpture exhibition in the vineyard and wine shop (supporting a local children's charity) – with more than 150 works on display from May 26 to June 9.
High Clandon is also preparing for the launch of England's newest wine region and wine road, Vineyards of the Surrey Hills.
Five Surrey wine producers have banded together to promote wine tourism in the region.
The other vineyards are:
Greyfriars, near Guildford, whose Sparkling Rosé Reserve 2014 won the IWC English Sparkling Rosé Trophy this year;
Chilworth Manor, a 1,000-year-old estate with a new vineyard;
Albury, an organic producer located just outside Guildford; and
The pioneer in wine tourism in the UK, Denbies, a huge single vineyard near Dorking.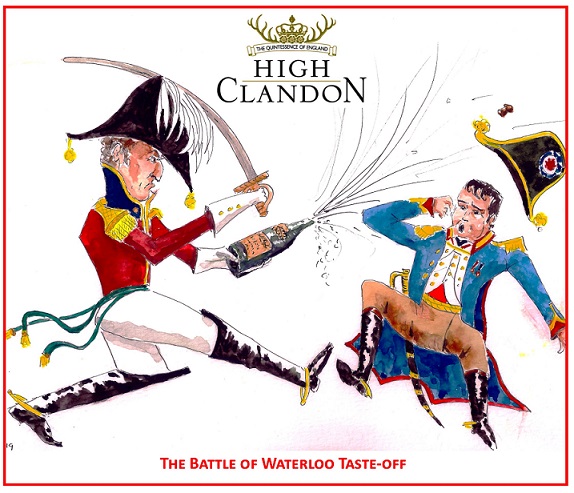 To celebrate the wine region's official launch on June 8, High Clandon is organising two events:
'The Battle of Waterloo Tasting' where visitors can compare Surrey sparklers and Champagnes;
A five-course 'farm-to-fork' dinner, with the local wines paired with produce from local growers and makers, served on a long table in the vineyard.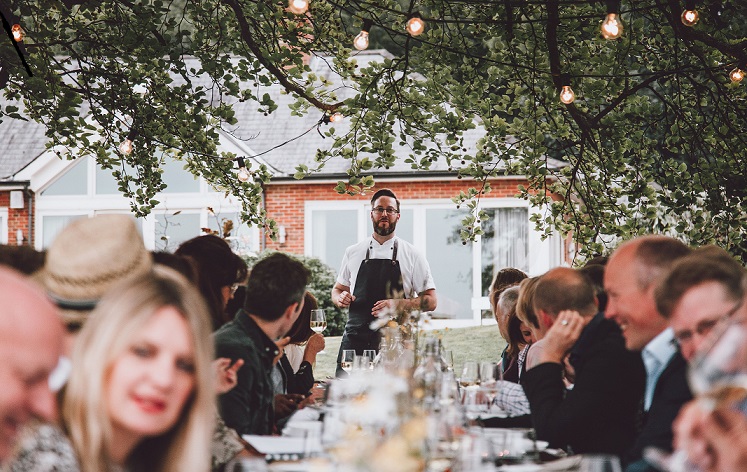 The vineyard dining experience is being organised by Bernadette Keane of A Table Outside, with UK MasterChef quarter-finalist Daniel Britten (
above
) doing the cooking.
All of these events are taking place over a two-week period. It would be a punishing schedule for any vineyard owner, let alone a couple who started the project when they 'retired'.
Building the house and making the most of the stunning views came first. While Sibylla was gardening, she realised the soil was basically solid chalk – as in Champagne.
From the beginning, they took the project seriously, both studying at the UK's centre for excellence in wine, Plumpton College, and sought the best advice at every step towards their goal of making the finest traditional-method sparkling wine.
They produced their first commercial vintage in 2008, one year after Bruce retired from his job as a civil engineer and CEO of a management consultantcy. Sibylla's background is in marketing and branding.
As we sip the newest vintage (2014), Bruce says: "We go for a crisp, dry style. Nice structure, nice balance."
It's one of the Surrey wines that will go up against Champagnes at their Battle of Waterloo tasting. "We're fairly confident the English sparkling wines, like Wellington, will reign supreme. But we'll see," says Sibylla.
With the success they've had, I wonder if there are any plans to increase production. But Bruce points out that at their current small size they can do everything themselves without having to take on staff.
Sibylla says: "The whole concept is we produce one gorgeous wine a year and we try and sell out as quickly as possible."
It sounds like a winning concept to me.