'Some of the wines we even make without the use of electricity'
Early in our conversation, Argentine winemaker Eduardo Soler dismisses the idea of rockstar winemakers. He believes the spotlight should shine "on the wines, on the brand, on the label and on the vines and not on the persons behind them".



The wines
The wines have gained cult status since their launch in 2012. Ver Sacrum is a garage winery – literally – in Mendoza, focusing on varieties such as Nebbiolo, Garnacha, Monastrell, Marsanne and Roussanne. Eduardo describes the winemaking as "primitive, small-batch, low-intervention, rudimentary".
"Our wines tend to be more fluid, we praise drinkability; less alcoholic, we rarely harvest over 23 Brix; naturally more acidic, linear, sharper, fruit-driven; no new oak or no oak at all; very gastronomic, easy to pair with food; naked, direct, but precise and elegant, no 'makeup'," he expands. "We ferment with indigenous yeast only; we don't correct the musts, acidify, nor homogenise vintages either; we like to show the climate of each vintage as well."
There is also minimum use of sulphites, but the wines are clean and free of faults.
These are distinctive wines – and highly praised.
The reds are made with little or no skin contact during fermentation. They are, therefore, relatively pale for Argentine wines and appear delicate. The grapes are handpicked relatively early too, so the wines are lower in alcohol and taste fresh. However, these are still complex wines with incredible concentration.
'I don't have the backpack of tradition'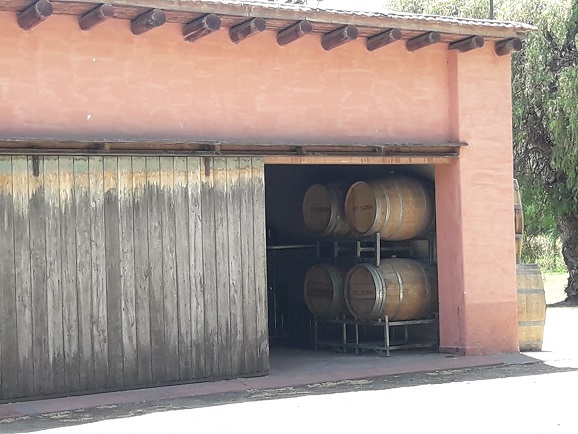 They are different, Eduardo explains, because "I am a wine industry outsider. Therefore, I don't have the backpack of tradition – I don't have to respect any of the codes of the industry because we designed this project to be totally free, especially from dogmas of the local industry and the wine industry in general. That's why the grapes are different for Argentina, the styles of the wines are different and even the packaging, the way we communicate it and the way we sell it is different. We don't have a traditional cellar for it."
Using his garage (
above
), a rented section of a friend's winery, and a refrigerated storage facility for barrel and bottle ageing, Ver Sacrum has become the largest Grenache producer in Argentina, both in terms of planted surface and litres produced.
He and his friends started running tests and carrying out micro-vinifications in 2010, planted their first vines in 2011, created Ver Sacrum in 2012, made their first "commercial" harvest in 2014, releasing these three wines from the now extinct Barrancas vineyard – a Garnacha, a Monastrell (Mourvèdre) and a GSM – in February 2016. They started with about 800-1,000 bottles, selling out within two months, and are now up to 130,000 bottles a year, 90% of which is exported to ten markets, including the USA, UK, Australia, Switzerland, Peru, Chile, El Salvador, Sweden and Finland.
"We are increasing our production slowly from year to year as fruit availability increases," he says.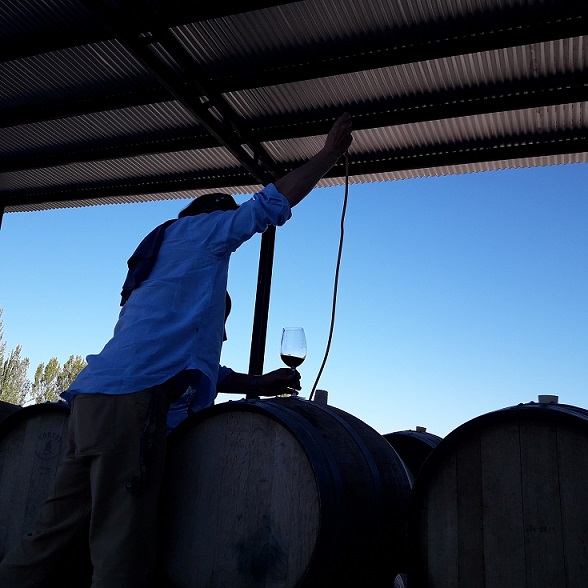 The brand and labels
The name Ver Sacrum comes from the 'sacred spring' ceremony which sent the young from the Old World to discover the New World, taking grapevines with them.
It was Eduardo's wife Emilia, a former lawyer, who came up with the name and the art nouveau concept for the labels.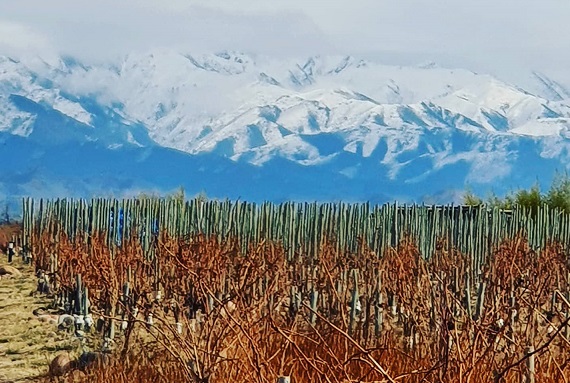 The vines
The aim of the project was to shine a light on the Mediterranean varieties that Argentina lost in the second half of the 20th century in the rush to plant Malbec.
Ver Sacrum cultivates 17ha in total, split between three different vineyards with three distinctive terroirs: IG Los Chacayes in the Uco Valley, planted in 2011 with Grenache, Monastrell, Carignan, Roussanne, Marsanne, Mencía, Syrah, Teroldego, and Nebbiolo; around Eduardo's home in Cruz de Piedra, in Maipú, re-planted in 2016 with an experimental vineyard nursery; and 5ha of Grenache in Alto Verde, planted in 1966 and 1975.
All three vineyards are farmed in a sustainable way and are going through the lengthy (10-year) organic certification process.
Eduardo says: "The bottom line is we make the wines we make because we've got such wonderful vines that provide us with a nice quality of grapes and a nice expression and that's what we want to highlight rather than the names of people".
But it's hard to keep the people behind the brand out of the spotlight. It's their initial decisions to focus on Rhone varieties and to use minimal intervention in the vineyards and winery that are crucial to the results.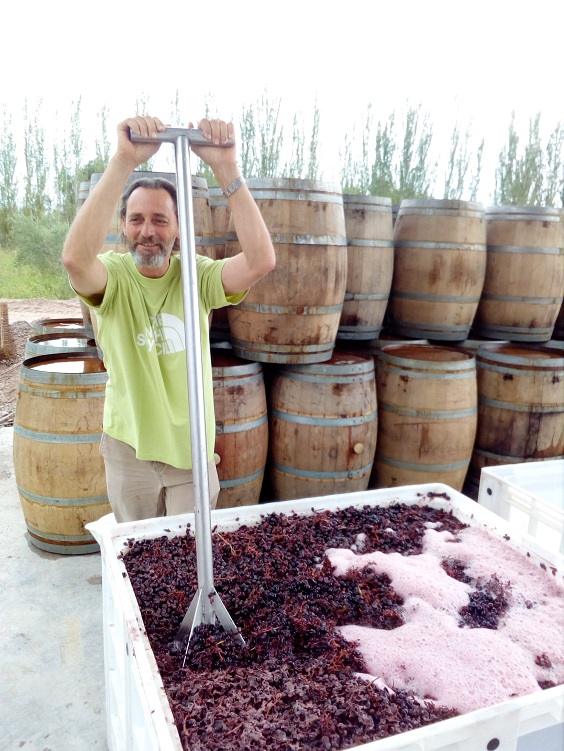 The techniques
"We always walk on the very narrow line between what you may consider a defect and a plus in the character," Eduardo tells me. This is especially true of the whites that are partially aged under a veil of flor.
But it's the reds that most people comment on. They are noticeably paler and lower in alcohol than other red wines from Mendoza.
Similar techniques are used for all the varietals and blends:

Hand-harvesting, usually before the organic grapes reach 23 Brix.
No additions or corrections (no acidifying or inoculations).
A cool maceration with a touch of semi-carbonic before pressing in a 110-year-old basket press or under foot.
Fermentation without skins (therefore, no need for pumpovers).
Fermentation and ageing in a mixture of concrete tanks, concrete eggs and neutral oak.
No filtration.
To protect the wine from oxidation, Eduardo says, "We try to be as quick as we can. There is some oxidation in our Pinot Noir, it's like Burgundy 200 years ago. But the fermentations are very reductive because we use small (5,000L) concrete tanks that are tall and skinny like a candle, so the heart is submerged in the liquid most of the time."
The short semi-carbonic maceration is a crucial initial step for the red wines. Eduardo explains: "It's a semi-carbonic maceration because we do have some oxygen going on. When we get the amount of concentration we need, we rack it out and let the fermentation start. So, we ferment as a white wine without the skins."
He continues: "We discovered that this CO2 will poison the cells in the pulp and that will make the cells of the inner part of the skin, that is in contact with the pulp, burst and release very ethereal, very delicate components that otherwise will be lost or obliterated by heavier components on a normal maceration or in a normal fermentation with the skins in the must."
He says this contributes to the floral aromas and flavours in the Ver Sacrum wines. "All these delicate flowers that you will lose on a normal or a warmer fermentation, we were able to trap all these volatile esters in the wine and carry them through the ageing and into the bottle as well."
Asked how they got the idea for using semi-carbonic maceration, Eduardo replies: "We wanted to do a soft extraction of tannins. With this technique we also found that we extract only fine-grain tannins." He says, with this "weird" technique, they are only extracting the tannins from inside the grape and not the outermost layer. "Outside on the last two or three layers of tissue you have harsher tannins and a lot of colour, matter and anthocyanins," he continues. "That's why our wines are paler too. So, with semi-carbonic maceration we are able to extract from the deeper levels of tissue and discard the rest."
The white grapes, on the other hand, undergo a relatively long maceration.
"The reason is we don't correct the wines," Eduardo says. "A common practice in Argentina is to artificially acidify the must using tartaric acid. We don't correct anything. We just work with what we have from the vines or vineyard."
One of the features of the Los Chacayes region is the warm wind. Eduardo tells me it contains a lot of feldspar dust that settles on the berries. In the must, this alkaline dust could reduce the natural acidity so, for them, a whole-cluster cold soak is a way to "wash everything out", with much of the dust settling on the bottom of the tank before the grapes are racked out and pressed.
The pressed juice goes into 5,000L cube tanks for fermentation with native yeasts.
To aid the yeasts, the tanks are seeded with nutrients and vitamins.
The whites benefit from a long, cold fermentation (16-16.5°C for 25-28 days).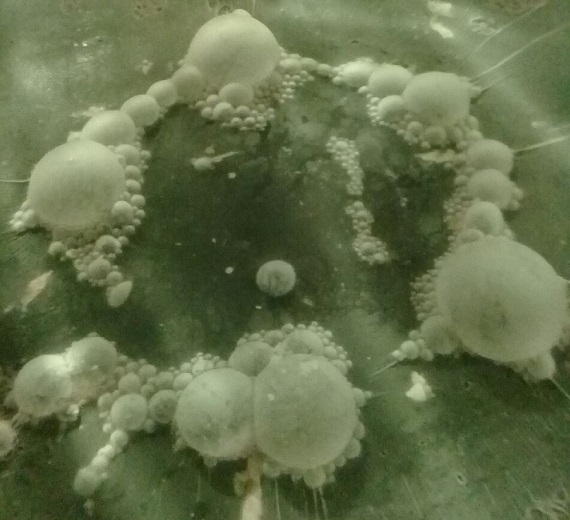 The most unusual thing about the whites is that a portion (20%) is aged under natural flor (
above
).
They discovered this technique by accident. "Our first vintage of Geisha de Jade, in 2016, we didn't have enough volume of fruit to fill the whole cube tank. We had an air pocket. The next thing we knew we had this layer forming on top of the wine and I wept, 'Oh no, we've ruined it, we're going to have 3,500L of vinegar.' We were checking it every day and discussing it with my friends if we should throw it away and use the tank for something else.
"We decided just to leave it and see what happened. A nice layer of flor formed. That's the only Geisha that was 100% aged under veil, although I would like to create another special edition like this again as it's a wine I love. But nobody understood it and it was very hard to sell. I still have a number of bottles and it's becoming better and better with time."
The following vintage, after one of the partners had visited Jura and Jerez, they tried it in a 400L French oak barrel from Burgundy "and it worked". And it has worked ever since. 
One of the important things for achieving success with flor, they have found, is having a dedicated room with a temperature of 18-20°C and humidity content over 60%. As Mendoza is a desert, they wet the floor and sprinkle the barrels with water two or three times a day.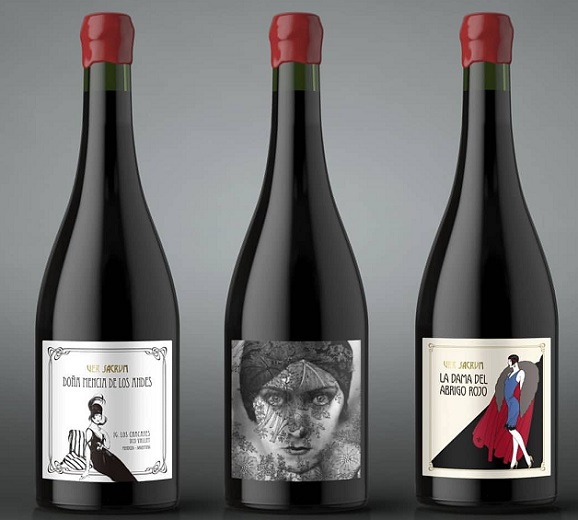 The two white wines with flor components:
Geisha de Jade – equal parts Marsanne and Roussanne from a single vineyard in IG Los Chacayes, macerated for three days then co-fermented in a 5,000L unlined concrete cube and 35% in an open-top barrel. Élevage is sur lie in the concrete cube and 20% under a flor veil in a barrel.
Geisha Dragón – 70% Viognier, 20% Marsanne and 10% Pedro Ximenez from the same vineyard in Los Chacayes, fermented together after a cold soak of two days with indigenous yeasts in 5,000L concrete eggs. Like the 50/50 blend of Roussanne and Marsanne, this also saw 20% matured in oak casks for eight months under flor, while the rest was kept in concrete.
The other wine we talk about in detail is the premium Grenache varietal, Gloria, which comes from cuttings from the first vineyard they used, planted in 1947 and sold to developers when the owner died. Gloria sees four days of semi-carbonic maceration before the foot-trodden grapes go into clay amphorae and 500L used French oak barrels.
"The reason we chose a mixture of wood and clay is we wanted to honour the age of the vines – it's very antique material – so we wanted to respect that DNA by using antique forms of fermenting," Eduardo says.
They used a local potter to make the amphorae to their specification of porosity and spent four or five years experimenting. "We like the results very much," Eduardo declares. "We like the texture. It's a wine that is very complex but very subtle. That's why the label is a lady with a veil."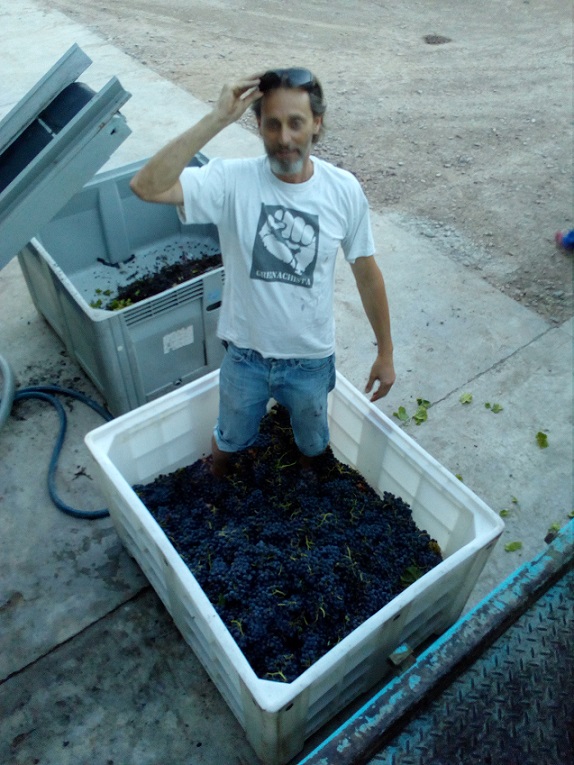 The Comando G influence
Eduardo (
above
), who worked in the mountains of Aspen and Mendoza before becoming a vigneron, co-founded Ver Sacrum with two unnamed friends who work for other producers.
"This project was born at a barbecue," he recalls. One of his friends brought along a bottle of Garnacha produced in Gredos, Spain, by Comando G. "The label was Rumbo al Norte and it blew everybody's minds, especially mine and it came out at a time when I was getting very, very tired of photocopy Malbecs. All Malbecs tasting the same regardless of altitude, winery, region, winemaker. It was a time when the industry was producing wines crafted for what they thought was the market's preference instead of respecting their origin and the land and the soils and the regions.
"I said 'How come we cannot make this wine in Argentina?' We have similar climate; we have a history with Grenache. One thing led to another. Next minute I was scouting for a virgin piece of land in the Uco Valley with my two friends. We were going to plant Grenache and give it a shot. We were going to make the wines we like to drink regardless of the market preference."
'We got a little bit carried away'
They imported the vines from Europe. "We were going to import two or three varieties and we ended up importing 11," Eduardo says, laughing. "We got a little bit carried away with the catalogue and that's how Ver Sacrum was born. In 2011 we were already planting a part of our actual vineyard and it went from there. We had no idea how to manage those varieties – my friends were very used to Malbec and Cabernet Franc and Chardonnay. And then, when we got the first crops, we had no idea how to make a good wine. But we made a few deductions and decided these grapes need to be treated as Pinot Noir. All the Grenaches from Gredos were our light at the end of the tunnel, our beacon to follow as far as general style."
Ver Sacrum has grown fast and the wines, according to Eduardo, can be found "in crazy places that I would never have imagined we would be, like very fancy wine stores and wine clubs and Michelin-starred restaurants".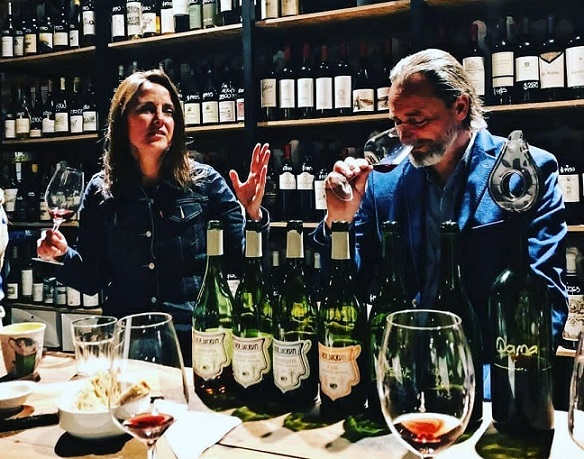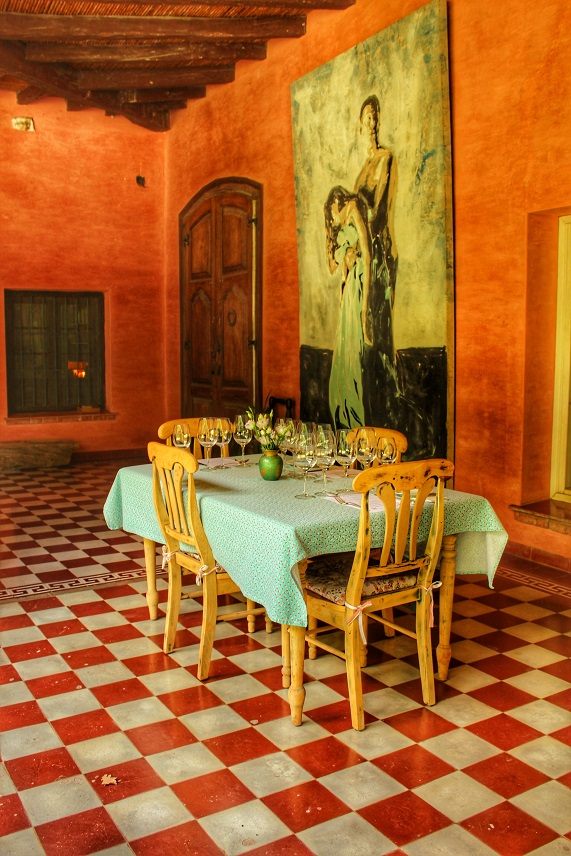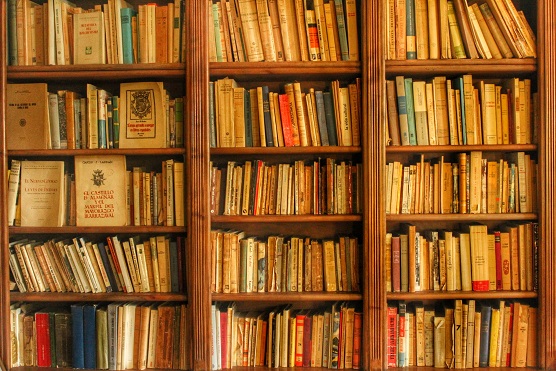 Ver Sacrum is based in Eduardo and Emilia's beautifully restored home, which dates from 1865. The couple found some historic winemaking documents there when they moved in – and these have inspired the winemaking techniques behind Emilia's recently launched project, La Cayetana, which aims to rescue old vineyards, long-forgotten appellations, and antique methods of winemaking (but with modern hygiene standards).
"As an example of this, right now she is working on rescuing an old parral of Gibi (Hebén in Spain), a variety originally from North Africa, cultivated by the Moors of the Califato de Córdoba (southern Spain now), and since the inflorescences are feminine, is the mother of Pedro Ximenez and all Cava's white grapes. Almost extinct in Spain now, we have found it here. If this goes forward, it will be practically the only label in the world made with this grape. She also makes an award-winning Criolla Blanca (Pedro Ximenez) here."
La Cayetana will produce about 35,000-40,000 bottles a year of Criolla Blanca, Cabernet Franc, Syrah, Pinot Noir, an untypical Malbec, and a blend of 40% Syrah, 40% Cabernet Franc and 20% Merlot.
There are no destemmers or pumps at the house, "so it's like working 100 years ago in a winery," Eduardo reflects. "Some of the wines we even make without the use of electricity."
They use the old basket press, wooden vats for fermentation, and a grid made out of canes to destem.
"All the moving of the wines is by buckets, not by pumps," he adds.
"The result is very interesting."