Australian winemakers Dylan Lee and Kym Milne MW – named Red Winemakers of the Year at the IWC Awards last week – have been explaining the differences between their Trophy-winning Shiraz and Syrah.
Both gold-medal-winning wines, the Bird in Hand Syrah 2017 was also awarded the Australian Red Trophy, Adelaide Hills Shiraz Trophy, South Australian Shiraz Trophy, and South Australian Red Trophy at IWC 2019, while the Bird in Hand Shiraz 2017 took home the Mount Lofty Shiraz Trophy.
Here, winemaker Dylan and Kym (winemaking director) explain the differences between the two wines.
'Our style for the Bird in Hand Shiraz has always focused on being at the ripe end of the cool climate Shiraz spectrum'
Bird in Hand Syrah 2017, Bird in Hand Shiraz 2017
"The Adelaide Hills is a very interesting wine region with quite a range of climatic conditions. It stretches about 90km long with a width of 30km at its widest point, basically along the top of an old mountain range. The northern and southeastern parts of the region are slightly warmer than the cooler central part (with Shiraz ripening up to weeks earlier in the warmer sites than the cooler sites).
"For the Bird in Hand Shiraz style we have always used a combination of warmer and cool sites – the warmer sites giving our wine its core of ripe blackberry fruit character and fuller body, the cooler sites adding spice, perfume and elegance to the blend. We also source a small amount of Shiraz from a very good vineyard that is 1km outside the Hills boundary on the eastern side of the Adelaide Hills, only a few kilometres from our winery which is classified as Mt Lofty GI – hence the Mt Lofty GI designation for our Bird in Hand Shiraz. Our style for the Bird in Hand Shiraz has always focused on being at the ripe end of the cool climate Shiraz spectrum.
With the growing interest in Syrah styles in general, and the quite distinctive parcels of cool-climate Shiraz we were getting from our own vineyard and a couple of neighbouring vineyards in the cool Woodside area that we were very excited about, we decided in 2016 to make Bird in Hand Syrah. Stylistically the aim is to produce a wine that reflects these cooler sites – lighter in body but with lots of aromatic spice, elegance and still with the structure and complexity to age well. The wine proved to be very popular and had a lot of success on the wine show circuit, so we continued with the 2017 Bird in Hand Syrah. We are obviously delighted to have recognition from the IWC for this wine in only its second vintage.
The winemaking method and philosophy of these two wines is similar, but with some key differences:
Fruit selection – For the Bird in Hand Syrah we source fruit from cooler vineyard sites around and including our estate vineyard in Woodside. For the Bird in Hand Shiraz we source from these same cool sites, as well as some vineyards in the warmer fringes of the Mt Lofty Ranges.
Fermentation – Bird in Hand Syrah incorporates the use of whole bunches in fermentation (usually around 25%), a small percentage of carbonic maceration and is generally fermented by wild yeast. Bird in Hand Shiraz typically has less whole bunch/whole berry components and is fermented with a combination of wild and cultured yeast.
Oak treatment – Bird in Hand Syrah is aged in larger format tight grain French oak (300, 400 and 500L) for 12-16 months and uses only around 15% new oak. Bird in Hand Shiraz is aged in tight grain French barriques (225L) for 16-20 months and uses around 40% new oak.
The Syrah was awarded 96/100 points, while the Shiraz scored 95/100. Bird in Hand, a 22-year-old brand, also gained two other gold medals – for its Nest Egg Shiraz 2014 and Nest Egg Cabernet Sauvignon 2015. Here, the winemakers explain the techniques behind these two 95-pointers.

Nest Egg Shiraz 2014
"This wine comes from the 2014 vintage, which has over time proven to be a very interesting vintage with lots of cool-climate spice.
"It comes from three very unique vineyard sites, all vinified completely separately, with fruit destemmed and partially crushed, giving between 25-100% whole berries in the ferment.
"Fermentation is on skins in small, open-top static fermenters for between 10-14 days with gentle extraction.
"Pressed to tight-grained French oak with 18 months' maturation before blending.
"As with all of our Nest Egg wines, this blend is made from a small selection of barrels from an outstanding vintage, with 75% of the barrels new and the balance one to two years old."
Nest Egg Cabernet Sauvignon 2015
"With our Cabernet Sauvignon, site selection is paramount. This wine comes from two low-yielding sites in the northern part of the Adelaide Hills, where it is a little warmer and flavours tend to be in the ideal spectrum for Cabernet, avoiding overt herbaceous notes.
"Our Cabernet batches are partially crushed, keeping 50% as whole berries. They typically spend 10-12 days on skins in small open fermenters. Some select batches are given extended maceration post ferment for up to 28 days.
"Following pressing, the wine parcels comprising the 2015 Nest Egg Cabernet spent 24 months in French oak barriques.
"The final blend is decided through individual barrel tasting and grading, with 50% from new oak and the balance from one to three-year-old barrels."
'We handle gently and preserve individuality'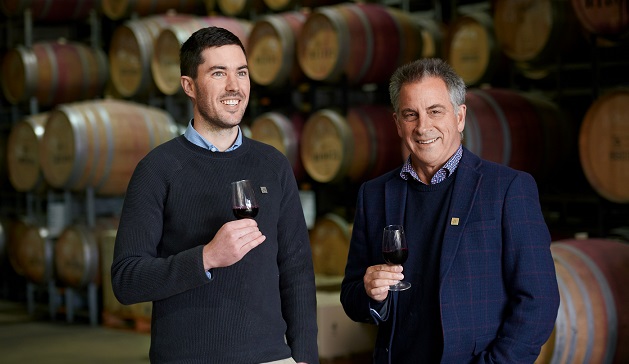 Tell us about your winemaking philosophy
"Our philosophy is to grow and source the best possible fruit in a sustainable manner that respects the land. In the winery, we handle gently and preserve individuality, keeping all parcels of fruit separate – even down to keeping individual sections of the same vineyard separate if it gives us some superior parcels. Ultimately, we want to make wines that express where they are from and most importantly that are enjoyable to drink."
What's the background to Bird in Hand?
"Bird in Hand began in earnest in 1997 when our founder, Andrew Nugent, and his father Michael Nugent, happened upon a run-down dairy farm in the emerging Adelaide Hills wine region of south Australia. The site of a gold mine in the late 1800s, its 80 fertile acres enjoyed the ideal growing conditions for stellar cool-climate wines. The seaside influence of the Gulf of St Vincent, the cloud-trapping rise of the Mount Lofty Ranges and plenty of Australian sun all combined to create a special diurnal temperature shift that our grapes love.
"An agricultural college graduate and vineyard apprentice who grew up next to Penfolds at Magill and spent his formative years in McLaren Vale, Andrew wanted winemaking to be his life's work, and he had a strong feeling this was the place to do it. He was correct.
"Andrew began the company with the support of his parents, Michael and Joy, while his brother Justin assisted with marketing and export. Andrew lives and works on the grounds with his wife Susie, who tends the gardens, and their three children, Lalla, Edward and Oscar."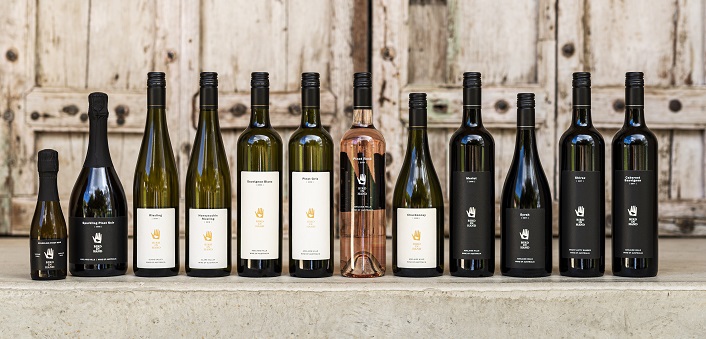 What other wines do you make?
"We make four tiers of wines. Shiraz, of course, but also Pinot Noir, Chardonnay, Riesling, Sauvignon Blanc, and Italian varietals like Nero D'Avola, Montepulciano, and Arneis.
Tell us about your wine tourism offer
"The Gallery restaurant offers a sustainable, farm-to-table dining experience with a seasonal menu that features the very best produce that South Australia has to offer combined with fruit, herbs and vegetables from the on-site kitchen garden.
"The cellar door gives visitors a kind of front row seat to how winemaking works, complete with tutored tastings and wines not available to drink anywhere else, including late releases and carefully cellared museum selections. Here, guests can wander through the original barrel hall, relax in the courtyard overlooking the vines, or enjoy bites of cheese and antipasti and be inspired by carefully curated artwork and sculptures set amongst the Mediterranean-style gardens all year round.
"Each year Bird in Hand sets up an outdoor stage and hold concerts on the grounds, inviting some of Australia's best loved musicians to perform. Past concerts include Neil and Liam Finn, Gang of Youths and Architecture in Helsinki to name a few."
About the winemakers
The second Australian ever to receive the distinction Master of Wine, Kym Milne joined Bird in Hand in 2003. His career includes stints in New Zealand as chief winemaker for Villa Maria (1983 to 1992) and in the UK as director of winemaking operations for UK importer International Wine Services, running winemaking projects throughout Europe, South Africa, and North and South America.
Dylan Lee's interest in working in the wine industry was ignited by a high school geography field trip – when he visited a vineyard in the Porongurup Region. In 2005, he moved to Adelaide to complete a degree in winemaking at the University of Adelaide. Later, he worked on vintages in the Northern Rhône, Niagara Peninsula, Margaret River and McLaren Vale, learning a diverse range of techniques and philosophies. He moved back to Adelaide in 2010 and started at Bird in Hand as a cellarhand for the 2011 vintage.