Among the sea of Chardonnay and Shiraz wines at a recent tasting of bottles from Australia, three wines captured my imagination.
They were Grenache. From old vines. Balanced, elegant, juicy, complex, easy to drink, on-trend light reds with some aromas and flavours stemming from stems. Open vats of course. And all came from women.
If men were behind these wines, the approach may be described as restrained. But as they're from women, critics described the wines as "delicate", the results of a "a soft touch in the winery".
So let's look at the details of these three outstanding wines, to see how the winemakers' approaches differ. They may all be from female hands, but let's not generalise. The wines are as individual as the vines from which they come.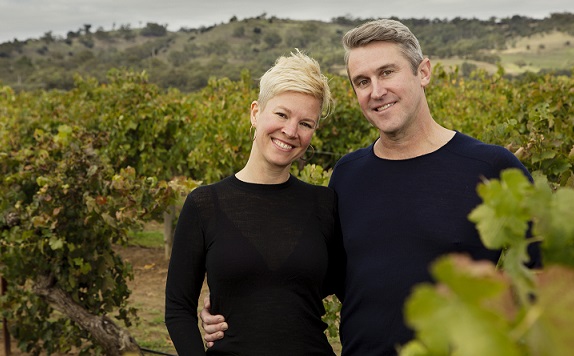 Wine: An Approach to Relaxation 'Sucette' Barossa Valley Grenache 2017Winemaker:
Carla Rza Betts
Background:
After wrangling horses and waves in California and studying acting in New York, Carla eventually found her way to wine. Firstly, serving it in New York and then making it in Australia with her husband and co-winemaker, Master Sommelier Richard Betts (
pictured with Carla above
).
The vineyards:
Two dry-grown, own-rooted, sandy vineyards – their own Rza Block (estimated to have been planted between 1860 and 1880) and an 80- to 85-year-old vineyard a kilometre away. Both vineyards are located in the heart of the Vine Vale, the coolest region of the Barossa Valley, in South Australia. The vines are head-trained.
Grapes:
100% Grenache.
Winemaking:
Fermentation in tanks open to "the sun rays, moon beams, bees". Partial whole-cluster (20% in 2017, 35% in the warmer 2016). After an eight-day ferment, they basket-pressed over a slow 12-hour press cycle. The wine spends a year in old French oak. "We believe the 'old' barrels give the wine time to find itself, preserve the purity of soil and grape, and set itself up for longevity," says Carla. Bottled unfined and unfiltered.
Aromas:
Cranberry and raspberry from the Grenache plus the spicy, resinous potpourri aromas of the stems.
Flavours:
Orange zest, dark earthy notes, violets, deeper, darker red fruits.
Winemaker's note:
"We believe that the prettiest of all Grenache comes from old vines grown in sandy soils. In sand, the colours are lighter and the wine develops all of the beautiful, floral, high-toned aromatics that give allure and sex appeal. Yes, you will want to wear it. We have come to regard it as the well-endowed, warm climate analogy of Pinot Noir."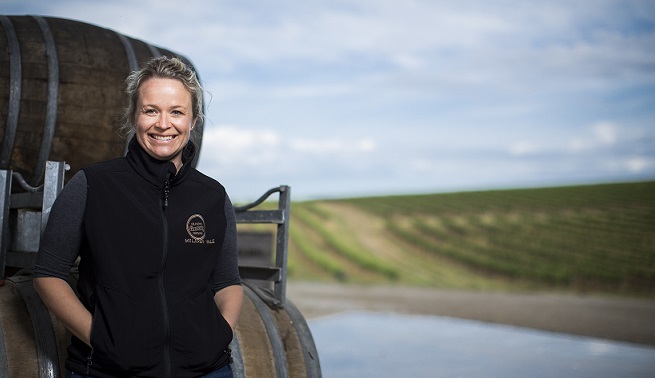 Wine: Oliver's Taranga Vineyards McLaren Vale Grenache 2017Winemaker:
Corrina Wright (
above
)
Background:
Corrina grew up in farming and the wine business, and is the sixth generation to make wine in McLaren Vale. In 1993, she started studying oenology at the University of Adelaide and eventually persuaded her grandfather and uncles to let her have some fruit from the family vineyard. She also studied at the University of California, Davis, and worked for six months at Gallo Sonoma in the Dry Creek Valley. She then returned to Australia to work for Southcorp. Now she runs Oliver's Taranga Wines with her cousin Brioni Oliver. The family's 110ha of vineyards also supply Penfolds and their Shiraz grapes regularly go into Grange. Corrina and husband Dan have started a craft beer company called Swell Brewing.
Vineyard:
An old block planted in McLaren Vale in 1965.
Grapes:
100% Grenache.
Winemaking:
Grapes destemmed by machine, sorted, lightly crushed. Vinified in open fermenter, indigenous yeasts, no sulphur, no acid addition. MLF in barrel. Aged in old French hogsheads and a portion in stainless steel. Sulphur post-MLF, a couple of rackings, no fining.
Aromas:
Redcurrant and sour cherry plus forest floor, Christmas spice, ironstone and nettle.
Flavours:
Refreshing acidity, sweet red fruits and spice, crunchy tannins.
Winemaker's notes:
"My wine philosophy is about expression of my site – producing ultra-premium, age-worthy wines that reflect the unique character of the Taranga Vineyard."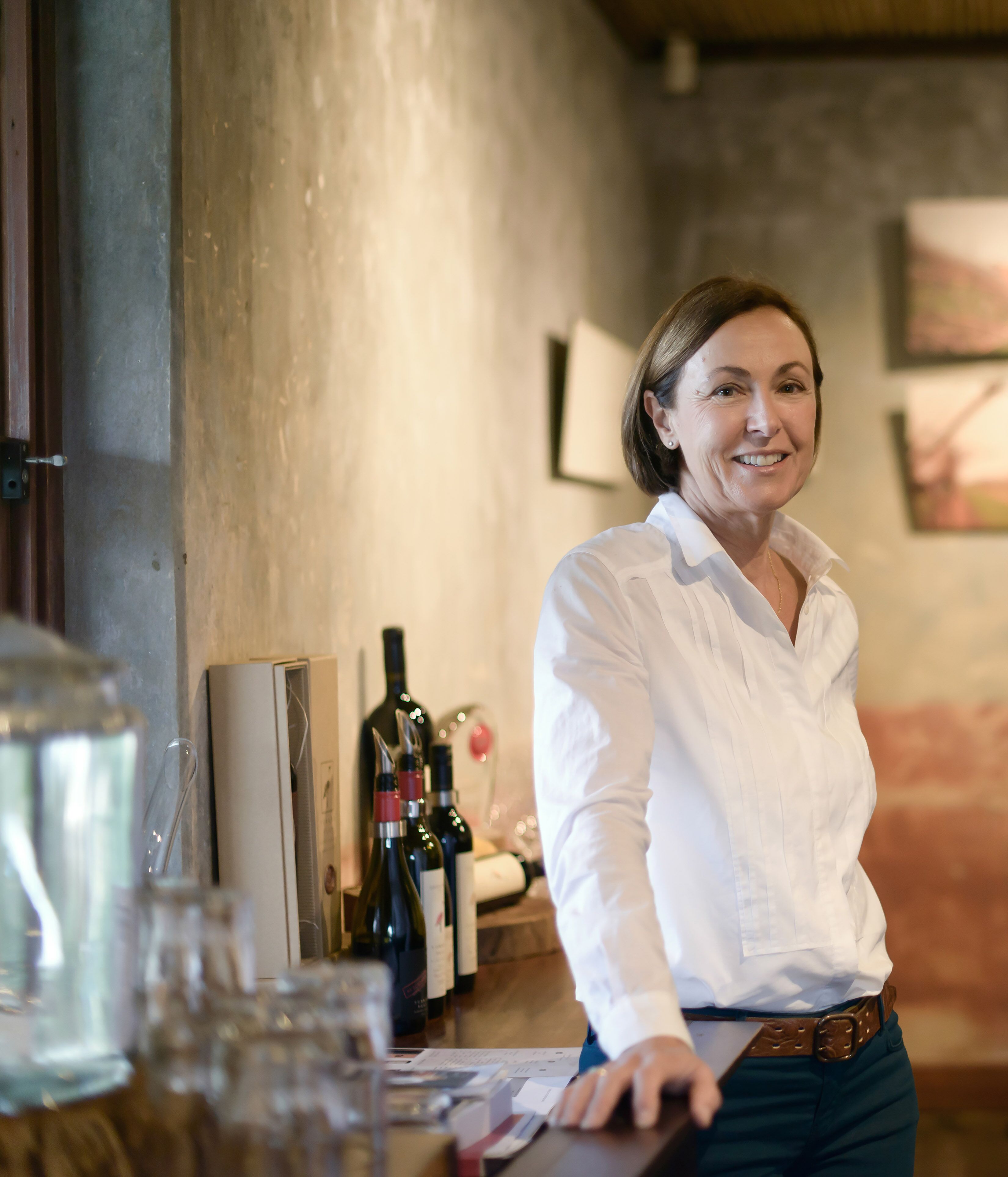 Wine: Turkey Flat Barossa Valley Grenache 2017General manager:
Christie Schultz (
above
)
Background:
Christie is from a long line of medical practitioners, but her surgeon father introduced her to fine wine at an early age. However, at college she majored in photography, and went on to become a professional photographer. Her husband Peter's family are the ones with the farming heritage, having bought the Turkey Flat property in 1865. Peter and Christie took over the estate in 1987 and gradually switched the focus from dairy and butchery to grape growing and winemaking.
In 1990, the Schulz family created the winery and cellar door at the Barossa Valley vineyard. As one of the managing partners, Christie brought a wide range of business management skills and experience, and her current hands-on position encompasses all areas of wine production and promotion. The winemaker is Mark Bulman.
Vineyards:
Predominantly sourced from vines around 100 years old near the winery. Spur pruned, in the goblet style of Southern France, with yields kept low (about 32 hectolitres/hectare).
Grapes:
100% Grenache.
Winemaking:
Fermented with 15% whole bunch, with half the remaining stems also included in the ferment. Spontaneous MLF in barrels. Maturation in a combination of neutral oak Foudre and 20% second-use Burgundian barrels for 12 months.
Aromas:
Herbaceous and spicy.
Flavours:
Red cherry, raspberry, plum with superfine tannins.