It isn't easy being a small winery tucked away at the bottom of the world in New Zealand. It's even tougher when you're trying to make a reputation with something other than Sauvignon Blanc.
Misha Wilkinson runs Misha's Vineyard with her husband Andy in Central Otago, one of the world's most southerly wine regions. Together with their team, they produce a range of premium Pinot Noirs along with award-winning aromatic whites.
In an interview first published by our partner, 
Wine-Searcher
, Misha talks about finding their niche, the export market, Covid-19, climate change and big competition.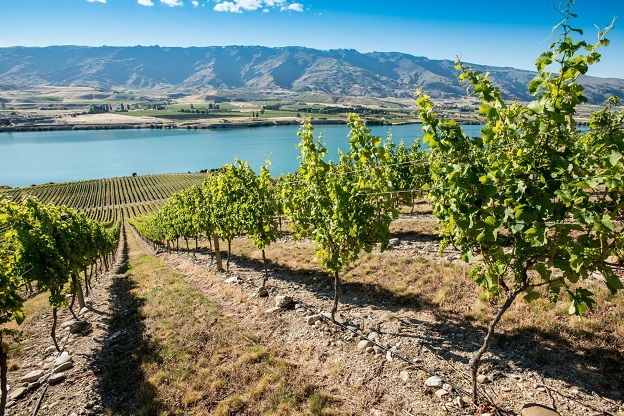 How did you find your niche?
Misha:
"As a premium producer – as many of the New Zealand wine industry is; about 630 of our wineries are considered small, artisan producers – you're really finding your niches in terms of your export mix and how you find a way of making this a profitable business.
"So for us, we leveraged on the things that we had experience with. We lived in Asia for a long time, so when we set up our business, we always said we would export to Asia. We have about 14 export markets that are predominantly across the Asia-Pacific region. And our niche was very much the sort of five-star hotel market. And that was an area we focused on because, number one, we were familiar with Asia, we lived there for an awful long time, we were making premium wines. And, you know, we were coming from this small region of Central Otago.
"And my belief is that when you look at where New Zealand's export markets are, they're predominantly UK, US and Australia. And I figured that at 0.025% of the world's wine, we didn't need to be in markets competing with other Central Otago producers."
What made the Asian market so appealing and how has it changed?
Misha:
"We work with Four Seasons hotels, Ritz Carlton, St Regis, a lot of those premium hotels, it's not an exact match every country. We tend to find that in our sort of segment when you know a sommelier or F&B manager of one hotel group, you know, we'll see them in Malaysia, next trip, we go to China, and it's like: 'I know you! You worked with my colleague.'
"That sommelier, F&B group of people that work around those hotel groups in the Asia-Pacific region – and Dubai and Abu Dhabi as well – we tend to see the same people at different places as they go through their career stepping up in different hotels in different regions.
"Andy and I are pretty passionate about education. So working with a lot of the hotels, we were able to sort of leverage our strengths, and say you take our wines, and we're happy to come and train. So we've done hours and hours of training of hotel groups in hospitality and F&B teams, over many years. And we love that, we teach about New Zealand wine, our varieties, everything from opening a screwcap bottle, and then working with hotels as well.
"If you talk about the Asia-Pacific region, the best restaurants are within the hotels and people go to hotels for dining. And they're very closely linked. I don't know if that's a symptom of market maturity or just the way it works in Asia. But, as I say, most of the best restaurants we go to are a link to those big hotels. And so, of course, Covid has destroyed a lot of that.
"When you've got Hong Kong, Singapore, Malaysia, Langkawi, Maldives, Fiji, all of these countries where hotels are, where the tourists go, without any tourism… those markets have dramatically fallen off. Some exist still, but about half of them have gone."
Have you had to move online to survive?
Misha:
"We pirouetted – which is pivoting with a little more grace and style – into finding more of the online opportunities, and really trying to make the most of the New Zealand market.
"We're doing a lot more online. We've really had to focus on that and put a lot of effort in trying to turn that business on online, particularly, from last year when we had to close when the country went into lockdown. So we had to work hard at improving our online offering and learning about how to do that. It's very competitive in that space at the moment. But we're certainly doing a lot more than we did."
What about the US market?
Misha:
"So we've had to find other export markets. And, we've done some opportunistic stuff in the US, but they're not necessarily through channels that would traditionally be the way we sell. There are some interesting online channels that have perhaps become more important with the US lockdown, where they're offering a selection of wines to a more premium customer. And they're looking for variety because they're doing it on a daily basis.
"US has always been a difficult market for anything other than Sauvignon Blanc. If you look at export stats from New Zealand, I think it's something like 96% of what we export to the US is white wine. So there's not really much of an understanding that we do much more. That's just the way it is, with so much Sauvignon being sold at a certain price point. It's really hard to then have a wine that's three or four times the price from a region they've never heard of.
"Online gives you the opportunity, there's enough people looking for something different. And I think those people at home looking for opportunities every day, they go 'Well, New Zealand, why don't we try Pinot?' So, that's been great. And it's helped the business; certainly we've done some reasonable volumes to help make up for the markets that aren't our normal export markets.
"Hopefully, we'll go back to those markets. Those export markets once things return, although I don't think anyone knows what the new normal will be like, post-Covid."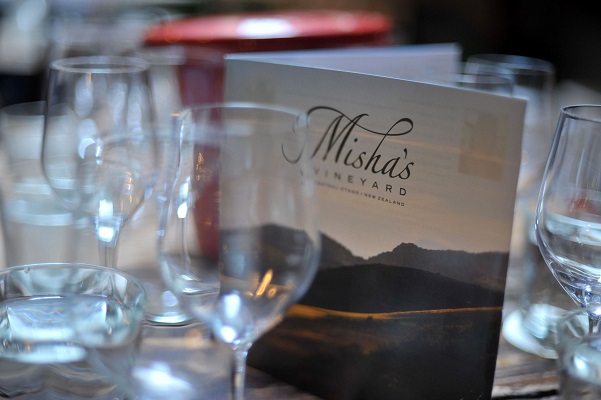 How has New Zealand felt the impact of Covid?
Misha:
"I think with Covid, New Zealand wine as a whole hasn't seen too many problems in terms of exports, because we're mainly in mature markets, and because so much of our wine is sold through more of the volume channels.
"An awful lot of wine is sold through supermarkets, and that certainly increased over Covid.
"Any producer that's come through Covid, so far, it's not necessarily an indication that the next year ahead will be easy. I think the follow-on effect of costs have yet to really hit, the impact of labour [shortages] has yet to really hit, the impact of shipping delays, and difficulties with shipping routes, which impacts your exports. We're waiting for shipments to be exported, so every month that goes is a month that we're not getting paid because the ships are not leaving. And I think all of those impacts are going to have pretty bad impact for a lot of producers around the country.
"I think back to the GFC [Global Financial Crisis] – we launched at the beginning of the global financial crisis, which wasn't in our business plan, and the impact felt in New Zealand [was] actually the year or 18 months after the GFC. And I think with Covid, we had last year, but I think the next 12 to 18 months are the difficulties, I think it just takes a bit longer for things to flow on and costs to flow on.
"There's been an increase in every aspect of cost in our business world. Excise still continues to go up in terms of our costs to produce the wine, it's just gone up dramatically, and, of course, it's really hard to pass that on to consumers – increasing your pricing of the wines, but you've got no choice."
How has Covid been felt where you are?
Misha:
"Of course, down in areas like Central Otago, Queenstown has been pretty decimated in terms of tourism. Certainly over summer, we didn't see very many people. Kiwis don't think of coming down to Queenstown over summer – it's a winter destination. So not only did we not have international tourists, but we didn't have many domestic tourists.
"Now, the fortunate thing is Kiwis love to drink. So even though we've had not as many people, our business through our tasting room has been okay. People from the North Island will say: 'Well, we're travelling around, we'll take a couple of bottles now and ship me a case back to arrive when I return home', which you wouldn't have got from international tourists; some will export wine but it's expensive to ship wine.
"Labour has become really difficult to access. With the borders closed, we haven't got our pool of travelling backpackers from around the world to go around. Yeah, dramatic effect, dramatic impact. Something like 98% of Marlborough is machine harvested. You certainly can't have that statistic in Central Otago; I think we'd be 98% hand-harvested, which requires people."
How are the 2020 wines?
Misha:
"I think Central Otago has been pretty blessed by having pretty good vintages fairly consistently, with the exception of 2020. Down in Central we're about 850 GDDs, that's not enough growing degree days really to ripen even Pinot Noir. So we were down as a region, it was cool, it was a small vintage.
"We had to do harvest under lockdown conditions, so it was pretty difficult for everyone. The logistics were tricky, just because of moving people around and maintaining social distancing while trying to pick grapes together. You know, just everything from you can't sit and have harvest morning tea together, in fact, everyone had to bring their own food in, it was tough.
"All I can say is thank goodness it wasn't a large vintage because we didn't have to endure it for too long, and thank goodness there wasn't that much wine coming out because I think most people would want to forget 2020 – so we don't need a vintage to remind us."
And 2021?
Misha:
"The 2021 was great. If you look at the statistics for New Zealand wine growers on the '21 vintage the positioning was that it was small but high quality. Central Otago is called out as the only region that saw something like a 19% increase in volume – for us it was quality and quantity.
"But you know, apart from 2020, I would say that there are very few vintages in Central Otago that have been poor. We're blessed with a fairly consistent climate really. Some are slightly cooler than others. Our volumes tweak up and down a little bit. But we haven't had any massive drops at all, we seem to be fairly consistent. 2020 is the only blip on the radar, I would say."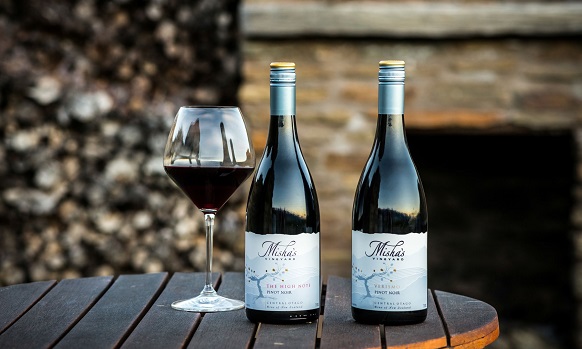 How would you describe your wines?
Misha:
"They're all my children. They're all beautiful in their own way. Some are a little more high maintenance than others – the reserve is a little more high maintenance, a little pickier.
"We make four styles of Pinot Noir. So we make one that works for on-premise as a by-the-glass style that people can have [when they] just want to say: 'I need a glass of Pinot, I'm not having food' – needs to be delicious fruit-forward, and so we do that style for our on-premise customers.
"Of course, we've got our main estate Pinot, the High Note named after my mum who was an opera singer, and a reserve called Verismo that we release after quite a few years of age. We do have a little bit of a retail offering at our brand called Impromptu, but we're discontinuing that. So we've had four that will move out as we focus more and more on the on-premise.
"So we're not planning any change of varieties, our focus area's on-premise. It's a very defined market."
How has climate change affected you?
Misha:
"It's not a risk for what we grow. You look at Australia, where's the big growth in Australian vineyards going? It's in Tasmania, which is their coolest region – well, we're cooler than Tasmania. So I think New Zealand is still okay, in terms of global warming. Certainly, the varieties that are grown down in Central – Pinot Noir and aromatic whites, they're suited for cool climates."
The biggest challenge of making wine in Central Otago?
Misha:
"The terroir means it's such that mechanisation is not so easy in a place like Central Otago, because we're in basins in these rocky areas, it's only small vineyards. When you look at the landscape, the geography of Central Otago, because of all the mountains and lakes, we're just these little pockets around the river basins and around the river valleys where we plant.
"It's not large-scale production, which means it's really hard to make money out of white wines, the cost of the production and the price you can charge for white wines isn't high enough to be able to justify it. Pinot Noir is really where the focus has to be, Pinot Noir is the jewel in the crown.
"And as I say, currently, we're just at that level that we can ripen Pinot Noir. We're not warm enough to ripen any other variety. You've got areas like Gibbston Valley and Alexandra – which are the cooler sub-regions – and they struggle some years in a cooler year."
'You have to find your niche, because it's getting increasingly difficult to make the numbers work'
What are the greatest challenges of being a small producer in New Zealand?
Misha:
"Like every small producer in New Zealand, you have to find your niche, because it's getting increasingly difficult to make the numbers work. The big are getting bigger, and the small are eking out a living.
"Unfortunately, we've sort of got a two-speed industry and it's becoming even more apparent as we continue our journey as a wine-producing country… what you've got now is those that travel on what I've termed the 'Sauvignon super-highway'.
"Unfortunately, from when we first planted to now, it is Sauvignon Blanc that has increased as a percentage of our plantings [nationally] and not Pinot Noir. Pinot Noir has decreased as a percentage of our plantings and then, when you look at the export markets, 94% of what we exported for the year ending June 2021 was white wine, and 88% of that is Sauvignon.
"We've just had that crossover point, about 50% of what we export is unpackaged or bulk wine, so you just look at that, and the numbers tell the story.
"Half of our exports are being shipped in bulk over to the UK, US, Australia, where it's going predominantly in supermarkets. Unfortunately, that means a lot of the brands that people know New Zealand by are not brands that we know in New Zealand."