Only two 'orange' wines won gold medals at the International Wine Challenge 2021. But these are fascinating wines, worthy of a bit of analysis.
Kindzmarauli Marani's Kakhuri 2013 from Georgia, a blend of four native grapes, was also named the best white wine in Georgia. The judges loved its "attractive citrus peel aromas with fresh orange and hazelnut flavours" and described it as a "powerful, deep, challenging wine… but delicious".
The Château Mercian Fuefuki Koshu Gris de Gris 2019 from Japan was praised for its "intriguing and complex nose" as well as its elegance and "lip-smacking salinity".
Both are made in completely different ways – and are very different to many orange wines, especially those from Georgia made in qvevri.
Kindzmaruli Marani
, part of the Teliani Valley wine group, is located in Kvareli, in the Kakheti region. The wine is called Kakhuri after the area where the grapes grow.
Four indigenous grape varieties – Kakhuri Mtsvane (40%), Rkatsiteli 40%, Khikhvi (10%) and Kisi (10%) – from a 7ha vineyard there are processed (destemmed and crushed) and fermented together in a stainless-steel tank using cultured yeasts, temperature control, and SO2 additions for the maceration period and prior to bottling. The wine is also stabilised by chilling and filtration.
All very modern. What makes this wine a traditional Kakhetian wine is the long skin contact and long ageing: six months and seven years respectively.
During the alcoholic fermentation, which lasts for 7-10 days, the wine was punched down every four to seven hours. The punchdowns stopped for MLF and the six months of skin contact. At the end of February, the skins were removed from the wine.
The wine was then aged for seven years to develop its complexity and mature characteristics (distinctive aromas of citrus peel, dried peach and spices).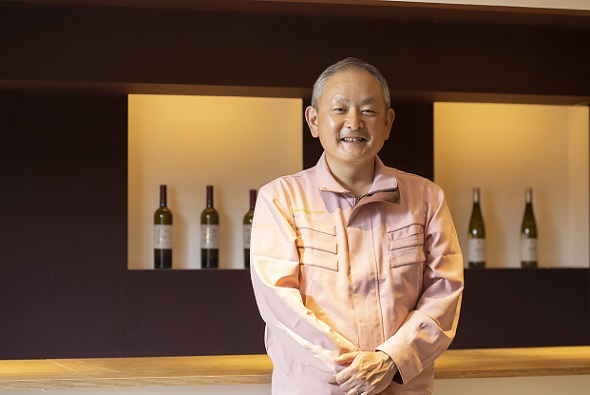 Château Mercian's
Fuefuki Koshu Gris de Gris 2019 is made completely differently and utilises a variety of techniques, including partial thermo-maceration.
This is because Mercian was not trying to make an orange wine, as such, from its emblematic grape variety, the pink-hued Koshu. It was trying to extract more – especially aroma compounds – from this fairly neutral grape's thick skins.
In a standard Koshu wine, there is little skin contact and sometimes PVPP is used to take out the gris colour. But Mercian wanted "another type of Koshu".
They started to experiment in 2002 – long before orange wine became a thing – simply "to extract everything from the Koshu grape," according to general manager and chief winemaker Mitsuhiro Anzo (
above
). "We did not intend to make orange wine at that time; we thought we would try to make Koshu wine many, many ways".
They experimented with about ten different ways and combined some of them for what is fast becoming the star example for the variety.
The grapes from the Fuefuki area are picked about two weeks later than for the standard Koshu wines.
After destemming and crushing, 25% heads for thermo-maceration, 15% heads for fermentation in an oak vat and 60% goes into a stainless-steel tank.
The percentage of thermo-macerated juice in the final blend has been decreasing in recent years in favour of the macerated portion. In 2010, it was about 50% but in 2019 it was only 25%. "One-fourth is very good for this wine," Mitsuhiro tells me.
The must is thermo-macerated at 55-60℃ (131-140°F) for 1-2 hours in an oak vat. "This technique is very good for the aroma of Koshu grape, the baked apple flavour (beta-Damascenone) from the colour pigment, beta-Carotene," Mitsuhiro adds.
The must is then cooled overnight, pressed, settled, and fermented with commercial white wine yeasts in barriques for 10 days at 18-20°C.
After fermentation, the wine is left in the used barriques for about four months before blending with the other components.
The bulk of this wine (60%) is produced with about four weeks of skin contact and fermentation at 28-30°C in two 3,000L stainless-steel tanks with regular pump-overs. Mitsuhiro says: "Up to four weeks we think is the best time for maceration but we don't fix the dates – some years three weeks and three days and some years four weeks plus one day, it depends on the vintage."
After racking and pressing, this wine goes into a 3,300L foudre for about four months of ageing on fine lees.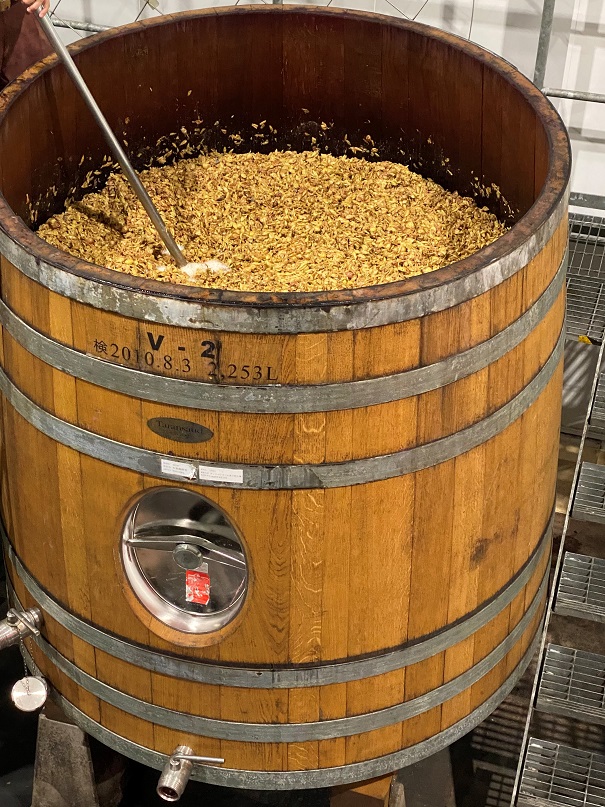 The smallest portion (15%) comes from a short fermentation in 2,300L oak casks (
above
) with regular punchdowns. After racking and pressing, this wine ages in an equal mix of barriques and stainless-steel.
Mitsuhiro says the extensive use of used oak in the different components is for micro-oxidisation. "This wine has much phenolic compounds so this wine should be matured gently oxidised. If we put this wine into 100% stainless-steek tank this wine cannot age well. So we try to get gentle oxidisation but we don't like the oak flavour because it disguises the good aroma so, since 2017, we don't use new oak."
After blending, the wine goes into a stainless-steel tank for natural cold stabilisation (Yamanashi gets down to -5°C in winter) and natural clarification through settling. Prior to bottling, it passes through a micron filter.
This is a wine where the protocol is constantly under review. So far, the wine has been fermented using commercial yeasts, such as Lalvin ICV D21 and D254. For the 2020 vintage, Mercian used native ferments for the non-thermo-macerated components. Mitsuhiro told me it creates "good style and good complexity".
We can't wait to see how it performs in 2022.