Georgia has been on my mind throughout the Covid-19 crisis. The Caucasus country was one of the destinations I missed out on visiting due to the pandemic. But I did get to visit a few wineries virtually and here's what I learned…

Clay is not as porous as you think
One of Georgia's leading winemakers believes that any oxygen that permeates the qvevri is more likely to come from the top than through the vessel's walls.
Gogi Dakishvili, one of the most respected and influential winemakers in Georgia, can't believe oxygen enters through the pores, as they are filled with beeswax and, when the beeswax wears off, they get clogged by tartrate crystals.
Gogi points out that qvevri wines are not about making oxygenated wines and the oxygen entering from the opening "is enough". Gogi and his son Temuri use qvevri to make pure, elegant, balanced and long-lived wines.
Vlad Kublashvili, CEO and winemaker at Vachnadziani Winery – Georgia's largest wine producer – says the permeability of clay is a topic of discussion among Georgian winemakers, but agrees that oxygenated wines are not the goal. In fact, he makes a wide range of 'European' style wines, as he calls them, and some 'hybrids' that blend the traditional and modern methods.
(
Vachnadziani's vineyards are pictured below
.)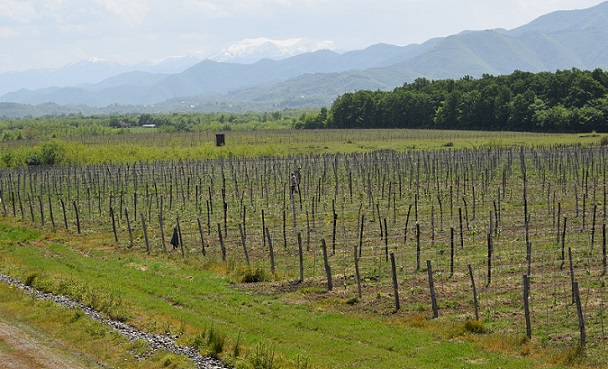 Beeswax lining has no influence on aromas or flavour
Gogi told
Canopy
the beeswax lining doesn't influence the aromas or flavour of the wine. "Beeswax is absolutely neutral," he stated, but he did concede it may be possible to detect some influence from a newly-lined qvevri. "It is a bit stronger with smell and honey character, but later it's absolutely neutral," he said.
Italian winemaker Josko Gravner agrees. See our interview with his daughter here.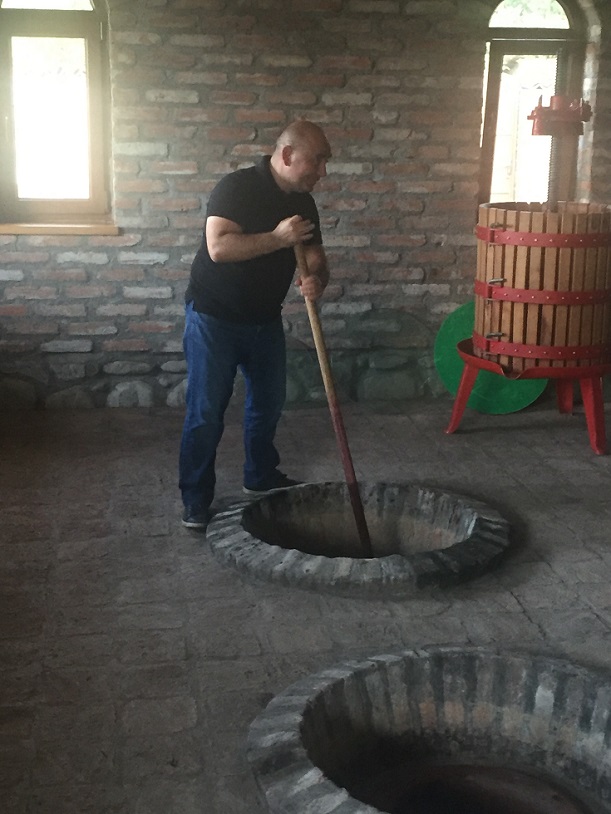 The importance of healthy grapes
Gogi (
above
) only uses "super-premium" grapes and he encourages a "double selection" – in the vineyard and winery.
Vlad Kublashvili agrees: "To make wine in qvevri is not an easy job; it's very challenging and you, as a winemaker, have to have very high responsibility to make wines in qvevri. You have to select the right grapes, the right condition in terms of health."
The importance of hygiene
While we're talking, Gogi shows one of the tools used to clean his 15 qvevri in one marani and 17 in another. The tool, called a sartskhi, is a long-poled scrubbing brush with a head made from layers of pressed cherry tree bark.
After scooping out the solids at the bottom of an emptied vessel, a cellarhand climbs inside to scrub the walls with an alkaline solution before rinsing it several times in clean water.
Gogi says it takes three or four hours to clean a qvevri. "It's hard work and very responsible work," he said.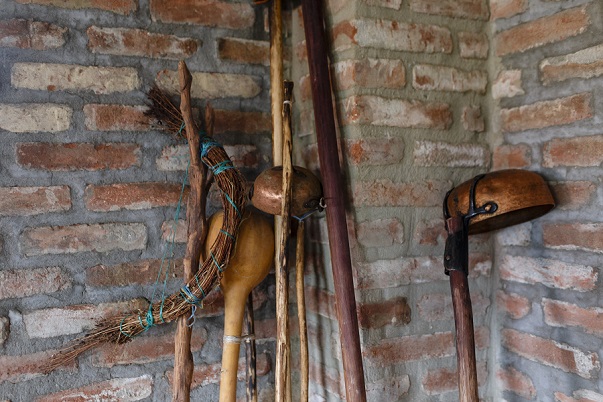 Other cleaning tools are also made from natural products. Krazana — a U-shaped scrubbing tool – is made from the roots of St John's Wort. Tagvisara — a handheld brush – is made from the stiff twigs of an evergreen plant. Gviis tsotskhi — another brush-like tool – is made from the branches of juniper bushes. And orchkhushi — a mop-like tool – is made from a bundle of corn husks bound together and lashed to a wooden pole.
But good hygiene is essential when crushed whole bunches are left to ferment and naturally settle out for, typically, six to eight months.
The shape aids fermentation
Qvevri are handmade in batches by artisans. It can take six weeks to build a 1,000L qvevri, as there is a great deal of waiting for layers to dry and for the kiln to cool down. But because it is handmade, there are variations between individual pots. The basic shape, however, is similar and hasn't changed much over time because it works amazingly well.
It's egg-shaped to aid the fermentation kinetics, has a narrow bottom for collecting solids and a wide mouth at the top for access.
They are generally large – anything from 100 to 3,500L, although 1,000 to 1,500L seems to be the preferred size.
Vlad confirmed: "I believe such a shape of fermentation vessels and size helps somehow to reach right fermentations."
For cooling purposes, the qvevri are usually buried in the ground and it is believed that the word qvevri comes from kveuri, which means "that which is buried".
Gogi likes them because they promote a natural way of winemaking – they don't offer "too many possibilities to influence wine quality".
It's not necessarily about long macerations
The International Wine Challenge 2019 results show how far Georgian wine has come in recent years. The country which claims 8,000 vintages was awarded two trophies, six gold medals and 18 silvers in the competition. Only six of these 24 medals went to amber wines. And the trophy for best white from Georgia went to an amber wine made for international appeal. Or, as Salome Mosidze, head of marketing at the winning producer, Teliani Valley, says, it "is the right wine for the world to taste qvevri style whites".
Established in 1997 on the site of a 19th century winery, Kakheti-based Teliani Valley ages its Glekhuri Kisi Qvevri for five months
in the marani below
, where the buried pots have capacities of 1,300-2,500L.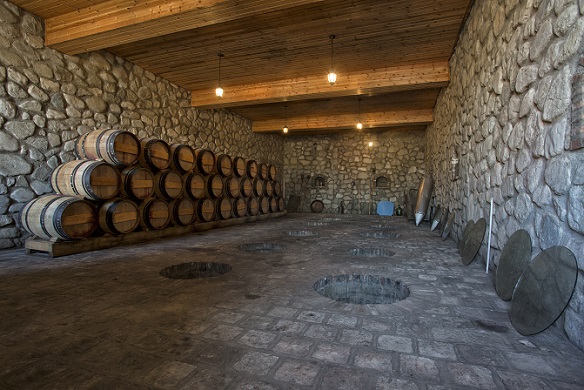 The classic long-maceration method is only traditional in Georgia's main production region, Kakheti, in the east of the country, where grapes develop higher concentrations of sugar. In Imereti, in west Georgia, where there is higher humidity and slower ripening, there are shorter maceration times and the addition of stems is rare.
Nowadays, it seems, winemakers in the east and west are more confident, more experimental and are happy to adapt their traditions to 'whatever works', with maceration times now varying from three weeks to eight months.
Intriguing grape varieties
Georgia has more than 500 indigenous grape varieties. Vachnadziani, which owns vineyards in the Kakheti and lmereti regions, makes wine from 30 of them, with SKUs from 800 to 300,000 bottles. "It's a complex harvest," Vlad commented.
A long-time fan of Georgia's most famous variety, Saperavi, my new favourites include Krakhuna, an aromatic white from Imereti, and Otskhanuri Sapere, an ancient variety that's rich in acidity and tannins and produces wines with an intense ruby colour.
One of the encouraging things is the support at all levels for projects promoting, saving and replanting the 'old varieties' that were nearly wiped out in the era of Soviet wine industrialisation.
A new project by Teliani Valley, called 'Wine People', brings a limited edition of rare varietals, produced by artisan winemakers, to the market.
The varietals include Rkatsiteli, Chinebuli, Asuretuli Shavi, and Tavkveri, while the winemakers include a mechanical engineer, a doctor, an economist, a lawyer, a military logistician, and a monk.
I hope to be able to meet them and taste their wines next year. This time, in Georgia. It's a place where you can learn a lot about both ancient and modern winemaking techniques.
Related reading
A Frenchman in Georgia
Interview with Ori Marani's
Bastien Warskotte
. A son of Champagne and graduate of the University of Burgundy in Dijon, he now makes traditional-method sparkling wines in Georgia using rare grape varieties, such as Tsitska, Chinuri, Mtsvane and Aladasturi.
Georgia's story moves on from qvevri and amber wines
An exciting new chapter in Georgia's 8,000-year winemaking history has begun… Full story from our archives
here
.