French winemaker Bastien Warskotte has crafted a very unusual range of five sparkling wines and five still wines in his cellar in Georgia.
They are made in qvevri and French oak. They are made from rare Georgian grapes such as Chinuri, Goruli Mstvane, Tsistka and Aladasturi and indigenous yeasts.
For someone who's from Champagne, his sparkling wines couldn't be more different.
"Because the climate is different (here), our wines tend to be a bit more powerful with less acidity," Bastien tells
Canopy
. "They are rich, only brut nature and bottled to target 4.5 bars of pressure in order to have a white wine first and foremost; bubbles are here just to add some freshness and drinkability.
"All are spontaneously fermented without filtration or fining in order to have very authentic and pure wines."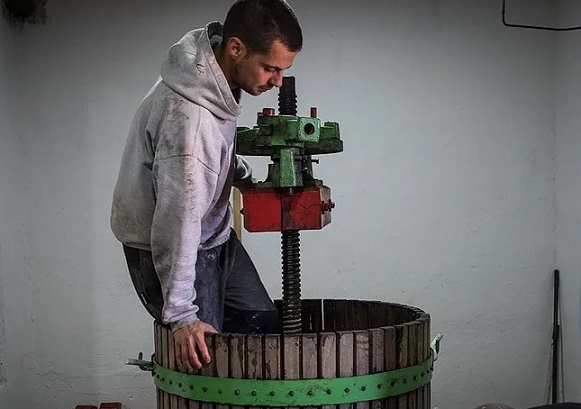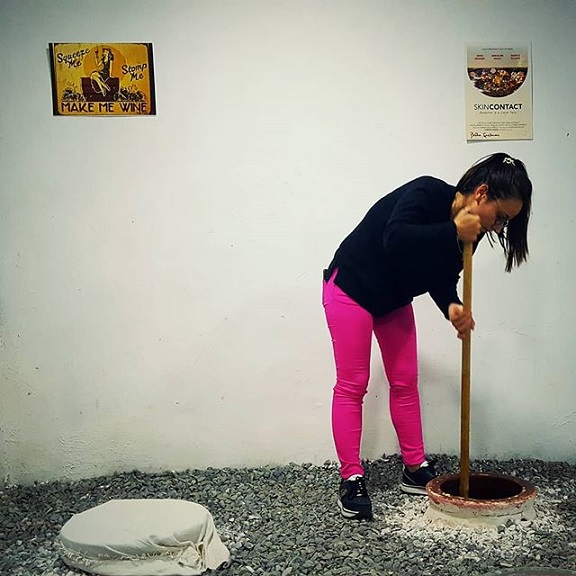 Bastien and his Georgian wife, Nino Gvantseladze, set up Ori Marani in 2017, in the cooler climate Shida Kartli region in central Georgia, and have just completed their fourth vintage.
The name 'Ori Marani' means 'two cellars' in Georgian. It was inspired by Bastien's dream of one day making sparkling wine from his family's small vineyard in Champagne, as well as at his new home in a village west of Tbilisi. But it also sums up his winemaking style.
Ori Marani's wines are a fusion of Georgian and French winemaking traditions: skin contact in qvevri and ageing in French oak. "I blend quite a lot of grapes and also the style," he says, but the final blends are usually 50-50 with the influence of qvevri and used oak. "For me it's pretty interesting because the two vessels are completely different. The qvevri gives a lot of roundness, a lot of texture, creaminess, whereas the barrel is a little bit more reductive, a little bit sharper, so the blend of the two works pretty well, specially the fermentation in qvevri and the ageing in barrel. I like this kind of concept."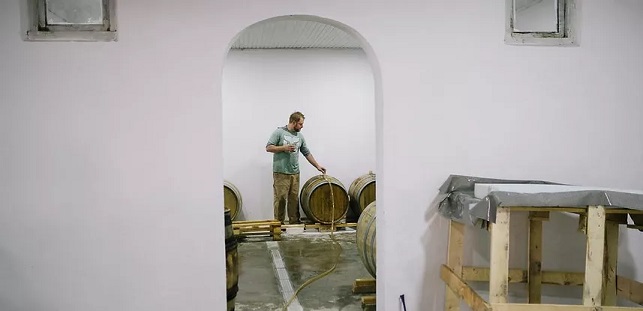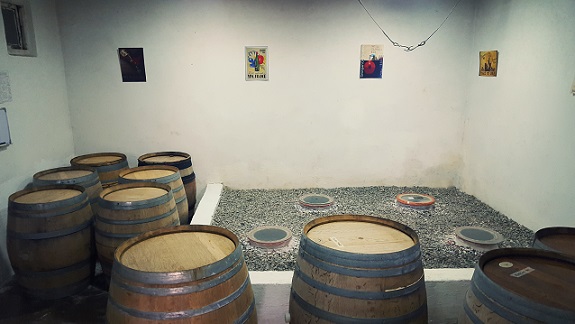 His renovated winery in Igoeti has a marani with six qvevri buried in the ground, next to the barrel room. There are no stainless-steel tanks, though. "Only qvevri and barrels," Bastien confirms.
Originally from Champagne, Bastien studied oenology at the University of Burgundy in Dijon and has made wine in Bordeaux, Provence, Australia, South Africa and Canada.
Even before meeting his wife while working at a winery in Nova Scotia, Canada, and visiting her home country in 2014, Bastien was enthusiastic about the potential of qvevri for fermentations and ageing. Being able to store the base wines for his non-vintage fizz in clay as well is a bonus.
The capacities of his qvevri are 450L (x 2), 300L (x 3) and 220L.
In the land outside the winery he has planted 130 vines. The varieties are Shavkapito, Chinuri and Goruli Mstvane.
He hopes, one day, to buy some vineyards but, for now, he is content buying from seven or eight family growers around the country. Most of them farm organically by tradition, although none is certified.
For his sparkling wines, the grapes come from the Imereti or Shida Karlti regions. "Shida Kartli's soil (limestone and clay) gives to our wines minerality and Imeretian clay confers power and richness," he explains.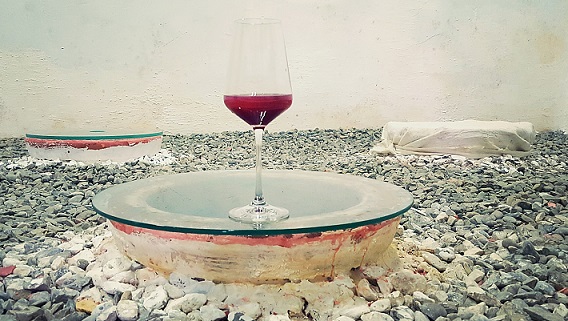 Winemaking philosophy
Bastien's style is fairly hands-off. "We are only here to guide them through fermentation and ageing," he says.
"It's not because I'm in Georgia that I make wine with six months' skin contact in qvevri; I love fermentation and ageing in barrels, so why not use it here?
"I do what I want and I make the wine I like, that for me is the most important thing as a winemaker.
"For sure they are a tiny bit different than some other wines, which is good because in Georgia we have such a huge diversity, everybody is doing his own style.
"You have a lot of freedom in terms of winemaking because I blend different grapes from different regions, I do what I want. In France, with all the appellations and so on, you are a little bit trapped... There are appellations here but it's not as important as in France, so you can experiment a lot, do a lot of things. That's great, I think."
The wines
Ori Marani produces five sparkling wines – three classic and two pet-nats (a white and rosé).
They are made using the traditional method – with a few Georgian and natural wine twists. The wines are fermented with indigenous yeasts and "without any interventions that could compromise the authenticity of the wines".
The grapes for his non-vintage wines are Chinuri, Goruli Mstvane, and Tsistka, with Aladasturi adding the colour to his rosés.
The still wines include semi-carbonic Chinuri and Saperavi, and a Tsitska with six months' skin contact.
Minimal amounts of SO2 are used before fermentation and at bottling.
Production this year was around 12 tonnes of grapes and they aim to produce 7,500 bottles.