I still remember the Georgian tasting at Millbank in London five or six years ago – the choir of beetle-browed singers dressed in traditional black chokhas singing away as the ambassador said his 'How do you dos' to a roomful of bureaucrats and a couple of stray wine writers.
After tasting some sweet, soupy Khvanchkara ('Stalin's favourite!', I was told) and tannic amber wines, the grape varieties of which I could neither taste nor pronounce, I remember I left thinking that Georgian wine was at once fascinatingly different, and also somehow old-fashioned.
In the intervening years Georgian wine's image has changed a lot. The Cradle of Wine has become cool, and anyone expecting only implacable amber wines, or Porty reds favoured by the architect of the Great Purge, is in for a surprise.
Maceration technique is a prime example of how Georgian wines can vary, and where today's Georgian winemakers are finding room to experiment.
The classic long-maceration method – where crushed whole bunches are left to ferment and naturally settle out for, typically, six to eight months, or until the spring after harvest – is actually only traditional in Kakheti, the east Georgian region which accounts for 80% of Georgian wine production.
'No maceration'
But traditional styles of Georgian qvevri wines exist with short maceration or no maceration at all, especially in Imereti, in the west of the country, where winemakers add only a small amount of pressed grape skins, if any, and don't use stems, which tend not to ripen here.
Nowadays, though, commercial producers are taking more of a 'whatever works' approach. Maceration times may vary from three weeks to eight months depending on region, grape variety and individual winemaker's approach. It's all to do with the evolution of what was until recently very much a homespun, inward-looking tradition.
"Until recently a lot of Georgian winemakers were making wine just for themselves and the kitchen table," explains Doug Wregg of Les Caves de Pyrene, a UK importer of eight traditional qvevri producers from across Georgia.
"They were not bottling at a particular time for a market. When they needed wine – for guests, for big occasions – they would open the qvevri and fill up containers with wine. I guess this meant longer macerations (which would protect against oxidation, for example). The wines – particularly in Kakheti – tended to be very amber, very astringent.
"The [artisan] wineries that now commercialise their wine may still be small, but they have more qvevris and space in their cellars to play with. Hence, we are seeing wines made to a specific style, rather than wines which, to be fair, were fairly similar in style."
Slowly, like the tannins of an eight-month-macerated amber wine, these traditions are becoming less rigid. Winemakers from east to west are using whatever maceration techniques work for them, and diversifying their whole approach to winemaking.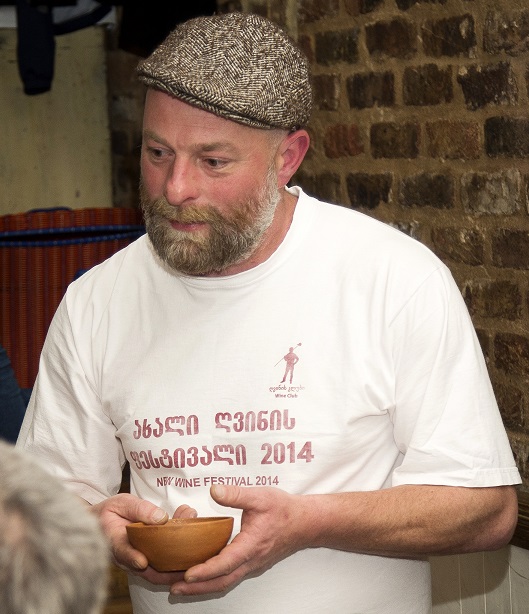 Of Les Caves' qvevri producers, Ramaz Nikoladze (
above
) in Imereti makes one version of Tsolikouri with skins and one without; Iago Bitarishvili in Kakheti does the same with his Chinuri; while at Pheasants Tears in Kakheti, John Wurdeman (
pictured with Iago below
) says the variety and qvevri size will determine the length of maceration.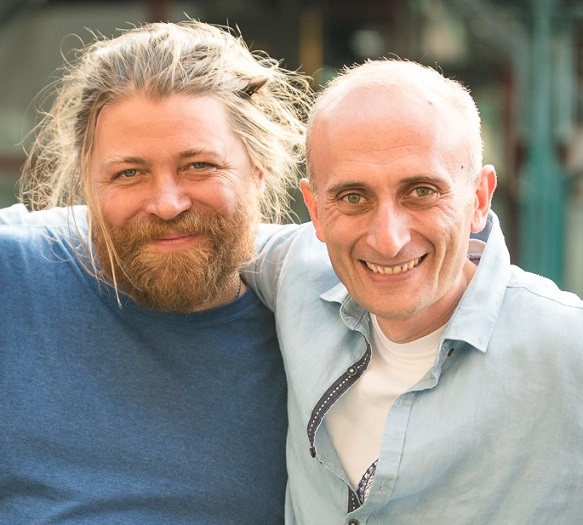 In Obcha, Imereti, 26-year-old Baia Abuladze produces Baia's Wines in a low-intervention manner with minimal sulphur additions. She explains her terroir-based approach to using skins: "In east Georgia, in the Kakheti region, grapes develop higher concentrations of sugar and this is why there is always the possibility for long skin (and sometimes stem) contact.
"In west Georgia, where we are located," she adds, "the terroirs are different. We have high humidity, yellow clay, more moisture and longer periods of ripening, so the grapes do not develop lots of sugar. Traditionally, our wines are with 30% skin contact for maceration time."
But constraints of terroir have not prevented Baia from producing a traditional amber wine from the Tsitska grape variety, which goes through maceration with 100% of skins for one month. This is without stems, however – which Doug Wregg notes is probably the biggest change he has seen in Georgian winemaking in recent years.
'Long macerations without stems'
"In the past, stems were almost always used," he says. "Now, even the classic Kakheti wines are made from destemmed grapes – like Kisi, Rkatsiteli and Mtsvane, which tend to get the lengthier macerations – or only 10-15% of stems added. If you do long macerations, it will tend to be without stems.
"Some growers also do partial maceration – ie, in blends, some of the grapes will be macerated and others won't – so you will have a wine that is 25% eight-month maceration, for example.
"I am sure that partial maceration of blends is a recent phenomenon," Wregg adds. "Given that traditionally most growers had a tiny plot of vines and perhaps two to three qvevris – usually one for fermenting and one for the racked juice to age – the options to blend were almost non-existent."
If we look around at other Georgian wines which have made their way into the export market, we see wines covering the wide spectrum of maceration times.
Clark Foyster imports the strikingly well-sculpted qvevri wines of Gogi Dakishvili, in Telavi, Kakheti. Lance Foyster MW notes that Gogi's Kisi and Rkatsiteli amber wines, both of which have about four months on stems, have bedded in well with customers, though he freely admits that their "unique palate structure" and pronounced tannins make them challenging, to say the least, for some people.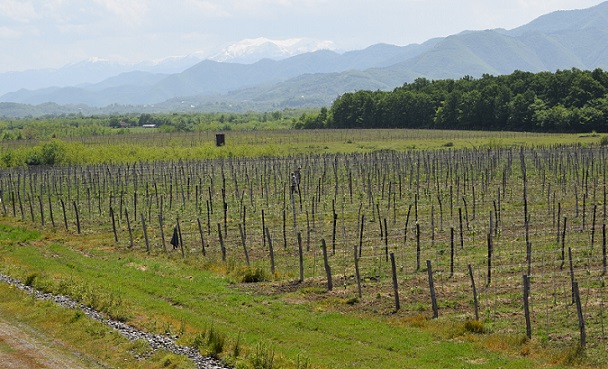 Another take is provided by Steve Daniel, buyer for Hallgarten & Novum Wines, which recently started working with one of Georgia's largest producers, Vachnadziani, which makes wines in traditional Georgian and 'European' (the winery's definition) styles, along with some promising hybrid styles – partial qvevri ageing of European style wines, for example. (
Vachnadziani's vineyards are pictured above
.)
'All those lovely aromatics are wasted if you put the wine in a qvevri on skins'
A self-confessed "freak for native varieties" who has been instrumental in establishing a serious market for Greek wines in the UK, Daniel visited Georgia for the first time last year and was struck by the varietal character of many of the whites without any skin maceration.
"You have to remember that, great though it is, qvevri wine still only represents about 1% of commercially produced Georgian wines," he says. "Wines fermented in qvevris on skins are always going to be an extreme sport, if you like, and any level of technique as heavy as that tends to display the technique more than the grape.
"For me, the European wines are far more interesting because you can see what the variety tastes like. My absolute favourite is Krakhuna [an aromatic white variety indigenous to Imereti; the name means 'crispy' in Imeretian dialect]. It's kind of like a Viognier with an added herbal-mineral twist – all those lovely aromatics are wasted if you put the wine in a qvevri on skins."
Perhaps the clearest signs of the Georgian wine's evolution (or should that be devolution?) is on the artisan side, where Georgia has become a frontier land for well-trained, young natural wine enthusiasts starting out in their careers and planting their own flag in this unique wine territory.
Take Ori Marani, for example, in the Shida Kartli region in central Georgia, founded by husband and wife team Bastien Warskotte and Nino Gvantseladze in 2016. A son of Champagne and graduate of the University of Burgundy in Dijon, Bastien specialises in traditional-method sparkling wines made with Tsitska, Chinuri, Mtsvane and Aladasturi sourced from Kakheti, Kartli and Imereti.
There's also the young Frenchmen Vincent Jullien and Guillaume Gouerou, who launched Lapati Wines in Kakheti in 2015, specialising in petnats (seemingly a growing trend for the country – see also John Okro, Iago Bitarishvili and Pheasant's Tears) using only indigenous varieties. They also make two still qvevri wines with a period of carbonic maceration, aiming at a lighter, less structured style.
Such winemaking adventurers are part of a burgeoning new wave of natural winemakers, most of whom are members of Georgia's Natural Wine Association, founded in Tbilisi in 2017. The association is around 60-strong and growing.
With traditional Georgian winemaking no longer quite on the endangered list – thanks to the establishment of qvevri-making schools, vine cultivar libraries to protect Georgia's 500+ unique grape varieties, and the protection afforded by being on UNESCO's Intangible Cultural Heritage list – and the industrial arm of the industry showing the best of itself through improved viticulture and technical know-how – the diversity of Georgia's wines and traditions is being explored as never before, and an exciting new chapter in Georgia's 8,000-year history is beginning.