'Nobody thought that the Koshu grape had any aromatic potential before we identified the thiol precursor compound 3MH for the first time'
It's remarkable that, despite Japan's long history of viticulture – grapes are thought to have been grown in the prefecture of Yamanashi since the 11th century – Koshu has only been taken seriously as a wine grape for the last 10-15 years.
There have been several important developments during that brief time: first is the research – particularly in relation to picking dates, training systems, yields and Koshu's chemical composition – undertaken by producers such as Château Mercian, and researchers Dr Takatoshi Tominaga and Denis Dubourdieu.
Second, licensing restrictions dictating who may commercially produce wine have been relaxed. Up to 2004, the Japanese wine industry was dominated by big companies – the authorities would only grant a licence to make wine if you were operating on a large scale.
Since 2004, more boutique wineries have emerged. Of the 400 or so wine producers currently operating in Japan, the fastest-growing sector is that of highly-trained artisanal producers working on quality-focused, handmade wines. Many are using organic and biodynamic farming methods, and, where Koshu is concerned, massal selection of the best Koshu vine material to produce ever more individual high-quality wines.
A further step forward for Japanese wine was the recognition in 2013 from the International Organisation of Vine and Wine (OIV) of Koshu as an official wine grape of Japan. This has had the effect of reinforcing definitions of Koshu's varietal typicity and quality winemaking potential.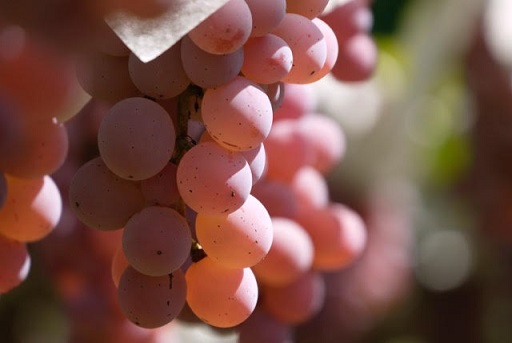 One varietal signature of Koshu – and something those people promoting the variety are trying to exploit – is an association of purity, finesse, even 'zen-like' neutrality; characteristics which chime with the currently fashionable light, delicate flavours and stylings in gastronomy.
But there has been some criticism that this sense of delicacy in Koshu wines goes too far. While the best Koshus manage to express a certain paradoxical 'ethereal intensity', some simply appear to lack concentration. There does come a point, critics argue, when 'pure' and 'transparent' crosses over into 'dilute'.
Before we look at the ways in which today's producers are addressing this issue, let's look briefly at what kind of grape variety Koshu is.
Recent DNA analysis by the National Research Institute of Brewing in Japan revealed that the Koshu genome consists of 20-30% of DNA from a wild East Asian vine species presumed to be
Vitis davidii
. The remaining DNA is from
Vitis vinifera
. It is suggested that the
V. vinifera
ancestor of Koshu was propagated in the western part of the Asian continent, in the Caucasus, travelling via the Silk Road to Japan, at some point crossing with the East Asian species.
Koshu is a relatively thick-skinned, baby pink grape. It is usually grown on pergola, but increasingly in vertical shoot positioning (VSP) systems too. It is low in acidity – though in fact both chaptalisation and acidification are very common for the variety. It is also a high-yielding variety – yields can be as high as 12 tonnes/ha, but are limited to around 6 tonnes/ha in the sheltered, higher-altitude sites, typically on bases of free-draining slate and gravel, preferred for higher quality wines.
While Koshu can cope with high humidity, climatic conditions are almost invariably challenging. For example, in the lower-lying areas of Yamanashi prefecture – the principal Koshu growing area of Japan – it is not uncommon for a summer daytime high to be 30°C+, with night lows of just 26°C. This lack of cooling at night means disease pressure is always high, while attaining good fruit expression and acidity are a constant struggle.
There are a few regions that avoid this climatic strain, either by being at higher elevation (200-300m above sea level; any higher and the temperatures are just too cold), or more northerly – for example, Yamagata and Hokkaido.
What's changed?
Koshu wines gained their first gold medal in IWC 2020 Tranche 1 and gained 25 silver, bronze and commended awards in IWC 2019.
So what has changed to make Koshu of Japan a contender among the world's quality wines? One important development has been the identification of the citrus aromatic components of the variety. Château Mercian has done a lot of work to the varietal characteristics and clonal selection of Koshu. In 2003, they conducted several small trials with the variety and, by chance, identified a particular citric flavour in one of their Koshu samples.
This compound turned out to be the 3-Mercaptohexanol (3MH) thiol, first identified as giving certain fruity characteristics – often likened to grapefruit and passionfruit – to Sauvignon Blanc. That led in 2004 to an in-depth research project by the late University of Bordeaux researchers Dr Takatoshi Tominaga and Denis Dubourdieu.
They discovered that the compound is present in early-picked Koshu, which tends to be more aromatic than that picked later. This has had a big influence not just for Château Mercian (
vineyards below
), but for other Japanese wineries seeking to exploit Koshu's delicate aromatic potential.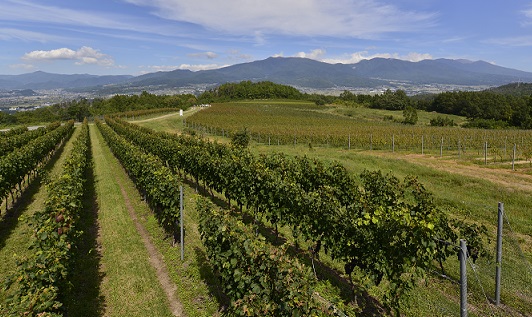 "Nobody thought that the Koshu grape had any aromatic potential before we identified the thiol precursor compound 3MH for the first time," explains Takayuki Tamura, the head winemaker of Château Mercian's Katsunuma Winery.
"Subsequently, we observed the accumulation of this thiol precursor compound in grapes during maturation for several years. Finally, we found the amount of the flavor precursor maximised around 110 days after flowering.
"Up to then, Koshu had been harvested 130-140 days after flowering. At that time, the thiol precursor has almost disappeared."
Another finding was that p-coumaric acid, the precursor of 4-Vinylphenol – a compound which at a certain sensory threshold can give a negative phenolic or medicinal characteristic – increases in Koshu as it ripens.
Ultimately, Château Mercian's research led to harvesting Koshu up to a month earlier than they had previously. This had three marked benefits: it optimised thiol potential (3MH), reduced 4-Vinylphenol levels and increased acidity.
So much for the understanding of Koshu in the vineyard, but there have been significant developments in vinification methods for the variety too. Increasingly, producers are working more with lees and harnessing Koshu's phenolic component, particularly from its thick skins, to produce wines with greater pith and substance.
'More and more producers are macerating earlier-picked Koshu with skins'
In the past, winemakers generally saw Koshu skins as a liability, preferring to make light, early-pressed wines. In contrast, these days more and more producers are macerating earlier-picked Koshu with skins. Indeed orange Koshu – often labelled as 'Koshu gris' – is becoming markedly popular in Japan.
Château Mercian's Feufuki Koshu 'Gris de Gris' owes its attractive salmony hue and some of its texture to undergoing partial thermo-maceration at 60°C, which encourages the diffusion of phenolics from the grape skins. This is an orange wine in an elegant frame, using clarified musts and with no oxidative character. It has attractive notes of tangerine, apricot skin, peach blossoms and rose petal, along with a subtle earthiness and a saline acidity.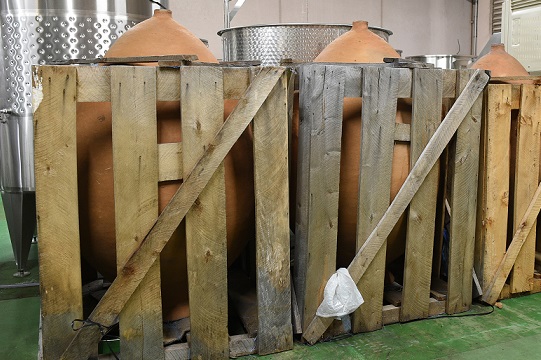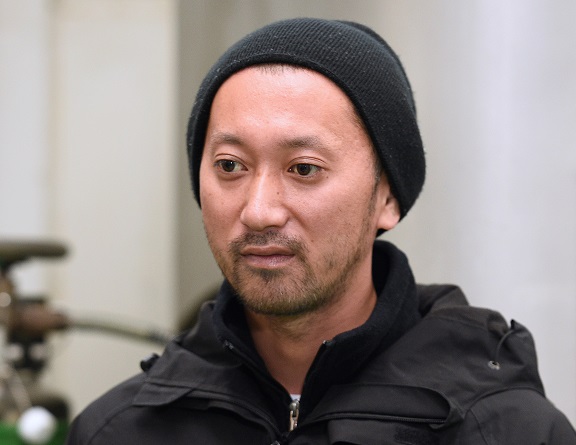 In a similar vein, Burgundy-trained Hiro Aruga (
above
) of Aruga Branca produces a skin-contact Koshu in Georgian qvevris. At Château Lumiere, winemaker Shigeki Kida makes his Prestige Class Orange Koshu combining carbonic maceration with two weeks of skin contact, followed by ageing in oak barrels.
'Almost a preposterous thing to do'
Japan is not the obvious place to make high-quality wine. In fact, such is the paucity of vineyard land and such are the climatic difficulties – the monsoons, the earthquakes, the hot, erratic summers and freezing, inhospitable winters – that at a recent tasting one MW reflected that winemaking in Japan is "almost a preposterous thing to do".
But in this still-nascent industry, Koshu undoubtedly offers something distinctive. It is encouraging to see how producers, with their technical expertise and improved understanding of the variety, are coaxing expression and substance out of this signature grape in a land of extremes. Increasingly, the wines they are making suggest that perhaps winemaking in Japan is not so preposterous after all.
The rise of Koshu at IWC
IWC 2020 (Tranche 1)
One gold
One silver
IWC 2019
25 wines
made from Koshu were awarded silver, bronze and commended
IWC 2018
15 wines
made from Koshu were awarded silver, bronze and commended
IWC 2017
14 wines
made from Koshu were awarded silver, bronze and commended
IWC 2016
6 wines
made from Koshu were awarded silver, bronze and commended
IWC 2015
9 wines
made from Koshu were awarded silver, bronze and commended
IWC 2014
10 wines
made from Koshu were awarded silver, bronze and commended
IWC 2013
8 wines
made from Koshu were awarded silver, bronze and commended
IWC 2012
0 awards