Clay vessels are more than a tool for winemakers; they are a symbol of a winemaker's belief system.
They certainly tick many boxes. Minimum intervention. Amber wines. Terroir wines. Traditional techniques. Pure expressions. Skin contact. Complex wines. Tick. Tick. Tick!
No wonder a growing number of producers are adopting clay vessels of varying sizes and origins: qvevri from Georgia and amphorae from Italy, France, Spain and local producers, while the winemakers of Portugal's Alentejo are buying all the ancient talha they spot in gardens, farms and shuttered restaurants.
And now a new wave is surfing in… The creative crowd.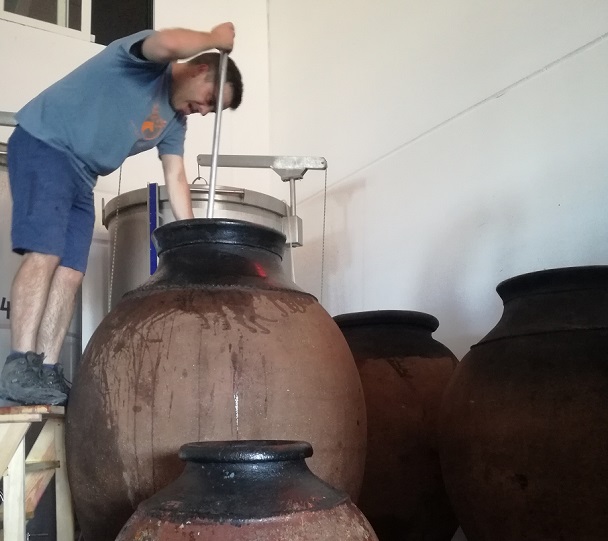 Australia: Brash Higgins' Nero d'Avola
American sommelier turned Australian winemaker, Brad Hickey (above), has created a wonderful expression of the Italian grape variety Nero d'Avola using Australian-made amphorae.
After travelling to South Australia and meeting vineyard owner Nicole Thorpe, Brad became interested in Italian and Mediterranean grape varieties that could thrive in a hot and dry region like McLaren Vale. He and Nicole travelled to Nero d'Avola's home turf, Sicily, for inspiration and found biodynamic producer COS.
COS's Giusto Occipinti and Giambattista Cilia have been making wine in unlined amphorae from Spain since 2002 because it lets "the wines breathe, like wood does, but they don't impart any wood aromas or flavours".
When Brad and Nicole returned to their Omensetter Vineyard – where they make the Brash Higgins line of wines – they commissioned Adelaide potter John Bennett to make some 200L clay jars using local clay, and lined with McLaren Vale beeswax.
Brad's thinking went like this: "If we handle this new grape variety on our vineyard, Nero d'Avola, in a unique and gentle way, eschewing oak and steel, then perhaps we can get something totally pure and distinct, and a wine-style very uncommon in Australia. Amphora seemed like a good way to not only introduce Nero d'Avola, a high acid and transparent varietal, but to make a statement as well."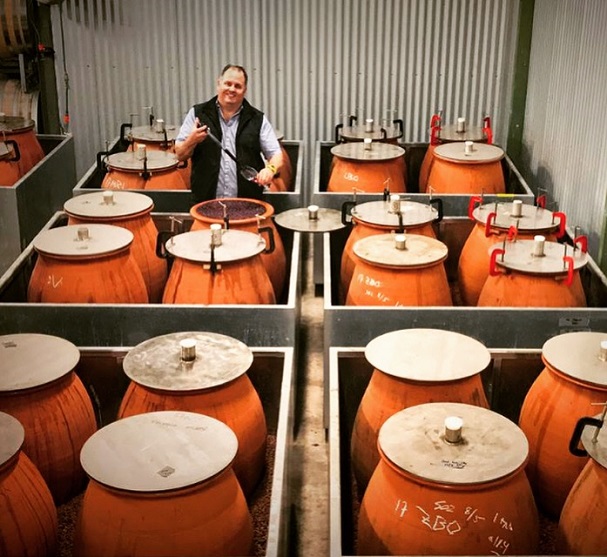 With the launch of the 2011 Nero d'Avola (NDV), Brash Higgins became the first winery in Australia to adopt amphorae as a core component of their winemaking process. Brad and Nicole have 32 vessels now, all of 200L capacity.
Brad believes they "add a warmth, vibrancy and prettiness. Also, they keep the focus on the vineyard, not the mascara of oak. They are easy to maintain, the beeswax helps keep them hygienic and keeps oxygen from spoiling the party."
In addition to the Nero d'Avola, they also make a Merlot (MRLO) and Zibibbo (ZBO) in amphorae. For the organic orange wine, the hand-picked Zibibbo (Muscat of Alexandria) is destemmed into the jars for fermentation using native yeasts. The caps are hand-plunged twice daily until the ferment finishes and the skins sink. The skins and seeds are left in the wine for 150 days, with a natural layer of flor developing for protection. The 'free run' is siphoned off in spring and blended with the pressings. The wine is bottled unfiltered and unfined.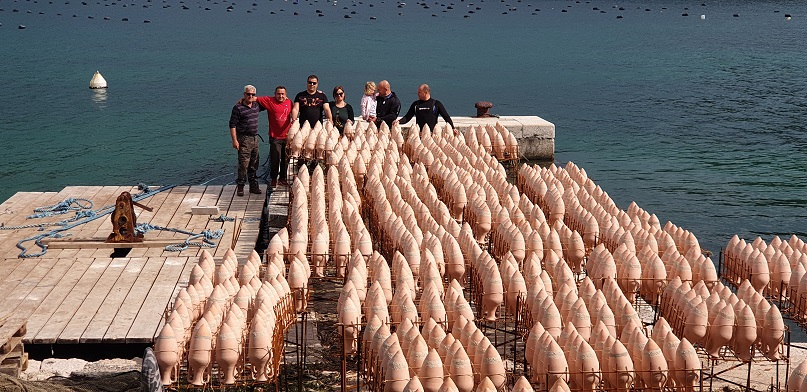 Croatia: Clay jugs and bottles
My first taste of an amphora wine was the Kabola Amfora Malvazija Istarska, still one of my favourites. The organic Malvasia Istriana grapes are fermented in 2,000L amphorae buried in the grounds of the Markežić family's beautiful stone farmhouse in the Momjan Valley, in Istria (northwest Croatia). After seven months, it's transferred to large (4,000L) Slavonian oak barrels for further ageing.
Owner Marino Markežić, a friend of Josko Gravner, was the first in Croatia to start producing wine in amphorae in 2005. He describes it as "a primordial way of turning grapes into wine, and you can taste the real flavour of the variety and terroir".
Since then, I have followed the increasingly creative ways that Croatian winemakers are using clay...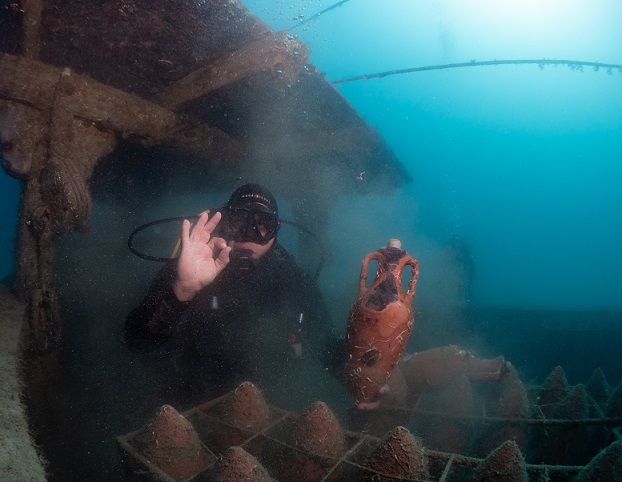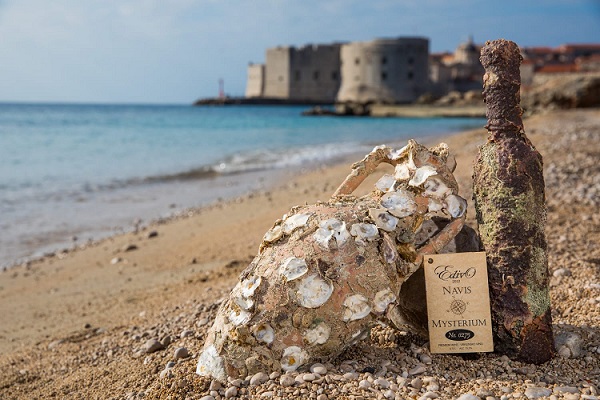 Drače-based wine producer Edivo has created "an underwater winery" in the middle of the Pelješac peninsula. Bottles of Plavac Mali and bottles encased in clay jugs are stored in a wrought iron cage in a shipwreck for two years. The line, called Navis Mysterium (The Sea Mystery), are aged in oak barrels on land first, before being sunk to the dark depths of the Adriatic Sea, where the temperature is a steady 15°C. When the clay jugs – baked in Petrinja, Croatia – are retrieved, the corals, seashells and algae form part of the packaging design and help the wine fetch $400. All the bottles are corked, and two layers of wax are added to prevent saltwater seeping in, and wine leaking out. The local diving club takes Discover Scuba Diving students and certified divers to see the sunken bottles (above) on twice-daily tours.
The Tomac Winery in Plešivica, south of Zagreb, has six qvevri buried outside, some of which are used for the fermentation and maturation of the base wines for their méthode-traditionelle sparkling wine. Tomislav Tomac, who runs the winery and 7ha of vineyards with his wife and father, makes an 'Amfora Brut' with 50% Chardonnay and 50% old local varieties that have almost faded into oblivion, such as Štajerska Belina, Kraljevina, Plavec Žuti and Šipelj.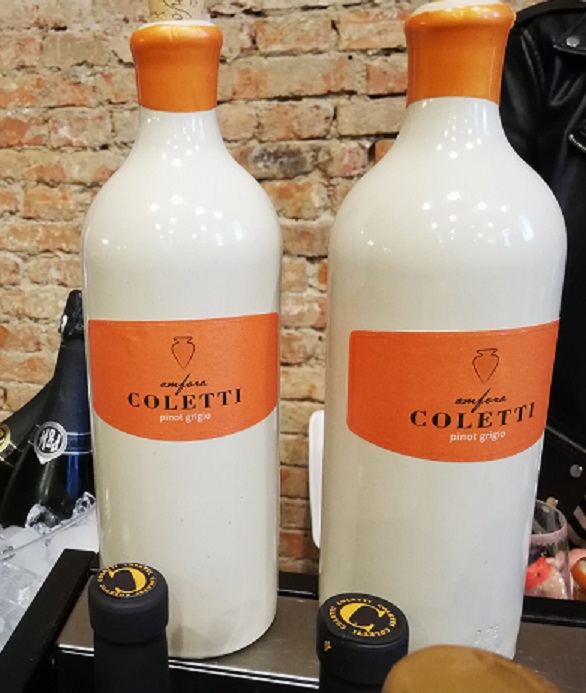 Another sparkling wine producer from the Plešivica region, Kolarić Winery has created a deep pink 'orange' wine, Coletti Amfora, which is made from 100% Pinot Grigio, fermented in qvevri and packaged in ceramic bottles (above). Franjo Kolarić only puts perfect berries in his 1,200L Georgian qvevri.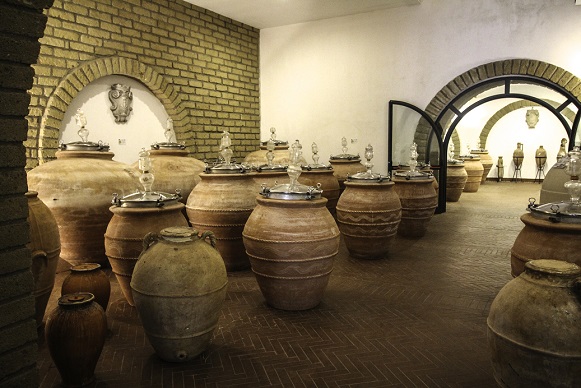 Italy: Volcanic wines
Campania-based producer Villa Matilde experimented with amphorae for five years before committing to them 10 years ago. It now has 50 amphorae, ranging in size from 20-100L (above)
. Winemaker Fabio Gennarelli told
Canopy
: "We started to experiment with the terracotta amphorae because they make possible the oxygen's exchange without influencing the wine itself and without adding any specific particular taste or perfume. They make possible the evolution of the wine thanks to the oxygen, leaving the expression of the terroir intact."
For its Falerno del Massico Bianco, Falanghina from the foot of the extinct volcano Roccamonfina is partly aged in amphora and in steel tank for about three months.
For the Vigna Caracci Falerno del Massico Bianco DOP, Falanghina grapes from the volcano's slopes are cryomacerated to increase aromatic extraction and to improve structure. Part of the must ferments in steel, part in amphora and part in medium-toasted Allier oak barriques. Part of the wine stays in contact with the sediment in amphora for three months, the rest in stainless steel tanks.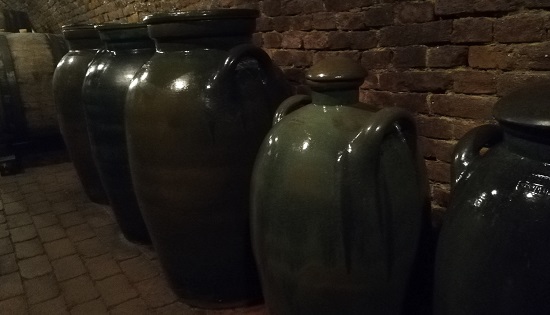 Hungary: Size does matter
Mór-based Krisztina Csetvei, an IWC judge but also one of our favourite Hungarian winemakers, loves experimenting. So, it's not surprising to see amphorae of varying shapes and sizes lining her cellar wall (above). What is surprising is that she got a Hungarian potter to produce them and they are filled with the local variety Ezerjó.
"In 2014, I visited Georgia," she recalls. "During the trip, I got the idea to try not the Georgian method, but to transform their amphora wine technology to the Csetvei kind. It means I found a local ceramic artist who made my amphora based on my special requests, such as the capacity, material usage and so on. My style is to put the juice from the press directly in the amphora and fermenting there until the process ends. It's different each year, so up to two months I keep it there and taste it each day. After the fermentation is over, I rack the wine to tanks."
She says she finds the wine "so drinkable and smooth, but it keeps the unique citrus aromas of the Ezerjó".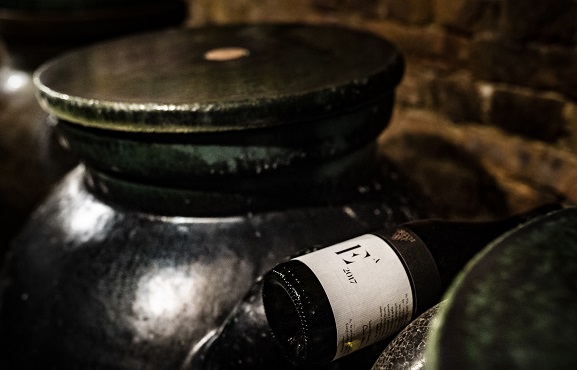 Krisztina has noticed that size does matter. Her amphorae range from 120 to 240L in capacity and she has seen "during the fermentation it's different. My favourite is the biggest because it can stay cooler and the flavour is different".
An interview with Krisztina from the Canopy archives: 'How I used social media to build a fan base'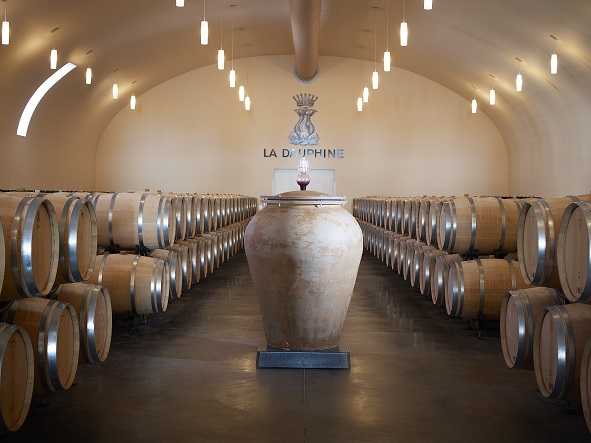 Bordeaux: Amphora for Cabernet Franc
Chateau de La Dauphine, one of the largest estates in Fronsac, has been experimenting with ageing wines in amphorae for several years, believing they give "a pure expression of the terroir and the grape variety".
The winery has three different amphorae:
A 1,000L Zen stoneware amphora from French manufacturer Vin & Terre, which is being used to finish the ageing of their prestige 100% Cabernet Franc cuvée. Using this less porous material for 12 months will, they hope, enhance the wine's flavours, aromas and sense of minerality.
A rounder, more feminine 1,000L Coralie stoneware amphora, again from Vin & Terre, which arrived recently and will be used for ageing the chateau's Sauvignon Blanc and Sémillon wines from 2021.
A 750L amphora from Italian family Tava, which was the first to arrive three years ago. Initially, its role was to complement the ageing of the estate's wines in barrels, bringing freshness while also revealing the fruit and the terroir. Having become convinced of the amphora's beneficial effects, they decided to create a prestige cuvée in 2019 from their oldest Cabernet Franc vines (planted in 1946). After vinification in concrete vats, this limited-edition organic wine was matured for 12 months in amphora and will be bottled next summer.
Cellarmaster Julien Schaus told
Canopy
: "The objective of these vinifications is to obtain well-structured wines – as they will not develop any additional tannins during ageing in the amphorae – without any astringency. Barrel-ageing is more effective at 'coating' angular tannins."
He added: "There is also a reason for using Cabernet Franc – at optimal maturity, its silky texture can be revealed without the need for barrel ageing. The gentle oxidation of the amphora and the absence of oaky aromas enable the grape variety's characteristic notes of blackcurrant, raspberry, and violet to come to the forefront."
Amphorae are in use in about 300 cellars in Bordeaux, according to the CIVB.
 Read an interview with young winemaker Nea Berglund, of Château Carsin in Cadillac Côtes de Bordeaux,
here
.