Japan's leading wine producer and distributor, Mercian Corporation, plans to dominate the domestic market and raise the profile of Japanese wine globally.
Mercian Corporation, which owns wine brand Château Mercian and distributes imported alcoholic beverages such as Concha y Toro wines in Japan, plans to achieve this with a range of innovative new products and strategies.
These include:
Launching an 'Ambassador Club'. Château Mercian Ambassador Club, launched last week, will provide information on Japanese wines to wine professionals "with the aim of making Japan one of the world's most famous wine regions". Club members will receive monthly emails containing information on Japanese wine, vintages, winemaking, viticulture and research in general – not just about Château Mercian. They will also be invited to free online seminars by Château Mercian winemakers and masterclasses by IWC judge Kenichi Ohashi MW. The hope is that these members will become "ambassadors" of Japanese wine and provide information about Japanese wine to consumers. "Through this club, we aim to expand and revitalise the Japanese wine market together with our members," the company said in a statement.
Increasing the number of "wine fans" by doubling sales of "casual sparkling" – a new value-added category of "sparkling wine that is easy to drink, easy to buy, easy to use, and can be enjoyed casually in a variety of settings". Last year, Mercian achieved 161% year-on-year sales volume increase and it is hoping to attract even more sales this year with the launch of existing products in 290ml cans and the introduction of a couple of new products in March.

The Maker's Recipe Sparkling with Peel is Mercian's second product in its Maker's Recipe series of craft sparkling wines and follows last summer's successful launch of Maker's Recipe Sparkling with Hops. Due to be launched on March 2, Maker's Recipe Sparkling with Peel features citrus peel macerated in wine to give an unusual "bittersweetness". Mercian says this product can be enjoyed in a variety of settings, especially by young people, and adds "a new taste sensation".

Oishii Antioxidant-Free Wine Cidre – made with 100% apples – and Grapefruit Cidre (
above
) are being launched in cans at convenience stores on March 30. "It's a good way to get more people interested in wines as part of building a wine culture in Japan," says Russell Roll, manager of corporate communications at parent company Kirin.
The Tokyo-based company, which also owns Napa winery La Jota Vineyard & Winery, is also putting more of its wine in lightweight, recyclable 1.5L PET bottles. It started in 2010 after developing a Bordeaux-style magnum bottle shape with an improved oxygen barrier which reduced the oxygen transmission rate "to an absolute minimum". Now most of Mercian's domestically-produced wines that "feature quality taste at an accessible price" are available in PET bottles, as well as three varietals from the Concha y Toro Frontera line (a Cabernet Sauvignon, Chardonnay and Pinot Noir).

Another growth area driven by people drinking at home during the Covid-19 pandemic is organic wine. "Amidst customers' growing interest in social issues, coupled with ethical consumption, organic wine – something that caters to those needs – is doing well, especially for home use," Russell says.
It's a category where Mercian aims "to accelerate its efforts" as it seeks to expand the overall wine market in 2021.
The company told
Canopy
it is aiming for 95% of last year's sales (by volume) this year, after seeing a 7% increase in 2020. It plans to sell 3.58m (720ml) bottles of Japanese wine and 2.85m bottles of imported wine in 2021.
Koshu research
Recent research shows that Japan's signature white grape variety, Koshu, has genetic characteristics typical of red wine grapes and does not belong to any species currently grown elsewhere in the world. But Château Mercian's chief winemaker, Mitsuhiro Anzo (
below
), says this new information will not change the way he makes his Koshu varietal wines.
He told
Canopy
: "The results of this study will not result in any immediate changes in (vineyard) management or vinification methods."
Longer term, though, he hopes it will promote interest in Japanese wine. He said: "As a winemaker, I believe that the fact that Koshu has its own genome will lead to the creation of original Japanese wines."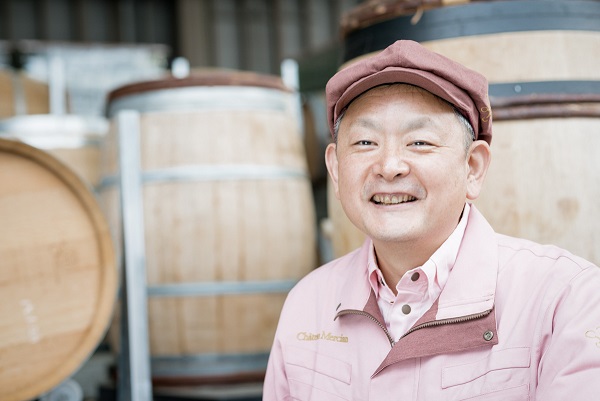 Regarding the research from the University of Yamanashi and Tokyo University of Agriculture, he said: "I believe that the results of this analysis are due to the fact that about 25% of the Koshu genome is naturally crossed with the genes of the Chinese grape (Vitis Davidii), resulting in a genome structure unique to Koshu."
The research, led by Keisuke Tanaka, an assistant professor of genome biology at Tokyo University of Agriculture's Genome Research Center, found the pink-skinned grape has genetic features that generate a citrus-like aroma and polyphenol, a substance found in large amounts in red wine grapes.
This flowchart
below
shows how Château Mercian makes its Koshu Gris de Gris, a skin-contact wine with a charming light touch. It's my favourite Château Mercian wine!