Wijngaard Dassemus (Vineyard Dassemus) is a 4ha estate in the south of the Netherlands. The 16,000 vines, planted in stages since 2005, are all PIWIs (cross-bred fungal-resistant varieties).
Owner Ron Langeveld tells me: "We've been working only with PIWIs from the start. I see no point in starting a vineyard in a country with a more difficult climate for grapes and doing it in the same way as they do in France or Germany with a lot of spraying with chemicals. So, the starting point was no spraying – and no sulphur, no copper.
"PIWIs made it possible for me to start a vineyard in the Netherlands. But it was quite a search for the best ones. We tried over 25 and still have about 14 varieties."
The successes include the white varieties Solaris, Souvignier Gris, Muscaris and Johanniter and the reds Rondo, Cabernet Cortis, Cabernet Cantor, Cabernet Jura, Baron and Monarch.
The varieties he dug up include Regent, Cabertin, Pinotin and Cabernet Blanc. "We replaced them when it turned out that they were not resistant enough to grow without spraying," he says.
As well as being disease-resistant and suitable for the Netherlands' humid climate, the new varieties ripen a few weeks earlier than classic wine grapes. "By keeping the yield relatively low and the canopy large, we can harvest ripe grapes in the Netherlands," he declares proudly.
'The fermentations start almost immediately'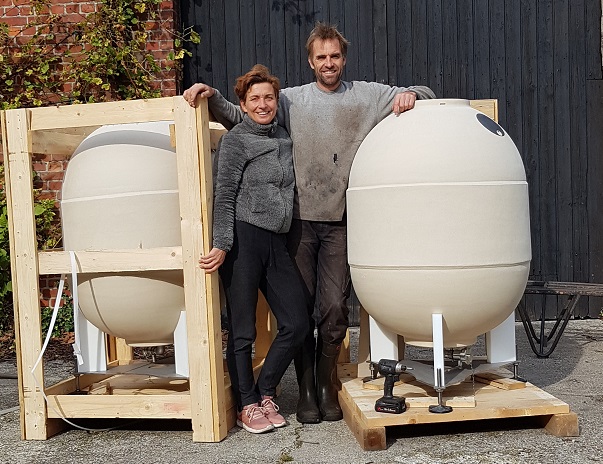 Ron, who runs the estate with wife Monique, reflects: "New varieties are being developed and each generation is better than the one before. They are all easy to work with in the cellar, especially making natural wine. We didn't spray fungicides that would normally also kill the natural yeasts, so they are plentiful and the fermentations start almost immediately. The fruit is usually in very good condition, most varieties are developed also with a good botrytis resistance and loose bunches."
Certified organic (Skal) and biodynamic (Demeter, since August 2021), the vineyard in the hamlet of Dassemus, near the village of Chaam, is surrounded by a nature reserve.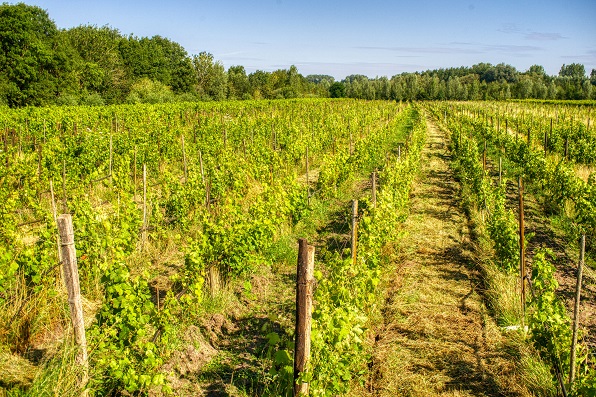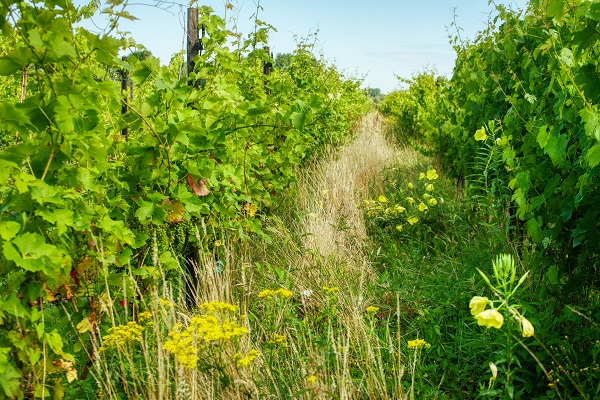 To enrich the soil and add to the biodiversity, various herbs (including clover) are grown in alternate rows. The other rows – grass – are mown alternately "so that enough useful insects can survive" while still allowing a route for walking tours and vehicles.
Goats and chickens are used to fertilise the soil.
Around the vineyard, trees have been planted to block the wind and increase the temperature in the vineyard. A variety of animals now shelter in these hedgerows.
The most suitable PIWIs
Ron, whose background includes theoretical mathematics, telecoms and international canoeing contests, says his favourite white grapes are:
Souvignier Gris – "definitely the most promising for high-quality wines", this pink-skinned variety has good acidity and is late ripening;
Sauvignac – makes "like a Sauvignon Blanc type wine";
Solaris – "picked at the right maturity, it's very good, best for very northern climates";
Muscaris – "very aromatic";
Johanniter – "the weakest in terms of resistance but very nice, almost Riesling-like".
His favourite red grapes are Rondo, Baron, Cabernet Cantor, Monarch, Cabernet Jura, and Cabernet Cortis. He says they are "all good" and suitable for different styles of wine, from the "very fruity" Rondo to the "more structured" Cabernet Cortis. They also produce "very nice rosés".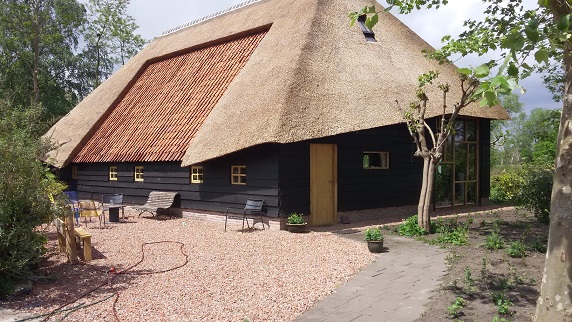 Since 2020, all the wines at Wijngaard Dassemus are made with native yeasts and extended skin contact and the range has been condensed to four wines:
Wilde Witte – a blend of Solaris, Sauvignac and Souvignier Gris. Handpicked, one night's skin contact;
Wilde Rosé – a blend of Cabernet Jura and Cabernet Cantor. Handpicked, no skin contact;
Orange – a blend of 80% Souvignier Gris and 20% Muscaris. Handpicked, destemmed, 25 days' skin contact, fermentation in stainless steel, ageing in a mix of French oak barrique, Clayver ceramic balls, and stainless-steel tank;
Wilde Rode – a Rondo varietal. Handpicked, 21 days' skin contact, fermentation in stainless steel, ageing in refurbished French oak barrique.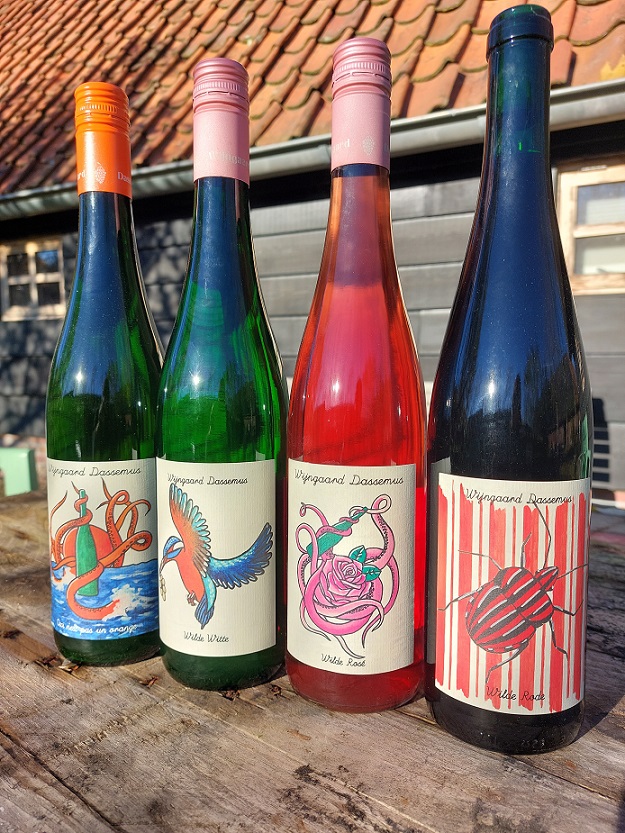 From the grape skins, Ron makes an eau de vie, The Spirit of Dassemus, a portion of which is matured in barrique. Other fruits, such as apples, raspberries and cherries are also distilled. Some of the apples from the farm are also turned into cider.
The main problem in the vineyard is the threat of late frosts. Sprinklers that come on when the temperature dips below zero are the chosen solution, with the water coming from a couple of ponds dug at the site.
The ponds have a steep bank where swallows and kingfishers nest. The ponds are also popular with amphibians and frogs. It's a pretty site with pretty unusual wines.