"With hybrids, I think that skin contact and wild yeasts are so useful. It brings out a whole series of other flavours."
I'm listening to Robin Snowdon while viewing a parcel of Orion vines, one of eight grape varieties grown at his biodynamic vineyard near Bristol, in southwest England. Orion is one of those varieties I've dismissed in the past as high on disease resistance but low on flavour. Robin uses it in pét-nats and amber wines, bringing out a whole different side of this grape, a German crossing of the
Vitis vinifera
variety Optima and the hybrid grape Villard Blanc.
While I'm looking at the grapes – at head height on a Geneva Double Curtain trellis – Robin pokes around in the long grass. The grass is only cut a couple of times a year (in the summer after the wildflowers have gone to seed and just before he pegs in the bird nets prior to harvest).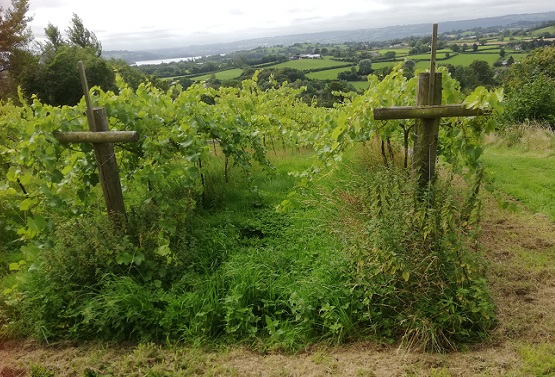 "There are four different types of grass there," he points out. "You've got brambles and wild geranium there... Yellow vetch. That is ragwort, birdsfoot trefoil, white clover, lots of thistles and yarrow, plantain, a bit of bindweed, red clover, St John's Wort, oxeye daisy... That's Chicory – the only one we planted (to break up the clay-loam soil) and it took four years to come up! I put seeds everywhere and we've got about six of them. Everything else is wild."
Robin, a former landscape architect, is very proud of the biodiversity at Limeburn Hill Vineyard, one of the few biodynamic vineyards in England. He and partner Georgina Harvey planted the first 1,800 vines in 2015 on rented land at a beautiful little farm in Chew Magna, on a slope overlooking the Chew Valley in north Somerset. They subsequently bought the land, an additional site nearby – where they planted vines last year – and the farmhouse. They share the outbuildings and much of the farm equipment with a couple making cider (Wilding Cider), who now own the orchard part of the 25-acre farm, and the previous owner, who now lives in a cottage on the estate and is developing a forest garden.
Of the eight varieties – three red and five white – seven are disease-resistant, so-called PIWI grapes: Orion (
above and below
), Solaris, Rondo, Regent and Seyval Blanc in one vineyard, and Johanniter and Sauvignac at the new site. The only
Vitis vinifera
variety, Pinot Noir, represents about 30% of the vines at the original site, takes 60% of Robin's time in the vineyard and contributes 15% of the yield. If he did it again, he wouldn't plant Pinot Noir. He says he would opt for the PIWI version, Pinotin.
From these eight varieties, he makes an unusual range of natural wines with the emphasis on pét-nats because he'd rather use naturally occurring CO2 to protect the wines from oxidation than add SO2. From their record-breaking 2021 harvest, which ended on November 6, they are making pét-nats in three colours – amber, rosé and red – while also experimenting with small-batch, skin-macerated Seyval Blanc and Johanniter. Both will undergo about 30 days of skin contact.
All the wines are co-ferments using native yeasts and low-intervention methods (no added sulphites, sugar, nutrients, filtering or fining).
'Rondo grapes taste amazing'
The fizzy red is a co-ferment of Rondo (50-75%), Regent and Solaris. I comment that I've yet to taste a Rondo I would pay good money for. Robin replies: "The thing about a pét-nat is, it's as close to the flavour of the grape as you can get. Rondo grapes taste amazing, but when you age it in bottles or barrels it doesn't have a huge amount of quality. But the pét-nat captures the real fruitiness and it's a real joy."
This pét-nat gets its dark red colour from just 12 hours on skins. "It's not a wine people have tasted before!" is Robin's understatement of the day.
The amber pét-nat features Orion and Seyval Blanc and five or six days on skins. "That works really well," he comments.
The rosé uses the rest of the Orion and the Pinot Noir – with the dark pink colour coming from 48 hours on skins. "What we find is that you do get these amazing flavours from the Orion this way and you definitely get something additional by fermenting them together."
'The amber Orion smells like a Sauterne'
In the past, Robin has also made an amber Orion and an amber Seyval:
Whole berries destemmed by hand;
Carbonic maceration;
30 days on skins;
Pressed and left in glass demi-johns for a year, topped up with CO2.
"After a year they tasted terrible – both of them – and I nearly threw them away," Robin confesses. "But I bottled them because I needed the demi-johns and I tasted them a year later and they were absolutely wonderful. Something in them had developed. When you smell the amber Orion at two years old, it smells like a Sauterne. It's got honey and roasted nuts and apricots."
'They like competition'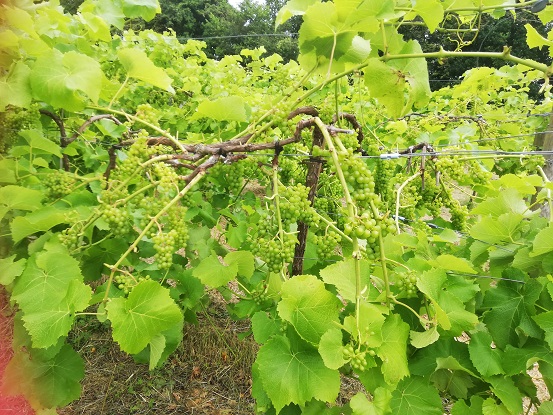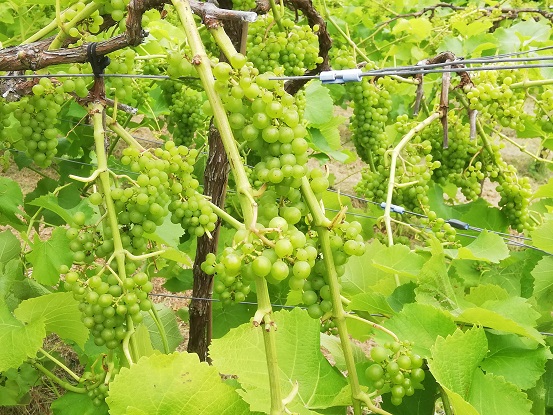 As I tour the vineyard prior to the harvest, I can see the grapes and vines look healthy and are very productive despite the competition from the wide array of weeds.
"What situation would a vine be in naturally?" Robin asks rhetorically. "It isn't in a field like this, it's in a woodland or on the edge of a woodland or by a river – and they are in competition with everything else. So, I think, once they're established, then I think they like competition."
After six years tending the vines, he's also noticed something interesting that's worthy of further research: "We're recognising that when certain flowers come up, they will very often have a chemical or hormone or an acid in them which is suitable for the vines at that time. Dandelion is high in potassium – it comes up early in the season, when the vines need potassium to start developing the flowers and fruit. Nettles are richest in nitrogen in the first part of the season when the plants need nitrogen. Later in the season, when the nettles are dying back, the vines don't need nitrogen. So, there's this really fascinating link. Yarrow is high in sulphur so it's naturally good for mildews – it doesn't come up at the beginning of the year when you don't really have a problem with it. You really need it in the summer, and that's when the yarrow comes up."
Near the Orion vines are the Solaris, Rondo and Regent. "The idea of that was we would have a diversity of plants – and a greater diversity of life," Robin explains. But having a variety of vines also gives Limeburn Hill protection against one of the major problems that many PIWIs are not resistant to – frosts. "If you have one vine – if it budbursts early and you get a late frost, you lose the lot. This is giving us options."
Of the vineyard's seven PIWIs – a German abbreviation for Pilzwiderstandsfähig (fungal resistant) – Robin seems particularly excited about the new planting of Sauvignac, which has Riesling and Sauvignon Blanc in its lineage. "We've had some Sauvignac wines from Austria," he says. "You've got different options – sparkling, still, you can also do different fermentations – oxidative or reductive and you get different flavours coming through. One brings out the Riesling a bit more, one brings out the Sauvignon a bit more. I tried some very unripe grapes and you can taste the Sauvignon – it was fantastic. My feeling for that variety is it has a lot of potential for this country."
Robin is also pleased he opted to install a GDC trellis system. With the grapes growing at head height, there is good airflow through them and, Robin says, "you get amazing ripening. It also means we don't have to worry about badgers (there is a set in the vineyard), or pheasants, and we have this amazing diversity of life underneath."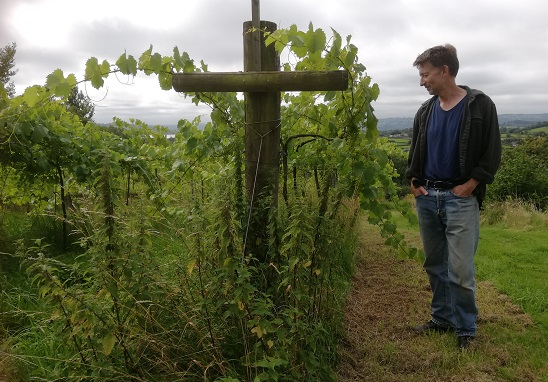 This vineyard is 4 acres (1.6ha) in size, with just under 2 acres of vines. The new site is 5 acres, again with just under 2 acres of vines. "One of the principles we work with is we don't want to plant more than half the land and we will always look after the rest of the land as habitat. So, one of our key principles is to maximise life everywhere in the vineyard. And we believe that it is this approach which creates resilience in the vines and also quality in the wine… If you get rid of all the microbes, you have the flavour of the grape and the conditions that it's in. If you have a rich diversity of microbes, you also have the flavour compounds found in the microbes."
The downside of the GDC system is that the grapes and shoots get battered by the wind and, consequently, are slightly smaller and shorter than you might see on a traditional Guyot-pruned set-up.
Robin doesn't have a tractor for his vineyard work. A quadbike is used for mowing and spraying.
Despite having vines that are resistant to the main fungal diseases, powdery and downy mildew, Robin still sprays compost teas and plant-based preps every couple of weeks during the growing season. "When we didn't spray anything, we ended up with Phomopsis on the Orion, and then on the Pinot," Robin says. "After trying garlic, rosemary and other essential oils, which failed to clear up the problem, we found willow tea was extremely effective." He also sprays horsetail, dandelion, yarrow, oak bark, comfrey, and nettle teas, and silica. Most of the ingredients for the teas and biodynamic preps come from the site. The main ingredients bought in are the silica and the organic manure (from a local dairy farm).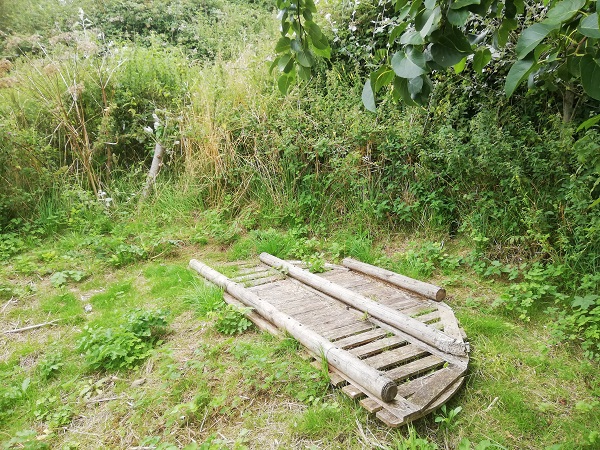 The preps are kept here, in the vineyard, near the Seyval Blanc vines and a firepit for pop-up dining events.
The vineyard has been biodynamic since Robin started preparing the former pastureland for planting in 2014.
When Robin and Georgina, both former landscape architects, started looking for a second career in wine and land for a vineyard, they knew they wanted to be organic. "We wouldn't want to poison the soil," Robin states. They ended up being biodynamic after visiting Paris for his 40th birthday. The holiday flat where they stayed was run by a couple in their 80s who had been pioneering biodynamic beef farmers in southwest France in the 1950s. "He had the most amazing stories to tell about his experiences and the problems he'd had," Robin recalls, "and when they both started explaining biodynamics, we just thought 'that's it, that's what we want!'
"So much of organics is about not doing things, it's about not using that chemical and not doing that stuff to the soil, whereas biodynamics gives you a framework of thinking about how a farm can be a holistic being, how you can work in that way and it just spoke to us straightaway. It has the practicalities of working with the soil and working with the plants and working with natural treatments, but it's also got the spirit aspect, which is thinking of the energy of the earth and the energy of the sky and combining it altogether as a framework through which you see everything – you see how everything connects and that's what we wanted. A true holistic way of looking at it."
'Biodynamics is… a framework through which you see everything'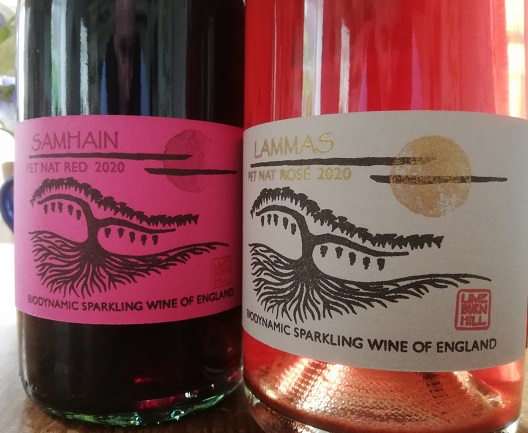 At the end of the vineyard tour, we retire to the warmth of the farmhouse. Robin confesses: "I always wanted to be a farmer, right from a little kid, but in the 1970s everyone said, 'Don't be a farmer, you won't make any money'."
In the farmhouse I notice six or seven stamps, which are used for the handprinted labels, designed by Robin and Georgina. "All will be slightly different, just as the wines will all be slightly different with bottle variation," Robin explains.
He's short on samples, so we drink coffee and chat about the winemaking.
"I want to make wonderful wines that people love – and do it in a sustainable way. That's the focus," he says, before adding: "Our approach is not to make a particular wine. We planted what we thought would give us lots of options and then whatever happens in the year we are happy to work with that. So, we don't blend anything – as much as we can, we let the grapes do the work."
Using techniques picked up from visits to biodynamic winemakers while on holiday, plus short courses at Plumpton College (England's premier wine education centre), Robin starts by making a 20L pied de cuve about a week before the harvest, ideally in the same proportions as they expect to handpick.
For the pét-nats, the grapes are crushed and destemmed, and the pied de cuve is added to the must to get the fermentation under way quickly. He punches down the cap regularly during the period of skin contact (2-7 days), before pressing. From the hydropress, the wine goes into a stainless-steel tank.
The wine is bottled without fining or filtration when it's at the right sugar level. It's disgorged – topping up with the same wine – around March. No sulphur is added at any stage.
"Making wines from hybrids is not the easiest thing to do," Robin says. "I think there needs to be more experiments in using hybrid varieties in order to bring out the best of them."
But not coming from a wine or winemaking background gives him an advantage, he feels. It gives him extra freedom to experiment – and to discover a different identity for English wine. He says so many other English producers are trying to make a wine that is a bit like a New Zealand Sauvignon Blanc from Bacchus grapes or something like a Champagne from Chardonnay, Pinot Noir and Pinot Meunier. He wants to "just find out what you get if you do almost nothing and to really explore that".
But he is confident that working biodynamically will bring "something special" to the wine. And the best way to work biodynamically in England, he strongly believes, is with PIWI grapes.