Asked how his wine tastes, Manuel Ploder replied: "Have you ever been to Istria? What about meadows and lakes in Austria? In the spice bazaar with the Asian you trust? Take all of that and picture it in the summer, then you have it."
The wine in question is the Austrian winemaker's signature bottling, Blanca, an orange wine made mostly from PIWI grapes but with 10% from
Vitis vinifera
varieties.
The blend is also an intriguing mix of parents and offspring: 80% Souvignier Gris (a disease-resistant crossing from Cabernet Sauvignon and Bronner), 2.5% Bronner (Merzling X GM 6494), 7% Muscaris (Solaris X Muskateller), 8% Muskateller, and 2.5% Grüner Veltliner.
"It best represents our work," Manuel states. "The focus on PIWIs, the work with mash-fermentation. Souvignier Gris is our main grape variety but our vineyards have a high varietal diversity – not only related to the vines, of course, but also the rest of the flora and fauna. Blanca embodies all this. And represents its origin – also in the sense of cross-breeding."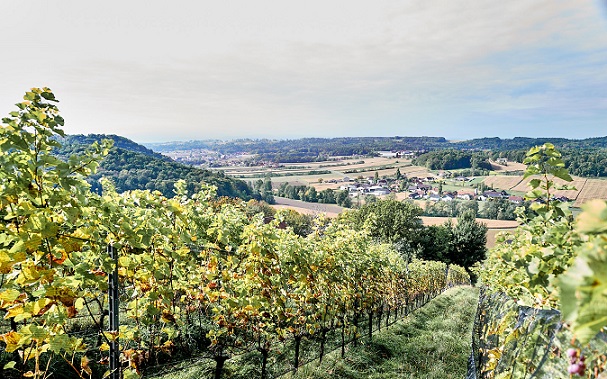 It's certainly a complex biodynamic wine with exotic fruit flavours and aromas and hints of herbs such as rosemary and jasmine.
The grapes are harvested and vinified separately before blending.
The treatment of the base wine, Souvignier Gris, is particularly interesting. Half the grapes are pressed after three days' maceration, with the juice going into a 600L oak barrel for fermentation, malo and maturation. The other 50% of the grape bunches go straight into wood with stems for one month before pressing and maturation in another 600L barrel.
Maturation is on gross lees for 12 months, then on fine lees.
Manuel, who took over winemaking duties from his father ten years ago, says the two components are blended "when they are ready, and this depends on the year and varieties and the moon, and my mood".
The vinification techniques for the other components "depends on the year".
After blending, the wine is left to integrate for three months – "but sometimes more, sometimes less, it depends on the wine and the time of bottling," Manuel says.
"Only what gets time can become quality!" is the philosophy his father Alfred passed down.
The only addition is 20mg/L of SO2 prior to bottling.
For all the wines, Manuel believes in "natural sedimentation, spontaneous fermentation free of thermal interventions, spontaneous biological acid degradation, long contact with the 'mother' (whole yeast), refusal of all artificial additives, respectful handling of every individual wine and accompanying interventions, and plenty of time for tank, barrel, amphora and bottle maturation".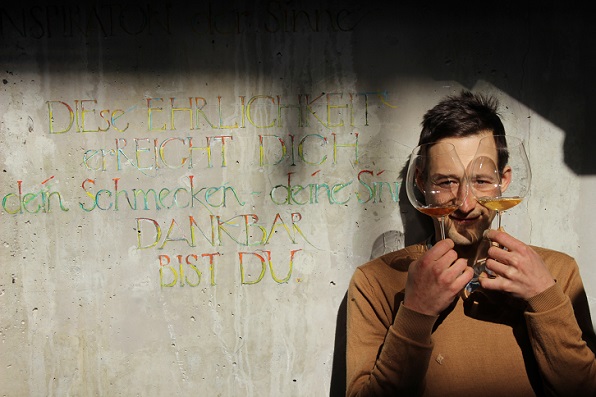 The Blanca doesn't go into amphorae, but many of his other cuvees do. He has amphorae of 420-1,200L capacity for wines that undergo 120-365 days' skin contact:
Tero (45% Sauvignon Blanc, 40% Souvignier Gris, 15% Chardonnay);
Maro (50% Chardonnay, 45% Sauvignon Blanc, 5% Muscaris);
Fejro (75% Souvignier Gris, 15% Chardonnay, 10% Sauvignon Blanc);
and Aero (35% Muscaris, 35% Gelber Traminer, 20% Sauvignon Blanc, 10% Gelber Muskateller).
"But it is not just black or white – we are a small farm," Manuel adds. "If I don't have the necessary containers free, it can happen that an amphora wine is briefly in the oak after pressing and then goes back into the amphora. I would like to have more containers to prevent this, but I am bound by the size of the cellar and financial limits."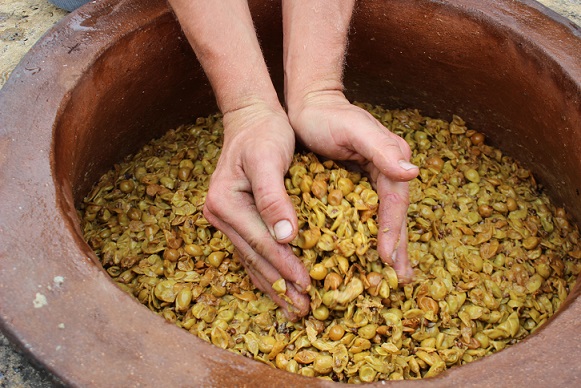 The two wines that the family-run Ploder-Rosenberg winery depends on are also unusual blends. Cara, which represents the estate's "Burgundian-style varieties", combines 40% Bronner, 30% Souvignier Gris, 15% Grüner Veltliner, and 15% Pinot Blanc. The destemmed grapes are macerated for 40 hours before fermentation and maturation in large wooden barrels. Vivas, which represents all the aromatic varieties, combines 33% Blütenmuskateller, 33% Sauvignac, 22% Muscaris, and 12% Gelber Muskateller. The grapes undergo 20 hours' maceration, spontaneous fermentation in steel tank and wooden barrel, and maturation on full yeast lees.
"We combine the characteristics of a wide variety of grape varieties and vineyards to create multi-faceted, multi-layered cuvees," Manuel, a third-generation winemaker, explains. "This is more about wine styles than about types of wine… Wine styles made from grapes, love and time."
The winery is in St Peter am Ottersbach, in the Vulkanland part of Styria, a region leading the way for PIWIs in Austria. They are growing in about 150ha (2.9%) of the region's vineyards (compared to the national average of 1.5%).
"Styria is a classic cool-climate region with an annual average temperature of around 11°C rising, and rainfall of 800-1,000mm per year – with up to 70% of the annual precipitation falling from May to September," Manuel says. "The mechanical cultivation of the vineyards is difficult, frequent rainfall increases the risk of infection as well as the risks of machine work on steep slopes. The use of fungus-resistant grape varieties significantly reduces the expenditure for plant protection and brings clear ecological advantages. It is very possible to keep PIWIs healthy with compost extracts, teas and cold extracts in connected plants. This results in a significantly lower burden on us humans, animals, soil and plants. And the most essential: the grapes grow independently of synthetic, systemic and deeply effective influences. PIWIs are the basis of wine for a healthy body, mind and soul!"
'PIWIs are the basis of wine for a healthy body, mind and soul!'
Since the changeover to biodynamic cultivation in 2006, the 12.5ha of vines have developed into "multi-layered biodiverse wine gardens".
Producing certified organic wines since 2010 and Demeter-certified since 2015, Ploder-Rosenberg still makes white and red varietals from Pinot Blanc, Chardonnay, Pinot Gris, Sauvignon Blanc, Muscat, Grüner Veltliner, Zweigelt and Pinot Noir, but replacements and new plantings are PIWIs such as Blütenmuskateller, Bronner, Muscaris, Souvignier Gris, and Sauvignac.
Manuel says they offer "good potential for high quality wines – depending on the qualitative work in the vineyard".
But he also believes they are "very good for skin-fermented wines".
Asked about which PIWI is best for skin-fermented wines, he replies: "Which you prefer?"