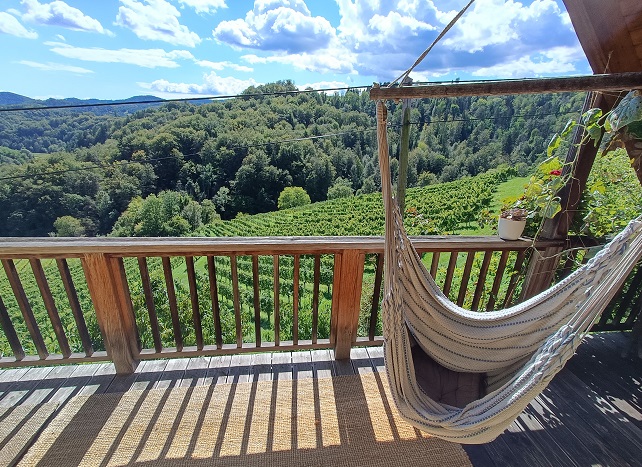 There's a hammock chair on the balcony at BioWeingut Karl Renner with staggeringly beautiful views of Steiermark (Styria), rightly described as the "green heart of Austria". The balcony, above the winery and near the kitchen of the family home, looks like a wonderful place to relax. Karl Renner, who took over the family wine business in 1997, comes here to think but he finds it difficult to relax. All he sees is the work that needs doing in the family's organically-farmed vineyards.
BioWeingut Karl Renner has 6.5ha of vines, including about 0.9ha of rented vineyards and 1.8ha of new-generation piwi grape varieties. The piwis cause much less stress than his other white varieties (Sauvignon Blanc, Pinot Blanc, Morillon (Chardonnay), Muskateller, and Welschriesling).
In this "challenging vintage" – where there was much more disease pressure – he only sprayed the piwi vines once, with copper and sulphur, at the end of June, beginning of July to prevent the fungus attacking older leaves. For one application on the piwis he used 1kg of Bordeaux mixture per hectare whereas for the conventional varieties he used 4kg.
Karl knows it's been a tough year for the vines as he's spotted some fungal diseases on two of the mildew-resistant piwis, Souvignier Gris and Chardonel. "This says the pressure was very high," Karl states. For the first time, he may have lost 10% of these grapes to rot but he describes their performance in general as "super, wonderful".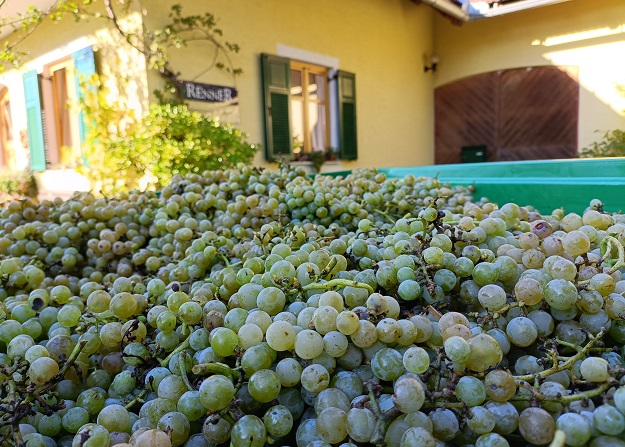 There is no sign of fungal diseases on the early-maturing Muscaris grapes (
above
). "Muscaris has very high resistance," Karl confirms.
This is the grape I've come to harvest for my first piwi wine, as part of my crazy #harvest2022 adventure, which sees me making eight wines in four countries in one vintage.
Like a growing number of winegrowers, I believe piwis – short for "pilzwiderstandsfähige Rebsorten" (grapes resistant against fungal diseases) – are "the grapes of the future". They are resistant against the two main fungal threats in viticulture: Peronospora (downy mildew) and Oidium (powdery mildew). The modern generation of piwi varieties, such as Muscaris, Souvignier Gris and Chardonel, also have the potential to produce excellent wines. That's what I've come to Styria to prove. Not only does Styria have amazing views, it also has the highest concentration of piwi vines (3% and growing).
"It's the next step in organic farming," Karl believes. "It's the answer, so when you have the responsibility of a farm, of vineyards, and you have the chance to do it better than yesterday and you have the consciousness about that, you have to do it.
"Of course, on the other hand, it's difficult to sell it because nobody knows about piwis. Nobody knows piwis exist."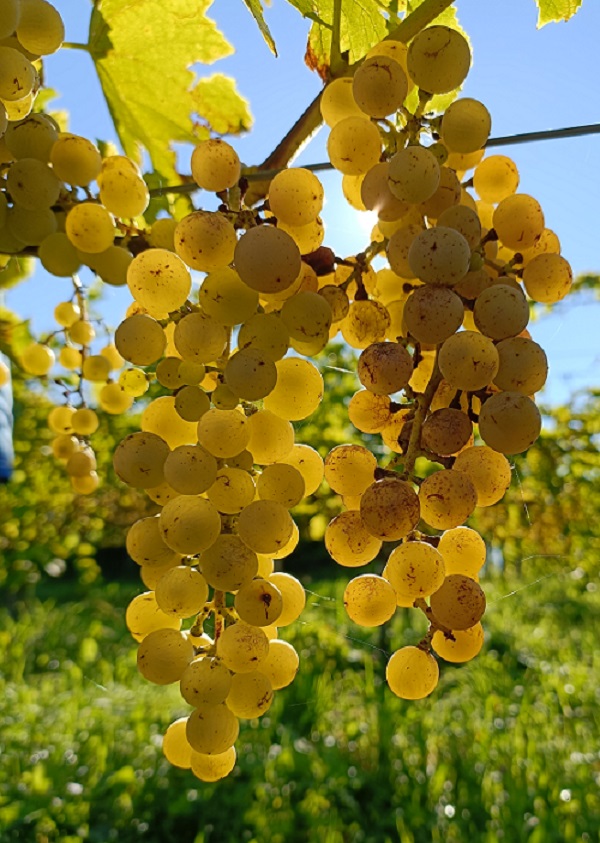 The Renners first planted piwis in 2011. These are the vines I'm helping to harvest, ten days earlier than last year.
The Muscaris grapes glisten in the morning sun (
above
). There are no signs of diseases and we're only cutting out the berries that have been attacked by insects.
We fill six bins – one more than last year. I comment that this is impressive in a "challenging vintage" but Karl points out it probably has more to do with installing fencing to deter deer, escaping frost and hail, and the vines being more mature. "They are ready to give more grapes," he states.
The vineyards below the balcony are growing varieties typical of Steiermark. But there is also some Souvignier Gris, planted in 2015, Chardonel (2016), and Blütenmuskateller (2020), which Karl plans to blend with the Muscaris in the future as they both have notes of citrus and nutmeg. Muscaris, Souvignier Gris and Blütenmuskateller are among the white grape varieties approved for use in Austrian Qualitätswein (quality wine).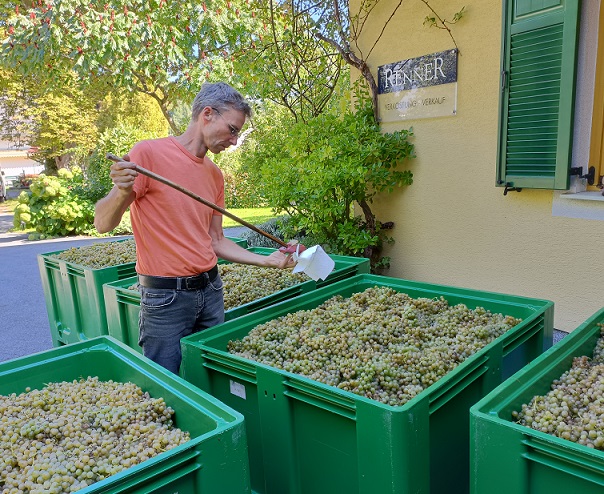 My plan is to make a blend of early-maturing Muscaris and late-ripening Souvignier Gris, using a variety of winemaking techniques and featuring an element of skin contact.
The Muscaris, picked at 12.5% potential alcohol, is a crossing of Solaris and Muscat. It produces intensely scented, nutmeg and citrus aromas with some smoky notes, and has a strong, full-bodied taste, with intense acidity.
Souvignier Gris is a pink-skinned grape from the crossing of Seyval Blanc and Zähringer, which is a crossing of Riesling and Traminer. Some say the wines are reminiscent of Sauvignons, others Riesling, while others claim it is either neutral or slightly fruity.
"We have to learn what is possible with these varieties," Karl (
above
) says. His Piwi Amber is 75% Muscaris and 25% Souvignier Gris. His Muscaris varietal features 5-6% of amber wine, which gives it "a little more spine".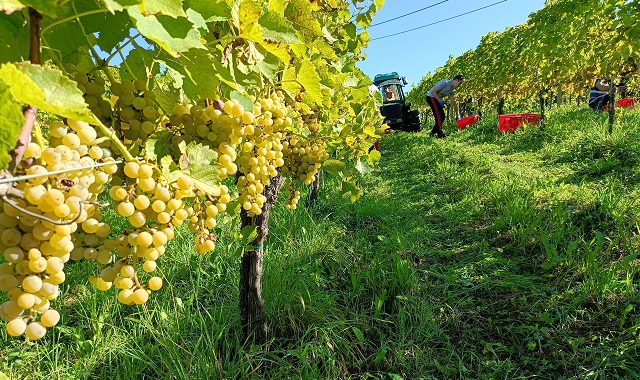 The plan
The Muscaris is handpicked in two lots, three days apart. The first grapes are to be left on skins in a tank for about eight days. "My experience is, it's better not to leave it for too long," Karl advises. "Three or four weeks on the skins is too long because piwis have more tannins than conventional varieties."
But it's also dependent on the rest of the harvest and finding the time to take out the skins. "I'll taste it when the fermentation slows and maybe we can leave it a few days more. It's not a fixed idea."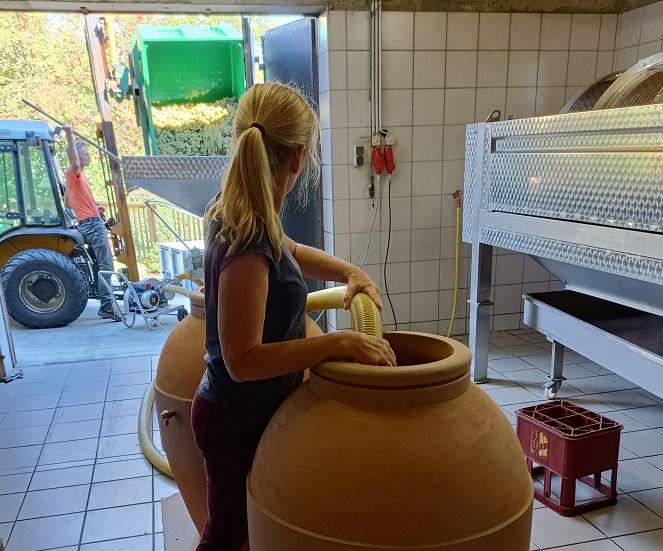 After crushing and destemming, most of the second picking goes into the press for a short maceration "to help the aromas". Some of the second picking is also pumped into two new amphorae from
The Hungarian Amphora Project
. Once the fermentation with native yeasts finishes, the wines will be combined into one amphora.
The other part will go into a large oak barrel.
The Souvignier Gris, with its loose berries and thick skins, will stay out until late September or early October – usually being picked about ten days after the Renners' red grape, Zweigelt.
"It's still green," Karl says, after tasting the grapes on his way back to Pössnitz from the Muscaris harvest. "Souvignier Gris could have a lot of sugar but also high acidity. When you wait you have potential alcohol of 14-14.5%, which we think is too high. This year I was thinking maybe I can mix it with a little Pinot Blanc and Chardonnay."
In 2020 the Renners' Souvignier Gris had 13.5% alcohol. Most went into used oak barrels and some went into a stainless-steel tank. The 2021 is still bubbling. "It tastes good at the moment, but the wine is always busy," Karl comments.
We agree that we may have to age the wine longer than many whites, because of the extra disease-fighting tannins in the piwi varieties, especially if we blend a large proportion of the skin-contact element and choose to bottle it unfined and unfiltered with low levels of sulphur.
If we age the blend in a large barrel, Karl points out, it will have to be checked and topped up regularly.
I ask him to take care of all the components until I can return for the blending session – as I have two wines to make across the border, in Slovenia.
There's just time to take in one more amazing view....
From the edge of the Muscaris vineyard I can see well into Slovenia, almost as far as its oldest city, Ptuj – my next destination. There, I plan to make a white wine with one of my favourite grapes, Furmint, but this challenging vintage has taken its toll on this variety…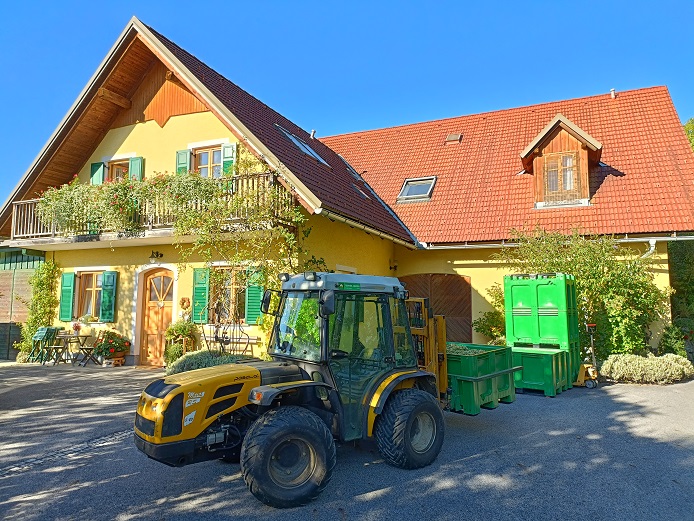 Karl Renner's tip
Plant piwis. As well as being more eco-friendly, they are more economically sustainable as they require less work in the vineyard and produce healthier organic grapes – even in challenging vintages like 2022.