Anne Bousquet, CEO of Argentina's largest organic wine exporter, is in quarantine when I call her.
The French businesswoman had flown to Mendoza from Miami, where she runs an organic wine import business with her husband, Labid Al Ameri.
Anne is quarantining in the family's new boutique lodge in Gualtallary, in the Uco Valley. She's the only customer and it's giving her the chance to check out the rooms and service before it officially opens.
The Gaia Lodge is next to the family's winery, Domaine Bousquet, which produces more than 4m litres of organic wine a year.
Anne gives me a virtual tour of the hotel. It has seven rooms – five doubles and two quadruples – but the selling point is the stunning view across Malbec vines to the snow-capped Andes.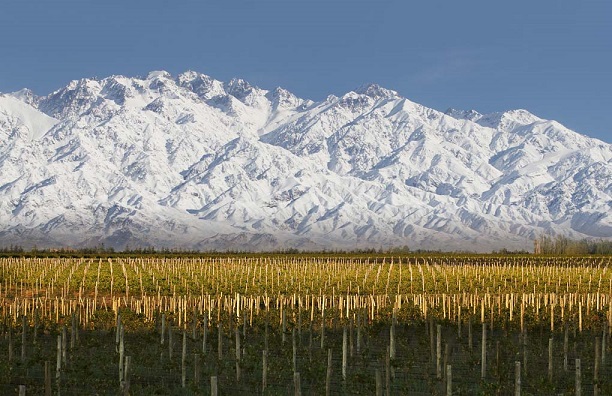 I've called her because I want to know about the economics of running an organic wine business. If anyone can tell me about the business side of organic viticulture and winemaking, it's Anne.
Prior to joining her father and her husband at Domaine Jean Bousquet in 2008, Anne worked as an economist for the European paper packaging industry out of Brussels. Anne, who has a master's degree in applied economics from Saint Cloud State University, Minnesota, and a bachelor degree in economics from the University of Toulouse, France, joined Domaine Bousquet to assist in financial planning, day-to-day operations management and business development. Today, she runs the business with her husband, whom she met at university in Minnesota. He was studying finance and went on to become a successful trader in Boston before joining Domaine Bousquet in 2005 to create the structure for its growth in more than 50 countries. About 95% of its production is exported.
The third partner in the business is Anne's brother, Guillaume, who runs the European wine import arm from Bordeaux.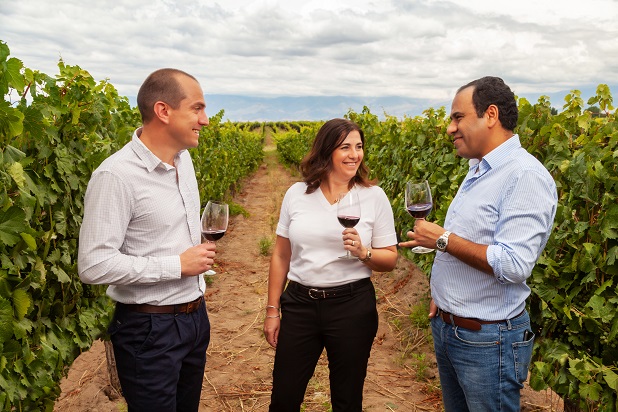 The business has invested about $15m on planting 270ha of vines, building an organic, sustainable winery, a restaurant and now a hotel.
The discussion with Anne focused on the keys to running a successful organic, sustainable, vegan-friendly wine business…
'We deliver happiness'
You don't have to provide wine tourism facilities – but it's what customers want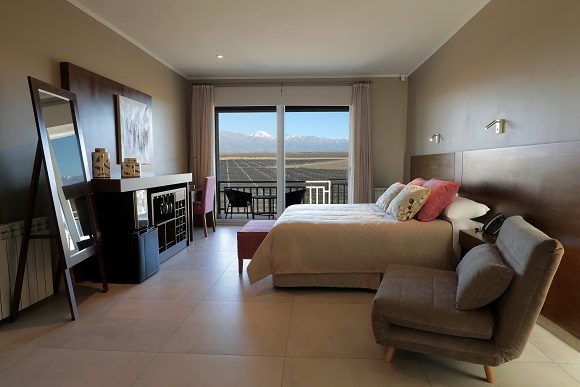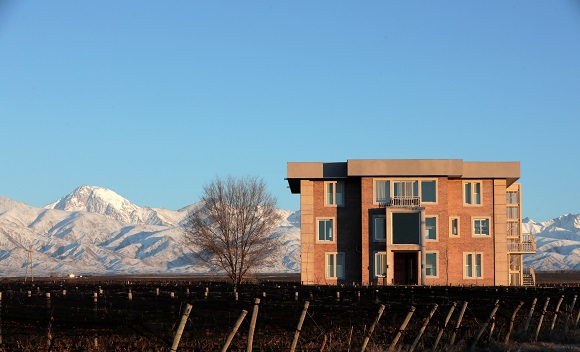 After the virtual tour of the modern hotel (
above
), I wonder if they had to expand into wine tourism to make the organic vineyard and winery more viable.
Anne smiles, before revealing they hadn't planned to go into wine tourism; they are responding to demand.
Opening the Gaia Lodge was a logical next step for the winery. After opening for tastings ten years ago, they added a tour guide. Guests stayed longer, tasted more red wines and requested food. Platters of cheese and charcuterie led to an organic restaurant and homegrown food. After opening the Gaia restaurant seven years ago, guests then started asking about places to sleep…
"That's how, two-and-a-half years ago, we started the construction of the Lodge and we just finished it," Anne explains. "It just happened. We never wanted to be in tourism. We never wanted a restaurant, less a hotel.
"But we're happy to do it, it's a fun part of our industry and it's always good because we deliver happiness."
It's a perk of the job, she says, seeing people who are relaxed, smiling and laughing and "having a good moment. With the pandemic, people enjoy even more these good moments now."
The business has invested more than $1m in the new hotel. But, despite the pandemic, they are already fully booked at weekends.
Argentinians are discovering the Uco Valley. Before Covid-19 struck the world, the bulk of visitors were wine lovers from the USA, Europe and Brazil.
Anne can see there will be "a huge demand" for oenotourism in the region again, and is already planning the expansion of the restaurant – or even a new one – as well as adding more facilities to the hotel in the coming years.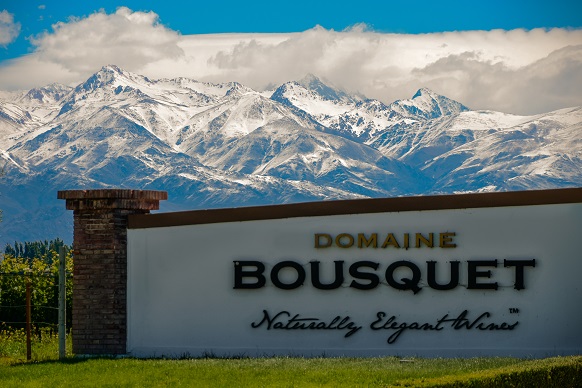 It's not about following a trend; it's about believing in what you're doing
Domaine Bousquet has been organic from the beginning. Its first wines, in 2005, were certified organic.
Yes, they are benefiting from the accelerating demand for organic wines (global sales of organic wine are projected to grow from $11bn in 2020 to $30bn by 2030). And yes, Domaine Bousquet's turnover increased by 15% to $11.4m last year and by 25% in the first six months of this year…
But Domaine Bousquet only exists because Anne's father, a winemaker in southwest France, wanted to farm organically.
It's easier if you choose a good site
Jean Bousquet found his dream terroir in semi-arid Gualtallary. Drawn here by the ability to "control the rain" (through irrigation), he planted at high-altitude (4,000ft) in the Andean foothills, where the constant breezes helped mitigate heat-stress and the diurnal differentials were significant (15C-20°C). The virgin vineyards also had sandy soils that drained well, retained the heat, and were resistant to pests.
He was so convinced that this was "paradise", he sold his Carcassonne winery, Lalande, in 1997, and moved to Tupungato in the Uco Valley.
Gradually, Anne and Labid fell in love with the place too and began to invest in the project, becoming partners in 2005 and assuming full ownership in 2011.
To compensate for the average rainfall of just 20cm per year, they us a drip irrigation system with meltwater from the Andes supplemented by their own 495ft-deep well, which took two years to dig.
Organic farming is one aspect of sustainability
Domaine Bousquet takes what it describes as a "360-degree sustainabilty" approach, of which organic farming is one of the pillars.
Anne mentions installing solar panels to power the winery, water treatment facilities to limit waste, automatic cut-off cleaners to reduce water consumption, and the use of lightweight glass bottles across the range of ten wines to further reduce their carbon footprint, but she's most proud of the economic sustainability they are providing to the local community. The wine industry which followed Domaine Bousquet to Gualtallary has transformed the Tupungato economy and infrastructure.
95% of Domaine Bousquet's 148 employees are residents of Tupungato.
"As an economist, I really appreciate being part of that economic development," she says.
Creating import companies to handle overseas sales
Domaine Bousquet has its own import companies in the United States and Europe. This gives them more control over their distributors and has been key to their phenomenal growth.
When I ask Anne about the major changes over the past ten years, since her father stepped back, she says it's the growth of US sales and the success of their Miami-based import company, Origins Organic Imports.
Since it was set up in 2015, sales in the US have grown by about 40% each year. Now they are selling in every state, they can approach retail chains. "And that opens the door to the next level," Anne points out.
Encouraging growers to go organic
Domaine Bousquet grows 50% of its grapes and buys the rest from local farmers.
Anne says they help local growers convert to organic farming methods and become certified before buying from them. At first, local growers were sceptical, but now her team receives regular calls from growers who want to sign up.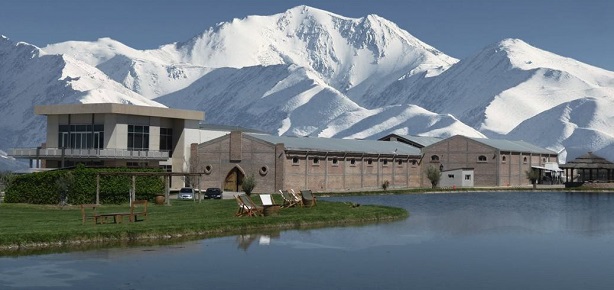 Adding a line of zero-zero wines
Chief winemaker Rodrigo Serrano, who joined in December 2017, combines traditional and modern winemaking methods in a modern winery packed with stainless-steel and cement vats, and oak barrels.
But "his baby" is non-sulphite organic wines under the Virgen label – starting with a red blend of Malbec, Cabernet Sauvignon and Cabernet Franc from the 2018 vintage that sold out in just over two months. This year they have released the same blend from 2019 as well as a Malbec and Cabernet Sauvignon. A Chardonnay will follow.
He believes it's "the purest expression of the local terroir".
Anne says she has been tasting the 2019s in the hotel. "They're holding up well," she volunteers. "That's the thing with organic grapes – you feel more the fruit. They are more natural and stronger, so they just preserve well."
Organic wines can still offer good value
The Virgen red blend sells for $13 in the US.
With the import companies, they are selling 7 million bottles of organic wine a year, at retail prices of $10-36 in the US.
The core line ranges from Virgen and premium varietals to sparkling wines, special editions and Gaia, which is aimed at the on-trade.
But the big question is: does organic viticulture make financial sense?
"It makes sense," Anne confirms.
It's made sense from the beginning, when they planted the vineyards in 2000 and sold their first bottle in 2005 – already certified organic. It helped them to establish themselves and stand out, competing in a niche market where there were fewer competitors.
She also points out that the economics are improving – as machines take over some of the more laborious tasks in the vineyard.
I point out that more machines mean more fossil fuel usage.
Anne replies: "I still believe it's much better to use more machines but not spray so much. We can see the difference between our vines, planted 20 years ago, compared to other vines in the region planted about the same time and managed conventionally. Our vines are much more vigorous so that means, over the long term, a vine that has always been managed organically like ours lasts longer because the soil is not polluted and will give."
She says they will try to offset the additional fuel use by installing more solar panels "so the global impact stays the same or goes down".
I leave her admiring the view of the blue sky and the soft glow of the sun on the distant snowy mountains. Her recollection of growing up in her father's vineyard in Languedoc echo around the room: "It was painful for us to put so much chemicals into the vines."
Domaine Bousquet's results in IWC 2021