A winemaker who's known for his Rieslings has revealed some fascinating details about the methods he uses for his red wines. Talking about a New York state Cabernet Franc, Red Newt Cellars' Kelby Russell says he vinifies it using Burgundian techniques picked up in Australia while making Grenache alongside Yalumba winemaker Peter Gambetta!
It works. That's the main thing.
"In terms of a crazy cross-cultural pollination, we have Australian Grenache handling which, itself, was based on a thorough assumption of how to make Pinot Noir in Burgundy now being used on Cabernet Franc in the Finger Lakes," is how he puts it.
"The thing that I loved about working in Australia that I've taken into all my reds is I'm trying to make reds that are really joyful – wines that are a real pleasure to drink, really have a spark to them and I think that can be as true for cool-climate Finger Lakes reds as it can be for a big Barossa Shiraz."
Kelby, who joined the Red Newt team in 2012 after working six vintages in three years thanks to 'wintering' in New Zealand and Australia, says the Red Newt Cellars' Cabernet Franc grapes are picked late in October – sometimes into November – because they are not worried about the acidity dropping or about sugar accumulation.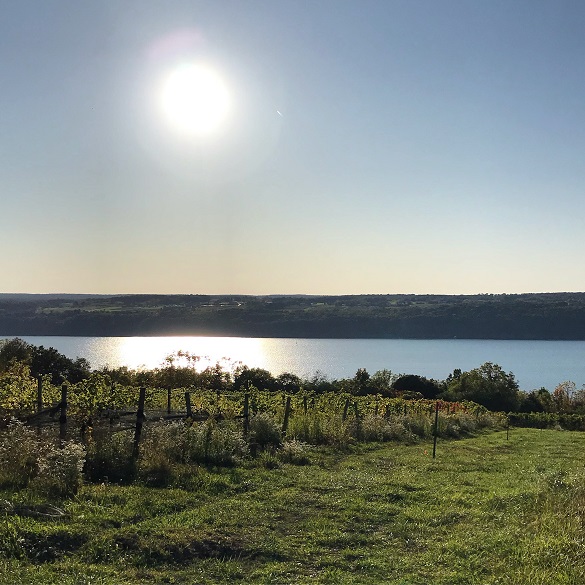 The grapes come from the beautiful Glacier Ridge Vineyard (
above
), on the southeast side of Seneca Lake. A labour of love for owner and grower Tony Damiani, all weed control in the vineyard is manual – allowing for some non-grape vegetation for competition as well as insect biodiversity. Consequently, the crop sizes are lower and the ripening is more uniform for the skin, seeds and stem.
The vineyard's upper block, which is more fruit forward, makes up about 60% of the blend, while the lower block brings more tannic structure and a hint of smokiness.
About a quarter of the whole clusters are put straight into the bottom of a stainless-steel tank. The remaining fruit is destemmed, lightly crushed, dosed with SO2 to protect against oxidation, and put on top or sent into one-ton bins.
After three or four days of cold soaking at 35°F (2°C) – with hand punching or foot stomping to keep the skins wet – the fruit is gradually warmed up to 60°F (15°C) to encourage spontaneous fermentation.
The must is inoculated for malolactic fermentation 48 hours into alcoholic fermentation.
During fermentation, the tank and bins are punched down by hand or foot up to four times a day, tailing off near the end. The temperature is allowed to peak at 84°F (29°C) for maximum colour and flavour extraction.
Once the fermentation is over, the tank is dry-iced heavily every day and sealed, allowing for more skin maceration time until the cap sinks about three weeks later. This extra time on skins and stems helps to make this Finger Lakes Cabernet Franc special, Kelby believes. "That's the real Grenache trick from Australia – that's the classic thing for a more earthy style of Grenache and I think it works beautifully with Cab Francs here," he says.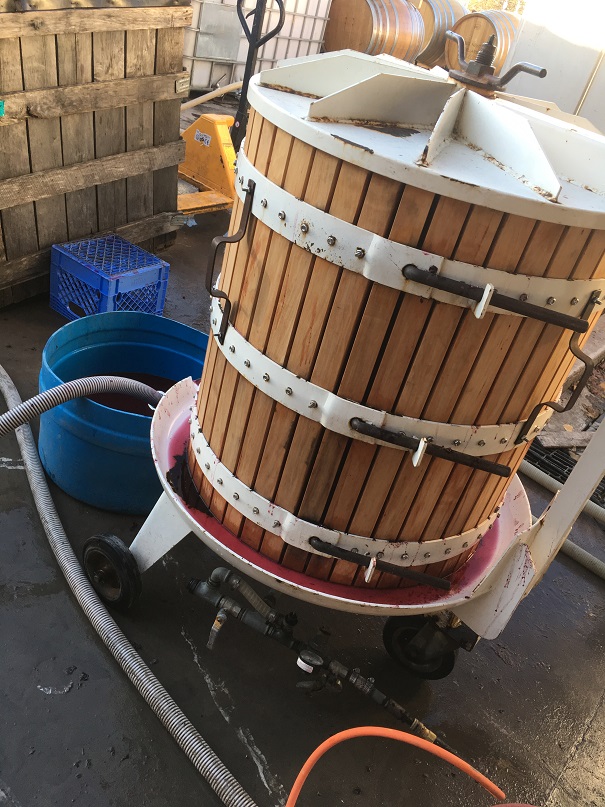 Soon after the skins sink, the wine is basket-pressed (
above
), sulphured, and returned to stainless steel for maturation.
With their single-vineyard Cabernet Franc, they use a little oak but the newly released Red Newt Cellars Cabernet Franc 2018 was left in stainless steel. "It's all about building up a pretty intense wine through fermentation and ageing and then putting it in the brightest and cleanest vessel," Kelby explains.
"We're really trying to capture how beautiful and juicy Cabernet Franc is in the Finger Lakes, that's really the goal of this stainless-steel expression."
The following spring the wine is racked, sulphured and bottled without filtration or fining.
"We joke that it's our most natural wine," Kelby says.
The cold stabilisation used to be done in a natural way, too. "We used to move the tank outside, which worked perfectly, although in recent years we've decided our cellar gets cold enough in the winter to obviate that movement."
But now, they don't bother with cold stabilisation for Cabernet Franc.
Kelby says: "The result is that the wine probably does throw some tartrates in bottle, as compared to being hard stabilised, but particularly with red wines that doesn't seem to trouble anyone."
Especially if they are distracted by joyful bright cherry and violet fruit.