The 58th vintage of Australia's most famous single-vineyard wine, the 2015 Henschke Hill of Grace Shiraz, has been released to rave reviews for its "purity of aromas, depth of flavour and silky lustrous tannins".
But what makes it so special?
Winemaker Stephen Henschke, youngest son of single-vineyard pioneer Cyril Henschke, is in no doubt: "It is all about fruit quality, healthy soils and healthy vines providing exceptional fruit. In the true sense of the phrase – the wine is made in the vineyard."
The beautiful 4ha vineyard, lying in a shallow alluvial valley 4km north-west of the Henschke winery in Australia's Eden Valley, was planted around 1860 by local farmer Nicolaus Stanitzki, an ancestor of Stephen on his grandmother's side. So, the oldest vines – called 'The Grandfathers' – are now 160 years old and the youngest are about 70.
Stephen told
Canopy
they produce "a wine with authenticity of site and history".
For more than 30 years, the ancient vines that catapulted the family and its wines to fame have been nurtured by Stephen's wife, Prue, a botanist by training.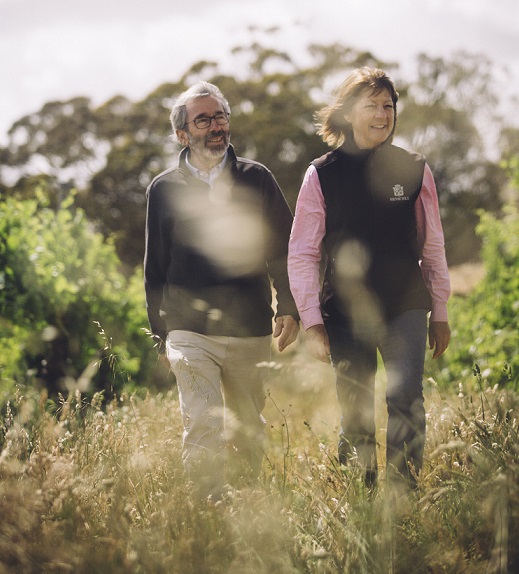 'We have been able to improve soil health and water-holding capacity with a range of (biodynamic) techniques'
Prue, who led the switch to biodynamic farming 15 years ago, says: "The principles of biodynamics and organics enable us to create the best environment for these old, gnarled, dry-grown vines. We have been able to improve soil health and water-holding capacity with a range of techniques. These techniques include using biodynamic compost to build up organic matter with an overlay of straw mulch under the vines. Native grasses are planted in between vine rows to protect soil structure without competing with the vines for precious water. Other native species enrich the ecosystem for beneficial insects to assist with pest management."
Stephen added: "We are the custodians of these vines and it is our responsibility to care for them. Prue's mantra is to 'live within the landscape, not on top of it'."
The west-facing vineyard, owned by Stephen's aunt, Audrey Henschke, is located at Parrot Hill (at around 400m elevation). The seven blocks of Shiraz have four different soil profiles, ranging from deep silt to sandy and silty loams over red clay interspersed with gravels. Another 4ha there are planted to Mataro, Semillon and Riesling.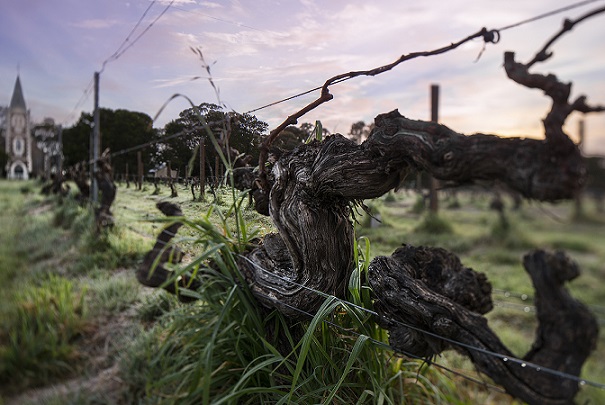 The winemaking
The grapes for this 58th vintage (54th release) of Henschke Hill of Grace were handpicked from March 17-26, 2015; the final pick taking place a week before the harvest moon of Easter.
Harvesting close to the full moon is an optimal time, according to fifth-generation winemaker Stephen, who took over the business in 1979 after the death of his father.
"As far back as ancient Greece, there are records noting the benefits of harvesting crops around the full moon. Prue and I researched the picking dates for Hill of Grace, going back many decades and found that most vintage dates – whether the fruit ripened early or late – occur close to the full moon after the autumn equinox (Easter). It's a fascinating enigma of nature, as by the calendar, the date of Easter can vary by up to 35 days," he said.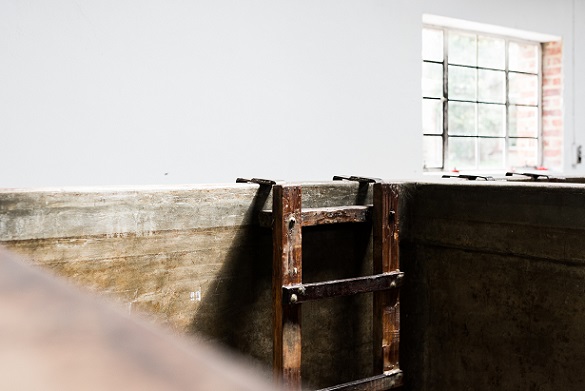 After harvesting, the fruit is sorted, destemmed and transferred immediately to an open-top submerged cap concrete fermenter (
above
). These 70-year-old wax-lined fermenters are 4.5 tonne and 6.5 tonne in size.
"We use a combination of native and inoculated selective yeast," Stephen revealed as
Canopy
quizzed him on the winemaking behind the celebrated wine. He also explained:
"We use temperature control; we cool each day, twice per day during pump-overs."
"We don't punch down, we use static submerged cap fermentation to provide delicate extraction of colour, flavour and tannin."
"We make the decision (about when to press) by tasting the wine each day during its fermentation and decide by evaluating the structure and tannin profile of the wine. We press off while the primary fermentation is still active."
Canopy:
How much of the pressing do you use in Hill of Grace?
Stephen: "It depends on the season; all free run plus light pressings."
When is the first racking?
Stephen: "After malolactic fermentation is complete."
Is there only one racking?
Stephen: "Depending on the wine; we may do a second racking after 12 months in barrel."
Canopy: How do you protect the wine from spoilage?
Stephen: "A very small amount of sulphite is added post-malolactic fermentation and the barrels are kept topped up regularly and stored in cool conditions."
Is the wine filtered or fined at all?
Stephen: "Not fined and minimal filtration, only screening."
Tell us about the blending.
Stephen: "All the tiny parcels are fermented separately and evaluated over the two years while they are in barrel and the final blend is only done pre-bottling to ensure the resulting wine is the best representation of the vintage."
Is the closure a Vinolok and, if so, are you confident it will keep the wine in top condition for the next 20 to 30 years?
Stephen: "We use Vinolok primarily for export and Stelvin primarily for domestic. Our trials on Vinolok since 2004 show that this closure ages similar to Stelvin and in terms of reliability, compared to cork, it is close to 100%."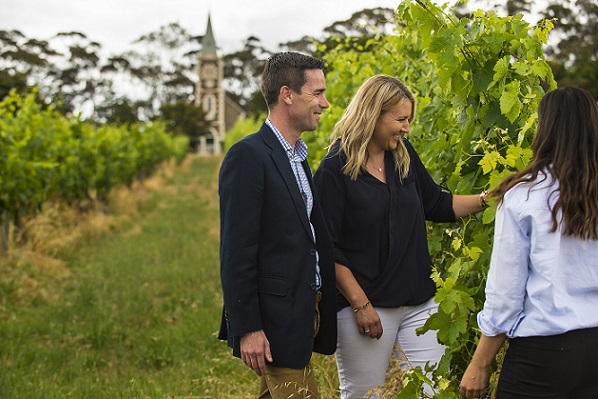 The wine
Hill of Grace Shiraz was created by Stephen's father, Cyril Henschke, in 1958, after the success of his first single-vineyard Shiraz, Mount Edelstone 1952.
The name comes from the beautiful Gnadenberg Lutheran Church opposite the vineyard (
above
); 'Gnadenberg' translating from German to 'Hill of Grace'.
Every vintage from this 'ancient' vineyard is a limited release, however some are more limited than others. There was no Hill of Grace made in 1960, 1974, 2000 or 2011. Just one barrel was produced in 2003, and there were small vintages in 2013, 2014 and 2019. 2020 was hit by poor flowering, hail and frost, but the quality is said to be good.
When
Canopy
asked Stephen how many bottles were produced from the 2015 vintage – the 15th to be rated "exceptional" by the family since the first Hill of Grace – he replied: "Not enough."
As always, Hill of Grace is made from 100% handpicked, 'old-vine' Shiraz typically picked over two weeks or so, with The Grandfathers typically picked last and contributing the "heart and soul" of the wine, as well as the "signature five spice flavours".
Canopy: How important is it that it is a blend of wines made from grapes picked on different days from vines of different ages growing in different soils?
Stephen: "All of the components are in the same small vineyard, so it's all about complexity, based on tasting the fruit and then deciding when each of those small blocks within the vineyard are ready to be picked. There are six tiny blocks that contribute different flavours, texture and diversity based on their location, aspect and water-holding capacity of the soil."
Does this blending of wine from different plots and different soil-types stretch the definition of single vineyard?
Stephen: "No, not at all. The vineyard is only 4 hectares in size."
The 2015 wine was matured in 86% French and 14% American oak hogsheads (one-third new, two-thirds seasoned) for 18 months prior to blending.
How do you decide which block goes into what barrel – do you have a system?
Stephen: "We have been making this wine for over 60 years – it's all about experience and decision-making depending on the season and the fruit quality."
How does the winemaking differ to other red wines produced by Henschke?
Stephen: "It is similar to other single-vineyard wines we make, such as Mount Edelstone Shiraz, Cyril Henschke Cabernet Sauvignon, The Wheelwright Shiraz and Julius Riesling.
"The beauty of a single-vineyard wine is the way each vintage expresses its own uniqueness."
"The beauty of a single-vineyard wine is the way each vintage expresses its own uniqueness."
The release
The wine was released in May, with actor Russell Crowe voicing the promotional video.
"It couldn't have happened to a better vintage of Hill of Grace," Stephen told
Canopy
.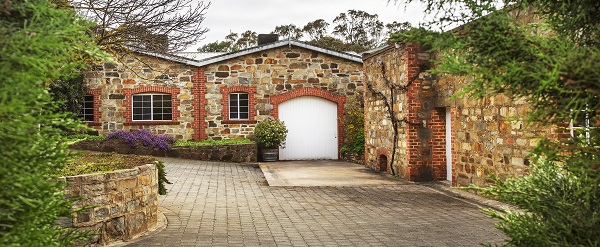 The winery
This iconic South Australian winery was named yesterday as number 25 in the 2020 list of
World's Best Vineyards
, a list which recognises the overall wine tourist experience.
Sixth-generation Justine Henschke, the marketing and PR manager, commented: "Wine tourism is hugely important to our business. To celebrate our 150th anniversary in 2018, we opened our new cellar door, housed in the original 1860s Grain Barn at our family winery in Keyneton. We host tastings Monday to Saturday, 9am to 4.30pm.
"We also offer our Hill of Grace Experience; granting exclusive access to our most renowned Henschke vineyard, Hill of Grace, together with a tour of our historic working winery and a comprehensive private tasting. We are launching our Mount Edelstone Experience over the coming months and a Museum and Rare vertical tasting experience."
After receiving the award, she said: "We are proud to be representing family-owned wineries of Australia with a passion for handcrafted quality wines from old historic vineyards and strong environmental values."
Henschke Hill of Grace Eden Valley Shiraz 2015
RRP:
AUS$865 ($600, €530)
Grapes:
Handpicked from biodynamically farmed vineyards
Variety:
100% Shiraz
Alcohol:
14.5%
pH:
3.44
Acidity:
5.7g/L
Maturation:
Matured in 86% French and 14% American (33% new, 67% seasoned) hogsheads for 18 months prior to blending and bottling.