From the North Fork of Long Island to the deep, dark blue of Seneca Lake – one of the Finger Lakes – many of New York state's family-owned wineries are proving to be creative, bold and bent on sustainability.
To find out exactly what's going on in the region, 
Canopy
 checked in with three inspiring producers:
Oskar Bynke of Hermann J Wiemer Vineyard
Josh Wig of Lamoreaux Landing Wine Cellars
Roman Roth of Wölffer Estate Vineyards
Oskar tells us about harvesting his Riesling over six weeks. Josh tells us why they are looking at a robot to solve their powdery mildew problems and Roman explains why sustainability is as far as he can go at the moment.
'When you pick' is really 'what you pick'
The six-week Riesling harvest
Having a vine nursery means Hermann J Wiemer, a pioneering winery in the Seneca Lake AVA, can hire staff all year round. "The staff that grafts in the winter also prunes and helps us harvest in the fall," explains Oskar Bynke, co-owner of Hermann J Wiemer.
It also means they can harvest their Riesling over six weeks!
The HJW Dry Riesling incorporates fruit from 40 selections picked between late September and early November, starting a couple of weeks after the harvest for their sparkling wines.
"As harvest approaches, green, bitter flavours shift to refreshing and recognisably citrus ones," Oskar says. "From that point acidities will continue to soften, sugars will build, and numerous aromatic compounds will come and go. Once the unique arrangement of acid, sugar, and aroma has passed, it cannot be recaptured. This is what dictates the pace and activity of harvest."
He adds: "Early picks yield crisper acidities, lower sugars, and lighter aromas. Later picks have a broader range of acidities, higher sugar concentrations, and deep, mature aromas. This predisposes them to the rich, layered mouthfeel of a complex still wine. Hence, when you pick is really what you pick. Previous harvests help serve as a guide to index where and when we select components, but nothing can substitute for a timely walk through the vineyards to sample exactly how flavours are developing.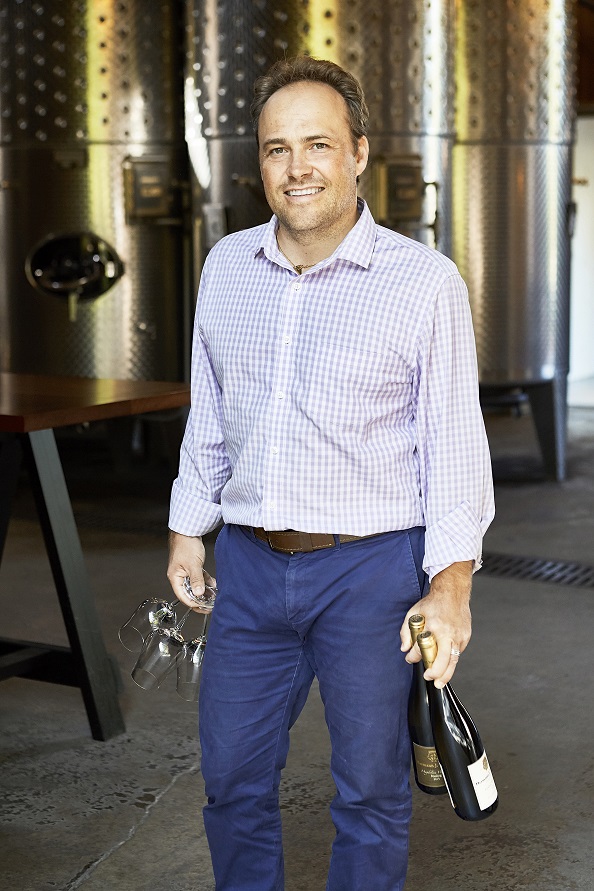 "As you can imagine, this keeps us on our toes. The question we ask in the vineyards and on the press pad is not, 'Is this ripe?' but rather, 'What kind of ripeness is this?'
"Our harvest schedule is a rather complex one, but we capture all these nuances and keep them in different tanks until blending time."
The handpicked and hand-sorted Riesling grapes are whole-cluster pressed and fermented in small lots using native yeasts. The wine is blended to ensure texture and balance, and bottled without fining or filtering.
The grapes come from vineyards planted in 1979, yielding three tons per acre.
Hermann J Wiemer, the founder, was one of the first to plant
Vitis vinifera
grapes in the region, having brought them from Bernkastel, in Germany's Mosel region, where his father specialised in grafting.
The 33-acre estate has been moving towards biodynamic farming since 2014 and aims to become Demeter certified this year.
It's an incredible achievement for vineyards on the edge of where
Vitis vinifera
grapes will grow.
"We feel it's actually working rather well," Oskar (
above
) says. "Mainly because you spend a little more time in the vineyard. There are some challenges from moisture and we've had some hits, but ultimately with both global warming and erratic weather you tend to need to work a little bit more in being pre-emptive in your methods, so building up resilience and resistance in the vine more than being reactive has been something that we have worked towards. And it seems to be working."
Hermann J Wiemer stopped using herbicides and synthetic fertilisers in 2003, replacing them with cover crops and organic fertilisers.
"Our next step in sustainable farming is our project with biodynamics. In the summer of 2014, Thijs Verschuuren (from The Netherlands), who had previously studied and worked in biodynamics in the Loire Valley, France, joined our team and, a year later, spearheaded this farming project, at first committing 14 acres at our HJW property and later expanding to the entire 33-acre site over the ensuing years. This project will help us to understand both the effects and efficacy of biodynamic farming.
'We focus on the totality of our farm'
"Through the years, this approach has led to a focused ecological engagement where we consider the larger needs of our surroundings as well as the specific needs of each vineyard, lot, and even individual vines. We adhere to unique farming methods that focus not solely on our vineyards but on the totality of our farm, promoting biodiversity in adjacent fields, forests, and meadows, while utilising cover crops, beneficials, and homeopathic teas and preparations.
"These practices encourage stronger, more resilient vineyards and, in turn, better wines."
Robots and a semi-carbonic Cabernet Franc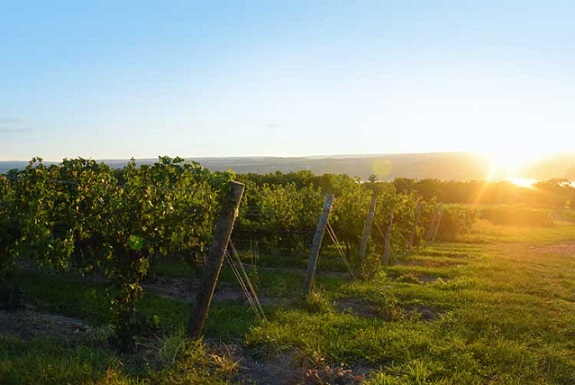 Lamoreaux Landing has stopped using pesticides and herbicides and is looking at ways to get rid of the fungicides that are preventing the family-run winery from going fully organic.
Here, on the eastern hillsides of Seneca Lake, powdery mildew is the main problem.
And, with Lamoreaux Landing co-owner Josh Wig a nuclear engineer by training, it's not surprising that he is keen to use the latest engineering solutions to solve this problem.
An autonomous robot fitted with ultraviolet light lamps was due to arrive for testing this spring. It would roam the vineyards at night, delivering a low dose of UV light to kill the mildew without harming the plant.
"Unfortunately, we are not getting a machine this year due to the pandemic," Josh tells me when I seek an update. "We intended to trial it on a two-acre Riesling vineyard."
Lamoreaux Landing has signed up to conduct field trials for research being conducted by Cornell AgriTech in Geneva, New York, which has partnered with SAGA Robotics in Norway to develop the first commercial robotic units, which have proven effective against powdery and downy mildew and some insect pests in tests so far.
"For Chardonnay grapes, we've got effective suppression of powdery mildew over a period of two years, with treatments once a week," according to David Gadoury, senior research associate in the Department of Plant Pathology and Plant-Microbe Biology at Cornell AgriTech, who leads the project.
Josh sees the potential and says: "I'm willing to give them acres of fruit to experiment on."
Video: Robots use UV light to fight grape mildew
Sustainable practices at Lamoreaux Landing include:
Installing a 90KW solar array in 2016 to provide 100% of their electrical energy needs;
Eliminating pesticides and herbicides;
Experimenting with cover crops;
Converting to a Scott-Henry trellis system "to open up the fruiting zone" – which, Josh says, has reduced spraying by about 40%.
Lamoreaux Landing has 10 grape varieties planted. Riesling, Chardonnay, and Cabernet Franc make up the majority of the 112 acres of vineyards, but the 1,000-acre estate also grows Gewürztraminer, Merlot, Pinot Noir, Cabernet Sauvignon, Grüner Veltliner, and Muscat Ottonel.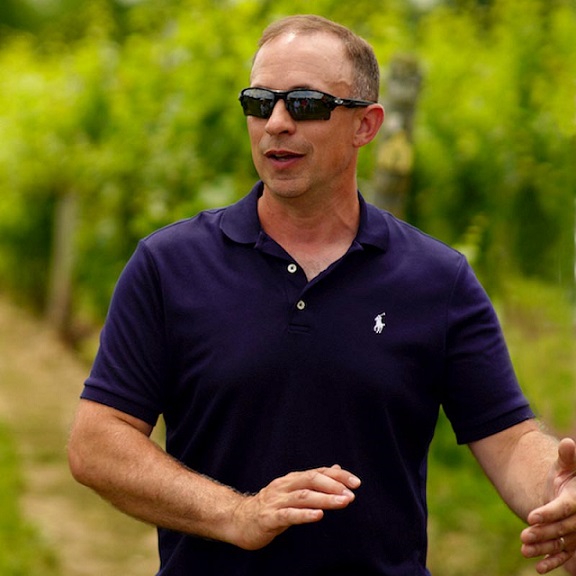 During our conversation, I get to try Josh's favourite variety, Cabernet Franc.
Lamoreaux Landing's T23 unoaked Cabernet Franc – "the purest expression of Cab Franc that we can put in the bottle" – comes from tank 23 and is made using semi-carbonic maceration "because we see the best characteristics from both yeast and intracellular fermentations," Josh tells
Canopy
. "The whole berries get crushed immediately at the bottom of the fermenter and undergo a traditional yeast-driven fermentation, which releases CO2 and provides natural protection from oxidation for the vessel while driving carbonic in the whole berries above. If we closely monitor and press the wine off the skins at just the right time (usualy about two-thirds of the way through fermentation), this technique provides the perfect balance of natural tannin, colour and fruit character.
"Because the wine finishes primary and malolactic fermentation in tank, we are able to keep the wine reductive and capture more of the essence of the vineyard with layered aromatics and some natural CO2 in the wine to lift all of that fruit."
Sustainable is the best approach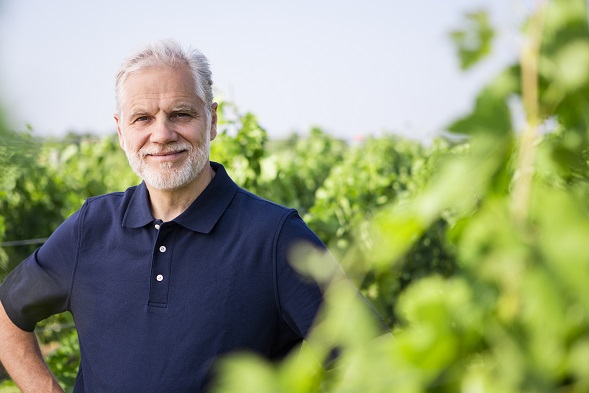 Roman Roth (above), winemaker/partner at Wölffer Estate Vineyards, would like to be biodynamic or organic but it's difficult. First, he has to prove that New York state – and Long Island in particular – can make good wines. Sustainable is the best approach currently, he reckons, at the estate's 55 acres of vineyards, less than 3 miles from the Atlantic Ocean.
"Nobody in France or Germany has to prove they can make great wine but when you make wine in New York or Long Island that has a little earthy note, they will say: 'I told you Long Island can't grow grapes'. So, we are facing that prejudice and while that prejudice still exists, I think sustainable winegrowing is the best way to approach it – to tackle that prejudice and show with quality and consistency that we make great wines."
By that, he means wines that are "authentic to our climate and region", are "the most food-friendly" and will age gracefully.
I'm drinking a Merlot with him (across the Atlantic via Zoom), which he says can age for 30 to 40 years.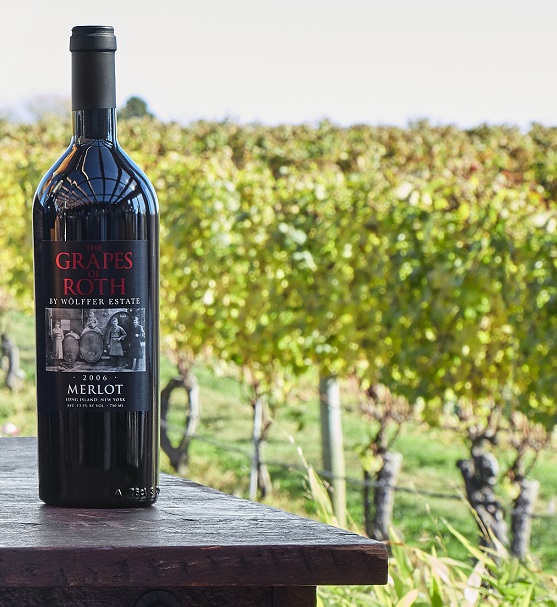 The Grapes of Roth is among the premium wines in the Wölffer portfolio and Merlot is one of Long Island's signature varietals.
The wonderfully ripe grapes for The Grapes of Roth Merlot 2017 were handpicked in late October.
Handled gently throughout the process, they are sorted at a table before destemming, with the whole berries going into stainless-steel for fermentation. 
The cap management was done via pump-over three times a day. "We did an extended maceration of 21 days, after which the grapes were gently transferred and pressed, separating the press fraction. After 17 days of settling, the wine was moved into French oak barriques – 33% new, 33% one year old and 33% two years old. MLF finished 100% and the wine was carefully racked a total of only three times during the maturation time, which lasted for 20 months. Topping of the barrels was done with Cabernet Sauvignon (with about 2% in the final wine)."
The $48 wine was bottled unfiltered and unfined on August 8. 2019, resulting in only 340 cases of 750ml bottles and 12 magnums.
"We can only compete with quality, not quantity," Roman says.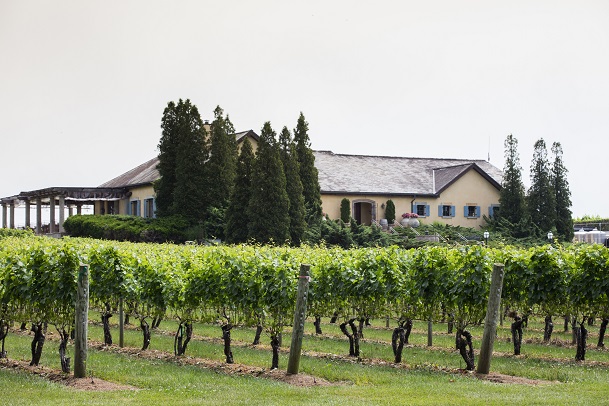 Their sustainable practices include:

Improving biodiversity – "It's important that we don't try to farm a monoculture, for example. We try to be more tolerant."
Reducing spraying and only targeting hotspots. "When we have a mite we don't spray the whole vineyard, as we did in the past," Roman says. "Ideally you wait and you don't have to spray at all because your vines and plants are in balance and if you do finally have to spray an insecticide, you only target where the hotspot is."
Using a tunnel sprayer when they do spray a systemic fungicide once a year. "It's such a big advantage when you recapture 50% of your spray material at the beginning of the season."
Using organic fertilisers.
Reducing the use of herbicides by using mulching under the vines.
Working hard in the vineyard to keep disease pressure as low as possible.
Exposing every bunch to sunlight from just after flowering – "If you do your grapes early, they don't get sunburnt and it helps to reduce the pyrazines, all those grassy green flavours."
Having vines in balance, with a neat canopy, "so you don't trap extra moisture."
Keeping the vineyards immaculate – "worthy of paintings, they are so beautiful."
"We do all this extra work so we have absolute perfect conditions and no disease pressure which then, ultimately, means you don't develop resistance against fungicides. Everything adds up over the years," Roman says.
"But we can't go further than this because we are still building the reputation of New York and Long Island wines."