Veteran winemaker Mike Mudge likes to taste barrel samples of Petaluma's Piccadilly Valley Chardonnay before going to meetings with the company's finance, human resources and marketing teams.
"It always makes the meeting go so much quicker," he jokes.
"There are so many barrels to choose from," he adds, as we taste the 2019 vintage of a wine that has become the benchmark Aussie Chardonnay.
Like many Australian producers, Petaluma has toned down the oak influence and only occasionally makes a "big old buttery Chardonnay" with 100% new oak, 100% MLF, as was customary in the 1980s and 1990s. Mike, who's in his 32nd year at the company, says there are still fans of this style and when they bottle 150 cases of it, it "sells through quite quickly under the Petaluma Project Company label".
Mike stresses, though: "It's not a style we're chasing, but we still make it and you'll still get the odd barrel we let go through full MLF to do those individual bottlings."
After making the company's Croser sparkling wine and switching to head up the still wines in 2005, Mike has refined the company's oak regime – gradually knocking back the new oak component, fine-tuning the sizes and coopers, and matching the regime to the different parcels within the Piccadilly Valley.
The result, he says, has been increased complexity, elegance and ageability.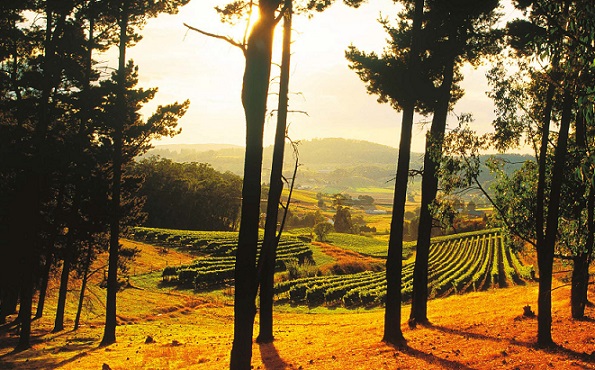 When Brian Croser founded Petaluma in 1976 it was with the simple belief that to make the best wine, you must plant the right grape varieties in the right regions:
Coonawarra for Cabernet Sauvignon;
Clare Valley for Riesling;
The Adelaide Hills – the coolest climate and highest elevation wine region in South Australia – for Chardonnay.
And within each region, you must carefully select each individual site based on soil, aspect, drainage and rainfall to ensure you get the very best out of your grapes.
The resulting top-tier Yellow Label wines, made from grapes grown in vineyards directly controlled by Petaluma's viticulturist, Mike Harms, are true classics in both style and regionality.
"I love Chardonnay from the Piccadilly Valley," Mike, who's from Adelaide Hills, confesses.
Petaluma has seven parcels in the valley, some of which are more than 40 years old. Most of these parcels are near each other in the centre of the valley, except for the Tiers Vineyard, which is further south.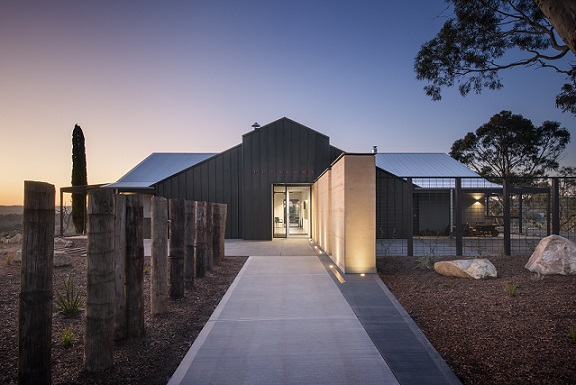 The Chardonnay parcels are vinified separately at Petaluma's six-year-old winery in Woodside (
above
). Most of the winemaking is similar:
Handpicked grapes are destemmed and crushed, except for a small component that's whole-bunch pressed;
Cold-settled for a week in stainless steel;
Run to barrel for yeast inoculation;
Fermented in a variety of barrels. Mike says the intensity and weight of the fruit can "really absorb a lot of oak", so it's 100% barrel-fermented;
As the wines reach the end of fermentation, they are inoculated for MLF;
Tasted to determine "the sweet spot" – with MLF arrested on the basis of "flavour, texture and balance". "We're looking for that balance with creaminess, buttery-ness, without pushing the boundaries too far," Mike says.
Barrels topped up;
Matured in barrels on yeast lees for 8-10 months, depending on the vintage (for 2019 it was eight months);
Racked and blended.
The major difference is the oak regime for each parcel. Some parcels receive 5% new oak while others get up to 90%, with the barrels of different sizes coming from different coopers. It's a delicate balancing act that has been fine-tuned over recent years.
The declared percentage of new oak in the 2019 is 35%; the remainder being one or two-use barrels and a combination of barriques and hogsheads, with most of it coming from longtime favourite Dargaud et Jaeglé and François Frères – but there are also "small yet important contributions" from Sirugue, Cadus and de Jarnac.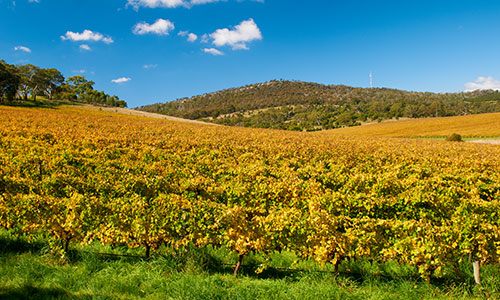 Pairing vineyard and oak

St Margaret's Vineyard
Adds grapefruit and an element of flintiness to the blendSoil:
Basket Range sandstone, which is high in quartz, creates free-draining sandy loams of low clay content and low pH.
Aspect:
North-facing slope, just northeast of the Summertown vineyards.
Fruit from this vineyard displays grapefruit and melon with hints of stone fruit. The fruit is often whole-bunch pressed and fermented in barrel at a slightly higher turbidity to the other parcels' Chardonnay. This adds "a small element of flintiness and texture to the blend," Mike says. "While less complex, the fruit is high in purity, consequently this vineyard generally receives only 5% new oak, the balance in one- and two-use French oak."
Mike adds: "We're not chasing flintiness or that reductive character." But, he admits, he likes "a little bit of it, it attracts me into the wine without being overbearing".
Summertown and Mt Bonython Vineyards
Adds yellow peach, spice, creaminess and structureSoil:
Woolshed flat shale, which is moderate in clay content with iron and stone fragments creating free-draining soils of low pH.
Aspect:
North-facing slopes.
Yellow peach is the hallmark of these central Piccadilly Valley vineyards, which display greater texture and complexity than the Chardonnay from the St Margaret's Vineyard. Depending on vineyard and aspect, the parcels can receive up to 60% new oak, predominately Dargaud et Jaeglé (barriques) building cedar and spice and François Frères (hogsheads) for structure and creaminess with lesser but important contributions from Sirugue and de Jarnac.
Tiers Vineyard
Adds white stone fruit, texture and complexitySoil:
Older sedimentary soils compared to the rest of the Piccadilly Valley, from calc-silicate base rock which has formed montmorillonite clay (friable and slightly higher in pH).
Aspect:
Northeast-facing slope south of the Mt Bonython vineyards.
White stone fruit, nectarine, highly textured and complex with distinctive mineral characteristics from a unique terroir, which Brian Croser planted in 1978. Fermented and matured in 70 to 90% new oak (vintage dependent). Barriques from Dargaud et Jaeglé dominate to build savoury complexity with contributions from François Frères (hogsheads) for structure and de Jarnac for accentuating fruit purity.
The result
The straw-yellow Chardonnay 2019 "shows off the cru of Petaluma," according to Mike. As the vintage was hit by poor fruit set, yields were down by 60%. "This certainly concentrated the fruit flavours," Mike says.
On the nose there are the hallmark notes of yellow peach, nectarine, lemon curd and a hint of gunflint.
The yellow peach and nectarine dominate the palate. But this complex, textured wine also displays hints of grapefruit and cedar spice. The acidity is soft and the oak influence is subtle. It sets the bar high for Adelaide Hills Chardonnay.