Hárslevelű is the aromatic and delicately spicy grape that enriches many of Hungary's world-famous sweet wines, Tokaji aszú, when blended with its more acidic parent, Furmint.
Now it is trying to come out of the shadow of Furmint and stand on its own in dry and off-dry single-vineyard wines. Leading the way are some of the region's top women winemakers.
Barta's Vivien Ujvári still remembers her first encounter with this grape variety, five years ago in the Öreg Király vineyard: "The aromas were so open, so spicy-fruity-salty-floral – all at the same time – and so concentrated on the palate. After tasting it, I knew it would be very easy to make a very prominent wine from them. Basically, when the crop is good, the winemaker's job is really fun."
The aromas of Hárslevelű (pronounced Haaarsh-level-ooo) recall the linden tree after which it is named, as well as white flowers, spice and honey.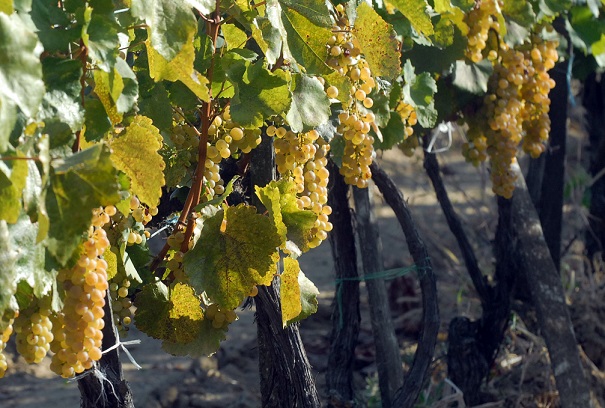 On the palate, the silky, saline, white peach fruitiness is enhanced by Tokaj's volcanic terroir, which accounts for about 65% of the world's Hárslevelű plantings. The large, loose bunches and thick-skinned berries also grow in other parts of Hungary (Eger, Somló, Lake Balaton and Villány) as well as across Hungary's borders in Slovakia, Romania and Austria, and in South Africa!
"What's so special about Hárslevelű?" asks another of Tokaji's leading winemakers, Kata Zsirai from Zsirai Winery, before answering: "I think it is a more understandable variety than Furmint, but Hárslevelű has more special aromas, such as honey and plenty of different white flowers which make it more recognisable. If the yield is controlled carefully, and the vineyard is first class, then we could make very full-bodied, good-structured, special wines, which could be matured for a long time."
I contacted them – and two other influential women in the region, Hajnalka Szabó from the Füleky Winery and Stephánie Berecz from Tokaj Kikelet – to ask about the winemaking and retaining the lovely aromas through the vinification process.
Vineyard selection, clone and age of vine all seem to be important, as are gentle pressing with no skin contact, native yeasts and the astute use of old Hungarian oak barrels.
Lessons from Tokaj
Vivien Ujvári, Barta's winemaker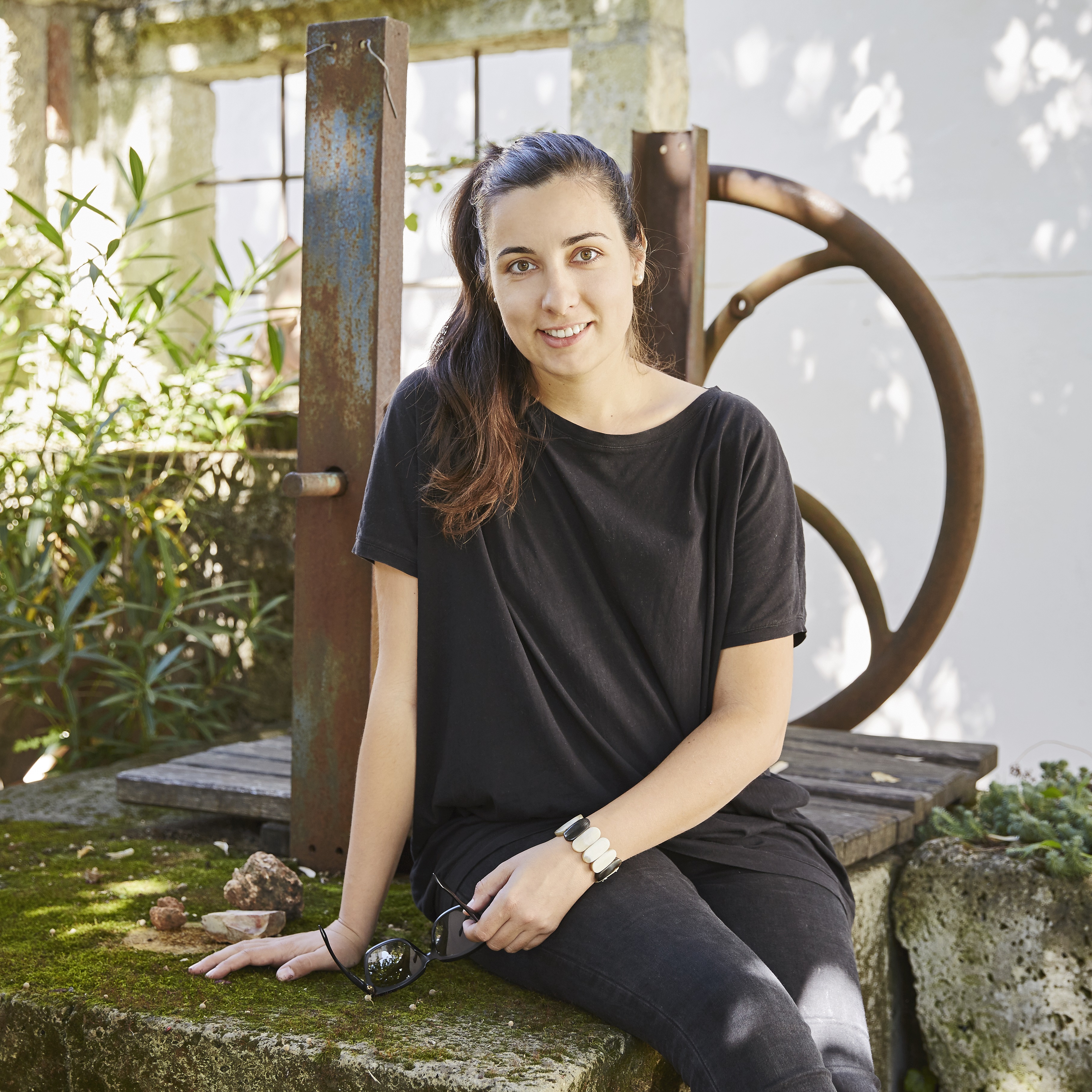 "We cultivate a small, 17-year-old parcel of Hárslevelű in the Öreg Király Dűlő. I do love Hárslevelű as a grape variety, however, I have to say, a lot depends on what type of clone you use and where you plant it.
"We use clone H1007 at Barta, one that seems to suit the soil and aspect of our vineyard. It flowers roughly at the same time as Furmint (mid-May) and readily sets fruit. It has a long growing season, lending itself to producing nice, complex and well-structured wines. It's a vigorous variety, growing shoots fast and developing thick canes with nodes spaced far apart, which also means that there are less buds and less lateral shoots to take care of. Overall, it requires less canopy management, but its high shoot vigour means it has to be topped twice a year.
"We use spur pruning, the
Simonit & Sirch method
proving effective on this variety.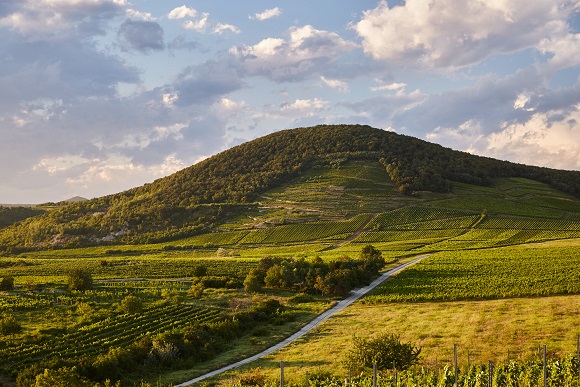 "Hárslevelű is a high-yielding grape, so its yield needs to be controlled. Its bunches are wide at the top and loose, its skin does not crack easily, which means it is less susceptible to botrytis. It gives itself the time to achieve phenolic ripeness on the vines for dry wines. When it is affected by botrytis, the berries shrivel and get botrytised separately (in Furmint, the botrytised berries stick together in the cluster).
"It is rich in flavours and aromas. It kind of likes all types of soil, but may suffer in extremely rocky sites. We cultivate our vineyards organically, and this variety is suitable for organic farming. Our wines are certified organic."
Barta is a small family-owned winery, producing 20,000 bottles of premium dry and sweet whites each year from 13ha in one of Tokaj's most historic vineyards, the Öreg Király (Old King) vineyard.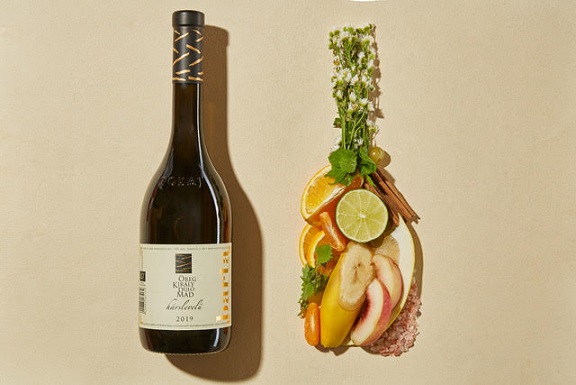 Canopy
discussed the vinification of Hárslevelű with Vivien after tasting Barta's Öreg Király Vineyard Hárslevelű 2019.
Vivien said:
"I've experimented with Hárslevelű in different soils (Galambos, Terézia, Király, Kővágó and Suba vineyards). I've made wine field blends of Furmint and Hárslevelű, and have blended finished wines of Furmint/Hárslevelű and Furmint/Hárslevelű/Kövérszőlő with varying proportions. I have made single-variety and single-vineyard Hárslevelűs. I have harvested Hárslevelű at different sugar, acidity levels and yield levels. I've also tested various types of barrels with Hárslevelű (different types of oak, size and toasting). I've fermented it in steel tank and oak, and I've tried different methods of pressing. I've kept fine-tuning Hárslevelű vinification over the years…"
Canopy: So what's the best method?
Vivien:
"We are very careful to pick only healthy (botrytis-free) and phenolically ripe grapes for any dry wine (vineyard manager János Hajdú is a big help in this regard). Thanks to the clone we use and the soil in the Öreg Király vineyard, Hárslevelű yields a crop with good acidity and the right pH. (The structure of acidity in Hárslevelű differs from that in Furmint, with its malic acid tending to almost fully decompose on the vine, which means it is more difficult to time its harvest properly, because if we wait too long, malic acid is suddenly gone, making pH rise quite a bit.)
"Hárslevelű berries smell beautifully and taste spicy. We destem all bunches but use no skin contact for that could extract some bitter flavours. Then comes a gentle pressing, followed by sedimentation at 8°C for 24 hours. Then we rack the juice off the sediment and fermentation begins at 12-13°C. In 2019, I used a non-
Saccharomyces cerevisiae
yeast (
Torulaspora delbrueckii
) to start the fermentation. It can bring aromatic complexity of great purity as well as good mouthfeel. It is perfectly suitable for making expressive and full-bodied wines, since it only ferments to a low alcohol level, allowing a
Saccharomyces cerevisiae
strain to finish the fermentation. This starter culture ensures biodiversity, bringing along the complexity that normally comes with spontaneous fermentation, as various yeast strains take over the process at different alcohol levels.
"Fermentation takes place in a 500L barrel (MT+TH) at controlled temperatures. I taste the wine in fermentation on a daily basis, increasing the temperature as necessary (to a max of 16°C) and playing with the fine lees. When the wine tastes well-balanced I send a sample to the lab to see if the analysis corroborates the taste. If everything is OK, I suddenly cool down the wine for 24 hours to stop the process by using temperature, not sulphur, then I rack it and add sulphur.
"Each fermenting lot is stopped separately when I taste harmony. They are aged/treated separately on fine lees so I have a good choice of different lots to play with when it comes to blending later. I keep them on the lees for 3-5 months, but I use no batonnage as I think it isn't good for Hárslevelű's fruits and playfulness.
"The wine is bottled in April or May. It is important for me that barrel ageing should not suppress the varietal typicities of Hárslevelű, but only enhance the wine's structure through micro-oxidation."
Canopy: And how do you preserve the variety's rich aromas?
Vivien:
"Timing the harvest right is key to find ripeness in terms of acidity, pH and phenolics. If acidity is too low, there's nothing to hold up the wine and it will age too fast. If harvest is too early or the yield too high, phenolics will bring along notes of early ageing, such as wax or medical bitterness, typical of fast oxidation.
"It's crucial to protect Hárslevelű from oxidation. One unnecessary racking or racking with exposure to oxygen may immediately diminish its richness of aromas. Its aromas are very delicate with lots of thiols."
Alcohol:
13%
Acidity:
6.7g/L
Residual sugar:
8.3g/L
'We try to focus more on choosing the right harvest time'
Kata Zsirai, Zsirai Winery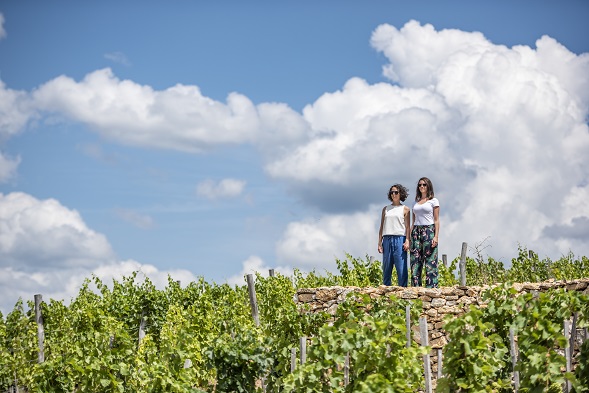 Winemaker Kata Zsirai has run the family estate with her sister Petra since the death of their father, Csaba, in 2011. The family's 18ha of vines are in Tokaj, Somló and Villány. In Tokaj, they own plots in the star vineyards of Betsek, Középhegy, Szent Tamás, and Úrágya. All their grapes are harvested by hand, and they only produce wine from the grapes that they grow.
After tasting the Zsirai Tokaji Hárslevelű 2016, Kata told me about the winemaking: "It is a blend from different vineyards selected for Hárslevelűs (Középhegy and Padi-hegy). We tried to make this Hárslevelű as natural as we can. We fermented the wines spontaneously in barrels (used, 220L Hungarian oak), and aged them for nine months in the same barrels. We added only a small amount of sulphur during the ageing time, then we clarified the wines with local bentonite, and then we filtered and bottled them."
She added: "We always do the harvest separately from the different vineyards since 2011… And we try to focus more on choosing the right harvest time, when we can save some aromas. So, we usually do the harvest in different times, first to save aromas, second to wait for the perfect ripeness."
Alcohol:
12.5%
Acidity:
7.4g/L
Residual sugar:
1.3g/L
'My vinification is a classic one... nothing special'
Stéphanie Berecz, Tokaj Kikelet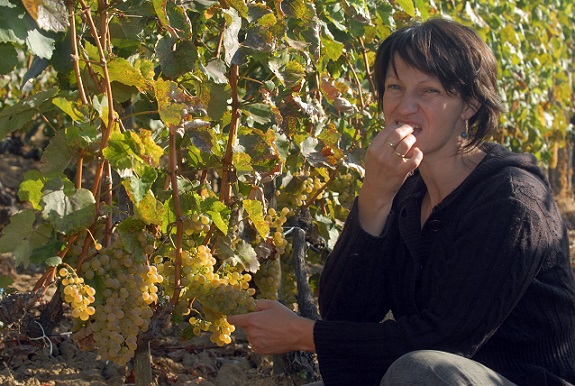 In 2002, French winemaker Stéphanie Berecz and her Hungarian husband Zsolt Berecz founded the Kikelet family estate in Tarcal, one of the most southerly villages in the Tokaj wine region. They currently own 7ha of vineyards of which 5 are in production.
The Kassai Vineyard Hárslevelű 2018 that I tasted was fermented in seven-year-old oak barrels using native yeasts.
"My vinification is a classic one," Stephánie told me. "Direct, slow pressing, no crushing. Some sulphites after pressing, while the must settles. Fermentation in barrels, indigenous yeasts, nothing special. Quite long fermentation (1-1.5 months), ageing for about five months in middle-aged barrels (about 5 to 7 years old). No new oak barrels…"
She added: "Viticulture, soil type, terroir, decision on the picking time are more important."
Stephánie said the Hárslevelű in the Kassai vineyard is the small-berried clone. But, like all Hárslevelű, it's more drought-prone than Furmint, while botrytis and copper compounds can destroy the aromas.
Alcohol:
13.5%
Acidity:
6.9g/L
Residual sugar:
3.4g/L
'There is always residual sugar in our Hárslevelű wines'
Hajnalka Szabó, sales manager of Füleky Winery and president of the Tokaj Reneszánsz Association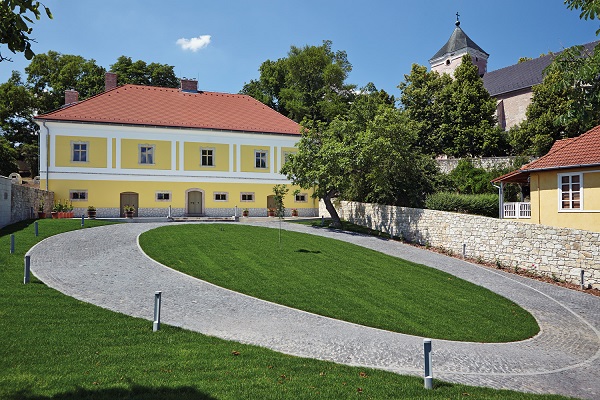 The Füleky estate, located at the foot of Tokaj Hill on the bank of the Bodrog River, owns 25ha (17 cultivated) in some of Tokaj's best vineyards (Teleki, Vinnai, Bakonyi, Dobai, Mestervölgy, Úrágya, Király, Veresek, Somos, Sajgó, and Palandor). The team working at this beautifully renovated winery and baroque mansion (above) believes Hárslevelű is best served with a detectable dollop of residual sugar. 24g/L in the case of the single-vineyard Úrágya Vineyard Hárslevelű 2019.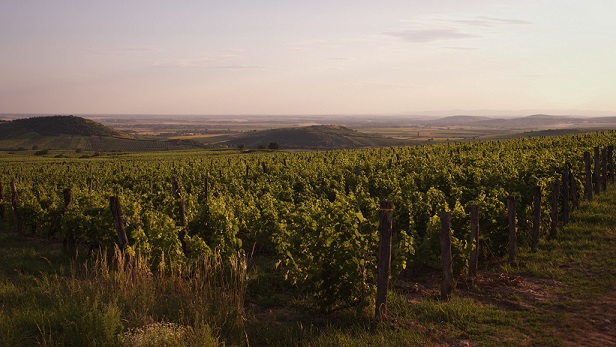 "There is always residual sugar in our Hárslevelű wines, in 2019 more than usual," Hajnalka Szabó explained. "It was fermented by selected yeast in second and third-filled 400L Hungarian oak barrels to keep the aromas. Because of the residual sugar, the wine is ideal for longer ageing in bottle." One of the reasons they have so much RS is that they harvest their grapes late.
"The aromas are the best 2-3 weeks after the full ripening, even in overripening," Hajnalka told me. "It is difficult to find the ideal harvest time of Hárslevelű."
Waiting for the late-ripening Hárslevelű to fully ripen in the Úrágya vineyard (
above
) means the potential alcohol could hit 15-15.5% ABV.
The Úrágya Vineyard Hárslevelű 2019 that I tasted had an ABV of 14.5%, with the sugar balanced by 6.1g/L of acidity.
This wine was aged in Hungarian oak for nine months.