With its restrained character, high acidity and age-ability, Furmint – like its half-siblings Riesling and Chardonnay – is fabulously versatile and fantastic at conveying terroir.
In Central and Eastern Europe, it is being used for bone dry, lusciously sweet, orange, and méthode traditionnelle sparkling wines.
But when you can do so much with it, what exactly are winemakers doing? To find out, we look beyond the variety's strongholds of Tokaj and Somló in Hungary to regions less well-known for their Furmints – where the wines go by other names.
We start our exploration in Badacsony, where Furmint was known as Szigeti before phylloxera ravaged the region's vineyards.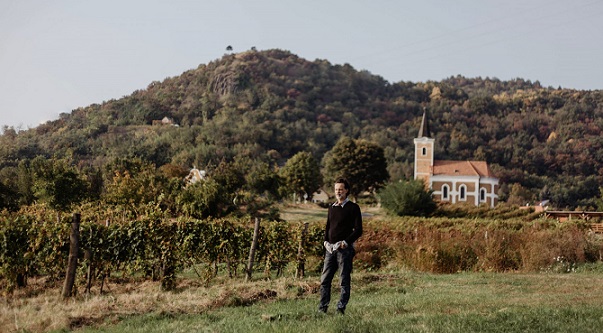 On Saint George's Mount
The wine regions around Lake Balaton, the largest lake in Central Europe, are best known for their Olaszrizling.
On Szent György-hegy (Saint George's Mount), one of the many volcanoes north of the lake, organic wine producer Robert Gilvesy's focus is Riesling and Sauvignon Blanc varietals. But he has also reintroduced Furmint to this beautiful hill (
above
) with its basalt organ pipes, rock flows, castle and chapel ruins.
"Furmint is so heavily focused on Tokaj but I think it's important that it's returned here," Robert says. "It's a great variety and I think it can be a super-exciting dry wine as well as sweet wine and it's something that's Hungarian in nature."
This month Robert, a second-generation Canadian-Hungarian, launches his Mount St George blend featuring Riesling, Olaszrizling and barrel- and tank-fermented Furmint. "I want to express the character of the mountain and not any single variety," he says.
But I called Robert to talk to him about his single-vineyard Furmint, Váradi, and his experiments with orange and sparkling versions.
Of his 17ha of vineyards in the Balatoni Borrégió region, four are Furmint.
Whereas many of the Furmints from Tokaj contain some residual sugar, Robert prefers his to be totally dry.
He says it's because Tokaj has a tradition of sweet wines, but in Balaton people expect more mineral, savoury and salty sensations.
"The terroir is allowing us to produce nice acidic structure but not to the point where we have to leave 4, 6, 8, 10g/L of sugar," he says.
All his ferments are with native yeasts but, generally, he doesn't have any problem with them fermenting dry.
"Ferments in the barrels almost always go dry," he explains. "It's in the stainless-steel tanks where they sometimes stop at 4g/L. But that comes in very handy for us in blending in with some others that have sharp acidity and are basically at 0g/L."
The 2018 vintage has 1.1g/L of residual sugar, 7.9g/L of total acidity, and 12.5% ABV.
Here's how the former architect constructs the Gilvesy Váradi Furmint in his renovated 17th-century cellar, which he opened in 2012:
Handpicked grapes from the organically farmed Váradi vineyard are whole-bunch pressed. Robert says the juice may get some sulphur in the tray, but it depends on the year. "Generally, we're going more and more to no sulphur additions," he says.
A 'pied de cuve', created in a plastic container outside the winery from grapes picked three or four days earlier, is used to get the main fermentation going in 500L Hungarian oak barrels from Budapest cooperage Kádár. Some of the juice is also fermented in stainless-steel tanks.
After fermentation, the wines are racked to clean 500L barrels and receive a small addition of sulphur.
The wine stays on fine lees for 6-8 months.
Last year, Robert did some bâtonnage for the first time. This year, he plans to stir some barrels and leave the lees alone in others, and blend the best barrels. Robert is still experimenting and learning.
Before bottling:
The wine is lightly fined with bentonite. "We've reduced the amount enormously to about half of what the labs recommend," he says.
The sulphur level is checked and topped up, "but kept low".
It's sterile filtered.
Before release, it's aged in bottle for about a year.
Robert says he is experimenting with no added sulphur and also letting some barrels go through MLF. "We're pushing the envelope in the natural wine direction," he tells me. "We're as natural as we can be but I don't like using that as a marketing phrase."
The grapes for Gilvesy's first orange Furmint, "Skin" 2018, were hand-picked from the same vineyard about a week later.
They were whole-bunch pressed into a large tub, and the juice was left to naturally ferment with regular punchdowns.
About halfway through the fermentation, he drew off 200L to make some pét-nat.
The rest was left on skins for 30 days. Then it was lightly pressed into one 500L barrel, lightly sulphured, and left in the barrel for two years.
It was bottled unfined and unfiltered.
It has 0.7g/L of residual sugar, 6.9g/L of total acidity and 11% ABV.
Robert didn't make any orange wine in 2019 or 2020, as he was experimenting with a brut nature sparkling wine and he wasn't confident that he could sell the 2018. But, since then, a large portion of the 500 bottles was eagerly snapped up by a distributor in Canada and so Robert says he will make some more this season. But only "a barrel or two" – he doesn't want it to become "the hallmark of our cellar; the hallmark should be our fresh wines".
Furmint from Rust
Furmint has been growing on the shores of Lake Neusiedl, which straddles the Austrian–Hungarian border, since the 15th century. But it's still something of a rarity here.
In the second half of the 19th century Furmint was the most widely grown vine in Rust. However, by the mid-1980s there were just 2ha planted with Furmint. Like elsewhere, the variety ripens late here and has a tendency to develop botrytis, which means working with extreme precision if one wishes to vinify it dry. In earlier days, most producers let nature take its course, and only recently have more winegrowers become interested in vinifying dry Furmint.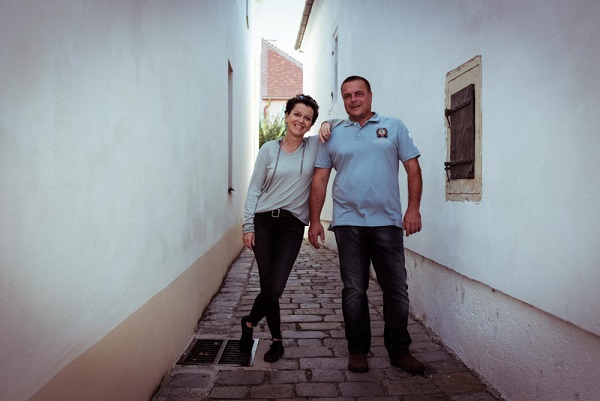 Austria's best-known Furmint producers Günter and Regina Triebaumer (
above
), however, aim to show the full potential of the variety and have launched their first single-vineyard Furmint.
"The time is ripe," says Günter. "We know that Furmint is something for connoisseurs and will probably always remain a specialty programme. But we want to show what this grape can really do."
The Triebaumers' Furmint Geyerumriss 2019 comes from a 0.5ha vineyard near Rust, the idyllic town on the west bank of the lake and home to 11 of the 12ha of Furmint currently planted in Austria.
Günter's father Paul set out Furmint here back in 1987. Günter and wife Regina, who have 24ha of vines in total and are best known for their spicy Blaufränkisch, are conscious of the unique nature of the terroir. The vineyards surround Rust like an arena – the lower steps of the amphitheatre are ideal for sweet wines, because the moisture of the lake encourages 'noble rot'. The higher elevations are dry, exposed to wind and therefore cooler; here (among other varieties) Blaufränkisch thrives. The middle of the slope is the homeland of dry Furmint.
The hand-picked grapes go into small boxes. After destemming and crushing, the grapes macerate for several hours before gentle pressing and a long, cool (18°C) fermentation in stainless-steel tanks, with bâtonnage every five to six weeks.
"We don't produce wines for everybody," Günter says, "but for those who value honest, solid and regionally appropriate farming. We communicate openly and simply. Everything we do and what our wines reveal, we can explain and justify."
Their main line of Furmint is made with selected grapes from two vineyards – Geyer-Umriss and Plachen.
An Austrian in Slovenia
I first encountered Furmint in Slovenia, where it's known as Šipon and is nearly always bone dry. After tasting most of the Šipons in its main region, Štajerska Slovenija – where Šipon is the second most planted grape variety after Laški Rizling (Welschriesling) – I found my favourite in the beautiful, steep terraced vineyards of Haloze, an underrated wine region south of the historic city of Ptuj.
And the wine is made by a young Austrian, Michael Gross.
Brothers Johannes and Michael Gross – sons of famous Austrian winemaker Alois Gross – have three vineyards in Gorca, one planted with vines originating from cuttings from Tokaj legend István Szepsy's vineyards. (Szepsy is credited with starting the trend for single-vineyard dry Furmint in the Tokaj region.)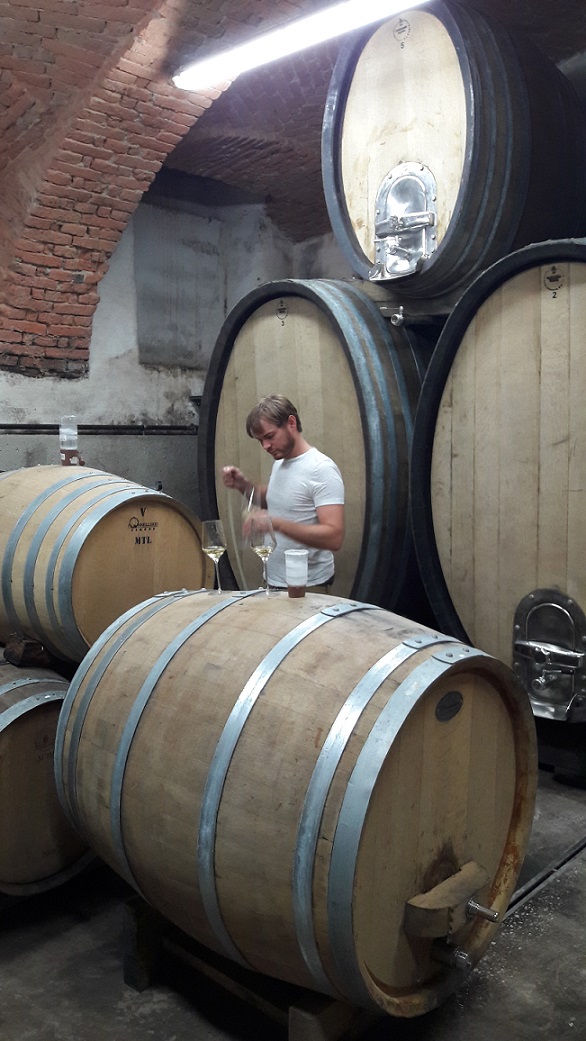 While Michael (
above
) and wife Maria run Vino Gross in Slovenia, Johannes and his wife Martina (Maria's sister) run the parent company, Gross & Gross, in Ehrenhausen, Austria.
The family started to acquire vineyards in Gorca – only 60km from the Gross family home in Ratsch – in 2005. I've been a fan of their Furmints and Sauvignon Blancs from the beginning.
The wines fall into two styles: those defined by terroir and those defined by maturation.
The vineyards are cultivated organically and by hand, and the wines benefit from whole-bunch pressing, spontaneous fermentation and MLF, and 10-18 months' élevage in 2,600L oak barrels (
above
). After a further four to eight months in stainless steel, the wine is bottled without fining and filtration and only a small amount of sulphur.
Michael uses three words to sum up his wines: "Terroir. Harmony. Time."
He adds: "The wines come into being under the influence of soil and climate. We support their development, mainly through precise manual work in the vineyard, harvesting by hand and lots of time maturing in the cellar."
Vino Gross also uses Furmint for a 'Brut Nature' sparkling wine.
An introduction to Pušipel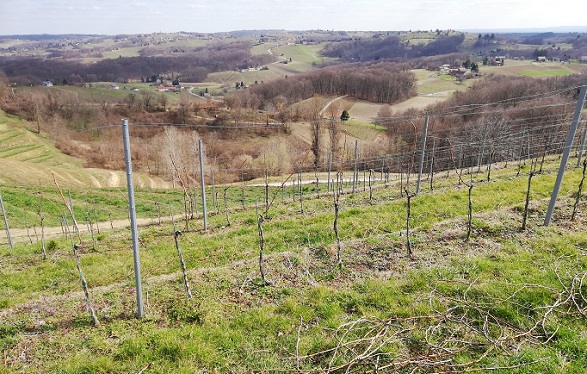 Across the border from Slovenia, in the Međimurje Wine Region in northern Croatia, Šipon changes its name to Pušipel or Moslavac.
Stepping into Jakopić Winery's Terbotz restaurant in Štrigova, I'm greeted with a glass of sparkling wine made from this variety.
Međimurje, the smallest and coldest wine region in Croatia, is making a name for itself with Furmint fizz. Štampar Winery's Urban is the benchmark sparkling wine here. David Štampar says: "Pušipel is a true sort for the production of sparkling wines and that is exactly the reason why we decided to produce sparkling wine from our indigenous Međimurje variety."
Its racing acidity is a godsend for sparkling wines. But I'm here to taste the still, dry versions. The wines are poured from distinctive Burgundy-style bottles with elongated necks. They fall into two categories: the young and fresh 'Classic' wines made predominantly in stainless-steel tanks and the Prestige lines, with grapes harvested later. These may feature fermentation and/or ageing in large Slavonian oak barrels.
Most of the wineries in the region are family run, with vineyards of 6-15ha at about 300m above sea level. The Furmint grows with other white varieties such as Graševina, Sauvignon Blanc, Chardonnay, Riesling and Yellow Muscat.
With wines flowing from producers such as Vina Horvat, Kocijan, Cmrečnjak, Novak, Preiner, Tomšić, Kunčić, Štampar, Dvanajščak-Kozol, and Jakopić, there was talk of 32 clones being identified in the region and five being selected for new plantings by young winegrowers that, when blended, would show the variety's full range of characteristics. 
While the 'Classic' Pušipels were enjoyable, the Prestige wines were the stars. Lower yields, picked about a month later, some with a touch of botrytis, some put in acacia barrels, many fermented with native yeasts – all deliciously complex.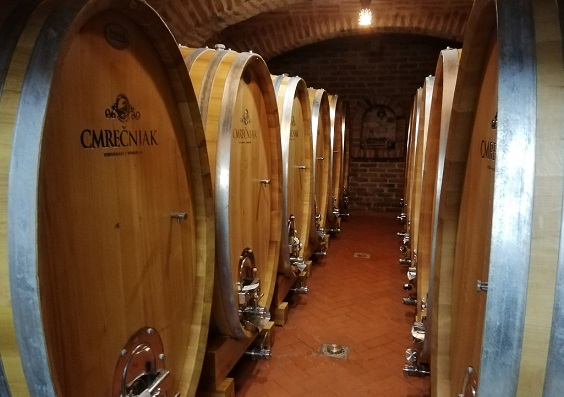 The wine that stood out for me was the Cmrečnjak X. Aged on lees in tonneaux (
above
), it contains 15% of the family winery's 'orange' X2. This is son Marko Cmrečnjak's experiment with maceration in the press, skins in the barrel, and low sulphur. His father, Rajko, admitted to me as I toured the family's cellar in Sveti Urban, near Štrigova, that he was not keen on this style. I, however, loved it and thought the hybrid version was an interesting addition to the world of Furmint.
From Canopy's archive
One young Tokaj winemaker's story