It's early morning, September 1992. We are frying bacon and sausage for breakfast on the open fire at my great uncle's 'hobby' vineyard in Mezökövesd (part of the Eger wine region in Hungary). I am seven.
The women have their heads covered with old foulards as it's quite chilly. The brave ones choose to insulate themselves with shots of pálinka. Women are picking the grapes; men are carrying the baskets packed with fruit.
The vineyard is loud with gossip when the smell of the goulash soup, cooked in a massive pot on the open fire, reaches my nose. Oh, what a pleasure, it's the end of the harvest. On the way back to town, we pick quince off the trees growing around the vineyard. My mum was crazy about quince, and still is. We made lots of yummy things from it.
That's the reason I want to plant quince trees around my vineyard. I have 6ha now and a small winery, but it wasn't a case of following the tradition.
'My passion for wine wouldn't rest'
The family harvest stopped for me until my 20s, when I moved to Budapest, Hungary's capital, to study English and Portuguese philology. While I was a student, I started to work as a tour guide in Budapest and discovered an interest in wine and hospitality. I began to frequent wine tastings, exhibitions and I did the WSET courses up to advanced level. In the meantime, luckily I found a man with similar interests, Pál Szamosujvári, to accompany me on my wine journey.
After graduating, I took a job in an international rental car company, rising to middle management level. But my passion for wine wouldn't rest, so in 2012 I found myself in a 4x4 belonging to the local church's choirmaster, driving around the vineyards of Hungary's most famous wine region, Tokaj. The choirmaster knew everyone and which land was available. He showed me the different vineyards for sale, and I met the owners (usually old men with old-fashioned styles of wine).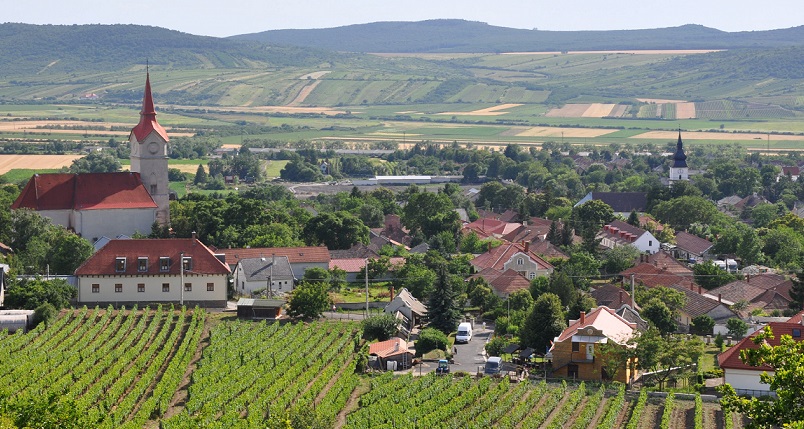 The first vineyard we visited was Palota (which means 'castle'). It was love at first sight. Excellent exposure, 3.5 hectares, vines of eight to 25 years old, and a charming view of the village (
above
). It was just the right size to start with, but not enough to build a proper wine business around.
At this stage, I was also still unsure about how long this passion would last. So, what I did was… socialise with the locals to limit my expenditure. "Can we rent your press?" "Can we borrow your tanks?" "Can we bottle at your place?"
Yep, it was quite challenging. We were young, unknown, coming from the city and without anything to show. This is how we came up with our name: Tállya Radicals. Tállya is the name of the village, and Radicals because we started to implement some radical changes in viticulture and vinification at Palota, including converting to organic.
Luckily, we arrived in Tokaj at the right time. The old-fashioned way of making wine from the socialist period was dying out, and a new generation of winemakers was coming to the fore. There was an exciting wine community building in the region.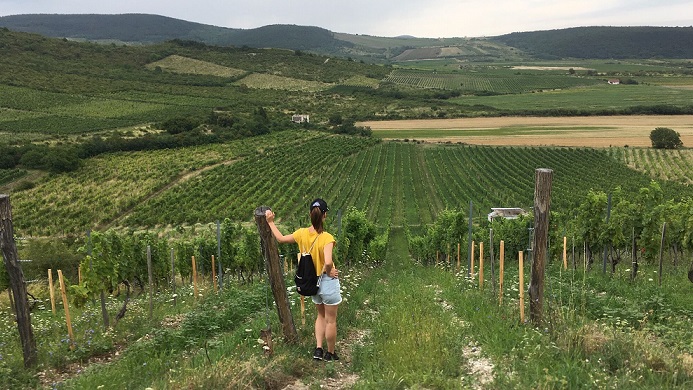 In 2017, I gave up my office job and decided to approach the wine business full-time, running both the business and winemaking sides. The business side involves monitoring trends and competition, thoroughly organising our finances, developing strategy, and setting up short and long-term plans according to our vision and competitive advantage. As a winemaker, I want to be connected with nature, be respectful, quick and spontaneous to react to changes. I want to find the balance between what the consumer wants, wine tasting trends and the natural characteristics of Tokaj.
The Tokaj region, in general, is not as well developed in wine tourism as other European wine regions. The lack of infrastructure, hotels, restaurants, activities, and the quality of the service lags behind. There are some good examples, of course, but it is still not a common thing even for Hungarians to go away for a wine weekend.
I would like to set up a business with the vineyard and winery at the centre, and wine tourism on the side. I have plans to open a wine-themed guesthouse in the next few years, where I can offer a package involving wine, gastronomy, and the beauties of this volcanic wine region.
To help develop my entrepreneurial side, I took an MBA in hospitality management at Ecole Hoteliere Lausanne, in Switzerland. Then I worked at the Six Senses Douro Valley Hotel in Portugal for four months to gain experience in wine tourism.
We have bought another 2.5ha, which should be planted this year. The aim is also to build a new winery capable of taking grapes from 10ha. However, I am still looking for opportunities and for financial aids and funds.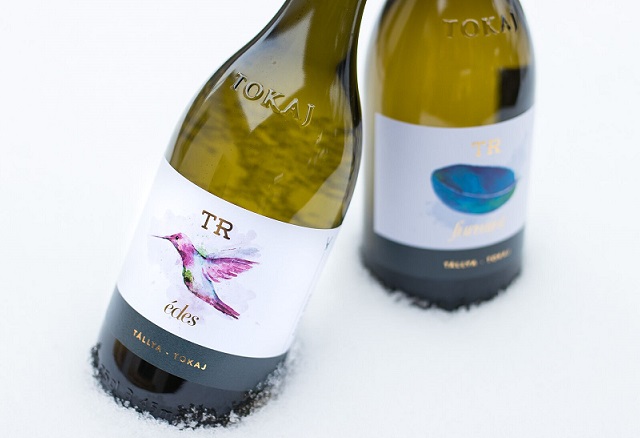 We are selling our wines in Hungary in the major wine speciality store Bortársaság, in smaller wine stores and in bars and restaurants in Budapest. Our annual production is between 5,000 and 8,000 bottles, depending on the vintage. We are looking for importers and went to Wine Paris in February, which was a very positive event for us.
In our portfolio, we offer three types of wines: A dry Furmint; a late harvest and a dessert wine – a Szamorodni – both made of 90% Furmint and 10% Hárslevelű, and aged for 18 months in Hungarian oak.
I am supported in my dream by my husband Pali, who is excellent in identifying trends and finding out the direction in which the winery should go, and my colleague Dénes Uliczki, who deals with the everyday duties of the estate and the employees, and distributes our wines in Budapest.