What do you do when you make a rosé and it isn't quite up to the high standards you've set yourself? Obviously, you blend it with a red wine to make a light red wine.
That was the solution chosen by English winemaker Adrian Pike, who comes from a music industry background and marches to a different beat when it comes to wine. His English sparkling wine has only 5 bars of pressure (instead of the usual 6-6.5); he co-ferments Pinot Noir and Chardonnay for his still red wine, called The Field; and he's best-known for his skin-contact Ortegas.
His rosé wasn't conventional to begin with either. It's almost neon pink, for a start.
The Westwell Pink comprises Pinot Noir and Pinot Meunier co-fermented in stainless steel after a 48-hour cold soak. Adrian thought the 2020 was destined to be one of the best things Westwell had ever created but "it changed completely after going through malo," Adrian sighs. "I wasn't as happy with it and I tried playing around with blending the Pink and The Field together and it worked really nicely and it ended up being greater than the sum of its parts. So, we put those two wines together and left them to age for a while and we've come up with this really light summery red."
Summer Field was bottled in June and released this summer.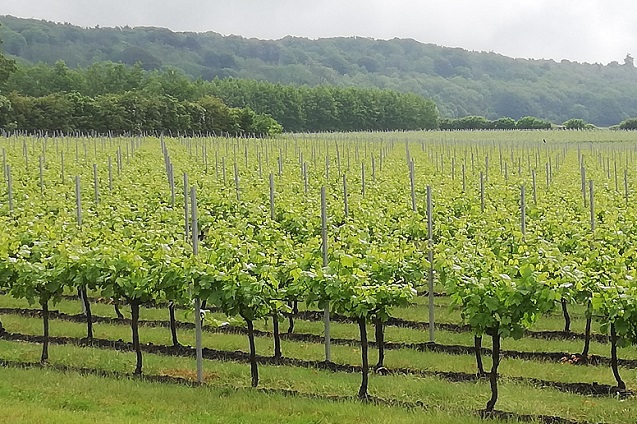 I'd come to Westwell in southeast England to discuss Adrian's three Ortegas – wines I adore – but this new light red captured my imagination.
Adrian admits it's a "weird development". It's effectively a blend of two co-fermented wines – a rosé made from Pinot Noir and Pinot Meunier and a red wine that's a co-ferment of adjacent Pinot Noir and Chardonnay rows which ripened later than the rest of the vineyard.
'Not everything goes as you expect it to'
"Not everything goes as you expect it to," Adrian confesses. "I'm glad we could find a way of making it work. We could have released Westwell Pink and it still would have been a good wine, it just wasn't as alive as I expected it to be. The previous version of Westwell Pink I was really proud of and the 2020 would have been a nice wine but I wanted it to be a bit more than that and I think the Summer Field is more than that."
There's a bonus, too. "We've actually got a decent amount of wine for once," Adrian says. "We've got 2,000 bottles of this wine, so we're quite excited by that."
The replacement rosé is an Ortega and Regent co-ferment first trialled in 2019 and dialled up a notch in 2020.
"We tend to get malolactic fermentation naturally as soon as the weather starts to warm up and if you put Ortega and Regent through malo you end up with a blackberries and cream type of thing, quite different to ordinary rosés," Adrian says.
But most of Westwell's annual output of 25,000 bottles is sparkling – with most of the vineyard, on the chalky North Downs in Kent, planted to Burgundy clones of Pinot Noir and Chardonnay, and Pinot Meunier.
The Pelegrim is the winery's flagship wine. The new release of this non-vintage fizz is based on 2017 wines, the year Adrian and business partner, the late Rod Taylor, took over the 40-acre site, but it still includes 20% of reserve wines made by the previous owner, John Rowe, who worked with one of England's top consultants and contract winemakers, Dermot Sugrue.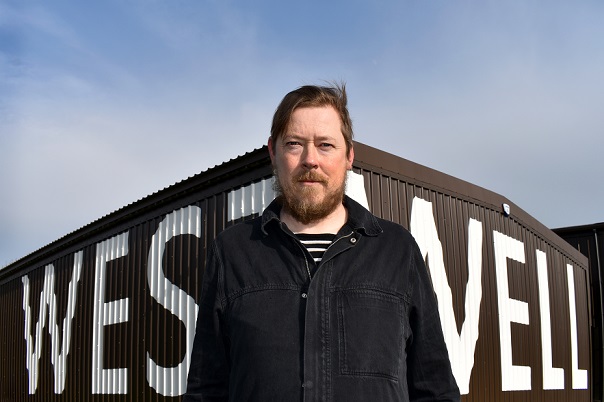 Adrian (
above
) says the base wines they inherited are "really stunning" and, from time to time, they turn them into special releases, such as the Blanc de Blancs 2011 and the Blanc de Noirs 2013. They also have some reserves stored in magnums at 1.5 bar – which they are debating how to use.
"They might well see the light in a blend this vintage," Adrian reveals. "That's an interesting project we're going to be playing with this harvest, using up all of John's old reserves. There's some great flavours there, but we haven't decided what we're going to do with them."
The Pelegrim, according to Adrian, is "the most indicative of Westwell, I think. It's a really rich, full, sparkling wine. We produce it at 5 bars just to give that kind of softer, rounder mouthfeel. And I'm really pleased with it.
'We do other things'
"We're doing something that fits the fruit that we've got here. I don't think we get to the right kind of levels for making Pinot in a Burgundian style, so we do other things."
On tours they taste Pelegrim on the Pilgrim's Way, the historic route to Canterbury which runs along the top of the hill behind the vineyard.
Despite such wonderful sparkling wines, Westwell made a name for itself with its unusual take on the German hybrid Ortega (a cross between Müller-Thurgau and Siegerrebe).
Adrian began to admire the variety while gaining experience with one of England's leading organic wine producers, Will Davenport. "I really like it; it grows so well in the UK," he says. "Bacchus is the only other still variety that does as well, but I don't really like the flavours – they are not really my thing.
"Ortega has got this really nice orange zest thing in the middle that I think is really interesting. You can play with less or more depending on how you ferment it. So, I was kind of fascinated by that and that was another reason for wanting to buy this land."
There were 4 acres (1.6ha) already planted with Ortega in the sandiest, most sheltered spot when he and Rod bought Westwell.
Adrian, one of the co-founders and co-owners of Moshi Moshi Records, asked Davenport's viticulturist Marcus Goodwin to check out the site before they committed to the purchase. He not only told Adrian and Rod to "buy it" immediately, he also joined them in the new venture.
As well as the Ortega, there were also 9 acres of Champagne varieties planted in 2008. Since taking over the vineyard, Marcus has planted another 20 acres in 2018, 2019 and 2021, giving them 32 acres planted with 52,000 vines. This year, they planted 3,328 Ortega vines behind the winery, the former tractor shed, and 375 Regent vines. They are hoping to take some fruit from the 2018 plantings this year. And when it's all in production, they are expecting to produce 50,000-80,000 bottles annually.
"I think that's it here," Adrian confesses. "We're kind of taking stock at the moment. I think we've got a really good product range now; we've been developing that over the last few years. There's still a few things that I want to try and each vintage we'll make small special cuvees that are related to what happens to the fruit out there. But I think we've got a core product range that we're really happy with, we just need to make more of it because we're selling out of everything at the moment."
'We're selling out of everything at the moment'
Inside the former tractor shed, there are now stainless-steel tanks, used oak barrels and an amphora – all employed for the range of Ortega wines. Partially fermented with native yeasts, the main "crisp, fresh" version is made in the temperature-controlled tanks; some of this goes into kegs and is sold by the glass in London restaurants. There are also two skin-contact versions – one aged for nine months in used Burgundy barrels after fermentation and skin contact in tanks, and another fermented and aged on a portion of skins for a year in amphora.
"Ortega just lends itself to it, it's just such fun to make," Adrian reflects. "The fact that you can do a more Albariño style – clean, fresh, dry – but then you can co-ferment it with Regent to make a rosé and you can make a pét-nat with it, or skin contact and all of those different things show different things in the grape. The skin contact is probably closest to my heart because I think that really brings out the flavours I like in it. The dry white is great, it's a lovely easy-drinking wine. I think the skin contact is a bit more contemplative."
The skin-contact wines are fermented with native yeasts. The reason for the main dry white having 50% made with commercial yeasts is this: "That's kind of because wild ferments often bring out interesting characteristics and flavours but sometimes they can be a bit flat. The commercial yeast tends to keep the bright freshness that Ortega can have and that's what we're looking for in this wine."
The amphora version has been so successful that two additional 500L amphorae from Artenova in Tuscany have recently been installed in the winery. One is lined up to make more Ortega skin-contact wines this vintage while the other is for a red wine. Adrian is waiting to see how the grapes ripen before deciding whether it will host Pinot Noir or Meunier.
"I'm increasingly intrigued by Pinot Meunier as a red wine," he hints. 
Westwell's pét-nats are also popular. This summer's releases – Petulant Nature 2020 from Ortega and the totally new Naturally Petulant 2020 from Pinot Noir, Pinot Meunier and Chardonnay – were bottled three-quarters of the way through fermentation. Both sold out within weeks!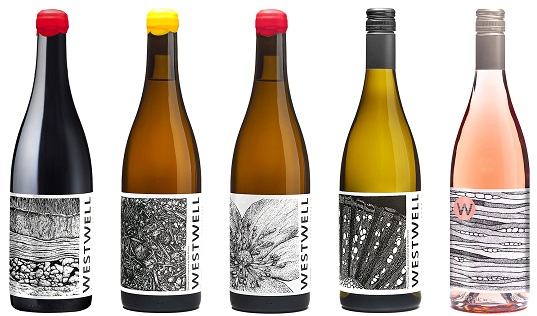 The distinctive labels
Westwell's wines are labelled with beautiful pen-and-ink drawings of a soil pit, chalk fossils, cross sections of vine wood, and close-ups of grapes fermenting in a tank. The drawings are by Adrian's wife, Galia.
The other surprising thing about these labels is that the producer's name doesn't appear on the front. That's how distinctive they are!
"We want it to stand out and be different in a way that still reflects Westwell," Adrian explains. "We're not just doing it for the sake of doing it – the labels are related to the wine being made here and to the sense of place."