A New Zealand Chardonnay has been named Champion White Wine by the IWC, the world's most rigorous wine competition.
The Trinity Hill Wines Gimblett Gravels Chardonnay 2020 – which scored 97 points in the 2022 blind tastings – also picked up the IWC Sustainable Trophy at the awards event at The Hurlingham Club in London last night.
These two awards come on top of the three trophies the wine secured in May, when it was awarded the International Chardonnay Trophy as well as the New Zealand White Trophy and Hawke's Bay Chardonnay Trophy.
The judges describe the wine as having an "expressive yet nuanced nose, offering fine, fresh stone fruit and mineral aromas. Rich and weighty in the mouth with vibrancy and refreshment and a long, fine, textured finish".
Trinity Hill's CEO Rebecca Poynter comments: "To win these awards in a category where this wine was judged alongside those from the world's top Chardonnay producing regions, such as Burgundy, signifies the strength of our Gimblett Gravels vineyards, the expertise of our winemakers and viticulturists, and the rewards of our ongoing dedication to Hawke's Bay as New Zealand's premier Chardonnay producing region."
Chief winemaker Warren Gibson adds: "This represents a massive achievement for the Trinity Hill team. We have spent much time in recent years focusing and fine-tuning our vineyard and winemaking practices with the aim of sophistication and grace in our finished product. We have collectively known that we were reaching our goals and these awards validate our hard work and belief."
Viticulturist Wayne Walton says: "This wine was grown on our Tin Shed vineyard in the Gimblett Gravels winegrowing region. This vineyard is the heart of Trinity Hill's Chardonnay growing program, and in the 2020 vintage produced some of the purest expressions of Chardonnay I have seen."
Weather conditions leading up to the 2020 harvest were typical of a classic Hawke's Bay summer – long, hot, sunny days with moderate-cool nights. As autumn arrived the season became cooler yet remained dry, providing ideal ripening conditions while preserving natural acidity.

The winemaking
'A brand-new puncheon behaves more like a one-year fill barrique in terms of oak extraction'
Chief winemaker Warren Gibson take us through the winemaking, while I interrupt.
Hand-harvested fruit was gently pressed and fermented with indigenous yeasts in 500L French oak puncheons, of which 60% were new.
What's the thinking behind large oak barrels and a significant proportion of new oak? Why not, for example, have older and smaller barrels – say third or fourth fill barriques and 20-30% new?Warren:
"It's a matter of balance. Historically (from 1997 to 2010), this wine was fermented and aged in more traditional 228L barriques and generally bottled before the next vintage, following 11 months in barrel. I had the opinion we were becoming somewhat lazy and staid in our Chardonnay production and the wines were becoming quite heavy, premature and dominated by assertive oak. I also felt for the one vineyard that particularly drives this wine, the barrique form was too assertive for 11 months of aging.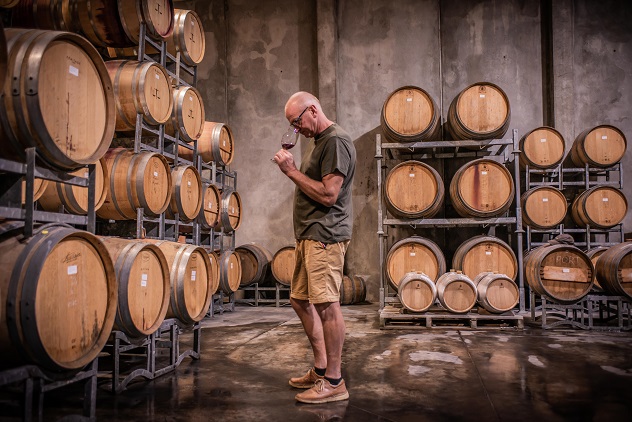 "I do like the influence of good Burgundian French cooperage in high-end Chardonnay so I did not want to give that up. So, our first trial solution was to transition to 500L puncheon from the 2011 vintage. This took some years to fully transition as we had to slowly change the new barrel purchase year by year. The most relevant point to me is that a brand-new puncheon behaves more like a one-year fill barrique in terms of oak extraction. So, whilst 60% new oak might seem high (it is not a formula, just what worked this year) it doesn't come across in any negative way. I also like the dynamics of the fermentation in 500L puncheon including slowing down the general evolution. Your alternative option of smaller oak is very valid but we feel we have found a better technique for us for this particular wine. We have a single vineyard wine called 125 Gimblett Road that is made from this same vineyard (
below
) and is made much more down this smaller oak path. The concentration of this particular fruit actually suits this style of aging and gives a point of difference alongside the Gimblett Gravels wine.
"It's also important to note that no two barrels are the same. We use new barrels that are both 'oaky' and some that have no strongly discernible oak aromatics or flavour. We choose these barrels for different qualities. Quoting oak percentages therefore can be misleading."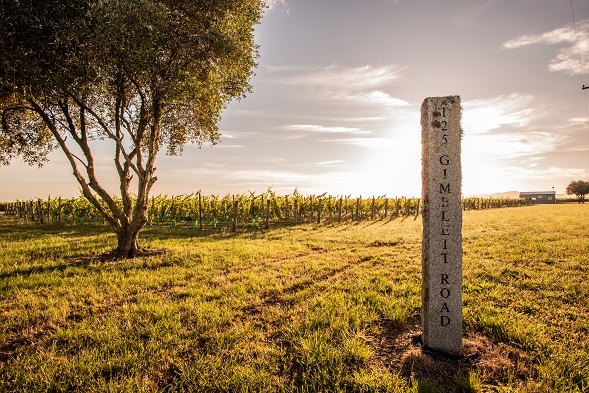 'Quoting oak percentages therefore can be misleading'
Are the grapes chilled before pressing?
Warren:
"Generally no. We pick as early in the day as possible and rarely have very warm days. I feel there is more advantage in pressing the fruit as soon as possible than delaying for a few degrees temperature decrease. We press Chardonnay in an oxidative manner so the pressing temperature is not that relevant to me. We can chill the juice if necessary post pressing."
Is the juice settled at all?Warren:
"This is on a case by case basis. We do like a strong component of direct to barrel from the press. This is an important decision on the day of picking/pressing. The choice of fruit batch for this path comes down to the season, the soundness of fruit and the block/clone that has the history of success with this technique. Each barrel will be numbered sequentially so we know the transition of barrel fills from the press. We can also press to tank for a light settling, then either homogenisation or racking to barrel."
'Measuring and understanding the turbidity of the juice is one of the most important parameters for us'
How dirty is the juice going for fermentation?
Warren: "Measuring and understanding the turbidity of the juice is one of the most important parameters for us. We measure turbidity on every barrel. Our turbidity range is generally from around 250 to 750 NTU. We generally see more complexity from 400+ and anything going to barrel above 750 NTU can go a little off-piste. To a certain extent, you get what you get. However, we can manipulate turbidity through press techniques and racking of course."
Native flora is used for the alcoholic fermentation and malolactic conversion. The malo, according to the company, is to "soften the acidity and impart further richness".
How do you decide when and what gets sulphured and topped up?Warren:
"Each barrel is treated as its own wine and will be sulphured when we feel it is at its peak."
The company says: "The wine spent 12 months in barrel before being blended to tank for a further seven months' maturation on its yeast lees to build further texture and complexity."
Any batonnage – if so, how frequently?Warren:
"Very infrequently and certainly not routinely. Again, this is on a barrel by barrel basis. Once we have added S02 post fermentations then the barrel is stirred and rolled to 2 o'clock. It may not be stirred again until coming to tank. Individual barrels may be stirred to help with integration."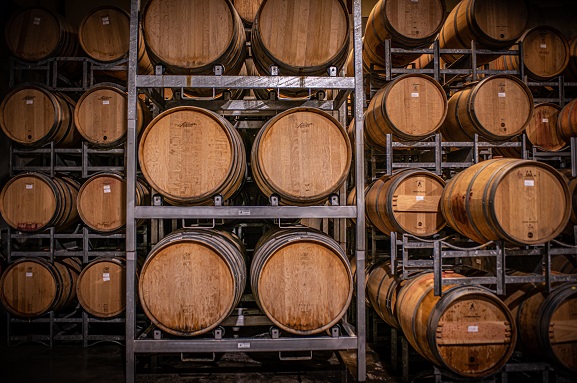 Is the final wine a barrel selection?Warren:
"To a certain extent we need to include almost all of what we have invested in with respect to the growing and production path of this wine. Of course, there will always be a small filtering down of some barrels to the next tier based on quality/style."
It's kept on lees for a long time – how much do you take/leave behind when you rack from barrel to tank?Warren:
"We take as much lees as possible when taking to tank. So they will be rigorously stirred before pumping. If there are barrels where we think the lees is not positive then we will rack these individual barrels off their lees. We believe this extra time on full lees in stainless steel is a big contributor to integration and texture."
What SO2 levels do you go for – when and how much?Warren:
"Generally we make a very small addition to the juice in barrel before fermentation to theoretically knock the lesser desired microflora on the head. Then we hope to make just one more addition post fermentations. It is normally a good dose before we put the barrels into sleep mode and then the FSO2 should drift down to a suitable bottling level. I believe this locks in all the good things we have created and we end up with relatively low Total SO2 versus continually topping up FSO2. We use no other additions than SO2. No fining agents or any other adds."
Where does the lovely flint aroma come from? Is it due to benzenemethanethiol or something else?Warren:
"I have never been asked this question before! To be honest, I roughly knew the gist of your question but had to consult Dr Google to refresh me!
I don't know or realistically care that much about this compound specifically, but quite probably there is a contribution from it. In my Googling I quickly found what was
the most relevant article
to me, written by Dr Jamie Goode for
Canopy
.
"This is a good read and I suggest anybody that has followed to this stage seeks it out. I think Jamie brings up some very good and valid points.
"However, the question of whether this particular compound can be deliberately dialled up for a certain overriding wine style doesn't sit well with me. The fact I needed to look up the compound probably backs this up. My assumption is that the vignerons of Coche Dury and Roulot would also not be focussed on this individual compound, but I may be wrong!
"I believe the style of the 2020 GG Chardonnay is driven by so many things it not possible to simply declare a few individual techniques or winemaking paths are driving style.
'We use very similar winemaking techniques and each wine ends up tasting very uniquely different'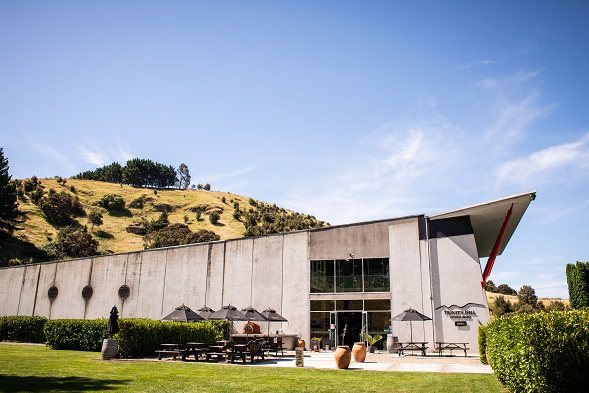 "Interestingly, not one of your questions has asked about the vineyard and this to me is the building block of any wine quality or style. There is no doubt that the techniques we are using in the winery (
above
) are driving style. However, I am involved in the making of around 10 single vineyard wines from Hawke's Bay. We use very similar winemaking techniques and each wine ends up tasting very uniquely different. Certain vineyards, seasons, clones, head down different paths and that is the beauty of wine.
"One last point on vineyard management is that our viticultural team are under instruction to leave a very solid leaf layer over the bunch zone in our Chardonnay. This goes against the tide of significant and sometimes extreme leaf/removal in the area. I am sure this gives us a lot of natural freshness and what could be considered 'reductive potential' to be utilised in our winemaking. This is not to be underestimated in contributing to our wine style."
The wine was filtered and bottled in October 2021.
It's a superb wine of balance, finesse and concentration – the hallmarks of Trinity Hill Gimblett Gravels Chardonnay.