Off a beaten track, at the end of a winding road that leads deep into the Banghoek Valley, lies the Oldenburg Vineyards. At the heart of this 55ha estate is Rondekop – a round hill, one of eight natural influences on the vineyards planted on and around it.
Other elements adding to the extraordinary terroir in this part of South Africa, 8km from Stellenbosch, on the road to Franschhoek, are the Indian and Atlantic oceans, the nearby mountain ranges, the spectacular mountain amphitheatre that surrounds the vineyards, the cool winds, the 300-450 metres elevation, and the alluvial and weathered sandstone soils.
These are the eight elements depicted on the intricate Oldenburg Vineyards Series label design.

Oldenburg has 15ha of vineyards here and plans to expand to 26. Four of these are planted with what owner Adrian Vanderspuy calls his "starlet" white variety, Chardonnay. Another hectare of Chardonnay is being planted this year, and another 0.25ha site is lined up for planting next year.
In the last three years Oldenburg has planted four different Chardonnay vineyards, encouraged by the quality of the Chardonnay already coming out of its new winery and the fact that Jackson Family Wines bought the nearby Fijnbosch 8ha vineyard in 2014 after producing its fine Capensis Chardonnay there since 2013.
Oldenburg Vineyards is adding complexity to its Chardonnay by planting different clones on different aspects and in different soils and using different training systems.
Winemaker Nic van Aarde (
below
) will then use different barrels and different percentages of malo for further complexity.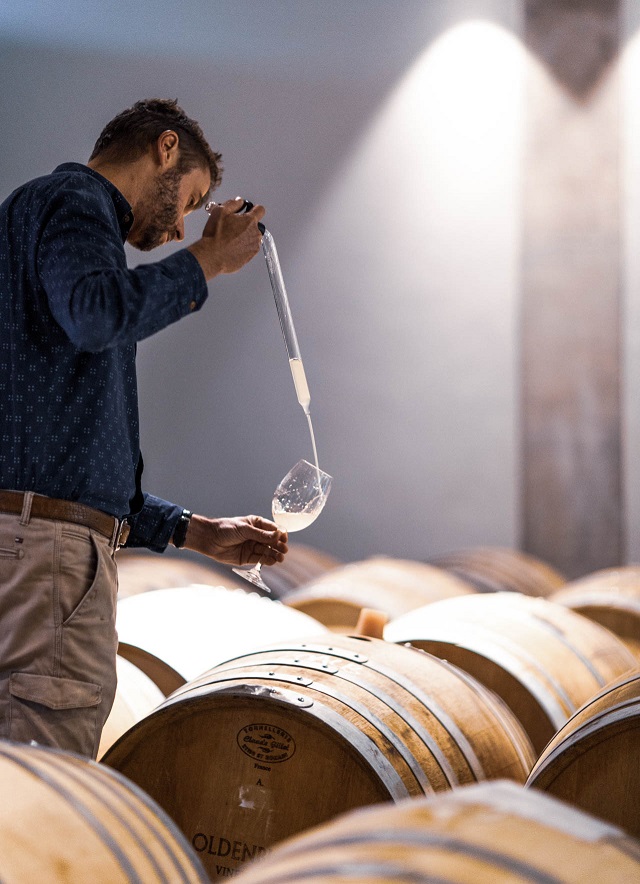 Nic, who joined Oldenburg three and a half years ago, told me: "Chardonnay is very much a winemaker's wine. It can be bland without the winemaker's hand."
Four different Burgundian clones (95, 96, 544, and 76) have been interplanted. With the echalas (single stake) and bush vine training systems they get more vines per hectare but less grapes per vine. They use the guyot system to control growth in the most vigorous parcels.
The Chardonnay grapes for the new release, the elegant 2021, were picked by hand at 22.5° Balling from 14- and 15-year-old trellised vines.
Bunches were sorted by hand and whole-bunch pressed in a pneumatic press, on a gentle Champagne cycle.
The juice was settled overnight and then racked to 228L French oak barrels for spontaneous fermentation.
Nic, who joined Oldenburg when the new winery was built, has used native yeasts from the start but recalls the "nerve-wracking" wait for the ferments to start that first vintage: "It was extremely challenging and worrying… I was the first winemaker to make wine there and we hadn't fermented anything in there yet." However, he says, there were "no issues – we had beautiful fermentations…
"The great thing about wild yeast fermentations is you are showing the terroir, you're not mimicking with a yeast that maybe gives you lots of citrus character or gives you gooseberries and green peppers. It's natural."
The fermentation in 2,500L oak foudres from Austria took two months to complete. The temperature in the barrel cellar was controlled at 15°C – meaning the ferments were around 22-23°C.
The malolactic conversion was also natural. "If it doesn't go, it doesn't go and if it goes, it goes," Nic says.
The wine was matured for 11 months in 228L French oak barrels (33% new) – an increase from the 10 months of previous vintages.
The wine was gently fined and filtered before bottling.
"My mission is to let the terroir talk by allowing our mysterious site to fully show and express itself," Nic says. "This is achieved by picking the grapes at optimal ripeness, minimal manipulation in the cellar, and gentle extraction to produce balanced, elegant wines."
Alc:
13.59%
RS:
2.9g/L
TA:
6.30g/L
pH:
3.27
Using partially dried grapes
Italian winery Cantina Ricchi, a few minutes south of Lake Garda, has borrowed a technique from producers to the east of the lake, in Valpolicella.
The Stefanoni family-owned winery adds extra complexity to its premium Chardonnay, Meridiano, by partially drying the grapes using Amarone della Valpolicella's appassimento method.
It gives the wine a straw yellow colour with golden reflections, intense aromas of exotic ripe fruit and honey, and a full-bodied sensation in the mouth.
They dry 5kg of handpicked grapes in small crates for a week in a storage room where they can control the humidity and temperature.
They also use this technique – but for ten days – on their red wines.
The Chardonnay grapes come from south-west-facing vineyards in a land once described as a wild and difficult territory to farm ('Richinus' in Latin).
After partial drying, the grapes are pressed softly and fermented at 18°C.
The wine is matured in second-use tonneaux in a winery where the boiler system is powered by wood chips made from winter prunings, and the rest of the power comes from solar panels.
Of all the wines tasted during a recent trip to Lake Garda, this was my favourite.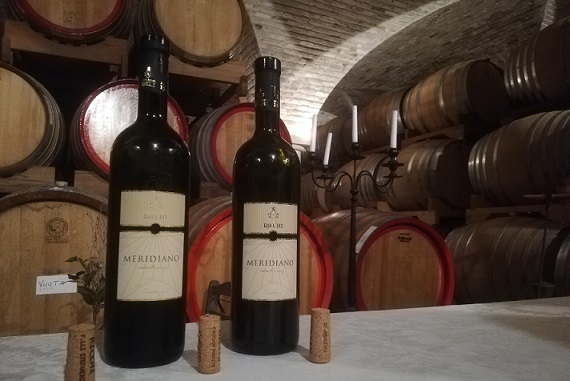 More about the wines of Garda DOC next month. Subscribe here.
The best Chardonnays from IWC 2022.