The Chardonnay grapes on the west side of Seneca Lake, one of New York State's Finger Lakes, are usually among the first grapes picked in the AVA.
This means they are "clean and ripe every single year", according to winemaker Nathan Kendall. With some of the Chardonnay grapes he "doubles down" and picks them even earlier for sparkling wines – blending them with 26% Pinot Noir and 2% Pinot Blanc. Sometimes he picks them two to three weeks later for what he calls an "Old World-style" Chardonnay.
In both cases he likes to build texture in his wines by ageing them in neutral oak barrels and on gross lees for nearly a year.
While I taste his impressive Nathan K. Chardonnay from 2020 (
below
), he explains his "low-intervention" style – which he feels is "the best way to express the unique terroirs of each of our individual sites".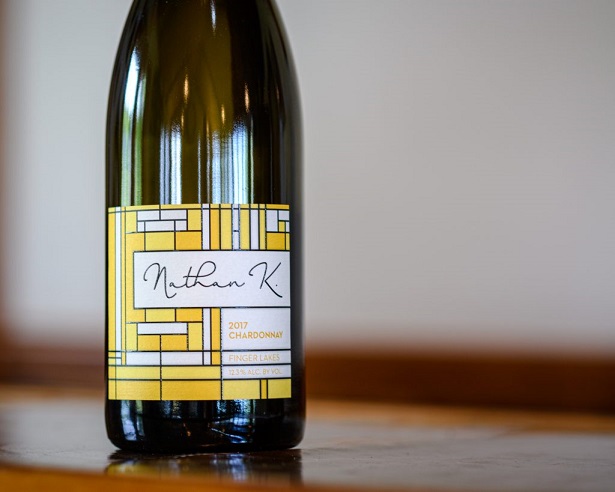 The handpicked grapes come from nearly 50-year-old vines on two sites – one on silt loam and one on shale stone – which receive the morning sun.
At the Hickory Hollow Wine Cellars, where his parents run the tasting room, the grapes are foot-stomped and the juice is left to settle overnight in outdoor tanks before racking to neutral 228L French oak barrels for a spontaneous fermentation.
Some of the barrels also go through spontaneous malolactic conversion. "I taste the wines regularly to determine when the acid is in balance," Nathan tells
Canopy
. "Due to variations in the vintages, the sweet spot tends to have a range. 2020 was an extremely ripe year with lower acid than normal, in that case I blended back some barrels of the sparkling base Chardonnay to give the wine a little more crispness."
The wine is aged for 11 months on lees with minimal stirring. "I quit doing 12 months as I needed the extra month to prepare for harvest," he explains.
The combination of extended lees ageing and the use of Burgundy barrels is "to build a little bit of texture", Nathan says. When the barrels arrive at the winery in Dundee, they are usually five years old. The Chardonnay for still and sparkling wines is put in five- to seven-year-old barrels "just to pull out that last little bit of flavour and then, after eight years, they all go to our Riesling program".
The $33 wine is bottled without fining, just filtering to 0.45 micron. "This is because the wine doesn't go through full malo and I don't want that to happen in the bottle," he points out.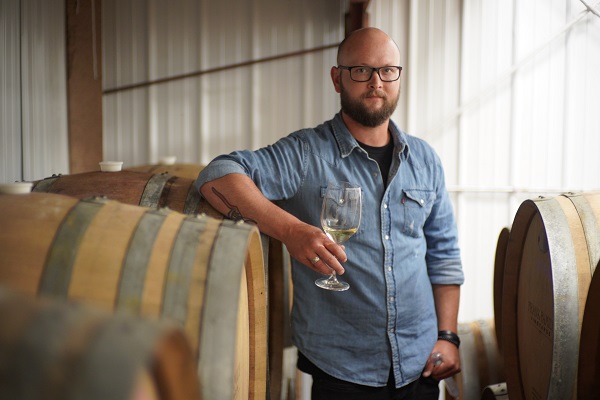 Nathan (
above
) started his own wine company, Nathan Kendall Wines, in 2011 after returning to the shores of Finger Lakes following vintages in Sonoma, Willamette Valley, New Zealand's Waipara, Australia's Adelaide Hills, and Germany's Mosel.
He explains there were three reasons he started making wines where he was born and raised:
Firstly, it was "because I couldn't afford to do this scale of operation most places in the world".
Secondly, he says, he "prefers the cooler climates for grapegrowing and winemaking and the flavour profiles that come from these climates".
And thirdly, he points out, the Finger Lakes is a beautiful region. "In my travels, I'd go to all these beautiful wine regions across the globe and every time I came back to the Finger Lakes I had a fresh set of eyes on it and the natural beauty we have here is on a par with any other place I visited."
Eleven years on, Nathan thinks Finger Lakes is a region where producers and critics are starting to take Chardonnay seriously.
As well as making Chardonnay, the Nathan K. line also includes small-lot Riesling and Pinot Noir.
And he has teamed up with New York City sommelier Pascaline Lepeltier on a project called Chëpìka after the Native American word for roots. The brand explores New York's native grapes through organically-certified Catawba, Delaware and Concord grown around Keuka Lake.
The best Chardonnays from IWC 2022.