There are cool-climate wines and there are cold-climate wines. That's the difference between Australian and Tasmanian Chardonnays, according to Michael Hill Smith MW, joint managing director of Tolpuddle Vineyard.
"Tasmania is genuinely cold," he tells
Canopy
.
This means the grapes retain their natural acidity and the ripening is slow and gentle.
Michael, who runs the business with Martin Shaw, explains: "Tasmania is cold but can also be quite dry, producing wines that couple a bracing line of acid with amazing fruit and flavour intensity. The best wines are both distinctive and exhilarating."
I contacted him to discover more about one particularly fine example, the Tolpuddle Vineyard Chardonnay 2018, which was named the best Chardonnay and the Champion White Wine at the International Wine Challenge 2020. Scoring 97/100, it beat wines from 53 countries.
In fact, it was one of only four wines in the whole competition to score 97 points. The other top scorers were a Champagne from Taittinger, a red wine from Georgia (Tbilvino Saperavi 2018) and a fortified wine from Madeira (Justino's Madeira Terrantez 1978).
It's the first time that a Tasmanian wine has collected the Champion White Trophy and it's the first time in seven years that it has gone to an Australian producer, having been won in recent years by Rieslings from Austria and Chardonnays from Chablis.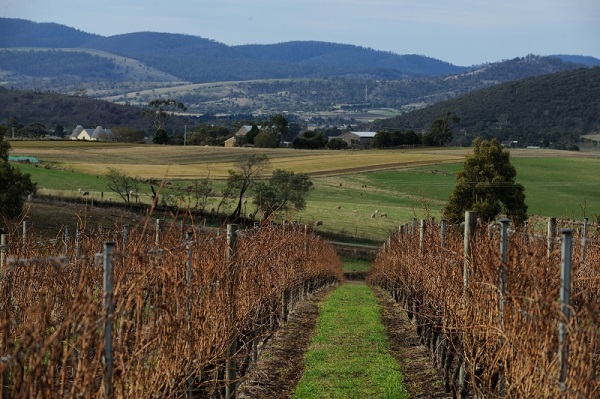 The "hero" of the wine, according to Michael, is the site (
above
). Tolpuddle Vineyard is located within the Coal River Valley region, about a 20-minute drive from Tasmania's capital city, Hobart, in the south-east of the island. It's an area with a good reputation for growing exceptional quality grapes – especially Chardonnay and Pinot Noir for sparkling wines.
Planted in 1988 solely to Chardonnay and Pinot Noir, Tolpuddle Vineyard takes its name from the Tolpuddle Martyrs, whose "reward" for starting England's first agrarian union was to be sent 'down under' as convicts. One of them, George Loveless, ended up in the penal colony of Tasmania, then known as Van Diemen's Land, where he worked on a farm until he was pardoned and returned to England. On a gentle, north-east facing slope that was part of the original Glen Ayr farm, where Loveless toiled, is the 20ha vineyard called Tolpuddle.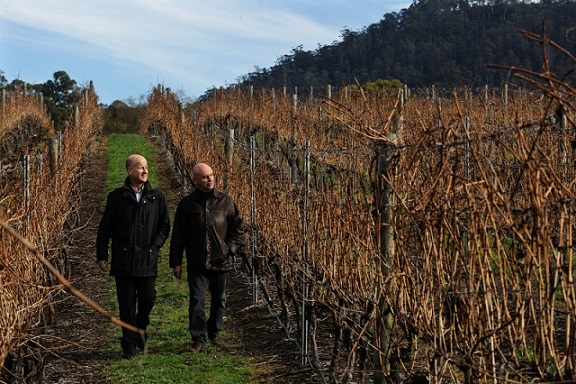 Bought in 2011 by Martin Shaw and Michael Hill Smith (
above
) – owners of the Shaw and Smith winery in the Adelaide Hills, South Australia – they have invested heavily in improving all aspects of the vineyard, including soil management, conversion to cane pruning, trellis modifications, frost protection and clonal selection.
It's paying off. The IWC judges described Tolpuddle's Chardonnay this way: "Bright lemon yellow with a subtle, elegant and restrained aroma of lemon sherbet and fruity mineral tones on the nose. Pristine and angular, yet delicate on the palate with well-balanced oak. Long textural finish with beautiful poise, balance and charm."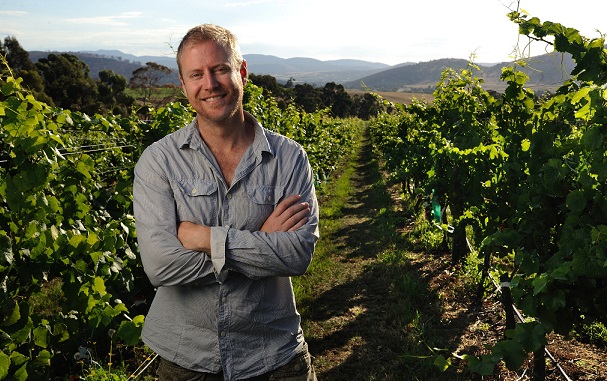 The wine is made by Adam Wadewitz (
above
), who has worked in several regions in Australia as well as in France, Chile and the USA.
The grapes were handpicked and transported to the winery, in Adelaide Hills, in refrigerated trucks. At the winery, they were whole-bunch pressed. Fermentation by native yeasts and ageing takes place in a mix of new and old French barriques.
Full interview with Michael Hill Smith
Canopy asked Tolpuddle Vineyard co-owner Michael Hill Smith AM MW about the region and the wine.

'Tasmania is genuinely cold'
Canopy: How does Tasmanian Chardonnay differ to 'Australian Chardonnay'?
Michael:
"Generally, Australia's most exciting Chardonnay is grown in cool places – Adelaide Hills, Upper Yarra, Mornington and Macedon, for example. Margaret River, whilst not really 'cool', also makes some wonderful Chardonnay benefiting from being so close to the ocean. The difference is that most of these regions are cool whilst Tasmania is genuinely cold.
"Tasmania is cold but can also be quite dry producing wines that couple a bracing line of acid with amazing fruit and flavour intensity. The best wines are both distinctive and exhilarating."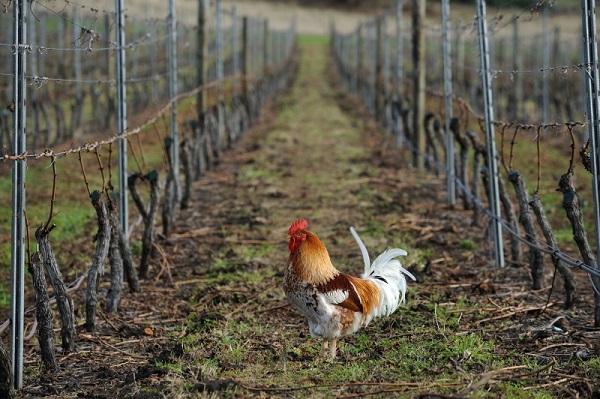 What does Tasmanian Chardonnay bring to the wine world?
Michael:
"Chardonnay is the most planted white variety in Tasmania, much of which is made into Australia's best sparkling wine which is not surprising given the cool climate.
"In table wine terms, Tasmanian Chardonnay is exciting, fine-boned and long-living with a strong sense of place and individuality. They are unique but also command attention in terms of absolute quality. Moreover, Tasmania is a fascinating new wine frontier and beautiful island state – the potential is breathtaking!"
Regarding the winemaking, what do you do that's different to your Adelaide Hills Chardonnay?
Michael:
"Both our Adelaide Hills and Tasmanian Chardonnay are handpicked, whole-bunch pressed, fermented by natural yeast in barrel, undergo full or partial malolactic fermentation followed by maturation in new and old barrels with minimal stirring before bottling.
"The key difference is that the structure of Tasmanian Chardonnay benefits from more oxygen during elevage and requires more patience and time during winemaking. Our winemaker, Adam Wadewitz, finds Tolpuddle Vineyard is best in barrique whilst the Adelaide Hills Chardonnay is better suited to larger format oak. Not surprisingly, Tolpuddle undergoes full MLF given the higher acidity and is often bottled slightly later as it needs more time to come together."
Why are the grapes whole-bunch pressed?
Michael:
"Whole-bunch pressing results in lower solids, less maceration, lower phenolics and greater fruit purity."
What size/age barrels do you use for the fermentation and ageing?
Michael:
"We use 228L French barriques purchased from various cooperages. We prefer longer aged timber, tight grain and mid-light toast. No more than 30% new oak in any year as we are very sensitive to 'over-seasoning' which we believe can mask true expression of site."
After nine months in barrels, is it blended and racked to stainless-steel tanks?
Michael:
"Yes, we believe time in tank pre-bottling on yeast lees helps the wine knit together without picking up additional oak flavours."
How is it fined and filtered?
Michael:
"We lightly fine for protein stability and filter pre-bottling."
What's your winemaking philosophy?
Michael:
"We aim to grow the best grapes we possibly can in a special place then capture the voice or the essence of the site and the season. Our winemaking is essentially low intervention with the vineyard as hero."
The Tolpuddle Vineyard Chardonnay 2018 was awarded the Tasmanian Chardonnay Trophy, Australian Chardonnay Trophy, Australian White Trophy, and International Chardonnay Trophy in a series of rigorous blind tastings before being chosen by the IWC co-chairs as the Champion White Wine.  Last year, Tolpuddle's 2017 Chardonnay was awarded the Tasmanian Chardonnay Trophy, Australian Chardonnay Trophy, and Australian White Trophy, also with 97/100 points.
The top wines at the International Wine Challenge 2020
Champion of Champions:
Justino's Madeira Terrantez 1978, Portugal
Champion White:
Tolpuddle Vineyard Chardonnay 2018, Australia
Champion Sparkling:
Taittinger Comtes de Champagne Blanc des Blancs Brut 2008, France
Champion Red:
Tbilvino Saperavi 2018, Georgia
Champion Sweet:
Royal Tokaji 6 Puttonyos Aszú 2016, Hungary
Champion Fortified:
Bulas Vintage Port 2017, Portugal
For the full list of Trophy results click here. 
The full results.