'I think that within two to three years we will have reached our style objective'
An ultra-modern winery is slowly taking shape on Padi Hill, in Hungary's historic Tokaj wine region. The views from the two circular buildings – each 36 metres in diameter – will be of hills made famous by sweet wines. But this winery is being constructed largely for dry and sparkling wines – with barrels and tanks filled with the versatile local grapes, Furmint and Hárslevelű, and regional interlopers such as Pinot Noir and Chardonnay.
Just as dry wine emerged from the shadows of sweet and sticky aszús over the past 20 years, so sparkling wines are now frothing from the shadows of dry Tokaji.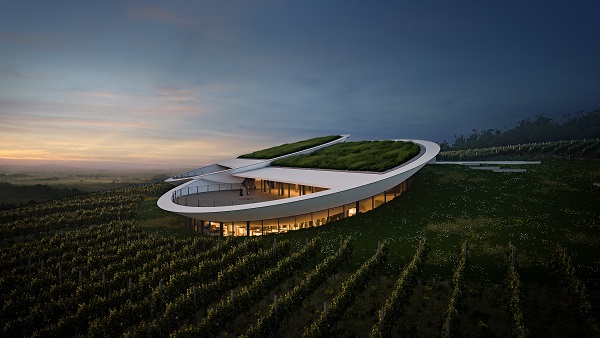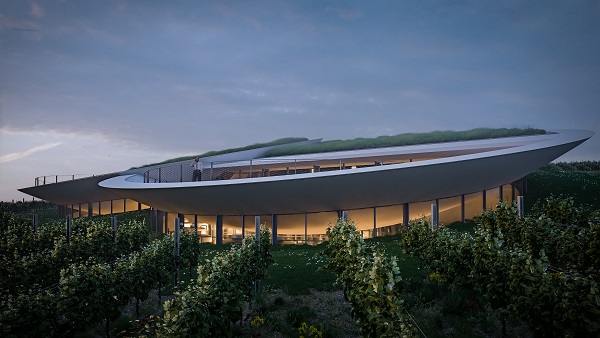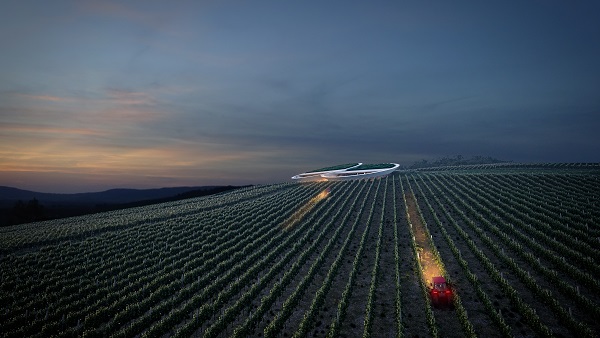 The Sauska family (
below
) is not just building a spectacular winery and wine tourism attraction here (with a restaurant designed by the American-Hungarian interior designer Adam Tihany), they have recruited Champagne legend Régis Camus, formerly chef de cave at Piper-Heidsieck and currently cellarmaster at Rare Champagne, to help them take their fizz adventure to the next level.
We doubt they will reach the richness of Régis's Rare Champagnes, which recently won four gold medals and a trophy at
IWC 2021
, but Christian and Andrea Sauska, along with his daughter Stefanie and her husband Peter Pohl (the winemaker and estate manager), have already shown that their standards and expectations are high. (
Also pictured are Stefanie and Peter's little girl, Livi, and Christian and Andrea's son, Miki.
)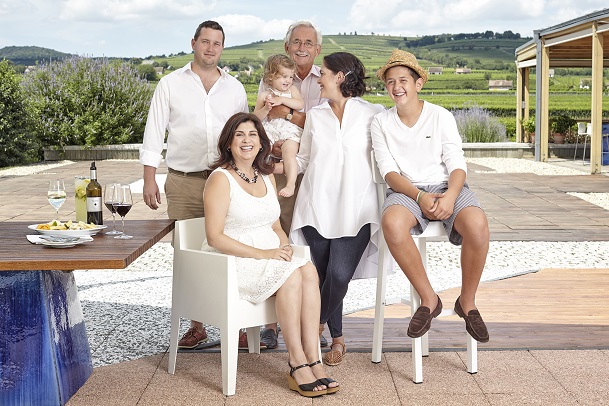 The new €9.4m winery, designed by
BORD Architectural Studio
, is a symbol of that. But so are the vineyards. Christian and Andrea brought in French soil experts Claude and Lydia Bourguignon in 2005 to help them restore the vineyards from the abuse – "and torture" – they had received during 40 years of Communist rule. Now Southdown sheep graze the vineyards and fertilise the volcanic soils.
Andrea tells me they are not wine professionals. "We had no idea about grapes, winemaking, viticulture," she says. "We did have ideas about quality, a modern, scientific approach, and marketing."
Christian is an engineer, who made his money in the USA, and Andrea is a marketing executive with expertise in tourism. They started the Sauska wine business in 1998 with "a dream of making world-class Hungarian wines" in Tokaj and, later, in Villány, where they make Bordeaux-style blends featuring Kékfrankos and varietal reds such as a wonderful Cabernet Franc.
But it's Tokaj where the biggest – and most controversial – changes are taking place.
"The potential of our Tokaj vineyards based on the Bourguignon analytics and especially the quality of the first dry whites in 2009-2011 led to the decision to experiment with Chardonnay and Pinot Noir, more to possibly make sparkling wine," Andrea explains. "Between 2011 and 2017 we were playing with Furmint, Hárslevelű, and Chardonnay, later Pinot Noir as well, to find the right balance in blends and guessing ageing potential. Also, we started to collect reserve wines.
"At this point, we decided to look for professional help and found the freshly retired, full-of-energy Régis Camus who – after tasting whatever we had – happily joined the Sauska team as a consultant."
Christian adds: "My Tokaj is not about the aszú or the Furmint grape per se. It is about showing character and quality at many levels in still wines and, of course, sparkling. Sparkling wine to me is the finest instrument to showcase what this world-class terroir is capable of. Creating the right vineyard structure for sparkling wine is an extremely complex and beautifully diverse process involving analytical and instinctive elements. To me, Régis (
below, left
) is the perfect partner in crime on this journey."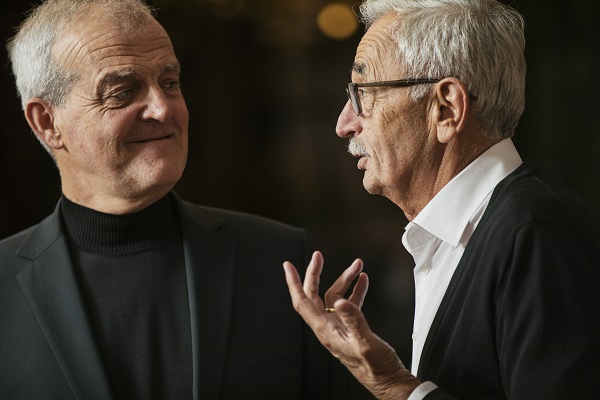 Like many wineries in the region, Sauska started by crafting aszú and late harvest wines, and introduced its first dry wine in 2009. A sparkling wine popped up in 2011.
"From the very beginning, we felt that making traditional aszú and sweet wines is a very tight cage for us, both creatively and financially," Andrea says. "As we progressed in understanding the potential of our vineyards, with the huge support of Lydia and Claude, it became quite obvious that we had to move on with planting international varietals, Chardonnay, Sauvignon Blanc, and Pinot Noir.
"The reception was enthusiastic on the level of wine lovers – less so in the local winemaking scene."
Today, Sauska makes two Chardonnays, a Sauvignon Blanc, and two vineyard selection Pinot Noirs "that are a great success", even though they are not officially Tokaj wines and are labelled as Zemplen County wines. Sauska has not, however, forgotten its roots. It also has a classy line-up of Tokaji wines: three Furmints, a Hárslevelű, a Yellow Muscat, two aszús and a late harvest.
Having learned about Tokaj and Tokaji Furmint, Régis – eight-time IWC Sparkling Winemaker of the Year – has been helping the Sauskas to restructure the vineyards for sparkling wine, build a strong reserve base, refine the Sauska house style, and educate the team of local winemakers.
He visits six to eight times a year for several days and tastes samples sent to Reims.
"Régis' sense of consistency of style and knowledge of blending are priceless to our wish to offer a range of elegant premium sparkling wines," Christian says. "This is the next step in building and imposing the Sauska name in the wine world. We trust Régis and his long experience to get it just right."
'This is the next step in building and imposing the Sauska name in the wine world'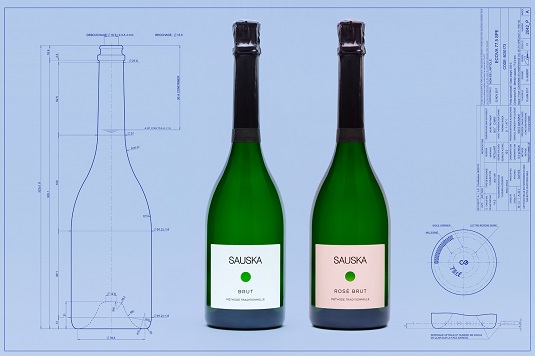 Régis's Sauska non-vintage Brut and Rosé Brut are already on the market. The full-bodied rosé is made from Furmint, Hárslevelű, and Pinot Noir. The blanc de blanc is made from Furmint, Chardonnay, and Hárslevelű. Both wines are aged for at least 18 months in bottle and have 9g/L dosage.
"The goal, of course, is not to imitate Champagne," Régis says. "The wines from the region of Tokaj have their own personality. For Sauska, we were looking for freshness, with floral and fruit notes and a complexity which upholds the house style, thanks to the use of reserve wines. The wines bottled recently have greatly benefitted from that longer time on lees which have enabled them to gain that complexity I was looking for."
He adds: "Sauska is a great project to be part of, as the family wants things done seriously and have committed to this – with planting of relevant varieties in the adapted terroirs, constitution of a collection of reserve wines and cultivating the perfect environment for methode traditionnelle. Many details essential to the elaboration of a true quality sparkling house. In my view, Sauska is a house – sparkling wines are proposed by houses.
"What an exciting project to be part of. I am just an extra ingredient in this already rich equation."
'We have defined a Sauska style for the NV cuvee'
Canopy: Why did you get involved in this project?
Régis:
"Christian Sauska asked to meet me and introduce his wines to me. The man impressed me with his passion, his visionary side and he is very touching. For me, it is before anything else a strong human relationship. And, of course, I was seduced by the wines."
When was this?
Régis:
"I met Christian for the first time by the end of 2017 in Reims. One month later, I was in Hungary discovering his Tokaj vineyard and cellars outside of Budapest."
What did you think when first tasting their reserve wines?
Régis
: "The base wines just as much as the reserve wines convinced me. After the first reserve wine tasting, I suggested to Christian and his team to create a real collection of reserves to elaborate the non-vintage cuvee so as to give it complexity and regularity over time."
What's the potential for this project?
Régis:
"This is a long-term project with high-end wines, with an owner who is demanding in terms of quality. Values that I totally share, so I am very happy to participate in this great adventure."
How excited are you about the region and grape varieties?
Régis:
"I fell in love with the beautiful region of Tokaj where the terroir can produce base wines to elaborate elegant sparkling wines. Furmint varietal was a total discovery. Chardonnay and Pinot Noir are giving beautiful results, including as reserve wines."
Are you developing a Sauska house style?
Régis:
"With the team, we are setting the basis for the Sauska style, working on still wines, the collection of reserve wines, fine-tuning the role of Furmint in the blends... We have indeed defined a Sauska style for the NV cuvee: floral, fruity and freshness on the nose. Fruit, minerality, complexity and length in the mouth. It is the encounter of my signature style and the terroir's touch."
When will we see this?
Régis:
"I think that within two to three years we will have reached our style objective. But that will not stop us from improving every year."
What are you doing in Tokaj that's different to Champagne?
Régis:
"I want to create a range that resembles Champagne. Champagne is only from Champagne. The Sauska range must be proud of its terroir and represent its origin. Of course, I work with my Champagne experience but I do not copy anything from it."
What input have you had in the new winery?
Régis:
"This new winery must be ground-breaking, original, modern, premium and allow us to produce faultless wines. And, of course, true to its owner's vision and respectful of the Tokaj region – it blends into the landscape. Situated at the top of a hill, it looks over all the plots of land that they grow the grapes in and that come into the sparkling wine blends. It is totally part of the region. It will also be the place to benefit from Sauska's true sense of hospitality, tasting the wines as well enjoying the view in their restaurant."
Currently, they are working on the interior of the building (the restaurant, sparkling wine bar, welcome area, tasting rooms) and the outdoor lighting design. The building is set to open in September 2022.