The first 'Rohkost' Sekt tasting was held at Griesel & Compagnie Sekthaus in Bensheim, Pfalz, in 2018. Inspired by Le Printemps des Champagnes, this decidedly geeky wine event gave Germany's new generation of Sekt producers – among them Raumland, Griesel, Krack, Eymann, Strauch, BurkhardtSchür, Schloss Vaux and Reinecker – the chance to pour their base wines, 'raw' Sekts and finished Sekts – exhibits of their avowed mission to 'make Sekt great again'.
Germany drinks a lot of sparkling wine. But 'great' it typically isn't: about 95% of German Sekt is made using the Charmat method and only about 10% of it is even 100% made from German grapes (more on that below). The truth is that the nation's once-proud Sekt tradition has long since dissolved into an ocean of mass-produced fizz whose main appeal is that it can be purchased for €3 a bottle. Or less.
Over the years, various steps have been taken to rehabilitate German Sekt's reputation. Since the end of the 1980s, the
winzerSekt
classification – that is, traditional method sparkling made wholly from estate-grown grapes and aged on lees for a minimum of nine months – has sought to promote standards of quality and provenance. But, as Vincent Eymann, of Weingut Eymann in Pfalz, points out, "this category is really not important to anybody. Nobody has it on the label and most of the consumers don´t know what it means".
In 2018, Germany's VDP association of elite wine estates sought to reinforce the notion of Sekt quality with the publication of its own Sekt charter, defining region, village, erste lage and grosse lage classifications reflecting those of VDP still wines. (According to the VDP rules, ageing on lees must be for a minimum 15 months, compared with the
winzerSekt
minimum of nine months.) But the VDP system, representing the purported 'elite' German wineries, is by definition limited in scope.
Arguably the most significant recent development for German Sekt has been the emergence of a new generation of German
Sektmachers
. These ambitious young winemakers, largely represented by the Rohkost tasting, focus on Burgundy varieties and Riesling vinified by the traditional method of secondary fermentation in bottle – or traditionelle Flaschengärung – with extended time on lees to produce Sekts comparable to the best grower Champagnes.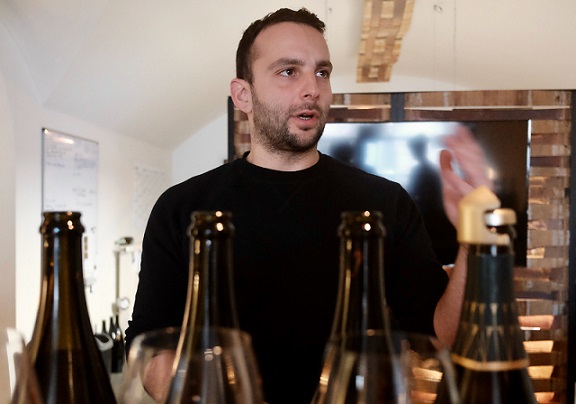 The exemplar of this new generation – though one who acknowledges a debt to the pioneering 'Pope of Sekt', Volker Raumland, as well as former Bollinger chef de cave Mathieu Kauffmann – is Niko Brandner (
above
). In a very short time, Niko has turned Griesel & Compagnie in Bensheim, Pfalz, into one of the most talked-about Sekt producers in Germany.
Griesel launched as recently as the 2013 vintage, after business consultant Jurgen Streit purchased the current winery property. With no background in wine, Streit only chose to make Sekt in order to not step on the toes of neighbouring still wine producers. This was a serendipitous decision – as was hiring Niko more or less straight from oenology school.
Given that Rohkost was inspired by the Pringtemps du Champagne, and that many of the new generation Sektmachers express a strong enthusiasm for Champagne wines, does Niko believe the new-generaton Sekt has its soul in Germany or Champagne?
"For the present and more recent history it's more Champagne," he reflects, "but I didn't even visit Champagne before I set up my first cuvées [in 2013] and also didn't taste much before.
'I tried to collect the methods and ideas that felt right'
"My idea of winemaking was slowly growing while I worked for others [Niko has picked up experience at Fürst in Franken, Dr Loosen in the Mosel, Feiler-Artinger in Burgenland and Volker Raumland in Rheinhessen]. I tried to collect the methods and ideas that felt right for me. I'm very much taste and gut feeling-driven."
For a producer of wines noted for their elegance and complexity, Niko's recipe for making great sparkling wine is almost alarmingly simple.
"The things you need are good grapes and ageing in barrel (principally Niko uses a lot of 228L
pièces
from Menier and Damy in Burgundy, plus some larger tonneaux) for one year – that's the starting point of great Sekt," he says. "The idea of slightly oxidised wine is that you get this gentle umami character and harmonious structure."
This approach echoes the winemaking technique of
Matthieu Kauffmann
and clearly has its roots in Champagne, a region with which German winemakers have deep historic ties. In the more distant past, it was not uncommon for young German men to travel to Champagne to learn sparkling production methods, which they would then replicate back home. Many Champagne houses were founded by Germans – such as Krug, Bollinger, Mumm, and Roederer.
This path to knowledge continues to be trodden this day. Vincent Eymann of Demeter-certified Weingut Eymann in Gönnheim, Pfalz, which makes an impressive line of traditionelle Flaschengärung Sekts alongside its high-quality range of still wines, notes that among the young Sekt makers there is a definite trend towards oxidative, barrel-fermented sparkling wines. This contrasts with the 'classic', fruity style of German Sekt, which is more often the product of reductive vinification, higher dosage, blocked malo and fermentation in stainless steel.
'It was the logical consequence to get some inspiration in France'
These 'new generation' German Sekts are more often than not based on Champagne varieties vinified oxidatively with very low dosage. In Vincent's case, the debt to Champagne is explicit, his own Sekts taking slivers of inspiration from various Champenoise sources.
"We started visiting Champagne producers during our studies at Geisenheim," he explains. "At this time, there were not so many ambitious Sekt producers in Germany like we have today, so it was for us just the logical consequence to get some inspiration in France.
"During the last years we have been in Champagne many times to get in contact with the producers, and get some details about maturity of the grapes, sugar and acidity levels, the technique of pressing for Champagne and the management of the tannins, but also the influence of barrels, toasting and oxygen on the wines."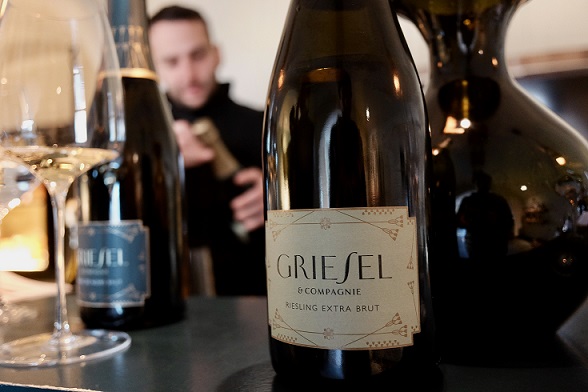 The hotbed region
Not least owing to the presence of quality-focused sparkling producers such as Griesel, Eymann, along with the Krach brothers, Frank John, and of course
Mathieu Kauffmann
– first at Reichsrat Von Buhl and now with Christmann – Pfalz might be considered the hotbed region for 'new generation' Sekt.
It has at its disposal more plantings of Chardonnay, Pinot Noir and Pinot Blanc than anywhere else in Germany. Niko Brandner explains that the sites in Hessische Bergstrasse used for Griesel Sekts – typically cooler, higher lying sites on naturally low-yielding (average of 40hl/ha) granite soils – are perfect for providing good concentration at relatively low alcohol (at Griesel grapes are harvested at 10-11% potential alcohol), along with very good acidity. Niko has recorded acidity in Riesling grapes picked at 77° Oechsle in Auerbacher Fürstenlager of 18.5g/l, with a pH of 2.65.
"For Bergstraße I think the granite soils really help to strongly express the acidity, also because we don't find much chalk here, which is actually working as a buffer towards pH, so we can get to the desired point of ripeness and taste without losing too much acidity before we get there," he says.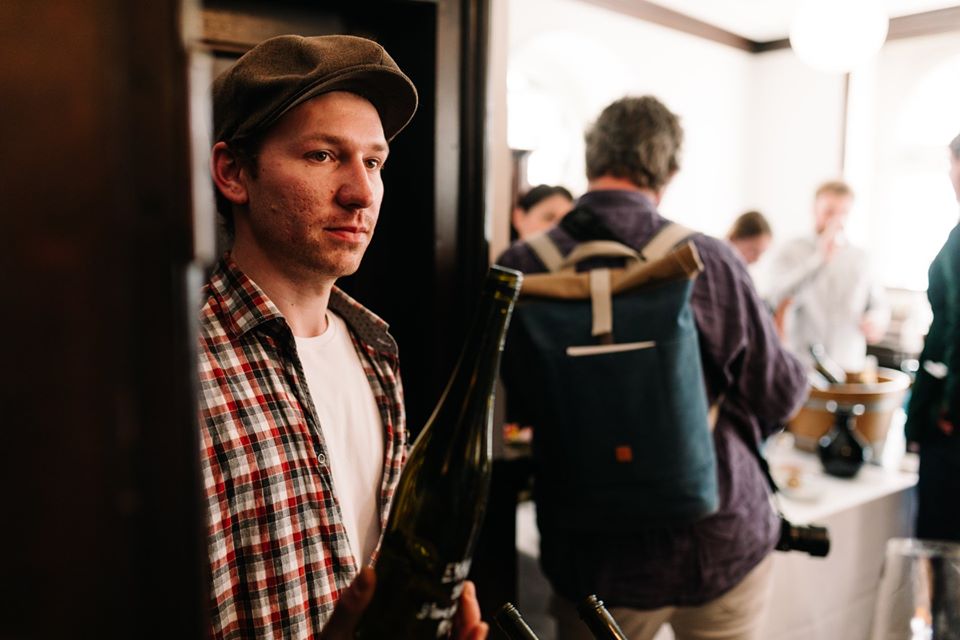 Sektwunder
The
Sektwunder
is work in progress but one that promises great things. Had it not been cancelled owing to the Covid-19 pandemic, Rohkost 2020 would have been extended from an initial 14 producers to 23. The new-generation producers of which the Rohkost tasting is composed are bound to multiply. Mathieu Kauffman has said that sessions he holds for young oenology students in Neustadt and other schools are very heavily subscribed. Over time, this evolution towards Sekts of distinction will surely help to change the general perception of German Sekt from one of anodyne €3 bubbles to one more readily associated with quality and refinement.
The most recent statement of intent among these producers was the formation, spearheaded by Niki Brandner and Volker Raumland, of the Verband Traditioneller Sektmacher (VTS). This is a group of, so far, 35 German traditional-method Sekt-makers whose main goals are to find a legal basis for the VTS designation and to protect the 100% German origin of the grapes used for quality sparkling wine. As Vincent Eymann (
above
) explains, it is still possible to buy bulk wines from, say, Italy or Spain, then perform a second fermentation in Germany and call the end product '
Deutscher Sekt'
. Thus, they hope, the term 'Sekt' will recover the value it once had.
"It´s great to have an organisation like this," he says. "The name of German Sekt is actually absolutely ruined, because of extremely cheap and highly industrialised production of tank-fermented sparklings based on Italian or Spanish bulk wines. [Most] consumers are still used to these cheap, industrially produced sparkling wines. The German Sektwunder is something that is mainly perceived by wine lovers and people in the wine business. But it's still a process we are working on. We are trying to make German Sekt great again."