"I don't want to make a wine that's too elitist. I want to make the best Champagne that's possible – that's my goal," says Émilien Boutillat, Piper-Heidsieck's new chef de cave. "But then I want everybody to enjoy a glass of Piper-Heidsieck. I want our Champagne to be complex, elegant but not complicated. It must be easy to understand."
Émilien has now been in his job for six months. After familiarising himself with the range and daily blind-tastings of the reserve wines, he fully understands the house style and where he can take it.
"No compromise on the production side," he tells me, as we taste the latest vins clairs and current Champagnes, "but the result needs to be enjoyable by everybody. That means elegance and generosity in the glass to allow the consumer to travel into a touch of liberty. Things are more and more crazy and fast and I want that when somebody takes a glass of Champagne, a glass of Piper-Heidsieck, it's a pause in the crazy world and we can relax and slow down and enjoy the moment, so it should not be too complicated."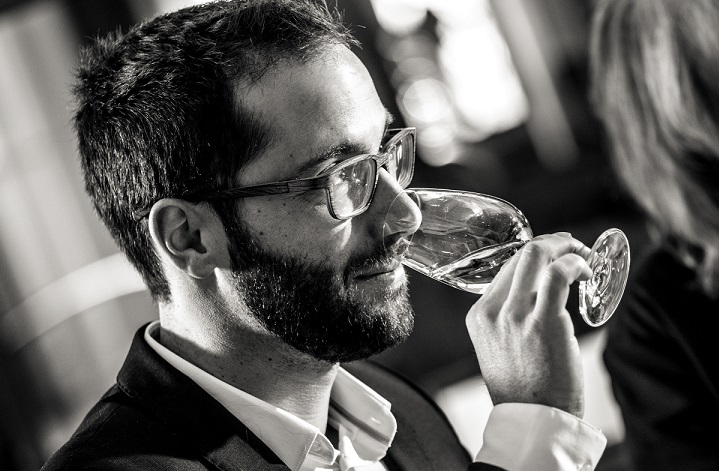 Born in Champagne and raised in his father's Pinot Meunier vineyard, Émilien went to the south of France to study oenology and agronomy. Afterwards, he built up his knowledge in both France (Bordeaux and Châteauneuf-du-Pape) and abroad (South Africa, Chile, California, and New Zealand), making both still and sparkling wines.
"So I bring something new, a new vision to the winemaking here, but still with my roots in Champagne," he says. "My family and friends are here and I love Champagne."
Émilien returned to the region in 2014 and took up the post of chef de cave at Armand de Brignac before joining Piper-Heidsieck on October 1, 2018.
Émilien sees his role as "keeping the style of the house but thinking also of tomorrow".
He adds: "The idea is to respect the DNA of the brand, but I am also looking for improvements at each step of the process.
'Sometimes the Champagne you want to create here is not what people abroad want to drink'
"Working abroad, I also spent time with consumers so I know a bit about what people like outside of France. Sometimes the Champagne you want to create here is not what people abroad want to drink. The idea is to keep the style consistent, keep the elegance, but maybe add more generous aromas."
What other insights, I wondered, did he pick up during his travels?
"The main difference I noticed is between generations, especially the younger generation," he replies. "The older generations opened a bottle of Champagne to celebrate – you need a big wine to celebrate – but more and more people are looking to create and celebrate simple moments every day, like watching the sunset on the terrace. In France and many countries, Champagne is still very much linked with the end of the year – Christmas and New Year's Eve – the big moments, but the new generation are thinking a bit differently and don't want to do the same as their parents, so their consumption habits are different and we have to think about that."
However, with his agronomy training and agricultural upbringing, he is a firm believer in establishing quality in the vineyard.
"My (winemaking) philosophy is to create the best grapes possible, as sustainably as possible, taking good care of the maturity, so the date of harvest is very important, the pressing is very important, then no tricks, no products, just the minimum – yeast, yes for sure – then I just want the fruit to talk."
Émilien aims to implement increasingly stringent environmentally-friendly vineyard practices and encourage Piper-Heidsieck's growers to commit to sustainable viticulture.
While working at Chateau Margaux in 2009, he examined the differences between classic, sustainable, and biodynamic farming, and "found good things everywhere". He's encouraging biodiversity and the planting of small trees around vineyards to "bring back bees". He's encouraging mechanical weeding; he's a keen supporter of the electric
Vitibot robot
– and he wants to see wooden posts at the end of rows.
Although he is in favour of many organic grapegrowing practices, he discourages the use of copper "only". "For me, it is not the answer as the copper remains in the soil," he says. "We have to think globally,"
'I want to work in the footsteps of my predecessor'
He admits he is changing things in the vineyards and winery "little by little and slowly". He says: "The idea is not to change everything. I want to work in the footsteps of my predecessor; I want to keep the style of the house consistent."
By predecessor, he means Régis Camus, who's now focusing on the company's Rare wines, rather than Séverine Frerson, who took over the role earlier in 2018 but quickly moved on to Perrier-Jouët.
Régis was IWC Sparkling Winemaker of the Year eight times between 2004 and 2013. "It's something I'm reminded of every month," Émilien says with a smile.
"I want to keep going with what we do. It's important for me to have (a team of) winemakers who have been here forever. They have a huge diversity of ages and experiences, and knowledge. But we need to improve. Each step is important. Step by step, I want to improve a few things and even increase the quality, but not change the style of the wine."

Looking out over the sea of stainless steel tanks at the modern winery near Reims, Émilien remarks that he is lucky to have a huge palette of Pinot Noir, Chardonnay and Pinot Meunier wines from which to choose and blend. At his disposal in tanks ranging from 2,000L to 4,000hl are reserve wines from different blocks, villages, and vintages, as well as more than 400 batches from the 2018 harvest.
These have now been allotted to different cuvees in the range.
The brut reflects the diversity of the house, with the grapes coming from more than 100 different crus and villages. Typically it is 50-55% Pinot Noir, 25-30% Pinot Meunier and 15-25% Chardonnay, while the vintage wines are fairly evenly split between Pinot Noir and Chardonnay. "But I don't close any door, I may add Pinot Meunier if I think it needs it. This year we are missing some freshness, so I will bring in a bit more Chardonnay."
As we taste the IWC 2018 gold-medal-winning 2008 Brut, Émilien shares his thoughts on the 2018 vintage.
"2018 was a perfect year, with huge quantity and huge quality," he states. "We have good to very good wines everywhere in Champagne, but it's hard to find exceptional. It's a good vintage for the Brut but I'm not sure it will age like the 2008."
We conclude our meeting with a brief discussion about the trend for zero dosage.
"We notice in the wine shop, particularly, that people ask for low sugar but, for me, talking about sugar itself doesn't make sense – it's all about the balance."
I leave the impressive head offices (
below
) reassured that Piper-Heidsieck's treasure trove of reserve wines are in very safe, capable hands.