The first robot designed for vineyards was Vitirover, a small electric mower awarded a special prize at the 2012 Vinitech fair. Since then, we have seen several new vine robots emerge. So, seven years on from their first foray between the vines, how far have vineyard robots developed and what can we expect from the current crop?

What's their main role in the vineyard?
The focus at the moment is on addressing specific soil management issues. While many herbicides are destined to disappear, mechanical weeding appears to be the most common alternative for vine growers. The problem is that, compared to herbicides, soil tillage techniques are very expensive and labour intensive. This is where robots are relevant, because they will help reduce both the time and arduousness of such tasks.
Robotic brands or projects dedicated to weed management include:
Ecorobotix (Switzerland)
RIPPA (Sydney University, Australia)
Carré Anatis (France)
SITIA PUMAgri (France)
Naïo Technologies Oz and Dino (France).
These are touted as solutions for soil tillage in vegetable gardens or field crops. Soil tillage in viticulture is quite different because it is all about weeding or mowing the space between the vines on the row, without touching or hurting them. The challenge is to be precise and an improvement on mechanical weeding done with a tractor.
What are the different options?
SITIA, Naïo Technologies and VitiBot have now joined Vitirover in the field of vine robots, with their PUMAgri, TED, and BAKUS solutions respectively.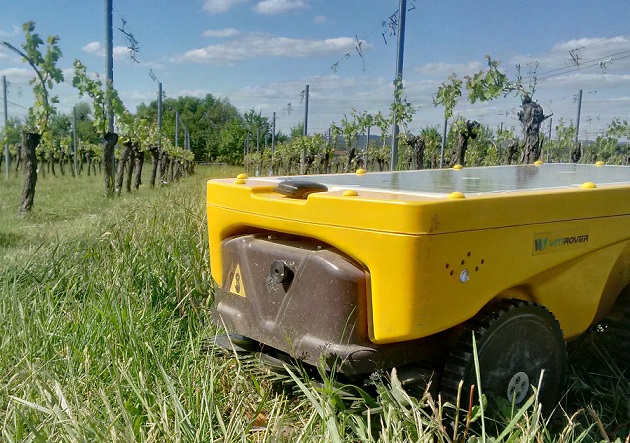 Vitirover, based in Saint-Emilion, has developed a small and lightweight solution (20kg) to mow vineyards entirely covered with grass. In its conception, there is a compromise between autonomy, power and safety. It has a random but organised movement within its work area, which is split into sub areas, with a prioritization of the direction of the displacement based on the time spent on each area. The robot has no outdoor sensors, its behaviour is dictated by information from the inertial, the compass, and constraints stored in each wheel motor. The software part of the robot control is also important because it must allow the manager of the fleet of robots to know the location of the various units, and be able to get the robot out of the parcel when heavy machinery moves in for other vineyard duties.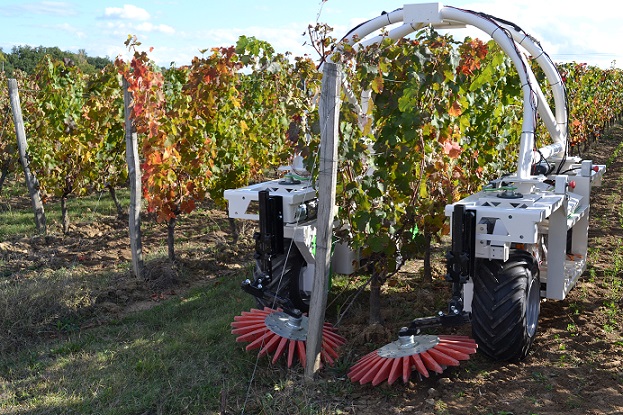 Naio Technologies has made the choice to design a robot (TED) adapted to mechanical weeding under the row first and then to develop the versatility around a range of tools for shoots removal, mowing or spraying. For more precise work between the vines, the choice was a structure that spans the vine row. This configuration is more favourable to the positioning of tools but is more restrictive in terms of mechanical engineering. Traction is electric, each wheel drives and steers, which allows multiple modes of operation for manoeuvring or alignment. The robot guidance is now totally dedicated to the RTK GPS, which certainly allows precise positioning, but does not yet rely on the detection of the structure of the vineyard. This will come in the next few months with the integration of new sensors. TED's total weight with equipment is around one ton.
We have tested TED with its mechanical weeding tools. It has shown its capacity to run smoothly row after row at an average speed of 3.5km/h, without damaging the vine stocks. We've not been able to measure the efficiency in terms of weeding because these tests were run at the end of the season, but we should be able to do this over the coming months.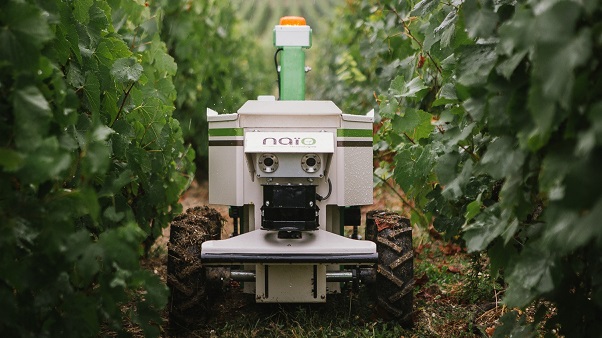 Naio Technologies, based in Escalquens in south-western France, also has a machine called Jo (formerly Bob) which is designed for very high density vineyards.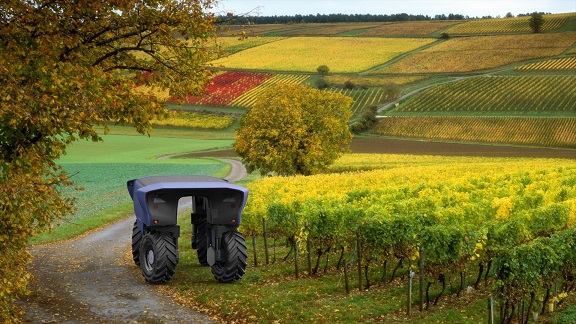 VitiBot, a start-up located in Champagne, has a very advanced prototype of its electric robot Bakus. This is a heavier (around 2.5 tons) and more powerful machine that will be used in narrow vineyards first. Its main purpose will be mechanical weeding. VitiBot also aims to develop leaf removal and spraying functions. The four wheels also drive and steer.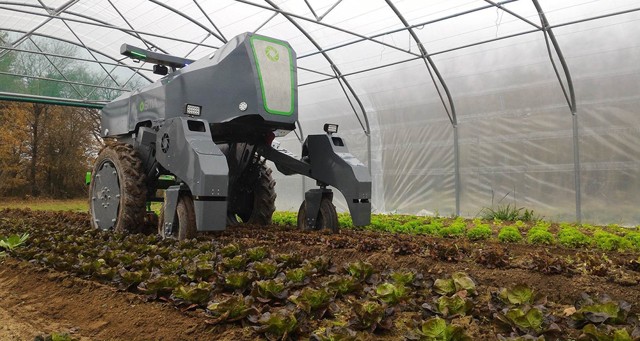 SITIA sees its PUMAgri platform as a very versatile robot, able to work in vegetable gardens as well as vineyards. Its main difference with the competitors is in its hybrid power source: the main engine runs with gas-oil and provides electricity to ensure a high level of autonomy in electric drive mode.
These four examples
show that the challenge of clean weeding is the gateway for robotics to get into vineyards, and could pave the way for other very important applications such as targeted and confined spraying, but also the gathering of data – such as vigour or disease detection. The benefits of robots go beyond the simple search for competitiveness, since there is growing concern about the exposure of vineyard workers to pesticides and other potential dangers.
What's their availability and pricing?
Vitirover will not be sold. The business model proposes it as a service for vineyard owners. The other robots are still, at the moment, prototypes with high price tags (between €80,000 and €130,000) and are going to partner-customers with some limitations due to the ongoing developments of the solutions to ensure security and reliability.
So, at this point, because there is no industrialisation of production, robots are not yet competitive if you just look at the costs. Nevertheless, some studies have been conducted in real conditions and they show these robots have a great potential to bring clever solutions to the vineyard, while changing the frequency and intensity of the interventions. Watch this space!
Christophe Gaviglio is an applied research engineer at the Institut Français de la Vigne et du Vin, specialising in vineyard mechanisation.
For further information
http://www.vitirover.com/fr/
https://www.naio-technologies.com/machines-agricoles/robot-enjambeur-viticole/
http://www.vitibot.fr/
https://www.ecorobotix.com/fr/robot-desherbant-autonome/
http://www.sitia.fr/innovation-robotique/plateforme-pumagri/
http://www.precisionmakers.com/x-pert/
http://www.clemens-online.com/index.FR.php?cnt=p4190&nav=m203&dash=vinescout