Here's to the oak, the brave old oak,
Who stands in his pride alone;
And still flourish he, a hale green tree,
When a hundred years are gone!*
The huge oak tree overlooks vines planted 20 years ago.
It's in the top corner of La Roblería vineyard within the Apalta section of Chile's Colchagua Valley, 190km south of the country's capital, Santiago.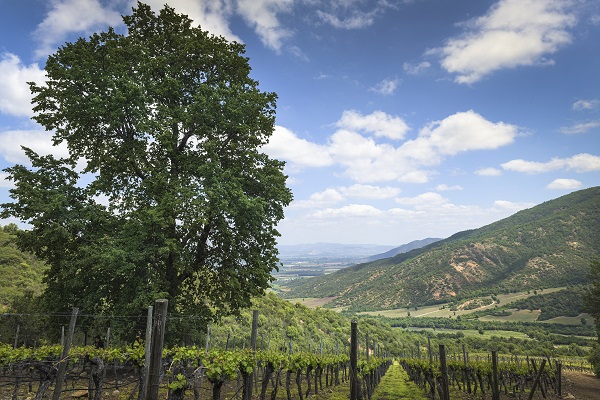 That top corner is Block 23, the highest point in the vineyard (at 485m elevation). It's a special place. On the 32˚ slope of the 1,500m-high mountain and surrounded by two large ravines, Block 23's soil is different to the rest of the vineyard. It is deep red clay, mixed with sand and granite, and has a very high proportion of stones of colluvial origin (making up about 50% of the soil content).
Ventisquero Wine Estates' winemaker, Felipe Tosso, and Australian consultant John Duval knew it was a special site as soon as they saw it.
So did Cristian Vial, the late brother of the winery's owner, Gonzalo Vial, when he found it.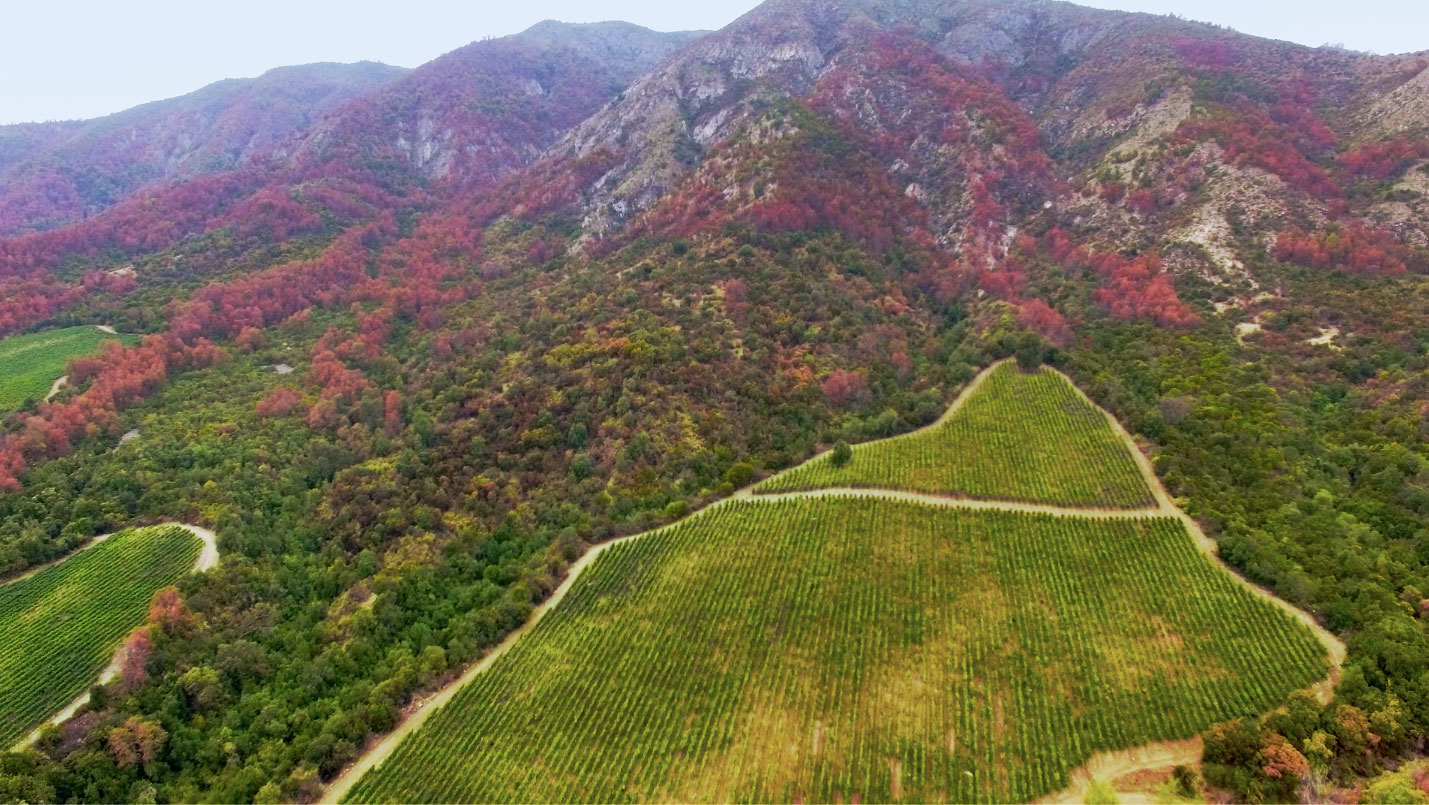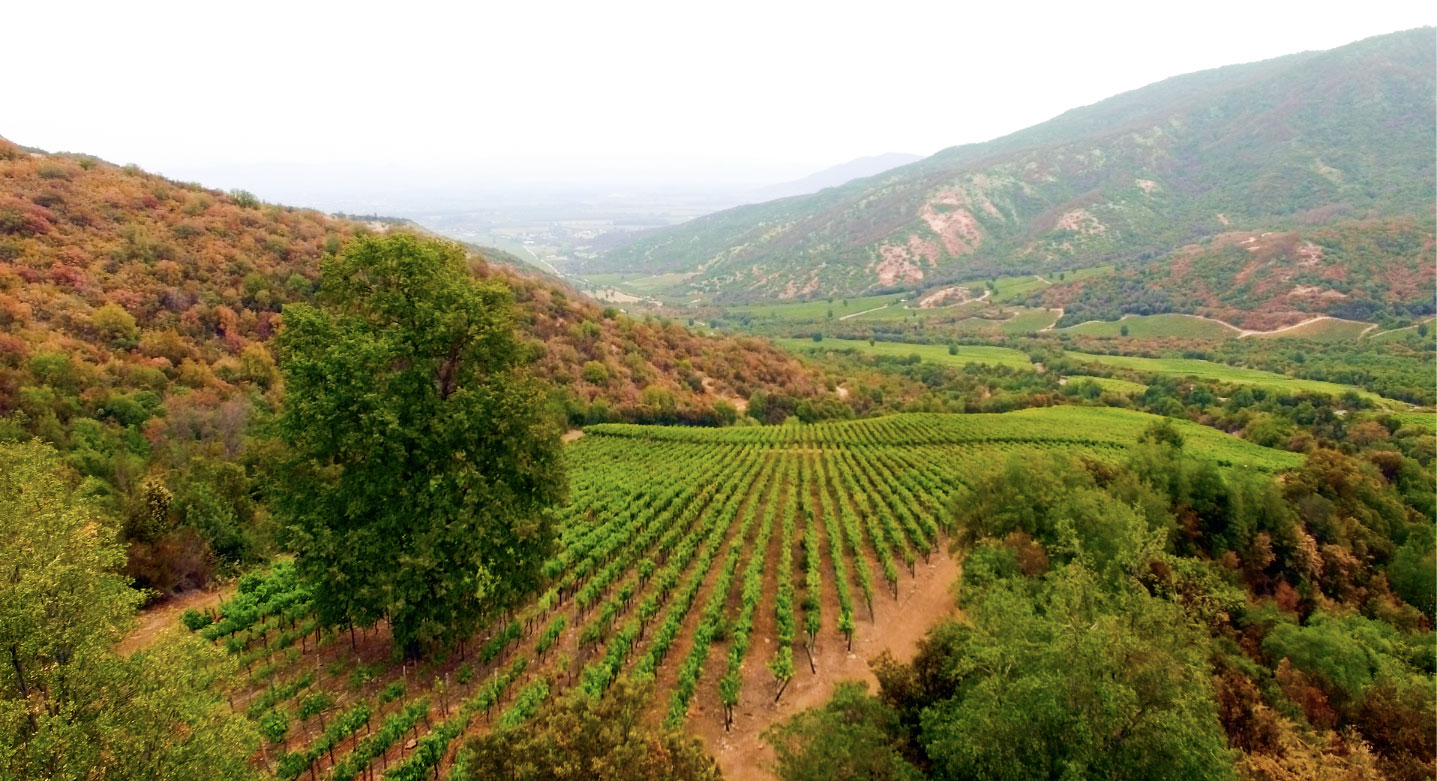 The ungrafted vines were planted in 2001 with a medium-high planting density of 5,555 plants/ha, planted at a distance of 1.8m x 1m on the south-facing slope – the cooler, shaded side in the southern hemisphere. It's also the side that receives more rain, meaning the vines only have to be irrigated once or twice in hot years but are mostly dry-farmed.
No wonder head viticulturalist Sergio Hormazábal describes it as a "magical place".
The yields, as you might expect, are low – 1kg or less per plant.
For years, this 1.5ha plot has been providing the Carmenère for Ventisquero's Vertice, a premium red blend featuring 51% Carmenère, 49% Syrah.
In 2013, Ventisquero's microvinification-loving winemakers decided to create a new expression of Carmenère – a high-end varietal – from this site, naming the new wine Obliqua after the vineyard's ancient oak tree, Northofagus Obliqua.
However, it took a few years to find the protocols that worked for these grapes.
The initial vinifications from 2013-15 produced a wine that was "too classic, too oaky," according to Felipe.
But now he feels they have produced the site-specific wine they wanted: a very elegant wine with firm structure and pronounced, chalky tannins, fresh acidity; well-balanced with a long finish. Felipe, who celebrates 20 years as head winemaker at Ventisquero this year, thinks it brings out the Cabernet Franc side of Carmenère.
As for the winemaking, Felipe says such a beautiful place like this "really doesn't need much. You just need to make the wine properly."
They launched the 2017 vintage online in Chile in mid-2020, in Brazil at the end of 2020 and in England earlier this year, and have now started previewing the 2018.
Deciding the harvest day involves tasting the grapes in the winery after they have been chilled
The winemaking for both vintages is very similar:
The grapes are hand-harvested in one day, but deciding the day involves tasting the grapes in the winery after they have been chilled.
The grapes are harvested into 10kg crates and then selected again on a belt in the winery.
The grapes undergo a cool pre-fermentative maceration to extract the maximum colour and aromas.
The must is fermented in small stainless-steel tanks and open vats using native yeasts.
The classic fermentation involves 2-3 pump-overs per day during the first half of the fermentation and then once a day.
After the fermentation, the wine is kept on skins for a further two weeks.
Then the wine is racked into neutral wood: 70% in extra-fine grain, second-use 300L French oak barrels, and 30% in a French oak foudre.
The wine is kept there for 22 months.
The final wine is actually a blend – with 6-8% Cabernet Sauvignon and Petit Verdot adding a little "salt and pepper".
The 2017 blend: 94% Carmenère, 4% Cabernet Sauvignon, 2% Petit Verdot.
The 2018 blend: 92% Carmenère, 4% Cabernet Sauvignon, 4% Petit Verdot.
Felipe believes "a little bit of salt and pepper makes the wines more interesting".
The wines are blended "at the end". Felipe says: "We keep all the batches separate, even the Carmenère (two or three small batches), and we have one small batch of Petit Verdot and Cabernet Sauvignon, and we blend at the end. We blend in the tank, then we leave it a few days to a week, and then we bottle."
It is bottled unfiltered. "We don't filter because we don't think they need it, they just need time," Felipe explains. "They need time to settle down. And when they're ready, you bottle".
The wine is only sulphured for bottling.
The wine spends a minimum of one year in bottle before release.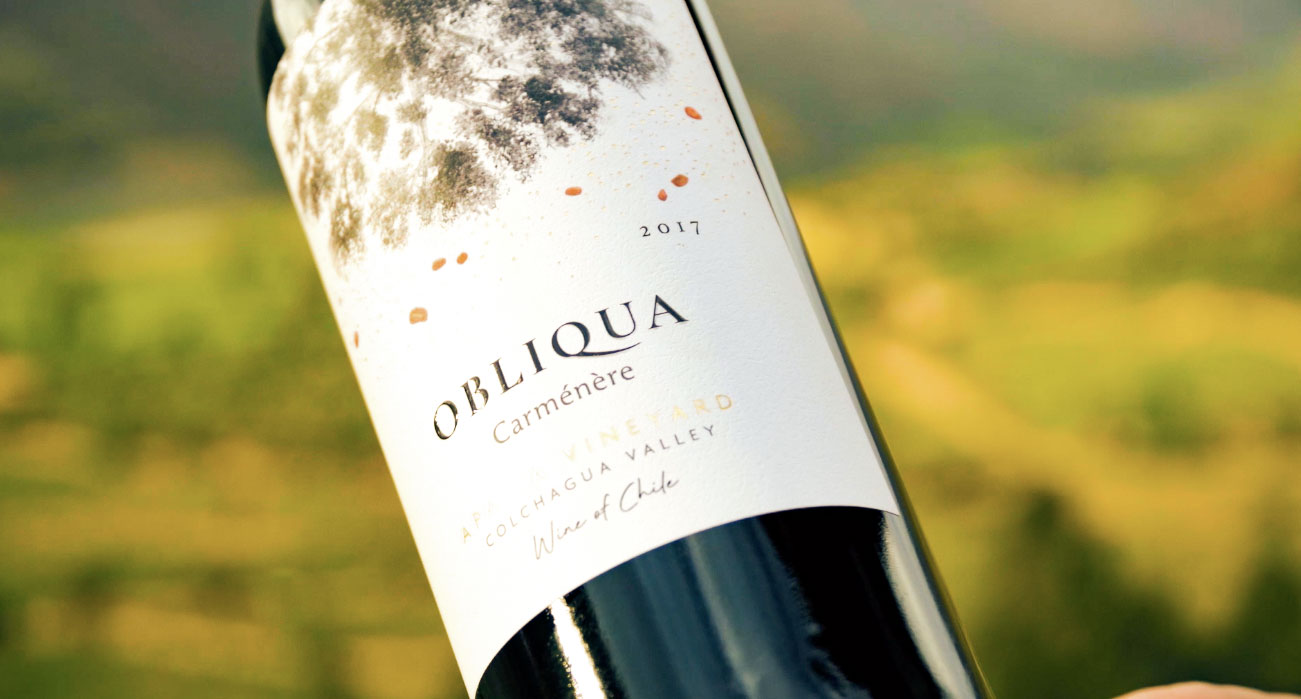 The major lesson from the initial experiments was to use more neutral oak, to prevent it from masking the fruit and from adding too much tannin.
Felipe says they also learned from their Tara White Wine 1 – a Chardonnay made in the Atacama Desert. "There's no oak and it's a great wine," he points out.
Felipe has become a fan of foudres. "We've been using the big vats more and more on these wines because we love the way that the wines get a little bit more tension, they're a bit more tight and of course there's less influence of oak," he says.
As we taste the two wines via Zoom, it becomes clear they are very proud of the new Obliqua line as the wines not only show off this beautiful site, they also reflect the vintage. The numbers for both vintages are very similar but the taste profiles are different.
THE NUMBERS
Obliqua 2017Alcohol:
13.8%
pH:
3.50
TA:
5.81g/L
Residual sugar:
2.35g/L
Obliqua 2018Alcohol:
13.8%
pH:
3.50
TA:
5.90 g/L
Residual sugar:
2.5g/L
2017 was a warmer vintage and the grapes were picked mid-April, a couple of weeks earlier than 2018. 2017 shows more red fruit aromas and flavours, especially raspberries; the cooler 2018 shows more black fruit and some chocolate notes.
Now that Block 23 is being used for Obliqua instead of Vertice, a nearby plot – Block 26 – has been planted with Carmenère and Syrah to make up the shortfall.
New rosé
Another new wine to watch out for is a high-end rosé made from co-fermented old-vine Grenache, Carignan and Mourvèdre kept in 2,500L foudres for a few months before release. Part of the winery's Grey Glacier range, it is due to be released next month.
* The Brave Old Oak by English poet Henry Fothergill Chorley (1808–1872)