In the Atacama Desert – 'the driest place on Earth' – you will find vast salt flats, active geysers, sand and rock baking in the unfettered sun, dead vegetation that's thousands of years old, orange dust... and a couple of vineyards belonging to Vina Ventisquero.
One of these vineyards has a large bowl-shaped pit. When winemaker Felipe Tosso is there for a tasting, he kicks off the event by blasting out David Bowie's
Life on Mars?
The tradition started in 2016, shortly after the popstar's death.
The arid wilderness – among the world's highest and coldest deserts – emits that kind of feeling. But things are changing. Life has come to the thin, low-fertility soils at the desert's southern fringes. The area now hosts Chile's most northerly vineyards, on the second terrace of the Huasco River, about 20 to 25kms from the Pacific Ocean.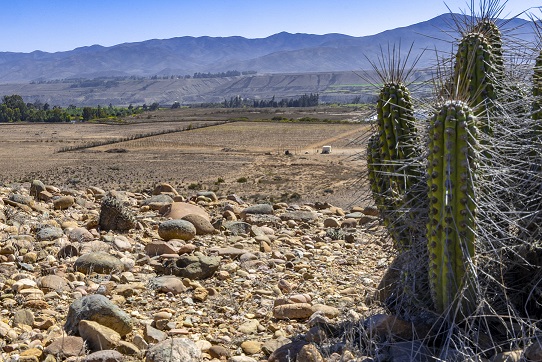 The Huasco vineyards total 13.77ha, but the experimental project got off to a shaky start. The first hectare of vines, planted in 2007, succumbed to the soil's salinity. They quickly replanted, using expert advice on 'deep irrigation' to keep the vines alive. This is achieved by soaking the vineyards "for two days, then nothing for three to four weeks," Felipe explains. "When the salt comes up, we irrigate again".
The water comes from a reservoir created between the river and vineyards. Additional moisture comes from the early morning fog (the 'Camanchada'). Low-density planting (2,500 to 3,000 plants per hectare) and high natural stress contribute to very low yields (about 4,000kg/ha).
But there are few diseases. "No bugs and no botrytis," reveals Felipe. "We only spray a little sulphur to protect against oidium."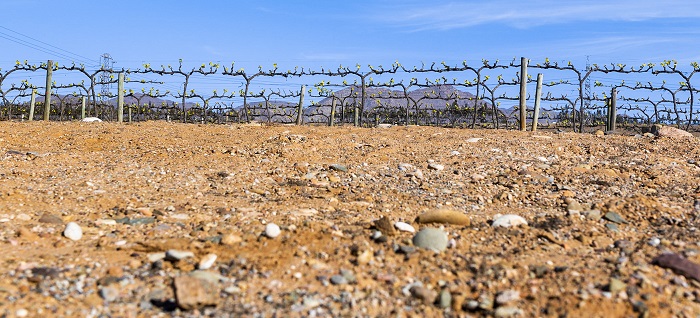 The varieties include Sauvignon Blanc (3.73ha), Chardonnay (3.28), Pinot Noir (2.05), Syrah (1.98), Merlot (1.96), and Viognier (0.24). Ventisquero markets the wine as Tara. Tara Red 1 is made from Pinot Noir; Tara Red 2 from 85% Syrah, 15% Merlot; and Tara White 1 is a Chardonnay. The second vintage of the Viognier will be released later this month.
These are Ventisquero's most natural wines. 
I tasted the 2015 and 2016 Tara Chardonnays with Felipe in London recently. It's not just the location of the vineyard that's unusual. He also uses specially-made stainless steel barrels for fermenting and ageing the wine.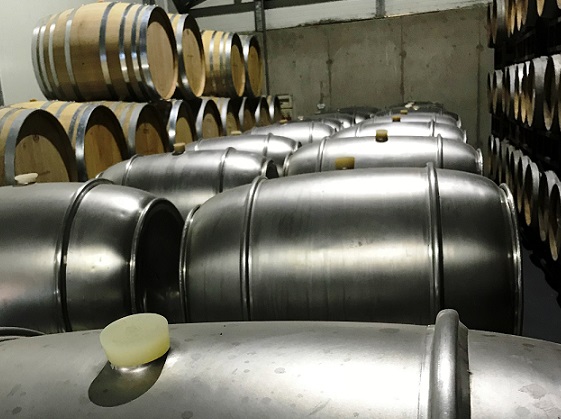 "Because we want it to be super-pure," he explains. "We want it to reflect something that is unique in the world and is very rare."
He told
Canopy
the main difference between tanks and stainless steel barrels is that the barrels let in a little oxygen before they are topped up, but less than an oak barrel.
The main advantage of the metal barrel is the enhanced contact with the lees. "The lees are super-important in a wine. A small container brings much more," he confirms.
Production method
The winemaking process behind the 2015 and 2016 was the same.
100% Chardonnay grapes harvested by hand into a refrigerated truck for the 12-hour journey to the winery near Santa Cruz.
Whole clusters crushed by feet.
Nothing added to the must (no sulphur or yeast).
Fermentation in stainless steel barrels. "And we don't move it again for 24 months," says Felipe.
Clarification by chilling for 12 hours.
A small addition of SO2 prior to bottling to give 10-15mg/L of free SO2 (the 2011-2013 wines had no added sulphur but became oxidised).
No filtering – it is designed to be served cloudy.
It's a delicious wine with a unique story – desert, stainless steel barrels, simple, natural winemaking...
"When I go to buy wine in a wine shop, I ask the guy, 'Which wine do I buy? Tell me the story of that wine.' I buy wines with a story on the back (label) as often as I can," says Felipe. "When you go to a winery, it's not just the packaging – it's why do they do the wines that way?"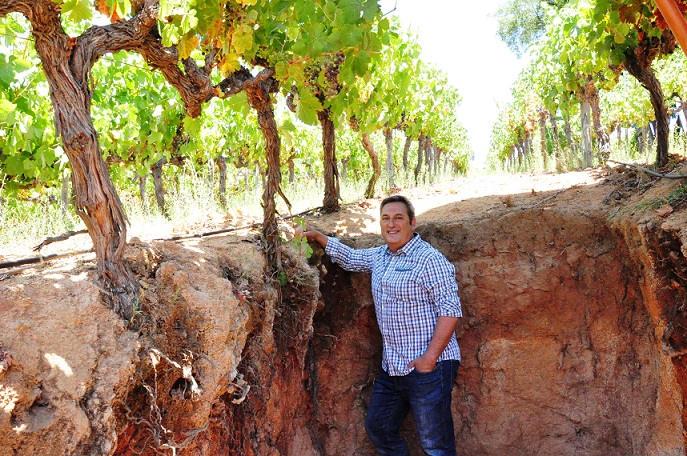 Grey Chardonnay
Felipe (
above
), who joined Ventisquero in 2000 after making wine around the world, also uses the metal barrels for part of his "delicate, straight-style" Grey Chardonnay.
Vineyard:
Single block of clone 76 vines planted in the foothills of the Casablanca Valley in 2000.
Vinification:
2016
Cold maceration for 12-14 hours.
Fermentation at 13-16°C.
80% fermented in French barrels (10% new); the remaining 20% fermented in stainless steel barrels "to maintain a fruity component in the blend".
Rested on lees for 12 months, with some batonnage to add aromatic complexity.
2017
Whole bunches.
Fermentation at 13-18°C.
33% fermented in French oak barrels of 228 and 300L (15% new oak); 33% fermented in stainless steel barrels. The other 33% in foudres of 2,700L.
Allowed to rest for 12 months on lees with some batonnage.