"Barely sulphite" is the way forward
Raül Bobet is one of cleverest and most humble winemakers I have met. I like him a lot. I don't understand half he says, but what I do understand makes sense. I think.
On a white board in the former chemical engineer's office at his Castell d'Encus winery in the Catalan Pyrenees, Spain, is a large calculation. It's here, for you to check…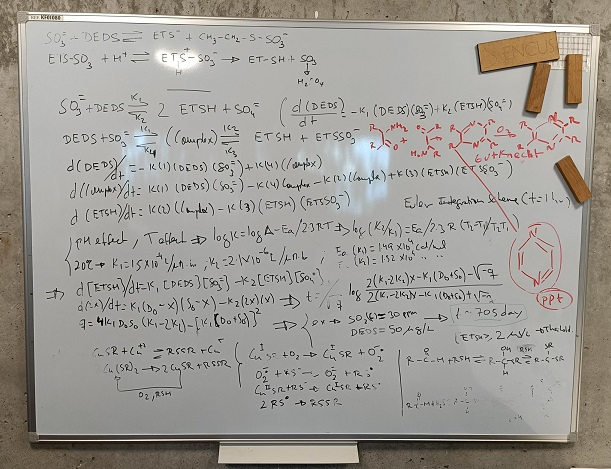 From what I can gather, Raül did it for fun to check the human threshold for sulphites. But it's the conclusion that fascinates me: zero added sulphur in aged wines that have gone through MLF and too much sulphur in wines can lead to headaches in much the same way. He stopped releasing wines with zero sulphites in 2018, but still makes some as experiments.
Raül, the former winemaker at Torres Spain who set up on his own in the northern part of DO Costers del Segre in 2001, tells me: "One thing is reducing sulphites – which I believe is extremely clever. Another thing is zero sulphites. If we use zero sulphites, we have to tell the people at least two things: that they are going to have a heavy headache. It's a possibility… with some post-malolactic bacteria.
"Zero sulphur without malolactic fermentation, there is not any problem."
The second thing is that the amount of acetaldehyde will rise, possibly imparting odours akin to over-ripe bruised apples, sherry and nut-like characters. "A lot of people are very sensitive to oxidative compounds, so you will break some of the landscape because things will get similar," he says.
"It's like if you have blackberries – extremely nice blackberries – and you have blackberries in a very hot spot in another country. They are very healthy, but they have no acidity in them. If you boil both, it's going to be extremely difficult to know their origin because you are losing texture, you are losing the feeling of finesse, the feeling of freshness. It's the same when you are increasing the amount of acetaldehydes because, no matter what, nature has a tendency to look for equilibriums as the ball has a tendency to fall down. The equilibrium is that it is much more stable when acetaldehyde than alcohol.
"If you can prevent this for some time, you will feel more the landscape…"
The landscape at Castell d'Encus is particularly exciting, which is why I wanted to come here after writing about the winery
in 2020
.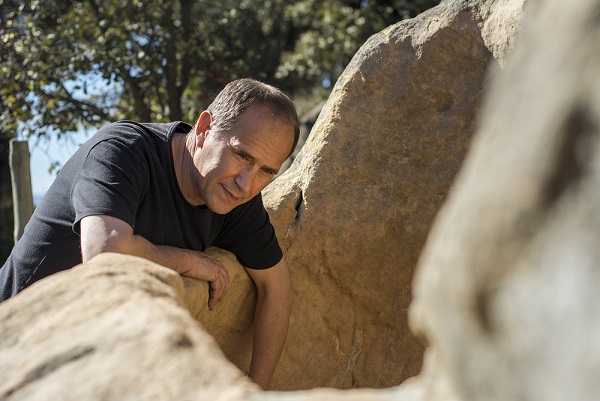 Here, Raül (
above
) makes red and white Bordeaux blends. Portions are made in vats carved out of the sandstone rocks by 12th century monks, while the rest is fermented in oak and stainless steel and aged in wood.
The nine large holes found on the site vary in depth from 1.2 to 3m and can take between 2 and 7 tonnes of destemmed grapes. Raül has brought them back to life for natural al fresco fermentations and appreciates the way the wine takes up trace elements from the sandstone during the process.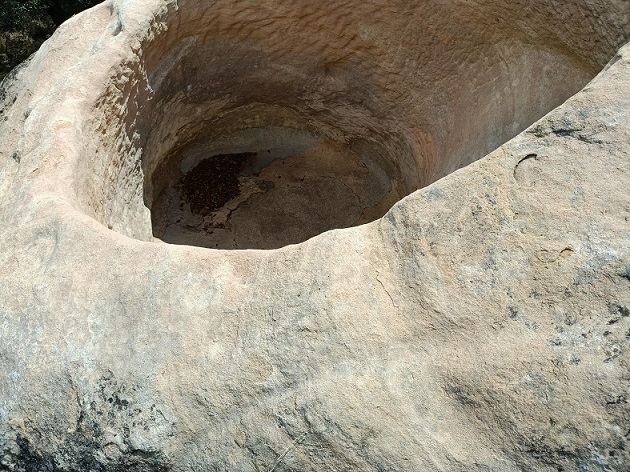 "They help us to convey more complexity to our wines," he says. "They assure the wild yeast since they are outside fermenters. On the other hand, the temperature remains on the low zone because heat exchange outside is important at night."
Teaming this ancient technology with modern-day thinking, biodynamic farming, extensive research, experimentation and respect for the environment, Raül produces a very distinctive range of fresh and complex wines from non-indigenous grape varieties, including Cabernet Sauvignon, Cabernet Franc, Merlot, Pinot Noir, Syrah, Petit Verdot, Sauvignon Blanc, Riesling, Semillon and Albariño.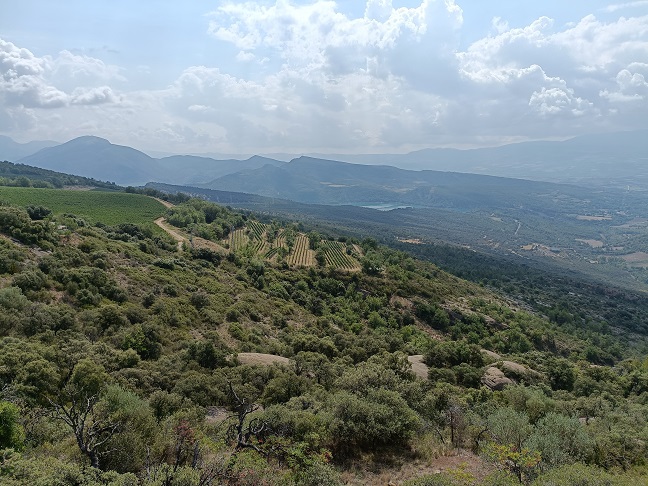 I taste his Sauvignon, Riesling, Pinot Noir and a very serious rosé made from Petit Verdot and Merlot. It's been made for ageing with 36 hours' skin contact and one year in barrel on fine lees.
But it's Quest that most fascinates me. A blend of Cabernet Sauvignon, Cabernet Franc, Merlot and Petit Verdot, it is the only wine in the range that's fully fermented in the ancient stone lagares. The rest of the range (except Ekam) have from 25 to 33% fermented in the rock vats.
After hand-picking the grapes for Quest, they are cooled, sorted, partially destemmed and put back in the small harvesting crates (10kg). "These cases are carried to the historic site and emptied down to the fermenters," Raül explains. "They are filled up about 80%. The fermenters are double covered. We use pellets of CO2 and fermentation takes place with the wild yeast for about three weeks. Sometimes we keep this seven days more before the wine is moved to the cellar by mobile tanks where it is settled down (for three to four days). After that, the wine goes straight to the barrel, where malolactic will take place. The pomace is placed in small boxes for the third time, and it is brought to the cellar for a mild press."
The wine is kept in French oak barrels (50% new) for 18 months before being bottled without fining or filtering – "just prefiltering to avoid any sort of solids". It is matured in the bottle for two years to "develop all its complexity".
As for protection during the ageing process, "barely sulphite" is Raül's preferred direction.
I ask him about "the correct" level of SO2, in his opinion. He draws me a diagram (
below
) and explains it's so dependent on pH. "The difference of 0.3 is a lot," he points out, "and you have to add much less with a low pH. 8ppm is enough at pH 2.9."
Generally, though, he says 35-40mg/L total SO2 "makes more sense" than zero sulphites.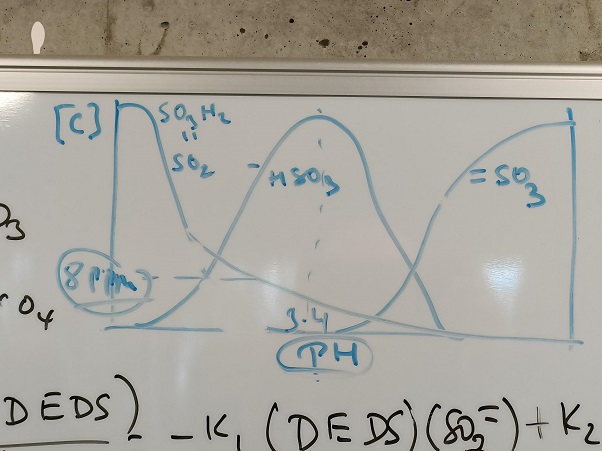 'Who wants Merlot? Nobody'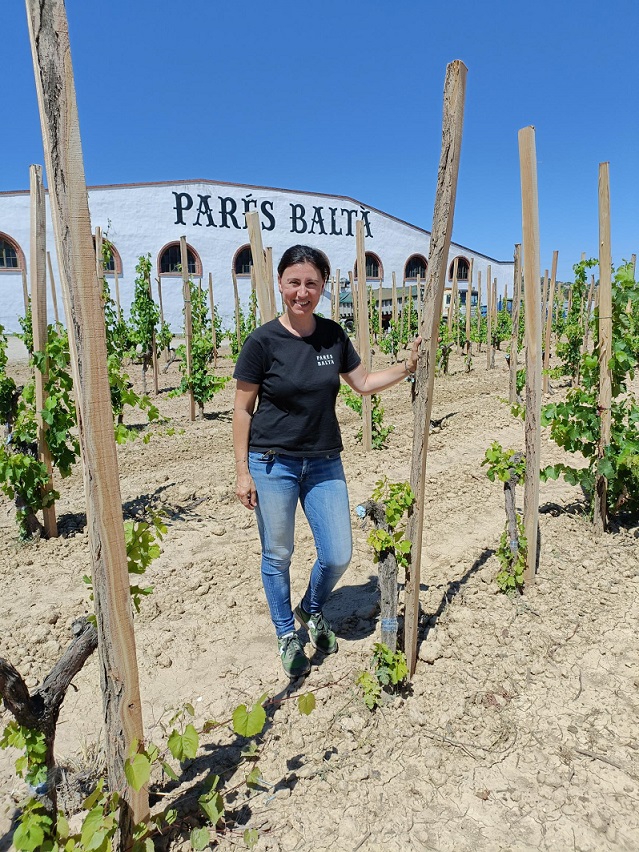 At the historic Penedès winery Parés Baltà, which produces Cavas from the region's traditional grape varieties (Parellada, Macabeo, and Xarel-lo), as well as reds, whites, rosés and sweet wines, there is a move to more indigenous varieties such as Sumoll. Marta Casas (above), who makes the wines with sister-in-law María Elena Jiménez, showed me a former Merlot vineyard that is being regrafted with Sumoll vines.
As well as the Cava grapes, there are a lot of Bordeaux varieties in the region.
"My father-in-law and grandfather were focused on these varieties," Marta tells me. "They wanted to imitate the best wines – Bordeaux and Burgundy. And now, who wants Merlot? Nobody.
"They are varieties that people are no longer interested in."
Sometimes the Cusiné family estate, which has nearly 200ha of vineyards, has to sell these international varietals and blends to the bulk wine market at the end of year.
"We are thinking in another way now," she confirms.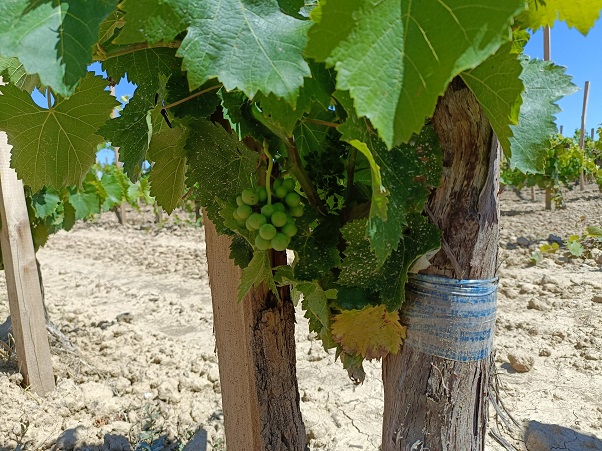 They keep the healthy Merlot's trunk and root system and leave one bud to keep the sap flowing while they graft on a Sumoll scion. At the end of June, once the Sumoll has grown, they cut the Merlot shoot.
"We only lose one harvest," Marta explains. "The next harvest we will have the grapes."
They have been slowly working through the Merlot vineyard near their winery and wine bar in Pacs del Penedès – regrafting the vineyard in three phases so they don't lose too many grapes each year.
With the new Sumoll vines comes a new, less expensive vertical shoot position training system (
below
) which, Marta says, is "better for the plant and the workers" – as the traditional bush vines cause "a lot of pain to the back".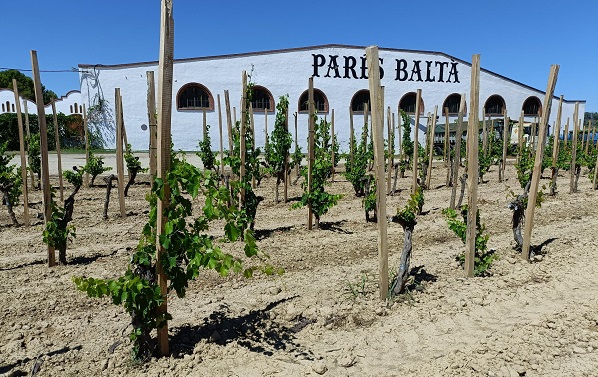 Sumoll, a late-ripening grape with a reputation for being tricky to grow and vinify, has come back into fashion in Catalonia since Australia's CSIRO (Commonwealth Scientific and Industrial Research Organization) identified it as a grape variety with good drought resistance and began crossing it with Cabernet Sauvignon to create four new grape varieties: Tyrian, Cienna, Rubienne and Vermillon.
CSIRO's enthusiasm for the variety has given local producers, such as Parés Baltà and especially Sumoll specialist MontRubí (
see below
), the confidence to expand their plantings. Pale in colour, flavours and aromas range from "herbal, rose petal, liquorice and dark plum" to "Mediterranean undergrowth with green touches, green fennel, thyme and a strong mineral character".
Sumoll was recognised as a DO grape in Penedès in 2009, and subsequently by three other DOs: Catalunya, Pla de Bages and Tarragona.
Parés Baltà believes its high acidity is an advantage in the face of global warming. The family winery has also planted other ancient grape varieties, such as Malvasia de Sitges and Carignan Blanc, as well as the almost forgotten Moneu and Forcada in a bid to manage climate change. Planted in 2018/2019, Moneu and Forcada are described by Marta as "two varieties that are both originally from Penedès wine region, highly drought resistant and late ripening".
She adds: "We want to experiment with these varieties due to climate change."
The one international variety that this biodynamic producer plans to keep is Syrah, as the old vines performed well in 2020 when many other varieties were hit by mildew. The wine, Marta de Baltà, is also named in Marta's honour and goes back to when her relationship with (now husband) Josep Cusiné, third generation running the winery, and her love of wine blossomed. It is fermented at 24-29ºC in 400L new oak barrels, with manual punchdowns three times a day during the 25-day maceration period. The wine then spends 13 months ageing in the same French (Allier) oak barrels.
For Canopy's original story on Parés Baltà, click here.
A very clear pet-nát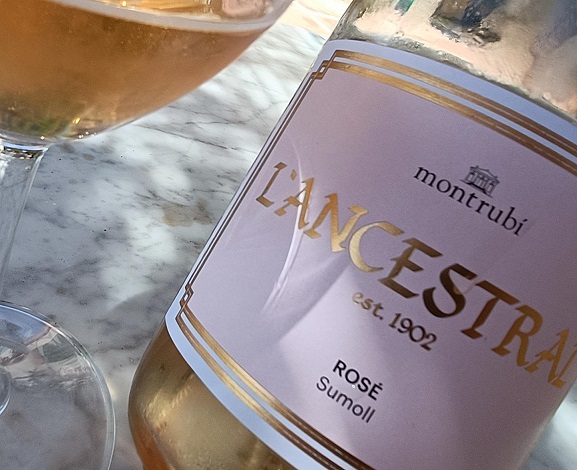 At MontRubí's organic winery, located in the small town of L'Avellà in the Alt Penedès, I get to experience a very modern take on an ancient grape variety.
It's a super-clear pet-nát featuring Sumoll – MontRubí's L'Ancestral Rosé 2021.
After hand-harvesting, the bunches were pressed directly. Fermentation with native yeasts was in concrete tanks.
The wine is bottled before the fermentation finishes but, unlike other pet-náts, L'Ancestral Rosé is manually disgorged and topped up before going on sale.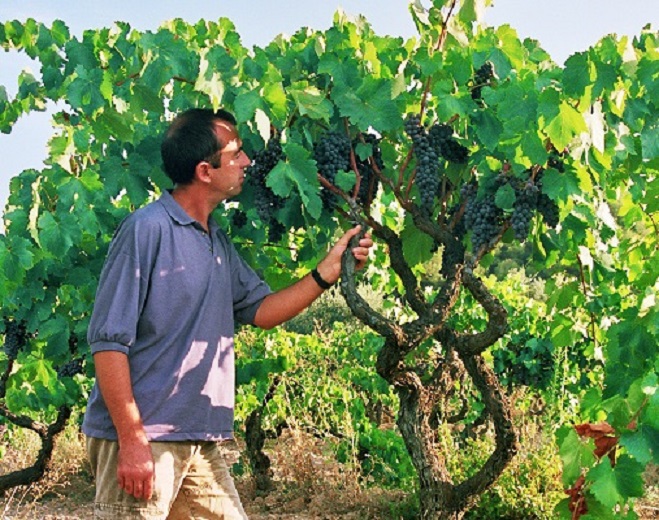 Winemaker Josep Queralt (
above
) is very pleased with this wine and how it elevates the Sumoll grape variety. He told
Canopy:
"The ancestral method is a way of elaborating a wine where the fermentation ends in the bottle. It will result in the production of sediments that we decide to remove with a manual disgorge. It is a wine that, considering its elaboration, always keeping the bottle in carbon dioxide all the time, allows us not to abuse anything for its preservation. It is a wine in which the purity of the fruit, of the variety, is preserved."
'It is a wine in which the purity of the fruit, of the variety, is preserved'
It has sour cherry and pomegranate aromas. On the palate it's juicy and creamy along with a touch of typical rusticity. It also has good structure and a long finish. It's my favourite pet-nát this year.
Josep continues: "Our Ancestral Rosé has the aim of taking advantage of the most electric part of Sumoll, the part that cannot be used for a red wine, the most productive part of the variety."
In other words, those grapes that are less ripe (with more acidity, less alcohol and less colour).
"We are going to take advantage of these characteristics in the best possible way, making a fresh, easy to drink, fun sparkling wine," Josep adds. "Where the creaminess of its bubbles complements the acidity and the verticality in the mouth of this variety."
How the former Cava producer makes a delicate rosé from this difficult ancient variety...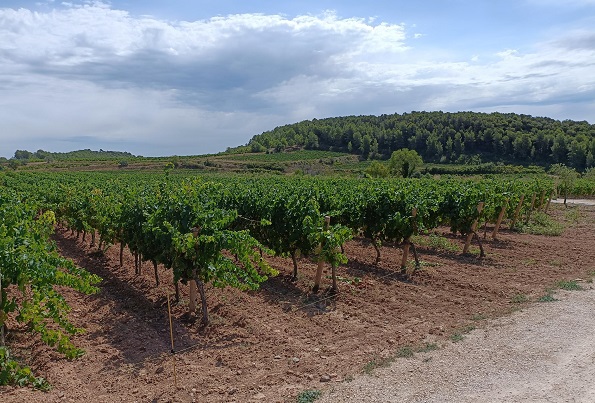 Where the 'tricky' Sumoll grape grows.