'We want to believe that it is the same nature which compensates such a terrible year with wines so extraordinary'
Making red and white Bordeaux blends in vats carved out of rocks high up in the Catalan Pyrenees doesn't make the wine better, it makes it different. That's the view of acclaimed winemaker Raül Bobet, formerly of Torres Spain, who set up his own project, Castell d'Encus, in 2001.
The initial aim was to find a place in Spain that would mitigate the effects of climate change. Now it is to make benchmark mountain wines in the most sustainable way possible.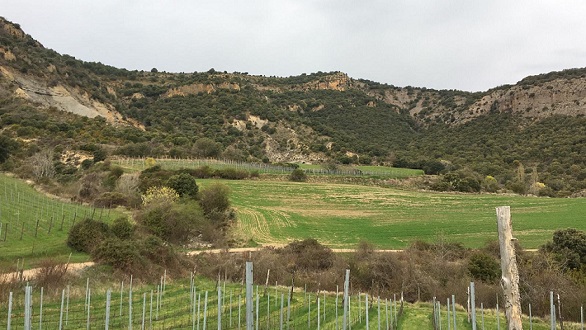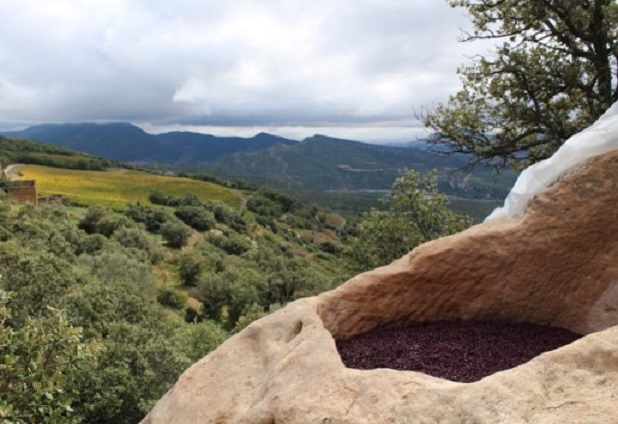 Castell d'Encus is based in the northern part of DO Costers del Segre, in the Pallars Jussà, with vineyards at altitudes between 800 and 1,200m. Up in the mountains, Raül also found nine large holes chiselled in the rocks – holes that 12th century monks created to ferment grapes.
These Romanesque hermitage holes, which vary in depth from 1.2 to 3m, have three levels and can take between 2 and 7 tonnes of destemmed grapes. Raül has brought them back to life for natural al fresco fermentations and appreciates the way the wine takes up trace elements from the sandstone during the process.
"They help us to convey more complexity to our wines," Raül tells
Canopy
. "They assure the wild yeast since they are outside fermenters. On the other hand, the temperature remains on the low zone because heat exchange outside is important at night."
Teaming this ancient technology with modern-day thinking, biodynamic farming, extensive research, experimentation and respect for the environmental, Raül produces a very distinctive range of fresh and complex wines from non-indigenous grape varieties, including Cabernet Sauvignon, Cabernet Franc, Merlot, Pinot Noir, Syrah, Petit Verdot, Sauvignon Blanc, Riesling, Semillon and Albariño. He is also experimenting with Chardonnay and Black Garnatxa (a Grenache variant) here, while at his project in Priorat, with friend Sergi Ferrer-Salat, he vinifies Mediterranean varieties such as Cariñena and Garnacha.
At the large Castell d'Encus estate, only 22ha are planted with vines. The rest is dense woods. With other estates, such as Santa Engràcia and Vall Fosca, the total surface planted with vines comes to about 30ha.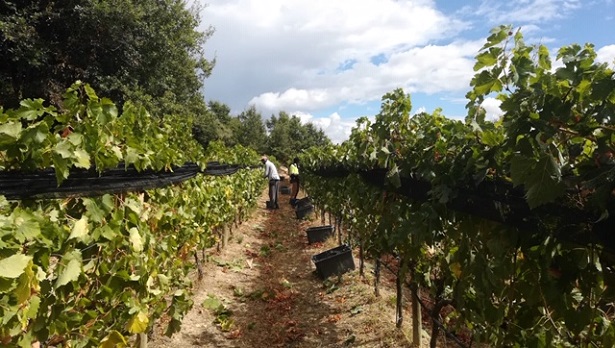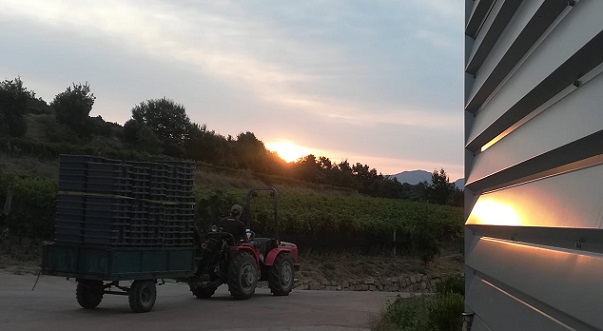 Canopy
caught up with Raül after his 2020 vintage, which he describes as "exceptional" and "unique in all senses". He says he escaped the rains and mildew that blighted other regions in Spain. "In our area, Pallars, the summer temperatures have been very mild, so the grapes have not been touched by the fungus, keeping very good acidity, good skin texture and a very balanced phenolic ripeness," he says. "The grapes have arrived at the cellar very healthy without any rot problems. All this will result in a wine with good freshness, great concentration and elegance. An excellent vintage, to keep in the cellar, which will need some time to develop its full potential."
He adds: "Probably 2020 vintage will be the best vintage ever we have made at Castell D'Encus. We know that it is difficult to believe that 2020 could be the best year of something. We work in very tight contact with nature and we want to believe that it is the same nature which compensates such a terrible year with wines so extraordinary as the ones we will have… We will keep this vintage in our memories forever."
Having such high-quality grapes will enable him to expand the line of small production varietal wines, adding a Sauvignon Blanc to the Petit Verdot already under the Saktih name. "The philosophy of Saktih is grapes from the best plots to position them among the best wines in the world," he declares.
He also as high hopes for his Quest wine, a blend of Cabernet Sauvignon, Cabernet Franc, Merlot and Petit Verdot. For this wine, he says, "2020 will be the best vintage ever".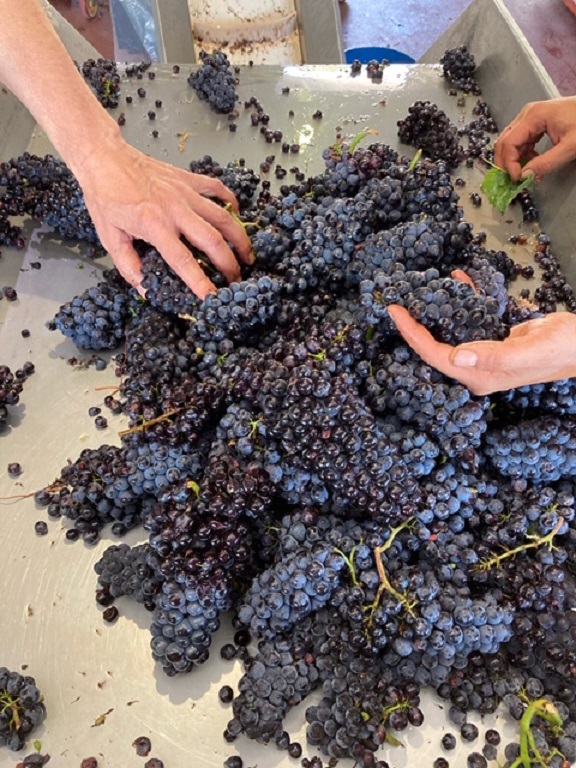 Quest is the only wine that's fully fermented in the ancient stone lagares. The rest of the range (except Ekam) have from 25 to 33% fermented in the stone fermenters.
After hand-picking the grapes for Quest, they are cooled, sorted, partially destemmed and put back in the small harvesting crates (10kg). "These cases are carried to the historic site and emptied down to the fermenters," Raül explains. "They are filled up about 80%. The fermenters are double covered. We use pellets of CO2 and fermentation takes place with the wild yeast for about three weeks. Sometimes we keep this seven days more before the wine is moved to the cellar by mobile tanks where it is settled down. After that, the wine goes straight to the barrel, where malolactic will take place. The pomace is placed in small boxes for the third time, and it is brought to the cellar for a mild press."
The wine is kept in French oak barrels for 18 months before being bottled without fining or filtering – "just prefiltering to avoid any sort of solids". It is matured in the bottle for two years to "develop all its complexity".
Castell d'Encus's white wine, Taleia Brisat – a blend of Sauvignon Blanc and Semillon – is fermented in a mix of stone lagares (25%), barriques (40%) and stainless-steel tanks (35%).
"We harvest the grapes in small cases," Raül says, "and cool them down to about 5°C. We sort them and we mix direct pressing with the stem grapes, pressing them with not very high pressure. Settling down for three days and natural fermentation takes place. 40% of this wine is fermented in barrels of 225L. We taste to avoid too much oak. After a year, we do a final blending and fine with bentonite. We bottle and then we keep the wine in the bottle for a year before selling."
With this wine, Raül has been studying the volatile carbonyls, such as acetaldehyde, with the aim of reducing or eliminating sulphur additions during the barrel-ageing. He tells
Canop
y: "Thanks to the low pH and not very high amount of potassium, we can diminish both free and total SO2."
The Taleia Brisat -SO2 is produced as an orange wine. 100% fermented outside, aged in old barrels for at least a year, with no SO2 additions at any stage. "This wine needs very little or no bentonite," Raül comments. "Normally the wine doesn't go through malolactic fermentation, although because of the zero SO2, we wait for more than a year to see if the wine finally goes through malolactic or not."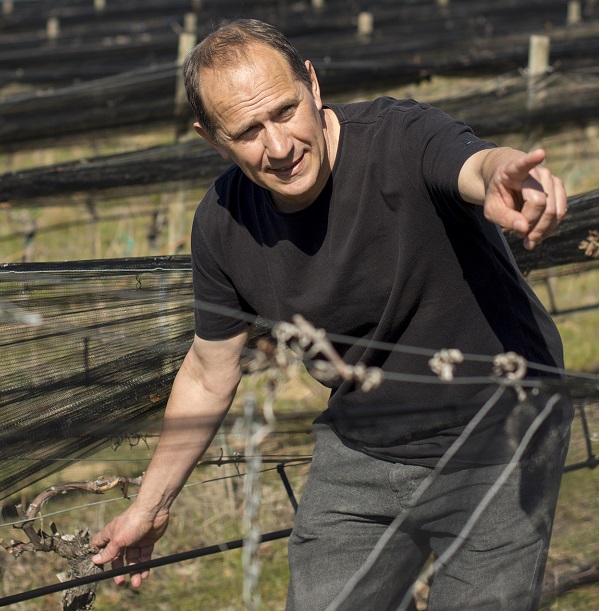 Ecological winery
The winery uses geothermal energy to reduce its energy consumption and environmental impact.
Raül (
above
) says: "We have 4.5km of pipes, subdivided in 11 different pipelines, placed more than 2m underground. We calculated this is the surface we need to optimise our (heat) exchange system.
"Our obsession is to diminish our CO2 fingerprint and, in this sense, geothermal energy is vital since it saves about a third of our energy consumption."