I like glass bottles.
So do I. But the production and transport of glass wine bottles is the industry's largest contributor of CO2 emissions. Some reports suggest more than half of wine producers' greenhouse gasses (GHGs) are due to the shipping and manufacture of their glass bottles. Committed eco-friendly wine group
Bonterra Organic Estates
– the first organic winery in the world to be certified 'climate neutral' – says the largest part of its carbon footprint is the glass bottle and transportation of wine to the market – at 58.4%. (This compares to vineyard operations at 16.1%, wine production at 16.5%, and employee commuting and travel at 5%.)
Viticulturist Dr Richard Smart puts the figure for the industry higher – at as much as 68%.
The production of glass requires a huge amount of energy because its melting point is 1,300°C and its working temperature is 1,550°C.
But is there a serious alternative?
Not yet for sparkling wine or wines that are going to spend more than 18 months ageing in a bottle. But for fresh wines there are three non-glass alternatives.
Non-glass bottles?
Yes, they are made from either flax fibre, plastic or paper.
Doesn't the paper go soggy?
British company Frugalpac's paper bottle has a lightweight plastic liner, so it's a bottle-shaped bag-in-box in effect. But the total weight of the bottle is a mere 83g – much lower than the lightest of glass bottles (Switzerland-based Vetropack Group's 350g). The other major eco-friendly point about these paper bottles is they are produced from 84% recycled content and, once disassembled by customers, are 94% recyclable.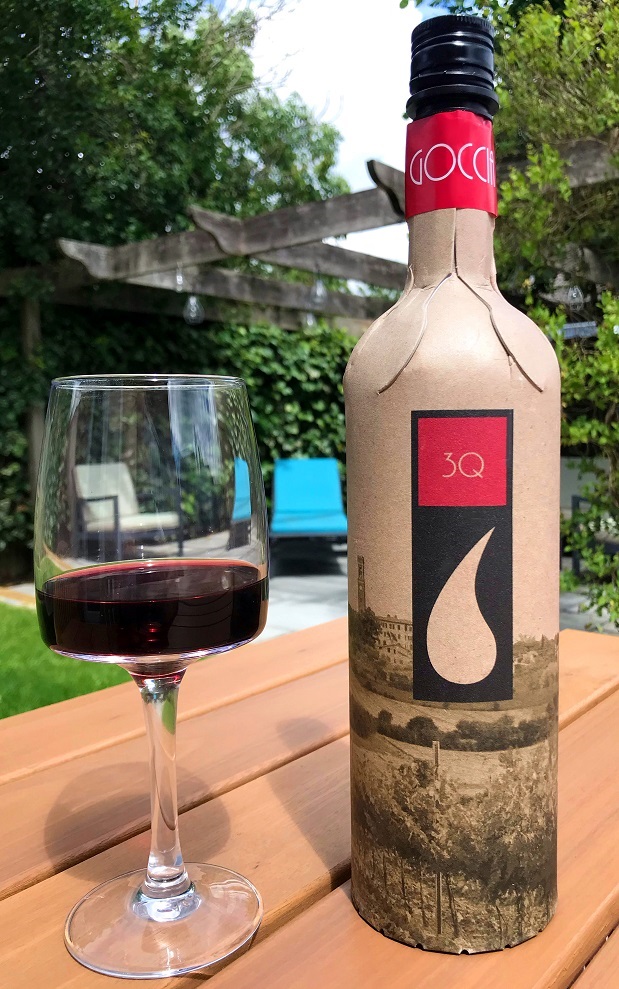 Paper bottles? I can't see them catching on.
Two years on from its launch, Frugalpac is about to produce its two millionth paper bottle. The Frugal Bottle is now used by 27 wines, spirits and olive oil brands around the world, and is on sale in Japan, North America, the UK, Europe and South Africa.
First used by Italian winery
Cantina Goccia
in July 2020 (
above
), Frugal Bottles now contain The English Vine's No1 and Bacchus, Signal 7 Wines in the US, Spain's Planet B by Bodegas Murviedro, Bacosol from Fernando Castro, and South African wines from Interpunkt.
Frugalpac founder Malcolm Waugh says he has received enquiries to make 120m Frugal Bottles from drinks producers around the world.
Ceri Parke, co-founder of Cantina Goccia, says: "We're so convinced with its sustainable credentials, we've launched a further two wines in the paper bottle and have committed to producing 80% of all our wine in Frugal Bottles."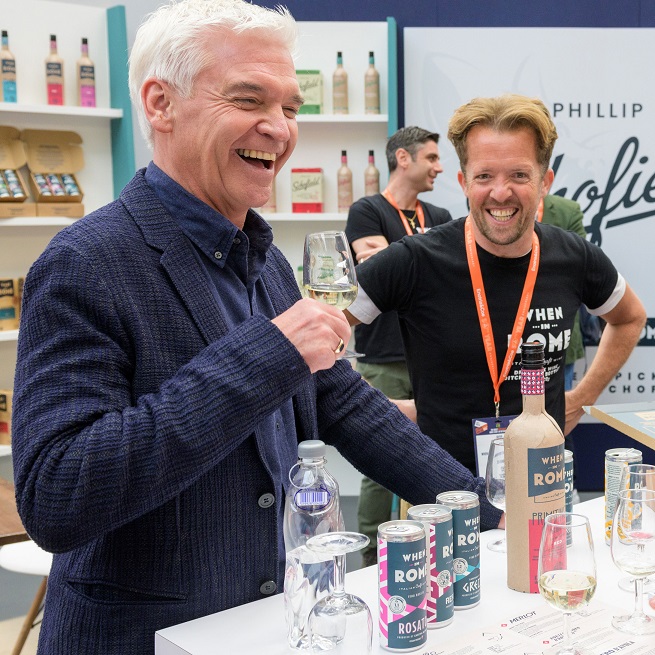 The latest convert is UK TV presenter Phillip Schofield (
above
). He will launch his Phillip Schofield red, white and rosé wines, which are currently available in bag-in-box, in Frugal Bottles later this year.
He said: "We really must do all we can to make wine drinking more sustainable. That's why my wines have only been available in bag-in-box. But the Frugal Bottle innovation blew me away so I'm delighted to announce my wines with
When In Rome
will soon be available in the world's only commercially available paper bottle."
I guess it's the plastic liner that's the main drawback.
Correct. But Frugalpac says its bottle is 30% less energy intensive than a full plastic bottle.
There's also the problem of shipping all the ready-to-assemble cardboard bottles all over the world from the UK, but Frugalpac's stated aim is to switch from being a bottle producer to a machine manufacturer and to have their machines in bottling plants, co-packers or packaging companies around the world.
The first Frugal Bottle Assembly Machine, FBAM-1, is going to Canadian packaging firm KinsBrae Packaging in Ontario. The machine will be able to supply the North American market with 2.5m Frugal Bottles a year. "A further 90 companies are keen to acquire a Frugal Bottle Assembly Machine," Waugh says.
Have you tried a wine from a paper bottle?
Yes, I've tasted the Sangiovese blend 3Q from their launch partner, Cantina Goccia. It's a good wine. Co-owner Ceri Parke says: "I think the key point is that while the paper bottle is not about wine that you want to lie down for a couple of years, it is aimed at people who appreciate and know what a good wine is and want something great to drink now and care about the environment. What we certainly did not want to do was give any indication that this was a bottle for 'cheap plonk' or that it was just about the bottle."
You can read the full interview with Ceri
here
. 
They have sold 50,000 bottles of this wine, saving 23 tons of CO2 as a pallet of wine in paper bottles weighs 560kg vs 1,000kg for glass.
Okay, so paper bottles are a serious alternative. Although the paper bit seems just decorative and protective – the real work is done by plastic. Is a plastic bottle just as good?
It's a serious alternative for a growing number of wine producers. Accolade Wines has released its Banrock Station line in an Australian-sourced 100% recycled PET plastic bottle. This bottle design has a flatter profile that allows twice as many bottles to fit in a standard wine case. Taylors Wines are also using the Packamama bottle and Wolf Blass will be launching two of its Green Label wines in PET later this year.
As well as being lighter, smaller and stronger than glass, plastic bottles are relatively easy to recycle.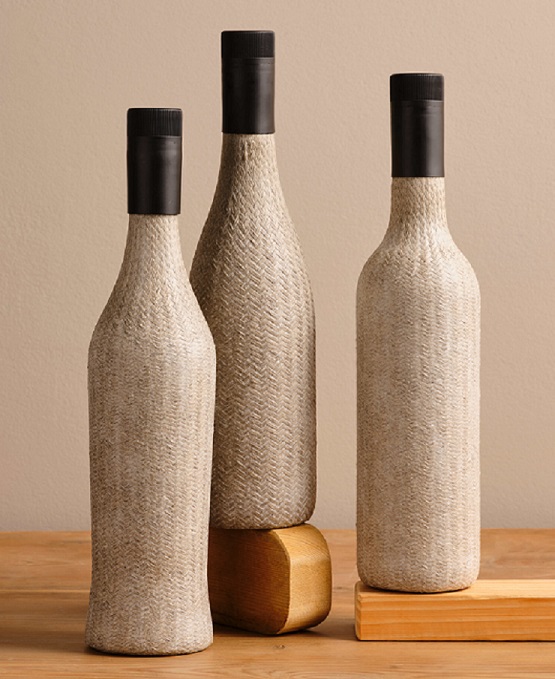 But they look cheap and I thought we were all supposed to be moving away from plastic bottles. Isn't there a high-tech, new-age alternative?
It's coming. French start-up Green Gen Technology is gearing up to produce 50,000 bottles manufactured from flax fibre by the end of the year, 500,000 bottles in 2023, 2m in 2024 and 30m in 2024/2025!
"We are snowed under with requests from almost everywhere," founder James de Roany told 
Canopy
. He says this is for two reasons:
"The interest to replace glass for obvious sustainability reasons, and I believe we are seen as an upmarket answer to this issue."
"The shortage and the rise of the price of glass bottles."
Cognac producer A de Fussigny and Bordeaux winery Maison Wessman are already using these bottles (
above
), which are made from an innovative fibre weave that's coated internally with an rPET.
The bottle's advantages over traditional glass are the use of a renewable and biodegradable plant resource as the core component and being much lighter than glass (Green Gen is working on a model that weighs a mere 6-8g).
Currently, there are three bottle options: two for 75cl wines (Burgundy and Bordeaux) and one for spirits.
The main problem is that Green Gen bottles currently cost about €3 each. James says they are "working extremely hard and fast" to develop a cheaper option "with the aim to reach a €1 price point. It is still more expensive than glass but we have huge interest from a few top flyers we are developing this project with. We will use an alternative plant-base fibre which I can't reveal at this stage. We should start testing these bottles on bottling lines next February (2023). If the outcome is positive – and it should really be – we will start the industrialisation process next summer."
What about good old aluminium? Cans are lightweight, hygienic, and easily recyclable.
And growing in popularity. By 2028, canned wine is expected to be a $571.8m market (a massive increase on 2021's $235.7m), according to
Grand View Research
.
Spotting the trend among younger drinkers, Constellation Brands has acquired a minority stake in US wine brand Archer Roose, which produces a range of canned wines, including Bubbly, Bubbly Rosé, Rosé, Pinot Grigio, Sauvignon Blanc, and Malbec.
Mallika Monteiro, executive vice president and chief growth, strategy, and digital officer at Constellation Brands, explained that Archer Roose's "focus on planet-friendly, single serving formats resonates not just with the environmentally conscious values of this new generation of legal drinking age drinkers, but also with consumer moderation trends that we are beginning to see take hold."
What other options do wine producers have to be more eco-friendly?
In the short-term, wine producers can choose lighterweight bottles. It's an easy and obvious way to reduce their carbon footprint. The heavier the bottle, the more fuel required for transportation from glass manufacturer to winery and from winery to retail outlet.
The industry average bottle weight is reckoned to be about 575 grams. California's Honig Vineyard & Winery has shaved 48g off its Sauvignon Blanc wine bottles while Bonterra's average bottle weight has gone from 475g in 2020 to 427.4g in 2021. Grgich Hills Estate's bottles range from 467 to 490g and Spottswoode Estate has reduced the weight of its bottle from 798g to 564g.
Italy's Alois Lageder, a large biodynamic producer in Alto Adige, has created a lightweight Burgundy-style bottle, the 450g Summa, which they've left unpatented "so that many winemakers are motivated to switch to lightweight bottles".
Full story
here
.
Even sparkling wine producers are lightweighting their bottles. Saverglass's 835g Champenoise Eco-Design is more than 100g lighter than the average for sparkling wine and Champagne Telmont is experimenting with 800g bottles.
Aren't they worried about consumer perception? The heavier the bottle, the better the wine.
Australia's Accolade Wines says the drop from a 540g bottle to 390g wasn't noticed by its customers and didn't impact sales. Some markets are obviously more sensitive than others, but for wine producers who want to be more sustainable it no longer makes sense to put their wines in heavy bottles. Especially with critics such as Jancis Robinson coming down heavy on producers who are behind the times.
Glass has been doing a good job for a long time – there must be other ways to improve what we've already got.
Wine producers could use wine bottles with more recycled glass (cullet). Dark bottles can contain up to 86% cullet, but it's more likely to be only 30-50% – and clear glass contains none. Spanish wine producer Sumarroca puts its rosé in a dark bottle and Champagne Telmont puts its sparkling rosé in a dark bottle for this reason.
Napa's Tarpon Cellars uses Wild Glass, which is made from 100% recycled glass that's uncorrected for superficial blemishes.
But recycled glass requires a lot of energy to turn it back into usable glass.
Yes, but every ton of recycled glass saves 1.2 ton of virgin raw materials, with a 3% energy reduction and a 5% GHG emissions reduction for each 10% of glass recycled in the furnace, according to Fabrice Rivet, the technical director of FEVE (the European Container Glass Federation).
However, glass manufacturers are rising to the challenge of overhauling the process:
O-I is aiming for an 85% reduction in the carbon footprint of its containers by 2026 with the introduction of a new, smaller, more efficient furnace dubbed MAGMA (Modular Advanced Glass Manufacturing Asset).
Encirc, which has bases in the UK and Italy, has started using biofuel in its furnaces.
German manufacturer Wiegand-Glas is using climate-neutral hydropower.
Ardagh Glass Packaging in Sweden is gearing up to use a partly hydrogen-fired furnace from the second half of 2023. The hydrogen will be produced onsite in Limmared by using renewable electricity.
French glassmaker Verallia is using electric furnaces while competitor Saverglass is researching biomethane and electric fusion.
BA Glass, which is committed to a 50% reduction in CO2 emissions per tonne of glass produced by 2035 and carbon neutrality by 2050, has built a third photovoltaic park on the roof of its plant in Plovdiv, Bulgaria. The company has also allocated €14.8m to the development of technologies that aim to reduce the amount of CO2 generated and its capturing and reuse.
And Berlin Packaging has produced a carbon-neutral bottle. This was achieved by using electricity from renewable sources, biomethane instead of natural gas and a programme dedicated to offsetting residual CO2 emissions. The Aurelia bottle (below) is available in two shades of green to maximise the recycled glass content.

Wine producers can also save CO2 emissions by shipping in bulk – in reusable containers – and bottling locally or by supplying kegs to restaurants.
What about returnable and refillable wine bottles?
In theory it's one of the best solutions – but many of the schemes I've heard about in North and South America, Europe and South Africa are struggling to get consumers and businesses to buy-in to the idea.
California may show us the way with a bottle washing machine arriving at Conscious Container this month. Conscious Container aims to build a refillable glass circular economy and is teaming up with flying winemaker Diana Snowden Seysses and her business partner Melissa Monti Saunders. They are launching a new wine brand to test whether refilling wine bottles on a large scale is viable. The Snowden Cousins brand will launch soon with a $40 bottle of biodynamic Merlot that's dry-farmed in the Santa Cruz Mountains. Diana is making the wine at the Snowden winery founded by her grandparents in St Helena, and bottling it in lightweight, straight-sided Bordeaux bottles.
She hopes people who buy the wine will return the bottle for washing and refilling as reused glass bottles have an 85% lower carbon footprint compared to single-use glass.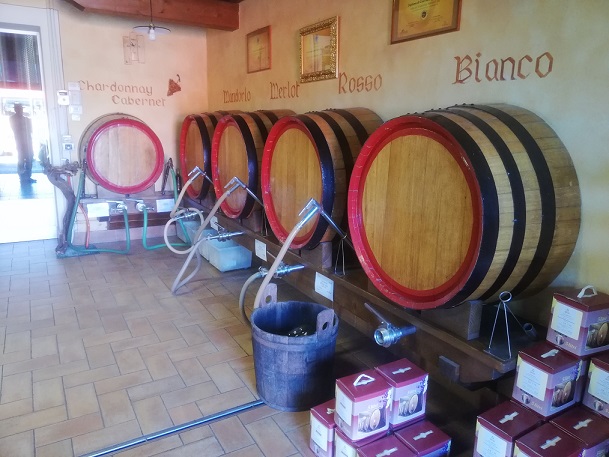 At Cantina Ricchi, a family-owned winery near Italy's Lake Garda, locals and tourists fill up their own bottles and plastic containers at these taps.