'This is a game-changer for the wine industry'
Zimbabwean couple Ceri Parke and Steve Barber are finalising the new bottle designs for their rosé, Rosa, and new white wine, Celi. At the same time, they are bottling their 2018 Sangiovese. What's unusual is the bottles in question are made from a 94% recycled paper outer and a food-grade liner.
The Frugal Bottle, as it is called, is five times lighter than glass bottles and has a carbon footprint up to six times lower, according to UK manufacturer Frugalpac.
Since launching the world's first wine in a Frugal Bottle last June – their 3Q Sangiovese 2017 – Ceri and Steve have become committed to using sustainable packaging at their Italian winery, Cantina Goccia. The 3Q in a Frugal Bottle proved so popular it completely sold out its run of bottles twice, with the Woodwinters wine chain in Scotland selling its whole stock in one day.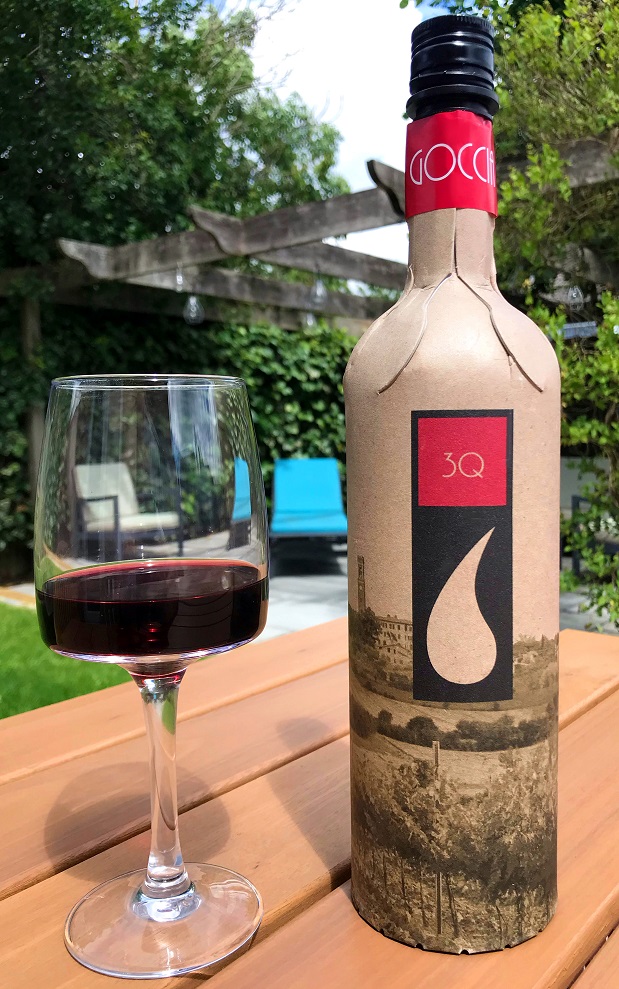 Following equally successful launches in Sweden, Norway and Denmark and more than 1,000 pieces of media coverage from around the world, Cantina Goccia now intends to make the paper bottles a permanent fixture and will release a white and rosé wine in Frugal Bottles this Easter.
Ceri tells me: "It's a really tactile bottle and holding it gives you a great feel for its potential."
One of the biggest challenges, though, is switching from glass to paper on the bottling line.
"What we have done is created a semi-automated line," Ceri says. "We have not fully integrated this into our glass bottling machine at this point, but that is the next step in our process. Each winery will have different integration challenges depending on the type of bottling line they have.
"The bottle is much lighter than glass and therefore not as stable on the filling line and this has created some challenges, together with filling level as we cannot carry out visual checks as you can with glass. Furthermore, the bottle cannot withstand the same neck pressures that glass can and this has meant special adjustments to the filling machine to stop the neck being deformed.
"But it really has been very exciting working as the launch partner with the UK company Frugalpac on this sustainable new wine bottle."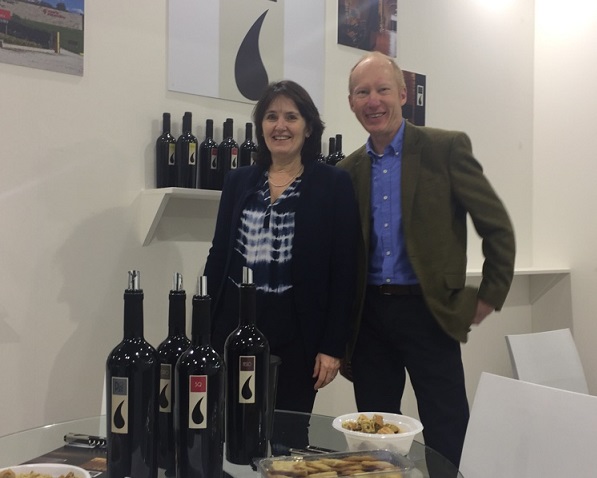 Ceri told Canopy how they came to be the first wine producer in the world to team up with Frugalpac and why they chose to launch with a quality red wine.
"We first met Frugalpac about four years ago (at ProWein) when the bottle was a prototype and far from commercially viable," she recalls. "However, we really saw an opportunity here and were very excited by the huge sustainability potential.
"My immediate thought was this is a fantastic concept and a game-changer for the wine industry, allowing us to sell and transport our award-winning wines in a much more sustainable way whilst still providing a beautiful bottle.
"The carbon footprint stats for the bottle speak for themselves:
At just 83g, it's five times lighter than normal glass
84% lower carbon footprint than the average glass wine bottle and a third lower than a plastic bottle
It's easy to recycle – simply separate the liner from the paper bottle and put them in a recycling bin
And it uses 77% less plastic than a normal plastic bottle
Plus, it stands out with endless branding opportunities.
"In late 2019, early 2020 – when Frugalpac were looking for a launch partner to be the first winery to market their wine in the paper bottle – we jumped at the opportunity. We worked with Frugalpac on the filling technology and, being a small winery, we were able to adapt our processes fairly quickly to the challenges that this bottle presented compared to a glass bottle. This was a great opportunity for us to really do something in terms of our sustainability credentials outside the vineyard, where most of the focus and pressures of best practices tend to be centred.
'This was a great opportunity for us to really do something in terms of our sustainability credentials outside the vineyard'
"It was really important that the first wine that we put in the paper bottle – a Sangiovese blend called 3Q – was a fairly serious wine. I think the key point is that while the paper bottle is not about wine that you want to lie down for a couple of years, it is aimed at people who appreciate and know what a good wine is and want something great to drink now and care about the environment. What we certainly did not want to do was give any indication that this was a bottle for 'cheap plonk' or that it was just about the bottle.
"The paper bottle has been incredibly well received by the wine industry and there has been a huge amount of interest in the bottle worldwide. Our 3Q in the paper bottle is now being sold in the UK, Norway, Sweden, Denmark, Finland, Italy, and The Netherlands and, undoubtedly, we will see this growing in 2021.
"Personally, of the 80% of wine that is consumed within a year of bottling, I would like to see at least 50% of this being supplied in this more sustainable bottle. Just think of the impact this would have on our environment!"
Additional challenges
The new rosé, Ceri admits, has thrown up additional challenges.
"The rosé packaging is a real challenge because, as you know, a number of people buy this wine on the basis of the colour alone," she points out. "Let's just say we are extremely excited by this challenge – a real test for the paper bottle!"
However, they "are only going to do a small rosé launch from our 2020 vintage which will hopefully 'seed' a larger quantity being reserved for the 2021 vintage".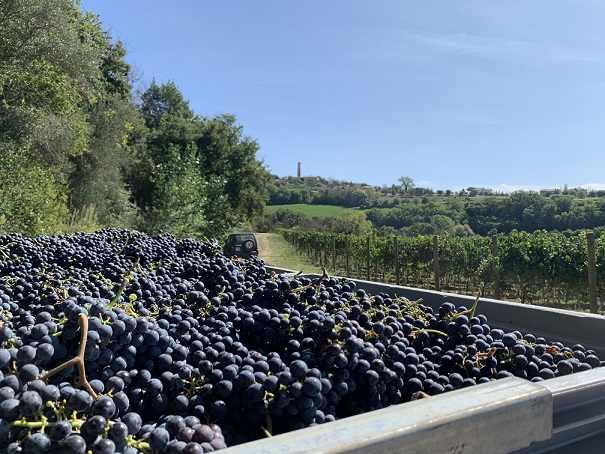 Steve and Ceri are both Zimbabweans and grew up in Africa before making Umbria their home.
"I guess Italy was a way of getting back to our warm roots," Ceri says. "Umbria is just such a perfect spot. It lacks the glitzy, tourist invasion of Tuscany. From a wine production point of view, it really produces great wines and is really under-recognised, which we found was just the right challenge we needed."
Until Ceri and Steve bought Cantina Goccia, on the western shores of Lake Trasimeno in the DOC Colli del Trasimeno, it had not been run as a commercial vineyard.
Since taking over 15 years ago, they and their team have set about reinvigorating the vineyard, replanting many of the vines and investing in the winemaking facilities.
They released their first vintage in 2008 – a Sangiovese with a modern twist, called Nesso.
After five years of producing red wines, Ceri and Steve added two white grape varieties, Grechetto and Vermentino, launching their first white wine in 2015.
Now they have two sites and seven wines that are available in more than 15 countries.
Frugalpac has teamed up with a third-party machine builder so it can supply Frugal Bottle machines to wineries and contract packers.