At the outset of a discussion on minerality, veteran wine buyer Steve Daniel and IWC co-chair Dr Jamie Goode agreed they enjoy wines that display it.
"Whether it exists or not, it's something I like to try and find in my wines," Steve, head of buying at UK importer Hallgarten & Novum Wines, said.
They discussed the topic and potential reasons for minerality in wine while tasting 11 wines which Steve and his team had identified as 'minerally'.
Jamie said it's a term that has become more common in tasting notes and in producers' wine descriptions over the past 15 years.
'We can't possibly be tasting minerals'
Jamie said: "Minerality is this term that didn't exist in the wine lexicon until the late 1980s. I chatted to a few people who've been around – Michel Bettane, Steven Spurrier – and they can't recall using the term to describe wines before the 1980s, and Émile Peynaud's famous book (
Le Gout du Vin
) which came out in 1983 did not use the term minerality. Ann Noble's famous wine aroma wheel, which came out in 1984, did not have mineral on it, so this is something that's come into the wine lexicon fairly recently.
"I find myself using this tasting note a lot, but it's a term that's come in for quite a bit of criticism, not least because we can't possibly be tasting minerals. I think one of the problems is this confusion between the notion of a mineral – a rock or a hard stone – and dissolved mineral ions. Plants need about 14 different mineral ions to do the jobs they do – which are taken up by the roots in the soil. And also in the world of wine we have winemakers such as Gérard Bertrand talking about the taste in the soil. That's what I'd call the literalist position which has, quite rightly, come in for some stick because the mechanisms for how soil components could ever find their way into the glass are quite questionable."
Jamie then pointed out that we use other descriptors, such as leathery, as metaphors. He said: "If we talk about wine being leathery or tasting of cherries… we're not literally saying the wine has leather or cherries in it, so why can't we use minerality as a sort of picture map?"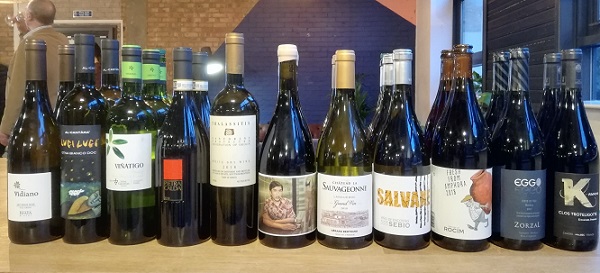 Wine 1: Idaia Winery, Dafnes, Crete, Vidiano 2018
Winemaker:
Vasilis Laderos
Country:
Greece
Region:
Crete
Subregion:
Dafnes
Grape variety:
Vidiano (100%)
Alcohol:
12.5%
Tasting notes:
A great example of Vidiano, with delicate aromas of ripe pear, stone fruits and melon followed by fresh lime, mineral and lemon zest flavours.
Vineyard:
In a semi-mountainous area at an altitude of 400 to 500 metres above sea-level, very low-yielding vines grow in calcium-rich, clayish soil.
Winemaking:
Grapes preserved for 24 hours at very low temperatures before destemming and six hours' cold maceration. Only the free-run juice is used. After cold settling, the wine is fermented with selected yeasts to highlight the aromatic characters of the variety. Fermentation in stainless steel tanks for 10 to 12 days at a controlled temperature of 15°C.
Steve, who is known for introducing the UK to Chilean and Greek wines in the 1980s and 1990s, tasted calcium
and Jamie noted a "slight salinity". These are flavours frequently associated with 'minerality'. The discussion accompanying this wine revolved around whether minerality is an aroma, taste or texture. "People have cultural mineral descriptors. So there's one group who think mineral is something you smell, another group think mineral is something you feel on the palate. I think sometimes it's a bit of both," said Jamie.
Jamie also raised an interesting question for winemakers: If you cold-stabilise a wine and reduce the potassium content, do you lose some of the flavour and complexity by taking away some of the mineral content?
Wine 2: Al-Cantara, 'Luci Luci', Etna, Sicily 2018
Winemaker:
Salvo Rizzuto
Country:
Italy
Region:
Sicily
Subregion:
Etna
Grape variety:
Carricante (100%)
Alcohol:
12.5%
Tasting notes:
Aromatic notes of flowers, golden apple and tropical fruit are accompanied by distinctive mineral overtones, typical of Carricante. Refreshing and crisp, with a lovely, spicy finish.
Vineyard:
Al-Cantàra takes its name from the river which flows through the municipality of Randazzo where the winery and the vineyards are located. The 15ha vineyard is 620m above sea-level. The espalier-trained vines are grown in volcanic soils, rich in minerals and fossils. The 10-year-old vineyard is cultivated organically and biodynamically.
Winemaking:
The wine was made reductively to reduce the need for SO2. The grapes were gently crushed and vinified in inert conditions in stainless steel tanks for 12 to 14 days at 14 to 18°C. The wine aged in stainless steel tanks.
Steve commented:
"A common theme for these wines is that they are made reductively."
Jamie wondered if soil chemistry does influence flavour in some way. Like many of the wines in this selection, this Carricante comes from mineral-rich soils. Jamie mentioned a 2000 study from Germany. Plant researcher Andreas Peuke grew Riesling vines in pots containing three different soils from Franconian vineyards: loess, muschelkalk (seashell lime), and keuper. He collected sap from the vines and analysed its chemical composition, discovering distinct differences.
Jamie also wondered if the move to picking earlier is connected to the rise of mineral flavours – which, for him, are "the non-fruit components in wine". Earlier picking can mean more citric flavours and higher acidity.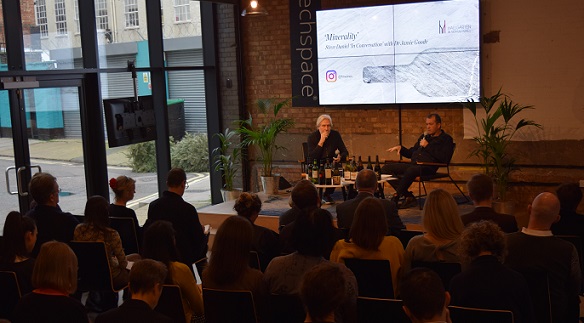 Wine 3: Feudi di San Gregorio 'Pietracalda', Campania, Fiano di Avellino 2018
Winemaker:
Pierpaolo Sirch
Country:
Italy
Region:
Campania
Subregion:
Fiano di Avellino
Grape variety:
Fiano (100%)
Alcohol:
13%
Tasting notes:
Restrained lemon and mineral aromatics are balanced by a crisp palate, with a lovely creamy texture and minerality on the finish.
Vineyard:
The beautiful Feudi di San Gregorio vineyards are spread out over lush and gentle hills in Sorbo Serpico, approximately an hour from Naples and Mount Vesuvius. The soils are volcanic, sandstone and marl.
Winemaking:
Selected Fiano grapes fermentated in stainless steel tanks at 16 to 18°C. The wine was then matured for four to five months on its lees, with frequent bâtonnage.
Steve suggested lees ageing and succinic acid
– a by-product of alcoholic fermentation – contribute to minerality. Indigenous yeast fermentations have been shown to yield higher succinic acid levels.
Jamie noted the salinity again. "I find salinity very attractive, especially in white wines," he said.
It's unlikely that the saltiness comes from the ground as grapevines try to prevent its uptake. It could, however, come from potassium, the main mineral ion in wine. The inorganic content of wine is typically only around 0.15–0.20%, and 0.4% at the most, according to Coombe ad Dry's
Viticulture: Volume 1
(2004). Most of that is potassium, which contributes both bitterness and a vaguely salty flavour.
Wine 4: Bodegas Viñátigo, Listán Blanco, Islas Canarias – Tenerife 2017
Winemakers:
Juan Jesús Méndez Siverio and Elena Batista Herrera
Country:
Spain
Region:
Islas Canarias
Subregion:
Tenerife
Grape variety:
Listán Blanco (100%) – also known as Palomino
Alcohol:
12.5%
Tasting notes:
Aromas of dry fruits and a hint of fennel. The palate is full-bodied with a refreshing, balancing acidity and ample fruity flavours and floral notes. A lovely crisp wine with great intensity and a long, steely finish.
Vineyard:
Ungrafted vines planted in volcanic soils. The vineyard is managed sustainably without the use of herbicides, synthetic products or heavy machines.
Winemaking:
The grapes were cooled to almost 0°C prior to vinification. Fermentation took place with indigenous yeasts in stainless steel tanks at 16°C.
Steve said he chose the 2017 vintage
to prove that wines can maintain their minerality as they age.
Some critics think minerally wines age much better than their fruity peers.
Wine 5: Gaia Wines, 'Thalassitis', Santorini, Assyrtiko 2018
Winemaker:
Yiannis Paraskevopoulos
Country:
Greece
Region:
Aegean Islands
Subregion:
Santorini
Grape variety:
Assyrtiko (100%)
Alcohol:
13%
Tasting notes:
Delicate aromas of lemon zest and floral hints, strains of "flinty saltiness" on the palate and a crisp, mineral finish.
Vineyard:
The grapes came from volcanic soils in the Episkopi, Akrotiri and Pyrgos regions, at elevations of between 50 to 250m above sea-level. The vines are between 70 to 80 years old and produce a particularly low yield of between 18 to 25hl/ha.
Winemaking:
The hand-picked grapes were cold macerated for 12 hours at 10°C. Fermentation took place in stainless steel tanks at 16 to 18°C with selected yeasts. The wine spent four months in stainless steel tanks on its lees, with frequent bâtonnage.
Assyrtiko is renowned
for its high acidity. High acidity stimulates our salt and sour receptors, giving an impression of saltiness.
But this Assyrtiko, from the volcanic island of Santorini, may well carry real salt – deposited on the grapes by the wind.
Jamie wondered whether something as basic as acidity isn't sometimes confused with minerality. Research backs up this idea with various studies reporting links between succinic and malic acid as positive predictors of minerality, while tartaric acid and titratable acidity were negatively associated with minerality.
Wine 6: Matias Riccitelli, Blanco de la Casa, Valle de Uco 2017
Winemaker:
Matias Riccitelli
Country:
Argentina
Region:
Mendoza
Subregion:
Valle de Uco
Grape varieties:
Sauvignon Blanc (40%), Semillon (40%), Chardonnay (20%)
Alcohol:
12.5%
Tasting notes:
A textured and full-flavoured blend, with complex aromas of green apple, hay and herbaceous notes underpinned by remarkable minerality.
Vineyard:
The Sauvignon Blanc vineyard is located in Gualtallary, where the vines are planted in calcareous soils at 1,400m above sea-level. The Semillon grapes come from a low-yielding 50-year-old vineyard in La Consulta, where the vines grow at 1,000m elevation in sandy soils. The Chardonnay comes from La Carrera which is located at 1,700m above sea-level in sandy soils which are supported by gravel and boulder.
Winemaking:
The grapes were sorted upon arrival at the winery. Fermentation took place at low temperatures in concrete eggs with native yeasts. The wine was aged for eight months in the same vessels.
Steve and Jamie believe
the vessel has an influence. While oak masks minerality and stainless steel is neutral, cement may boost it.
Steve commented: "I don't think they (concrete eggs) are totally neutral and I do pick up an extra layer of minerality in the wines."
Jamie added: "When you're working with these vessels you're not using oak, so you're removing a masking agent."
Wine 7: Château la Sauvageonne, Grand Vin Blanc, Gérard Bertrand, Languedoc 2018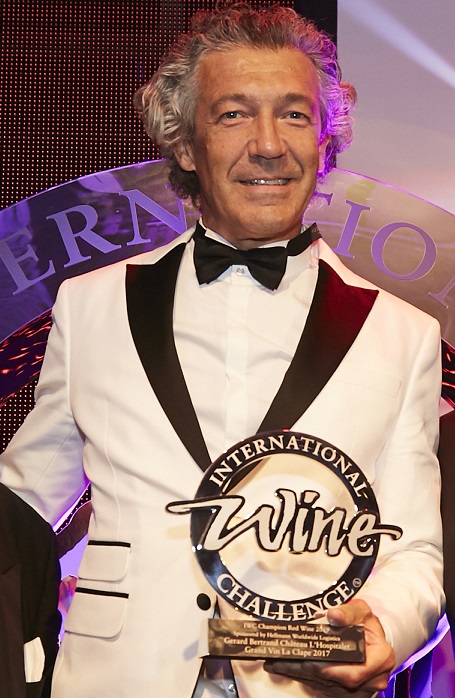 Winemaker:
Gérard Bertrand (
above
)
Country:
France
Region:
Languedoc-Roussillon
Subregion:
Languedoc
Grapes:
Grenache Blanc (32%), Roussanne (30%), Viognier (20%), Vermentino (18%)
Alcohol:
14.5%
Tasting notes:
A complex and highly aromatic blend with hints of hawthorn and almond, floral notes of violet and flashes of mango and apricot. A delicate hint of woodiness, with light accents of gingerbread and tobacco on the rich and textured palate. A complex white wine finishing on a salty note.
Vineyard:
Château la Sauvageonne is an illustrious estate in the northern reaches of the Hérault département, in the shadow of the Causse du Larzac limestone plateau.
Winemaking:
The grapes were hand-harvested, with each variety brought in separately. The grapes were destemmed and chilled to 8°C, then lightly pressed. The must was then allowed to settle at controlled temperatures. Fermentation lasted 15 to 30 days. Halfway through, a proportion of the must was transferred into barriques for six months' maturation on fine lees with regular stirring.
This wine, from former IWC Red Winemaker of the Year
Gérard Bertrand, prompted Steve to point out that low yields are another common theme.
"I've never seen a mass-produced wine that showed minerality," he stated. His theory is that the low yields help to concentrate the mineral elements.
Gérard Bertrand is a biodynamic pioneer in Languedoc-Roussillon and Steve noted there seems to be more minerality in wines made from organic and biodynamic grapes.
Wine 9: Xosé Lois Sebio, 'Salvaxe', Ribeiro 2015
Winemaker:
Xosé Lois Sebio
Country:
Spain
Region:
Galicia
Subregion:
Ribeiro
Grapes:
Lado (20%), Albariño (15%), Godello (15%), Treixadura (15%), Silveiriña (3%), other varieties (32%)
Alcohol:
13%
Tasting notes:
Intense mineral notes with a touch of white peach and apple balanced with a fresh yet textured palate and elegant fruit flavours on the long, persistent finish.
Vineyards:
Situated in the village of Gomariz, in the heart of the Ribeiro DO. Consisting of several indigenous varieties to Galicia, the vines vary in age from 60 to 90 years and are planted at a density of 4,000 to 7,000 vines per hectare. These old vines are low yielding, with deep root systems. The vineyards sit at an altitude of 180 to 250m and the soils are a mix of clay and schist.
Winemaking:
Minimal intervention in the vineyard and the cellar. Fermentation is started in stainless steel tanks at very low temperatures, with part of the fermentation taking place on the skins. The fermenting must is transferred to barrels of 500 litres to continue a slow fermentation at low temperatures. Minimum sulphur was used and the wine was gently filtered. The wine spent 10 months in partly new 500-litre barrels.
The minerality shone through
despite the use of oak. Native yeasts and fermentation on skins were cited as possible contributory factors here.
Wine 10: Herdade do Rocim, Rocim 'Fresh from Amphora - Nat'Cool', Alentejo 2018
Winemaker:
Pedro Ribeiro and Caterina Vieira
Country:
Portugal
Region:
Alentejo
Subregion:
Alentejo
Grape varieties:
Moreto, Tinto Grasso, Trincadeira
Alcohol:
11.5%
Tasting notes:
Aromas of fresh red fruits are complemented by earthy and savoury notes with a light and balanced palate.
Vineyard:
Old vineyards, farmed organically. The estate is situated on the Vidigueira fault, a 30-mile-long east-west facing escarpment which rises to 420m. The soils are of granitic and schist origin.
Winemaking:
Naturally vinified without any additions, must corrections or temperature control. Fermentation took place with indigenous yeasts in traditional clay amphora pots known as 'Tahla'. The wine was aged for three months with skin contact.
Most of the wines
expressing minerality are white. But Steve found a couple of examples of red wines with layers of minerality, although he wondered how much the clay pots contributed to the minerality in this Portuguese wine.
Jamie said Tahlas are "a way of making a red wine without oak. It's allowing that wine to have some dimensions, detail and complexity".
Wine 11: Zorzal 'Eggo Tinto de Tiza', Tupungato, Malbec 2017
Winemaker:
Juan Pablo Michelini
Country:
Argentina
Region:
Mendoza
Subregion:
Tupungato
Grape variety:
Malbec (100%)
Alcohol:
13.5%
Tasting notes:
Complex notes of wild herbs and cloves enveloping smoky black fruit. An edgy, vibrant palate layered with minerality and a beautiful texture. Long finish.
Vineyard:
The seven- to 10-year-old espalier-trained vines are grown in a high altitude, drip-irrigated, white chalky soil vineyard in Gualtallary, at the foot of the Tupungato volcano.
Winemaking:
The grapes were destemmed, then fermented with native yeasts in cement eggs at about 24°C. It remained on its skins for two months, followed by pressing before the wine was returned to the egg for 12 months' ageing.
High-altitude vineyard
, diurnal temperatures that oscillate between 35°C and 20°C, natural winemaking and concrete eggs are key factors in this funky wine from boutique winery Zorzal.
The winemaker, Juan Pablo Michelini, believes minerality is a texture, not an aroma.
The discussion ended without reaching a conclusion. Perhaps that is fitting for a subject with so many divergent views and theories.
More on minerality
Minerality: A new definition
The word 'minerality' is running the serious risk of becoming meaningless, according to John Szabo, MS. But he has a rescue
plan…
Minerality: Second opinion
Doctors' view of wines made from grapes grown in a meteorite
crater...
Minerality: Managing the aroma and flavour in the face of climate change
Exploring the latest research into the
subject...
Minerality: IWC judges' view
It's the word they would most like to see banned from tasting
notes…