'We regard our Méteore wines as having particular mineral characteristics, as they are derived from vines grown not only on renowned schist terroir but also uniquely from within the meteor crater and, therefore, subject to cosmic mineral influences'
Since December 2018, Languedoc estate Domaine du Météore has been owned by two English doctors, neurologist Paul Jarman and endocrinologist Paul Jenkins. Vineyards span both St Chinian and Faugères appellations, benefitting from the different types of rocky, schistose terroir in each region. However, the defining feature of the domaine is a 200-metre-wide, 50-metre-deep meteorite crater with vines planted inside.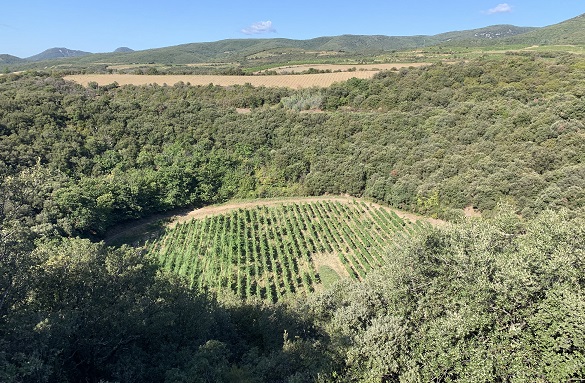 Influence from outer space
All cuvées include some wine made from grapes grown inside the crater – at its base or from plots near its edge. "Whatever minerals and elements were in that meteor would have been sprayed around into the soil," the two Pauls confirm. "Atoms from that meteor will be incorporated into the vines themselves. We did a standard chemical analysis of the soil, but these very rare minerals and elements (unlike nitrogen and phosphorus etc.) aren't normally checked for in a standard soil analysis. There's a very high iron content and the magnetic field within the crater is different to what's around. We like to think it adds a little cosmic dust – that's why we call it wines from another dimension!"
Viticulture
The most common pruning method used is bilateral Cordon de Royat, which includes the Syrah planted in 1984 and 1992 at the base of the crater. Further Syrah vines, Vermentino and Mourvèdre sit around the perimeter on top of the crater, along with bush vines of three varietals – old Carignan dating back to 1963, Cinsault and Grenache Noir. There are additional plots of red and white grape varieties planted in the rest of the domaine, but away from the crater.
Schist soils
The blue schist of Faugères and the predominantly yellow schist of St Chinian impart subtly distinct stylistic differences to the wines. "The schist soils are famous for giving acidity, freshness and very good balance in the wine, even in hot vintages like 2015," notes Paul Jenkins. "We are almost unique in being able to compare the two schists directly, made by the same vigneron from the same domaine in the same cellar!" The large diurnal range during summer (10°C to 35+°C) and the windy conditions – important in organic viticulture for reducing mildew – also help to maintain acidity and freshness.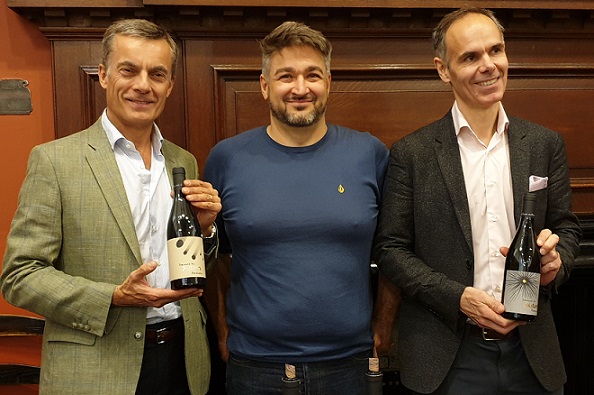 Winemaker Vincent Balansa (
pictured with Paul Jenkins, left, and Paul Jarman, right
) details further the uniqueness of their terroir. "Our plot of Saint-Chinian Roquebrun for the Parangon cuvée is made of hard yellow schist and gneiss, formed with sand inside, below a shallow layer of iron-rich clay soil. This gives the ground an orange colour. With more clay than in Faugères, the soil holds water and organic matter better, but it's still a poor soil with varying degrees of acidity. The plot faces north-west to north-east.
"Our south-east facing plot of Faugères for the Lyrides cuvée is made of crumbly grey and blue shale underneath a layer of fragile, crumbly schist with little soil on top. Tectonic movements have resulted in vertical strata of schist, so it's easy for the vine roots to descend deep into the ground. The soil is poor, containing almost no clay. It's acidic, does not retain water or organic matter and drains easily."
Harvesting, winemaking and ageing are identical for these two wines, the estate's top cuvées. The grapes ferment on marc for eight weeks with regular pigéage from the 2018 vintage, before ageing on lees in Burgundy demi-muids (600L) for two and a half years. The wines are unfined.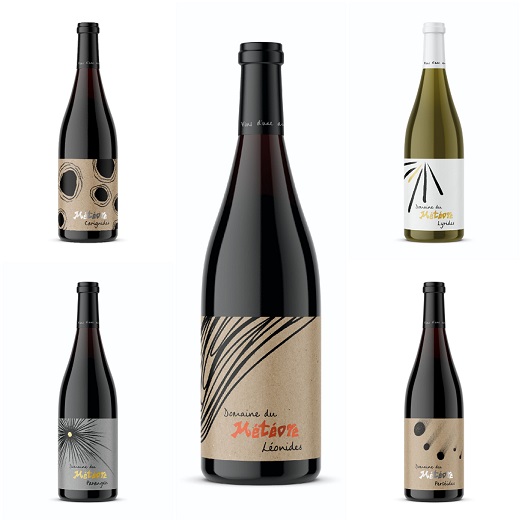 Biodynamics
The estate is currently in biodynamic conversion and Paul Jenkins has strong views on the subject. "If you look into the evidence, it is there. The vast amount is circumstantial, but more and more of the top estates across the world are following biodynamic principles."
So, what does he believe biodynamic principles bring specifically to the wines and are they too easy to dismiss as unscientific?
"I think there are too many people practising it, including some top estates who don't want it publicised as it's bad for their image. They wouldn't be doing it with the increased costs, labour and complexity if they weren't convinced that it added to the quality of their product. They aren't doing it because it's a fad, but because they really believe it enhances subtly, but distinctly, the quality of their wine. It makes sense, because around the world people who farm biodynamically, according to the lunar cycle, do it for a reason. I think there is enough evidence – and I am a scientist. Just because scientists don't understand precisely why it works, you must be humble enough to acknowledge that it could work. It's just our ignorance. You dismiss it at your peril if enough people have been doing it who are convinced."
What about burying cow horns with manure for six months? "You're inoculating the ground. From a scientific point of view, all you've done is culture the bacteria. They divide every 20 minutes and within a few days you have astronomical quantities of bacteria which break down the soil naturally. So, you're creating your own ecosystem within the vineyard."
On tasting, the wines showed freshness, balance and superb drinkability. Individually they demonstrated distinct characters and some complexity too, the Lyrides Rouge and Blanc are particularly strong in this respect.
Minerality
'It's the non-fruit and non-wood derived flavours of a wine reflecting the combination of terroir and soil type'
Minerality is one of the wine world's hot topics and Paul Jenkins offers this view: "While there is no generally accepted definition of what minerality means, I regard it as the non-fruit and non-wood derived flavours of a wine reflecting the combination of terroir and soil type. It is particularly relevant to nutritionally poor stony soils in which vines are planted at low density with their roots delving very deep (up to 10m) to extract moisture and food. When combined with low intervention in the winemaking process, this results in wines of leanness, precision and elegance. We regard our Méteore wines as having particular mineral characteristics, as they are derived from vines grown not only on renowned schist terroir but also uniquely from within the meteor crater and, therefore, subject to cosmic mineral influences."
Future plans
Currently they're producing the first vintage they are fully responsible for, but have had a distinct input into the blending of wines made from previous vintages. Future plans will extend the range of wines, including a rosé called The Big Bang. "We want to move away from the bling and publicity of the Provence style," says Paul Jenkins, "to the more natural wild beauty and authentic artisan nature of the Languedoc. In the Languedoc, the terroir is so fantastic, we should be able to make a great wine."
More on minerality
Minerality: A new definition
The word 'minerality' is running the serious risk of becoming meaningless, according to John Szabo, MS. But he has a rescue
plan…
Minerality: The debate
IWC co-chair Dr Jamie Goode discusses the subject with wine buyer Steve Daniel – as they taste 11 'minerally' wines from around the
world…
Minerality: Managing the aroma and flavour in the face of climate change
Exploring the latest research into the
subject...
Minerality: IWC judges' view
It's the word they would most like to see banned from tasting
notes…