The studies on minerality, sensory associations and the aroma compounds involved are starting to mount up.
Is it the taste of minerals?
Geologist 
Alex Maltman (2013)
says: "The minerals in wine are nutrient elements – typically metallic cations – and only distantly related to vineyard geological minerals, which are complex crystalline compounds. The mineral nutrients in wine normally have minuscule concentrations and they lack flavour anyway. Although attempts to explain the perception of minerality involve allusions to geological materials, these are irrelevant to its origin. Whatever minerality is, it cannot literally be the taste of minerals in the vineyard rocks and soils."
On the contrary,
Christian Starkenmann (2016)
 found hydrogen disulfanes and hydrogen trisulfanes in both parent rock material in vineyard soils and in Chasselas wines from Switzerland.
But this is the only study I could find that suggested such a direct connection between soil minerals and wine minerality.

Where do mineral aromas and flavours come from then?
James Green (2011)
 found that in Sauvignon Blanc wines, French wines were characterised by minerality, New Zealand wines by green aromas and Austrian examples by stone fruit. In the "mineral" French wines, benzaldehyde was a prominent compound.
Hildegarde Heymann (2013)
 found associations between minerality and both aroma compounds and other aromas.
Wendy Parr (2014)
found that minerality was associated with citrus, stone and reductive aromas. But, interestingly, no direct association was found between sourness/acidity and minerality.
Considering the lack of clarity regarding the term 'minerality',
Elvira Santamaría, David Dagá and Antonio García (2019)
 looked at building clearer relationships between minerality, chemical compounds and other aromas using two sensory panels – one professional and one made up of students from the University of La Rioja. They found that both vineyard conditions and winemaking practices had a significant impact on minerality and that the associated compounds and aromas varied somewhat between white and red wine.
The associations from these studies and others in the VitiSynth database are summarised in the Sankey diagrams below (©
Copyright VitiSynth
). 
Aroma compounds, aromas, mouthfeel and faults positively influencing mineral characters in wine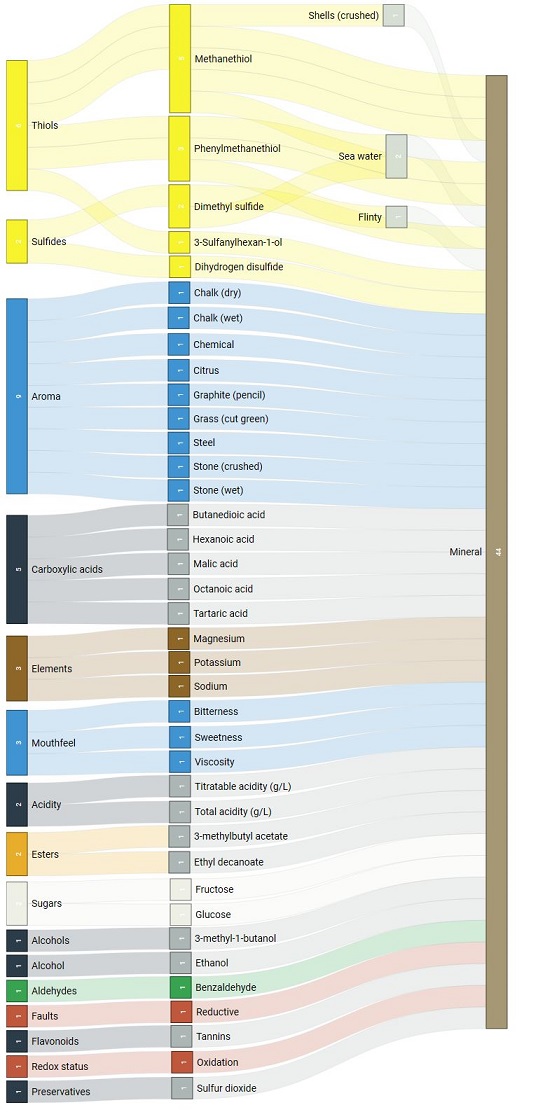 In recent times, however, researchers have also been looking at the compounds and aromas implicated in the masking of mineral characters.
Wendy Parr (2014)
 found that minerality was negatively associated with passionfruit and green notes in Sauvignon Blanc from both France and New Zealand.
In the most recent study reviewed, Elvira
Santamaria et al (2019)
also identified various compounds and aromas masking minerality. These masking compounds and aromas are summarised in the Sankey diagram below (©
Copyright VitiSynth
).
Aroma compounds, aromas, mouthfeel and faults negatively influencing mineral characters in wine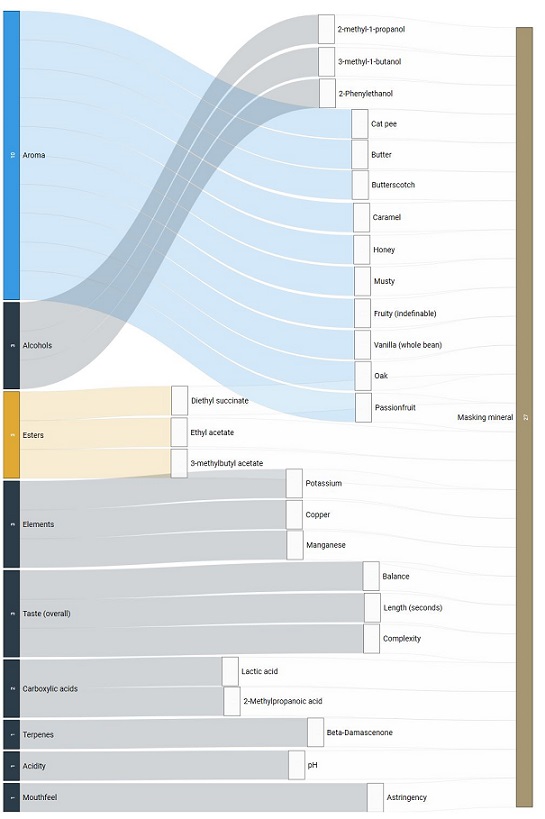 'Minerality is under threat'
So, if fruit aromas have the potential to mask minerality and climate change is pushing wine in the fruitier direction, then minerality is under threat. As a recently published paper by 
Håkon Aspøy (2019)
 shows, the trend towards making fuller, fruitier wine – because we can, and it's what the punters want anyway (apparently) – is presenting a significant challenge to the identity of wine regions, particularly those where traditionally minerality has been prominent, in this case the Mosel.
Put in other terms, we have the capacity to manage minerality out of a "terroir" that normally displays it.
How then can the holy grail of fruit, complexity and minerality be achieved? The picking window is critical, ie. harvesting when the right balance is achieved between acid and aroma precursors (both those in decline and those increasing). Also important is managing fermentation, for example
Mojmir Baron (2012)
looked at the influence of yeast nutritional stress and the effect it had on succinic acid, one of the compounds most often associated with minerality. Careful oak management and yeast selection will also help the cause.
James Wright is an international viticulture and management consultant and author of www.vitisynth.com and the newsletter VitiSynthesis.


More on minerality
Minerality: A new definition
The word 'minerality' is running the serious risk of becoming meaningless, according to John Szabo, MS. But he has a rescue
plan…
Minerality: The debate
IWC co-chair Dr Jamie Goode discusses the subject with wine buyer Steve Daniel – as they taste 11 'minerally' wines from around the
world…
Minerality: Second opinion
Doctors' view of wines made from grapes grown in a meteorite
crater...
Minerality: IWC judges' view
It's the word they would most like to see banned from tasting
notes…