I never set out to make a polarising Pinot Grigio. But that's what happened with my copper-coloured orange wine, so I'm excited to be making a video call to Australian winemaker Usher Tinkler.
He deliberately created a polarising wine: a Muscat-dominant dark rosé; a co-fermentation of Syrah, Muscat and Semillon that's blended with the six other varieties grown on the family estate in Hunter Valley, the birthplace of Australian wines. It may be polarising, but it's been a huge success for his brand, Usher Tinkler Wines, and it sells out quickly every vintage.
Mine has not been anywhere near as successful: I've yet to sell one of the 300 bottles produced. I thought people would be eager to try a Pinot Grigio that was different to all other Pinot Grigios, but the reviews range from a Slovenian restaurateur's "I'd use it to water the garden" to influencer Janina Doyle's "very interesting – not as crazy and funky and weird as I was expecting".
Usher tells me he created his experimental wine Enneagram (
below
) six years ago "to see what people would do". He continues: "We wanted to do something abstract; it wasn't a field blend, we made a base wine which is predominantly Syrah, Muscat and Semillon fermented together and then we used barrels and other bits and varieties to change it – including some skin-fermented whites. We did all sorts of things to move the style around and the direction. It was meant to be very abstract and very polarising for people. We wanted people to challenge themselves with this wine."
He says the reaction "was amazing – a lot of people understood it, got it, saw that I was inside the wine. We made 3,000 bottles just as an experiment and they sold out very quickly. It's a blend put together on taste. It's a wine that people come back for."
It's also a wine that changes each vintage "to keep the abstract character". This year he is keeping the 'Muscat made into red wine style' but producing it as a pet-nat. "We want to make people think a bit more," he tells me. "Like when you're in an art gallery and looking at abstract art – everyone sees something different. That's really the intention of that wine – to get people to think and stir emotions."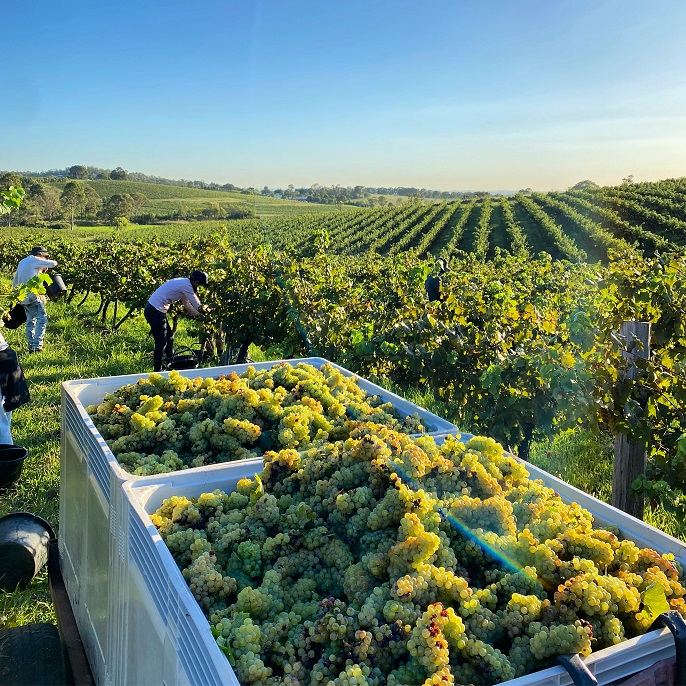 I'm speaking with him the day after he finished the "very late" 2023 harvest. He tells me: "The crops are down about 30% but the quality is exceptionally good. It's been a very difficult growing year, but we've had some very mild dry weather for the last three months. We had a really tough start (a cold and wet spring) and then the home stretch has been almost perfect, so I guess all the hard work has kind of paid off."
The mild weather has produced consistently good grapes across the family's 35ha of vines. Usher says the three main varieties – Chardonnay, Semillon and Shiraz – look "the best" since 2019, "maybe even 2018".
He has "the luxury" of growing his own grapes for an annual output of about 120,000 bottles.
"I really believe in growing the grapes – that side is really important to me," he says. "If you've been in the vineyard and pruned the vines and worked through the vines and you've trained all year for that result, it's more meaningful. To me, it's holistic – you're part of the whole system, you're not just buying grapes and processing them and pumping them out. I think in some ways I'll never be a big brand because it's limited by how much we can do and still maintain the quality."
'I'll never be a big brand'
The grapes are from vineyards farmed organically most of the time. Usher explains why he's not fully organic: "I converted some vineyards over to fully organic back in 2018 and then we had three years of severe drought and I just wasn't set up to do it. We lost about 20% of the old vineyards and I had to make a decision of what I do and which way to go forward. That cost hundreds of thousands of dollars and we're still trying to replant vines now and we still don't have the grapes from those vines that died. So that was a very steep learning curve. At the moment we're still running an organic programme but if we're going to lose vines or if we're going to lose the crop, we're going to do what we need to make sure vines don't die. So, that's where I'm with it at the moment until I get some more courage and are a bit more set up and have a bit more cash to go for organic."
He also takes about 50% of the Tinkler family's crop; the rest being used for the family's Tinklers brand or sold to larger wineries in the region (such as McWilliam's and Tyrrell's).
"I'd like to keep more but my dad and uncle are farmers and they like to see things driving out the gate on the back of a truck whereas, for me, it's much better to be adding value and have more options in the winery, but that's just the way it is. We kept a lot more this year; we're making a lot more wine, particularly in my brand because of the demand. If we run out of wine, people simply go somewhere else; they don't try to go on a waiting list. Those days have gone, so we can't run out."
Usher Tinkler has dropped the lower-priced wines that were sold through online retailers and now focuses on premium products – with no bottle priced under AUS$30.
He makes lots of small-batch, experimental wines – like Enneagram – which he sells exclusively at his magnificent cellar door, a renovated church in Pokolbin (
below
).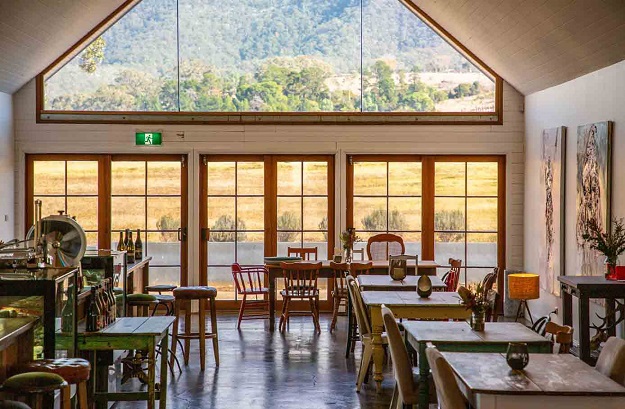 "The idea is to keep something interesting for the visitors, so every time they come back there is something different or new." These include experimental wines that he bottles "to see what people think" – wines with "deep personalities, so people will either like them or they don't". It also includes a small range of 'natural' wines.
Death by Semillon is the flagship for this range – and it's Usher's most successful wine. It's been "phenomenally successful", he says – nearly selling out most vintages since its launch in 2020.
It's a funky, skin-fermented, sulphur-free Semillon with full malo and no additions or filtering. "All the things that I've been taught not to do," reflects the Charles Sturt University graduate.
The winemaking technique is similar to that used for his 'natural' Shiraz – pressing the skins while there's still a lot of protective CO2 in the wine.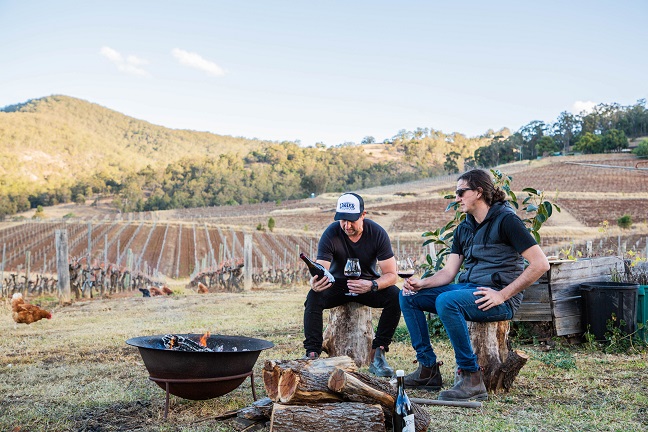 Death by Semillon now takes a high proportion of Usher's Semillon grapes and is always on the edge of running out because it requires two or three years of bottle ageing.
"I wish we could have more and keep it longer," he reflects.
He admits the success of this wine, with its mouth-watering citrusy-marmalade character, has surprised him. "It is trendy at the moment; people are exploring those wines," he reasons.
'Doesn't the name put people off?'
I ask (wondering if I should call my wine Death by Pinot Grigio to get a better response).
Usher replies: "There was a lot of debate around the name before I did it. I guess, initially, it was a little bit of an experiment as well. But it means a lot of things... I've never had a problem with it or anyone saying it's offensive or you can't have the word death on a bottle of alcohol.
"It's a deliberate attempt to say Semillon is one of the greatest grapes we grow here, it's one of the greatest grapes in Australia. But when you go out to sell it, no-one wants to put it on their wine lists."

Still thinking a better name could improve sales of my oak-aged amber Pinot Grigio, I ask Usher about his 'natural' Viognier, which is called 'A Wine Pornography by Fred Mountain' (
above
). It turns out to be a progression from A Wine Story by Usher Tinkler – Fred Mountain being his 'porn star name' (from the game where you combine your first pet's name and the road you grew up in). Mine is a less porn-star sounding Squeaky Burnside – more like a bent copper in a low-budget detective series.
"It's probably not something we will do forever but at the time it was a kind of fun. The wine's good – it's fun and interesting," he says.
He planted Viognier, as many Shiraz producers did, to make a northern Rhone Valley style wine. But Usher never used it in his Shiraz wines and he couldn't get it to work as a varietal, so he made a natural wine from it. At first, he used 100% whole clusters but he has now scaled this back to 30-50% in recent vintages as 100% is "a bit over the top as a young wine".
With the names and style of his wines, he has certainly shaken things up in the Hunter Valley, a region known for its tradition: historic family brands producing clean wines using classic techniques.
Usher, who also makes a range of more traditional "safe wines", says his 'natural' wines are appealing to new and younger wine drinkers and "creating a whole new space for the region".
He's likely to add to the natural line-up but he's still a huge fan of Hunter Valley Chardonnay. He tells me: "Chardonnay is still, for me, something that's a real passion. I worked a lot in Burgundy with Chardonnay to try and understand it better. We have a lot of old Chardonnay vineyards here. It's an interesting thing for the future of Hunter.
"We're bringing out another Chardonnay this year which is a bit richer, heavier, and more robust whereas the Reserve is lean and mineral. My view with the Reserve is to pick it early and that allows you to put more winemaking expression into it – you're allowed to get away with more complexity, more wild yeast ferments, more oak and lees contact, whatever you want to do. But if you pick the grapes riper, the wines are more robust and if you play around with them too much they end up too big and too robust. But my distributor here in Australia and a lot of customers want bigger and more robust style Chardonnays again."
He says his "safe" line-up of premium wines "don't go right out there on a limb like the natural wines do, but they do play in a contemporary space for me compared to the wines I make for my family, which are very polished and single vineyard and have a lot of pedigree."
The first Usher Tinkler arrived in Australia in 1841 and since then the name Usher has been given to the first male born in each generation. Fourth-generation Usher Gordon Tinkler planted the original Muscat vines at the foothills of the Pokolbin Mountains on what was originally a beef and dairy farm in the 1940s. Since then, vines have been both pulled out and replanted at various stages of the family's journey as the business transitioned from farming to grapegrowing to winemaking.
Usher started his brand seven and a half years ago. "At the time there was only traditional people making traditional wine styles," he recalls. "There were a couple of guys dancing around the edge but not really anyone trying to go full contemporary style. Now there seems to be more and more people doing that.
"I think consumers are looking for interesting things – first, to talk about. Something unique and unusual."
I keep hearing that, from people in the industry, from winemakers. It's not my experience, though! Squeaky Burnside's Death by Pinot Grigio anyone?