Acclaimed Australian winemaker Adrian Sparks sums up his role for me: "It's trying to make all the right decisions at the right time."
The chief winemaker at Mount Pleasant is known for producing iconic, complex, sophisticated, balanced and expressive wines championing the fruit and individual character of four heritage vineyard sites in the Hunter Valley, Australia's oldest wine region.
He favours "the less is more" approach, he continues. "I think every year I've backed off more of everything and I've simplified the winemaking to an extent, but there's not a 'one size fits all' approach. We can vary things, but the result has to be respectful of the fruit."
He describes it as "no frills winemaking" to showcase the "awesome fruit" coming from vineyards such as the Old Hill (
below
), Old Paddock, Rosehill, and Lovedale.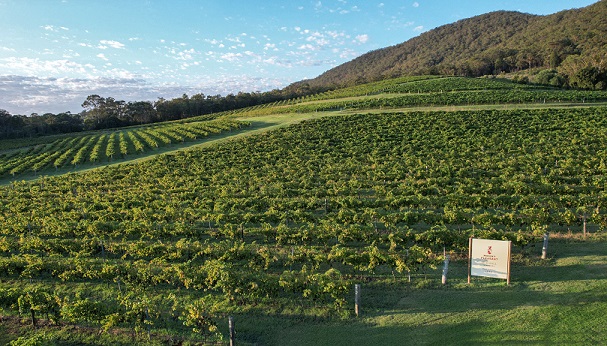 "We have some of the greatest vineyards in the world, we've got a wonderful team… and every day we are trying to improve. We're always asking: How can we do this better? How do we represent the Hunter Valley as best we can?"
Mount Pleasant's flagship red wine is the Maurice O'Shea Shiraz – launched in 1987 and named after the man who founded the estate in 1921 and who is widely admired for setting the standard for modern Australian winemaking. Now a blend of the best fruit from vines planted in 1880 (Old Hill, planted by Charles King), 1921 (Old Paddock, planted by Maurice O'Shea), 1946 (Rosehill, planted by Maurice O'Shea) and 1965 (Rosehill, planted by chief winemaker Brian Walsh), the wine is only made in the best vintages and usually goes on to score in the high 90s.
It is medium bodied, with admirable acid and tannin balance, and sings with fresh red and black fruits, and a little spice.
The latest release is from the 2019 vintage. This is 100% Shiraz, unlike the 2017, which contained 6% Pinot Noir from 100-year-old vines. The 2019 also follows in the footsteps of the 2018, the first Maurice O'Shea Shiraz to use all four of the old vine blocks as a blend. 
Crafting the 2019 Maurice O'Shea Shiraz
Adrian says the winemaking is relatively simple. "You need good quality fruit to begin with and we've got great old vines that are going to produce intense, powerful wines, and the Hunter Valley is going to provide you with medium-bodied wines with beautiful acidity and ageing potential. You combine those things and the winemaking's not too hard. We don't try and throw the kitchen sink at it."
The handpicked fruit is chilled down overnight before processing.
It is 100% destemmed, with the whole berries going into open-top tanks with big cooling jackets and dry ice to protect them from oxidation. (From 2022 the berries go through an optical sorter.)
It's cold-soaked at 5-10˚C for three to four days before fermentation. "I really believe in cold soaks to extract colour, tannin, flavour while there's no alcohol there," Adrian says.
The solar-powered cooling system is switched off after three days, allowing for a couple of days of 'wild' yeast activity because, Adrian explains, "that's when you get most of your characters and interest". The must is then inoculated with a "bog-standard simple red wine yeast that's going to do the job and get the wine through fermentation. There's nothing worse than a struggling ferment."
The fermentation is held at 20˚C until the must reaches 3-4 Baume. "Then I flick the cooling off and let it warm up."
The fermentation usually lasts about nine days. During this time fruit from the Old Hill and Old Paddock is pumped over a couple of times a day, while the more elegant and finer fruit from Rosehill receives more plunging – with a pumpover halfway through to turn the fruit.
Adrian tastes the juice every morning and afternoon all the way through the cold-soak and fermentation. "Really focusing at 4-5 Baume when there's a couple of days left – trying to get the pressing stage right."
Because of the cold soak, they gently press off early (at zero to 0.5 Baume), so the wine can complete the fermentation and malolactic conversion in the selected maturation vessels. 75% goes into 500L French oak barrels (15-20% new) and 25% into tank. "We've definitely pared back on the oak, especially over the past five years," Adrian comments.
The barrels are stored in a cool room at 10˚C "so we're getting very minimal evaporation". They are topped up monthly.
All the free-run and press fractions are used.
After malo they "smack it pretty hard" with SO2, "so hopefully we only have to do one addition the whole time". They add 80-90ppm, aiming for 45/80 when the wine goes to bottle.
The wine is left to mature in oak for nine to ten months before blending, filtering and bottling.
It is checked every six to eight weeks in the initial ageing stage and then after seven months, tasting regularly to make sure "they are not drying out" and to see which wines are ready early.
The blend involves about 33 options. They create something that's "awesome", then say: "What else can we try? How far can we push this? And when we've exhausted all the options, we find another option."
There's no fining at the top end of the Mount Pleasant range, but this wine does undergo crossflow and sterile filtration. "It's a really good thing for the wine," Adrian says. "Everything here is about purity and safety."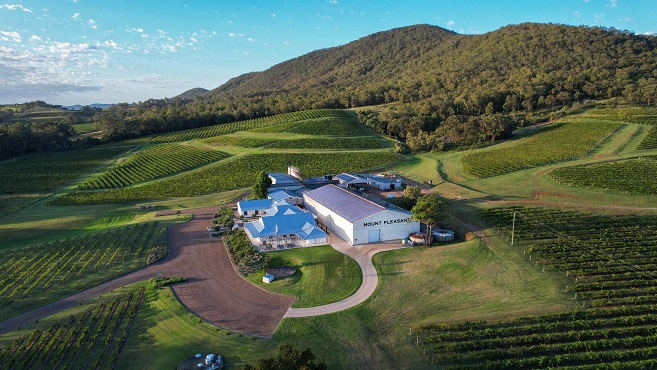 I wonder if the winemaking has changed much since Maurice O'Shea's day.
"I have a lot better tools, a cleaner winery (
above
) and electricity. Everything he did was without electricity, so that's pretty amazing," Adrian replies.
In the 102 years since Maurice founded the winery, there have been only five winemakers – so the changes have been gradual. As Adrian, who joined the Mount Pleasant winemaking team in 2014 and was promoted to chief winemaker in 2018, says: "We've all been softly-softly, move with the times.
"I think the philosophy has remained the same in terms of respecting the fruit. But I think the wines are a sign of the times as well. When Phil Ryan was making the wines through the 1990s and 2000s, they are a bit richer and denser with a bit more oak. I think that's what the market wanted at that time as well and if Phil was making wines these days, they would be lighter and more elegant with less oak. I think you go through waves of what the public wants.
"I think Jim Chatto, when he started in 2013, his concept was to make O'Shea a 100% no new oak wine. I don't think he ever got to that point and I don't think we will. But it's very minimal now to the point it's 10-15% new oak."
Hardly any one- or two-year-old barrels are used either, as they can contribute a lot of oak characteristics to the wine. "I try to use a combination of new oak and three and four-year-old barrels on the top stuff," Adrian explains.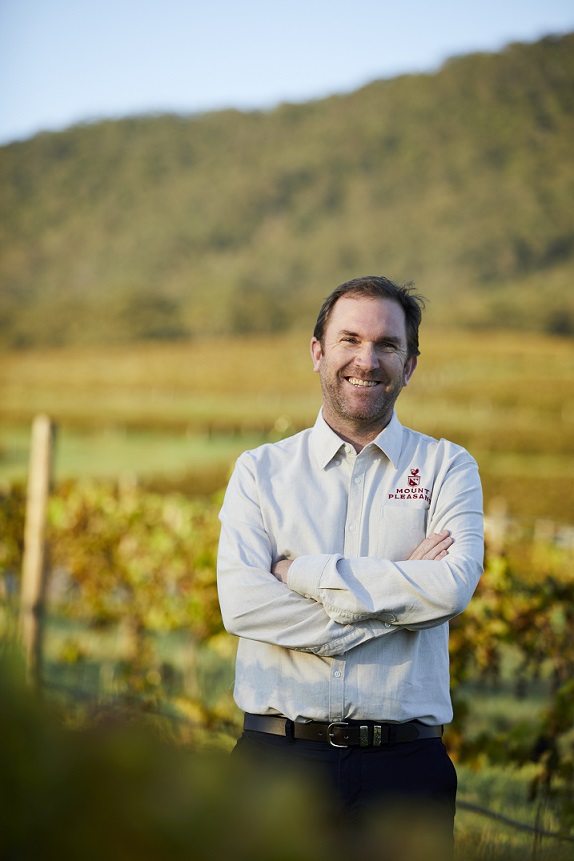 I'm speaking with him a few days after he finished the 2023 harvest, which, he says, went "fantastically". He has high-quality fruit and the yields are "there or thereabouts" (slightly below average). "It was looking pretty dire back in August or September; it wouldn't stop raining and so we were pretty pessimistic, I suppose. However, through October, November, December it got really dry and really cool and it didn't start heating up until the back end of January.
"We picked everything, there was no disease. Everything was just immaculate. I couldn't be happier."
It means the chances of a 2023 Maurice O'Shea Shiraz are high. "I'm pretty confident," Adrian admits. "We only make it in the great years. We've declassified a couple before – we've made one, put it into bottle and ended up ripping the labels off. We are steadfast in our pursuit of only the great wines get through.
"We managed to pick every block, which is something we haven't done for the last couple of years. The Old Hill, the Old Paddock, and the original 1946 vines at Rosehill all looked stunning. They are the building blocks for O'Shea. When Phil Ryan was making the Maurice O'Sheas, they were 100% off the Old Hill. But in more modern times they have been blends of our greatest barrels to truly represent the best example of what the Hunter Valley is that year. I think 2023 is going to be pretty solid."
After sales trips to London and ProWein, Adrian and his team are about to start blending the 2022.
He's beginning to put the 2020 "vintage from hell" to the back of his mind, but I have to ask him about it. He says the fruit looked amazing, "but the sky was orange for two months and it rained ash.
"I rate 2020 as one of the worst years of my life in terms of smoke taint, the company (McWilliam's) going into administration and the Sydney sniffles (Covid) rearing its ugly head. It was a shocking three months."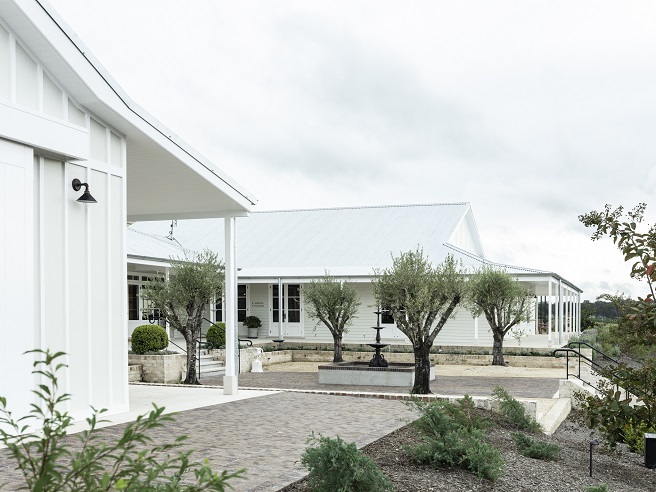 However, the following year, investment group Medich Family Office took over Mount Pleasant and injected some much-needed cash. A new cellar door (
above
) opened last year, offering guests five themed tasting flights and stunning views of the rolling vineyards and the Brokenback Range beyond. There is also a private tasting room, a separate members' lounge in the adjacent barn and a bottle shop.
The Mediches also provided funds for new viticulture equipment and the optical berry sorter that will improve wines like the Maurice O'Shea Shiraz in the future. There has also been a rebranding and Maurice O'Shea's family crest is back on the labels. Rightly so.