Australian winemaker Andrew 'Thommo' Thomas has built his reputation on the two signature varieties of the Hunter Valley – Semillon and Shiraz. But the last two vintages have also seen him branch out with a Semillon-Chardonnay blend.
The components for Thomas Wines' 2023 Vat 32 Semillon Chardonnay are still separate. "The Chardonnay component will be slightly lower (than the inaugural 2022 blend) at approximately 30% and is still sitting in brand new premium French oak hogsheads (300L). Blending with the unwooded Semillon component will probably happen in another two or three months," Andrew tells
Canopy
.
He goes on to explain how this compelling blend of classically-shaped Semillon and barrel-fermented Chardonnay came about in 2022: "As you would expect with a vineyard that was planted way back in 1969, some gaps and missing vines have appeared over the years in the Braemore vineyard. At some stage during the last 50 years, these gaps were replanted with whatever vines were available at the time, and it's now apparent that some of these gaps were filled with Chardonnay cuttings.
"We are in the process of marking and removing/replacing these 'rogue' vines, but during the 2022 vintage we went through the whole vineyard and handpicked these marked vines separately and fermented them as a batch in four brand new French oak hogsheads. The wine spent three months in barrel before blending with a classically-styled parcel of Semillon we made from the Brycefield vineyard over on the Lovedale side of the valley.
"Initially, the oak was quite punchy/overt in the blend, but with time prior to and post bottling, that oak has folded nicely into the wine and now provides just some beautiful background complexity."
'That oak has folded nicely into the wine'
The name and the style may remind some wine lovers of Tyrrell's Vat 63 Chardonnay Semillon. That's intentional – it's a tribute to legendary winemaker Murray Tyrrell. After gaining a degree in oenology at Roseworthy Agricultural College (now part of the University of Adelaide), Andrew – the son of McLaren Vale winemaker Wayne Thomas – moved to the Hunter Valley to join the winemaking team at Tyrrell's. During his 13 years there, Andrew says he gained "a great respect for and understanding of" Semillon and Shiraz, and developed "a deep passion for finesse, and the more subtle and savoury structured wines of the Hunter Valley".
Andrew left Tyrell's to undertake contract work and to develop his own label, Thomas Wines. From the first vintage in 1997, the focus has been on producing top-drawer single-vineyard Semillon and Shiraz wines that underscore the subtle differences between the various subregions of the Hunter.
The major part of Andrew's 12,000-case annual production comes from 20ha of old-vine Semillon and Shiraz owned by long-term partners. But he bought the distinguished 10ha Braemore Vineyard in Pokolbin (with 6ha under vine) from one grape supplier in December 2017 and now works it with his eldest son, Dan.
About half of the production is Semillon.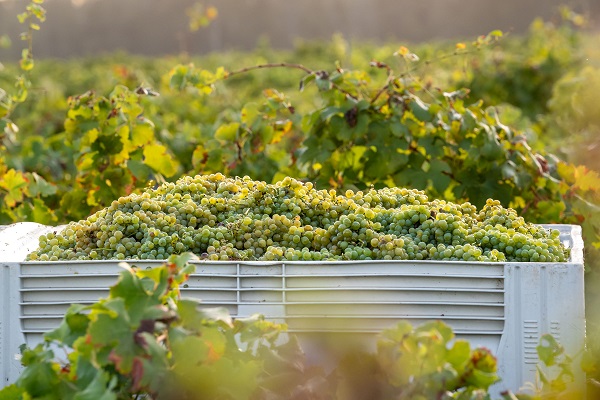 Often referred to as Australia's unique gift to the world of wine, Semillon is the signature variety of the Hunter Valley. Historically, most Hunter Semillon was bottle-aged before release. A contemporary approach is to introduce some lees contact for 'textural complexity', making these wines more attractive and approachable in their youth. Their fresh, vibrant lemon/lime characters and amazing purity pair well with sunshine and freshly shucked oysters.
Hunter Semillons have beautiful balance at relatively low sugar levels. As Andrew explains: "Over the last 100 years or so, the winemakers have worked out that we have this fruit that is just beautifully balanced in terms of everything that's going on within the grape – its flavour and particularly its acidity – at relatively low sugar and hence alcohol levels. The average Hunter Semillon will be sitting somewhere between 10 and 11.5% alcohol."
The other thing about top-quality Hunter Semillons is that they undergo an amazing transformation after five or six years of bottle age – gaining glorious toasty notes while keeping their freshness and vibrancy. "The best examples have this wonderful capacity to age for a very long time," Andrew continues.
Regarding his style of Semillon, Andrew believes his brand sits somewhere between the traditional and contemporary. "I think it's classically shaped but it's a more contemporary style of Hunter Semillon in that there is a level of intensity and concentration. A lot of that comes from the vineyard. Not all Hunter Semillons have this energy, intensity and concentration.
"I think the very traditional style of Hunter Semillon is going back to the days when my old boss, Murray Tyrrell, as soon as he saw a cloud in the sky he'd say, 'Let's get the fruit in before the rains come'. They were very lean, very austere, but I think we've got a better handle on our vineyard management these days, so we don't need to panic and we need to push through that herbal zone into something that's got a little ripeness.
"Don't get me wrong, Hunter Semillon is one of the most delicate white wine styles in the world but that's the beauty of it. It's all about that purity and precision. I also like to think of Hunter Semillon as one of the purest expressions of great fruit in your glass because there's not a lot of winemaking magic going on there. There's no oak, there's no malo, there's no mucking around. Depending on the year, we do play around with post-fermentation lees contact. But we're not doing the stirring thing."
'We're not doing the stirring thing'
Asked why he refrains from lees stirring, Andrew tells me: "Post-fermentation yeast contact is a very useful tool for providing some textural complexity to our Semillon, particularly in the leaner vintages. We will let the wines rest on lees for a minimum of four weeks (in the riper years) and up to three months depending on the season. Hunter Semillon is all about freshness, vibrancy and varietal purity/precision, so I really only want to add some interest with lees, rather than becoming a feature of the wine.
"Regarding stirring, because our Semillons are fully (made in) stainless steel, the yeast tends to stay up in suspension for an extended period, rather than rapidly settling like wines fermented in oak. This very gradual settling in tank means that we can achieve the desired textural result with contact of the yeast, without the need for stirring. I'm not against stirring, and would use it if I felt it was needed, but it's generally not required."
Thomas Wines produces a wide range of Semillons, from those offering current drinking pleasure to those with remarkable cellaring potential. "What I like to achieve is to demonstrate the stylistic diversity you can achieve within a quite traditional variety," he says.
2022 Synergy Semillon
Aus$23
This is an estate blend from old vines in vineyards with distinctive characters "working in Synergy" to deliver a wine with attractive citrus and tropical aromas and a gentle acidity.
As it is a blend of those parcels that didn't make the single-vineyard wines, it offers outstanding value for money.
"Part of what makes all our single-vineyard wines such benchmarks for the region is the absolute no-compromise approach to selecting only the very best parcels," Andrew says. "This leaves behind a number of 'declassified' parcels which we put together to create this blend. The majority of the 2022 Synergy Semillon blend is from our Braemore vineyard, with the balance from the Brycefield and Fordwich Hill vineyards. This wine delivers outstanding quality for everyday drinking at an amazingly affordable price."
The grapes from the diverse vineyards are handpicked in stages (because of the shortage of pickers). "So, some may be slightly underdone, slightly greener than we'd want in an ideal world," Andrew explains. "I tend to call that parcel the spine because it's a little lower in its fruit ripeness, but it has that lovely acidity. The main part – the heart – is what you'd pick if you could pick it all in one day. The last little bit that comes off I tend to call the tail – it's a little riper but it gives us these blending options."
The winemaking is classic – whole bunches gently squeezed; the juice heading to a tank for cold-settling before racking to the fermentation vat. "We like to put quite clear juice into fermentation," Andrew reveals.
The must is fermented at 15-17°C, but Andrew is not particularly concerned with the number. "I prefer to look at my rate of fermentation and if that needs a little lower or warmer temperature. I'm looking at a drop in Baume of 1.5 per day, so our fermentations are relatively quick. Ten days from really getting going to all the sugar being converted to alcohol."
He adds: "My take-home message with these young Semillons is there's a general consensus out there that Hunter Semillons need to be aged before you go anywhere near it. Thirty-four years ago that may have been true, but I think the more contemporary classic styles of Semillon, where we're trying to build more intensity and concentration into the wines, they can be quite compelling even as youngsters."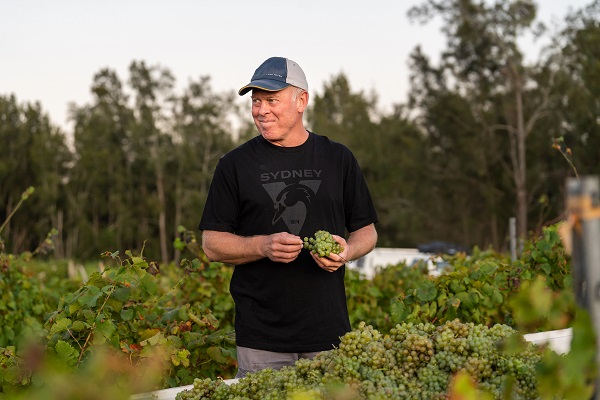 2016 Cellar Reserve Braemore
Aus$65
The Braemore Semillon sits at the top of an impressive range of wines and has become a benchmark for the region.
The acclaimed Braemore vineyard, planted in 1969, is situated on the sandy alluvial flats of Hermitage Road, Pokolbin. Once an ancient seabed, Braemore consistently produces Semillon featuring freshness, vibrancy and remarkable longevity.
"Whilst I have always applied a no-compromise, attention-to-detail approach to my winemaking, I truly believe that 90% of the quality lies in the vineyard," Andrew (
above
) says.
90% of Semillon from Braemore is sold young and drunk in the first 12 months. But Thomas Wines sets aside 486 six-packs, storing them in the family's climate-controlled cellar (at 15°C) for six years – when the bottle-ageing characters of citrus blossom and lemon curd and the toasty complexity starts to emerge. The 2017 Cellar Reserve Braemore will be released on September 1 – the first day of spring.
The Cellar Reserve Braemore also undergoes classic white wine vinification: the handpicked grapes whole-bunch pressed to minimise phenolics and fermented in stainless steel using a neutral yeast to enhance varietal purity. The wine spent six weeks resting on lees prior to fining and bottling.
Andrew believes: "The key to great wine is 'keeping it simple' to preserve the potential quality from the vine through to the bottle."
On September 1 they will also release the new vintage, so they can present their current vintage release and bottle-aged Braemore Semillon side by side for vineyard visitors.
There are two other single-vineyard Semillons in the line-up, both priced at Aus$30.

The 2022 Fordwich Hill Semillon is a riper, more generous expression of Hunter Valley Semillon. The red volcanic soils of the Broke Fordwich region, on the western fringe of the lower Hunter Valley, produce distinctive tropical and stone fruit aromatics as well as a gentle line of acidity.
The 2022 O.C. Semillon – from allocated rows in a vineyard planted in 1976 on the transitional loam/sand flats along Oakey Creek Road – is a classically styled Hunter Valley Semillon which can be enjoyed now or after prolonged cellaring.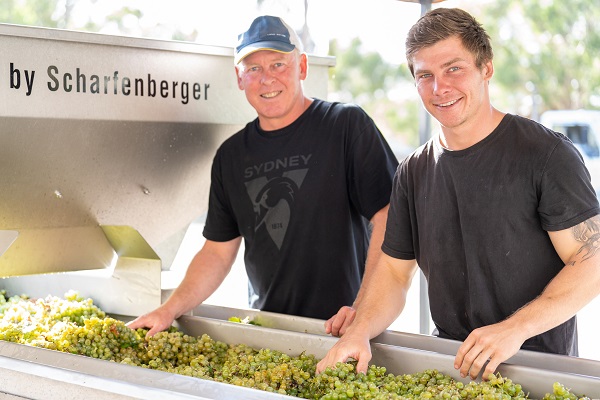 2022 'Like a Version' Braemore Semillon
Aus$35
Thomas Wines' experimental wine is the 'Like a Version' Braemore Semillon. The current release (2022) is the third instalment of this concept, which sees the wine being made by a guest winemaker with a simple brief to produce "a left field/wacky/cover version" of the more classically styled Braemore Semillon.
"Essentially, it's an exploration into the world of minimal input 'natural' wines using grapes from one of the Hunter Valley's most iconic Semillon vineyards. Inviting a guest winemaker each year allows me to 'dip my toes' in the water, without getting wet," Andrew says.
The 2022 vintage is a collaboration between his son Dan (
above right
) and good friend Ollie Margan of Margan Family Wines.
Fruit from their last pick was destemmed with the whole berries going into a fermenter, where they sat under inert gas cover for four days. During this time fermentation started spontaneously. The grapes were then pressed and back-blended with 50% bright juice from one of the normal Braemore parcels. The wild yeast carried on and completed the fermentation. The wine was racked twice during the post-fermentation stage and then bottled without fining.
The 2023 Version is a collaboration between Dan and Reid Bosward (from Barossa producer Kaesler Wines). "Boz came to the Hunter to lend a hand as our vintage 'casual' with our Semillon harvest this year," Andrew explains. The grapes were whole-bunch pressed and settled without enzymes, then racked to tank for fermentation with some light solids. "A more aromatic yeast – compared to my neutral yeast – was used for fermentation. Stirred weekly (in tank) to increase generosity and textural feel of the wine. Due for bottling around July/August and released in September."
To round out the offer, there are two sweeter wines.
2022 Six Degrees Semillon
Aus$25
This is an 'off dry' style with the sweetness balanced by an elevated limey acidity.
Andrew comments: "This is a very new and exciting style for Hunter Semillon, being made as an 'off dry' style. First produced in 2008, the inspiration being my love of the German Rieslings from the Mosel made in a similar style."
Six Degrees uses relatively early handpicked fruit from the Braemore vineyard. The delicate juice was cool-fermented with the fermentation arrested by chilling down and adding SO2 to produce a wine with some natural residual sugar and a correspondingly low level of alcohol (8.7%). "The key to this style is achieving the perfect balance between the residual sweetness and the fine line of citrus-like acidity to ensure the wine finishes crisp, clean and fresh – not sugary and cloying," Andrew says.
"We aim for around 35g/L RS and the alcohol level is normally around 8.5%."
The 2022 edition has residual sugar of 33g/L.
2022 Elevage Semillon
Aus$30 (500mL)
Proving Semillon is capable of a diverse range of wine styles, this is a dessert-style Hunter Semillon produced using reverse osmosis to extract some of the water component from the juice. The juice then undergoes a relatively long, cool fermentation – which is arrested when the alcohol level reaches approximately 10-11%, leaving around 7 Baumé of residual sweetness in the wine. "Unlike the sweet wines of some other regions, we don't use oak to mature the wine and it is bottled early to maintain its freshness," Andrew says.
I'm left in awe at what can be achieved with so little 'mucking around'.