"I don't think this is the place for 15% alcohol, black, inky, dark, viscous wines. I think this is a place for old-school, classic, ageable wines."
Winemaker Christopher Bates is talking about the Finger Lakes region, in the northern part of New York state, and its potential for making great Cabernet Francs. The former sommelier and restaurateur, who has also made wine in Italy and Germany, returned home to the Finger Lakes ten years ago, after setting up Element Winery in 2009.
Element Winery's goal is to create high quality wines that are distinctively Finger Lakes and to expand "the definition of what is possible here".
As soon as he returned to the region, he started questioning everything he'd been told about "the limits and our potential here".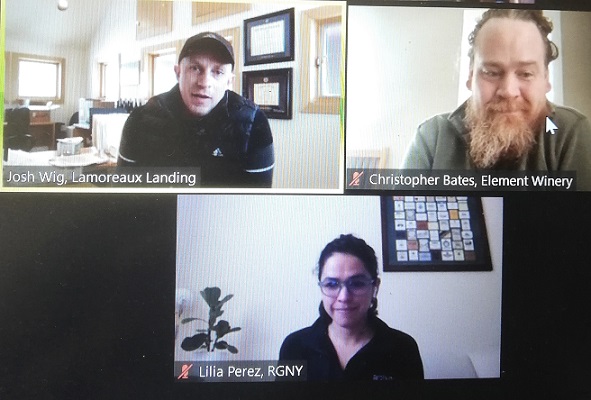 On a Zoom call with two other New York state winemakers, he reveals: "Growing up here, I heard a lot about 'This is good enough for a New Yorker, this is the best we can expect to do here'. After seeing and learning more about the wines of the world, I've always questioned that: Why do we feel there's a limit on our potential?
"So much of what was being touted as great wine in the 1990s and early 2000s – that great wine had to be big and globby and jammy and black and viscous – led to a big lack of confidence here in what we really can do, which is not that… For me, it's the kind of wines that were grown in Napa in the 1950s, 60s and 70s – back when 12.5% alcohol was usually achieved by chaptalisation. That, to me, is the style of wine that I'm fascinated with. I think primary fruit wines are nice, but I think wine becomes special when the flavours and aromas become secondary and tertiary, and so that's really what I'm striving for – wines that I hope will have the ability to age and develop like the great wines of the world that I've had the honour and privilege of tasting over my life."
Finger Lakes is a cool-climate wine region where Concord was once king, usurped in recent years by Riesling, with Chardonnay and Cabernet Franc also thriving. Here, Cabernet Franc offers lighter-style wines with lower alcohol, refreshing acidity, crunchy tannins, and the variety's classic herbal, leafy, pyrazine notes.
"We believe Cabernet Franc will be the iconic red grape of the Finger Lakes before long," Christopher (
below
) says.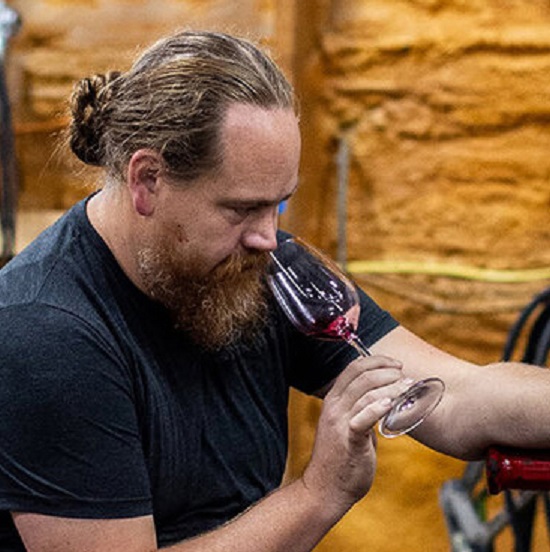 We're tasting Element Winery's Cabernet Franc 2014, which Christopher made with fruit from another leading producer of Cabernet Francs in the region, Lamoreaux Landing. Christopher says he buys grapes because he likes to work with fruit from different soils, sites, and growers.
"We want the opportunity to explore the potential and the diversity here," he explains. The region, which has 11 lakes carved out by the movement of glaciers during the ice age, covers a vast area of 1.05 million hectares (2.6m acres) of which roughly 4,500ha (11,000 acres) are planted to vines. It's the largest and most productive wine region in New York state, accounting for about 80% of its total wine production. Most of the wineries and vineyards are dotted around the shores of the lakes. Cayuga and Seneca have their own AVAs.
Whereas many of the wineries work with grapes from one side of Seneca Lake, Christopher buys fruit from both sides as well as from vineyards close to the lake and further up the slopes.
"I'm not striving to make the best wine," he admits. "I'm striving to make the most transparent wine right now."
For him, handpicking is vital – even when the option of machine-harvesting is available. He explains: "I'm a hand-harvest fanatic, which infuriates many folks here, but hand-harvesting for me is imperative because, otherwise, there's an immense amount of sorting in the winery, especially in challenging vintages."
The handpicked grapes are destemmed, going into one-ton Macros Bins for spontaneous fermentation. "No additions, no adjustments, no enzymes, no nothing, just spontaneous yeasts," he says.
After pressing in individual lots, the wine goes into 500L neutral barrels (mostly purchased used in 2010), where they undergo spontaneous MLF. The 2014 vintage was left in barrels for 36 months. The wine was then bottled unfined and unfiltered.
"We're finding the thing that we're good at and unique at in the world," Christopher suggests.
Element Winery Cabernet Franc 2014Alcohol:
11%
Residual sugar:
10g/L
Acidity:
6.60g/L
pH:
3.60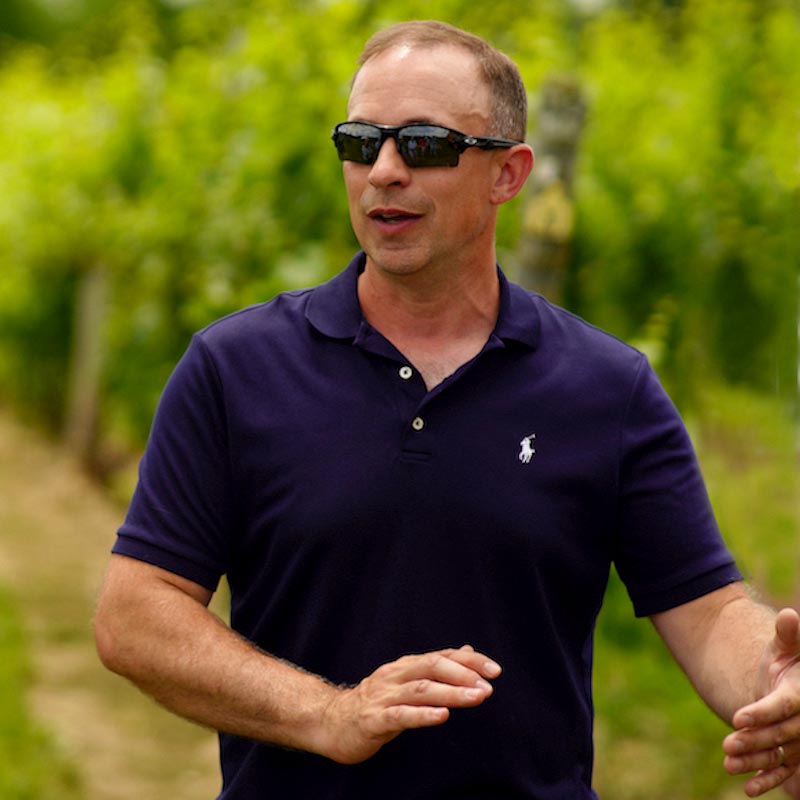 Josh Wig (above), co-owner of Lamoreaux Landing, also believes Cabernet Franc has great potential in the Finger Lakes. "It's a very important grape for us, very expressive of where it's grown, very cold hardy," he points out.
Lamoreaux Landing has 10 grape varieties planted. Riesling, Chardonnay, and Cabernet Franc make up the majority of the 112 acres of vineyards, but the 1,000-acre estate also grows Gewürztraminer, Merlot, Pinot Noir, Cabernet Sauvignon, Muscat Ottonel, and an increasing amount of Grüner Veltliner.
Twenty acres are devoted to Cabernet Franc. In the rich soils on the eastern hillsides of Seneca Lake, the vines are very vigorous.
Josh says the key in the vineyards is "slowing them down". In the cellar, it's semi-carbonic maceration with fermentation and ageing exclusively in stainless steel.
We're tasting the T23 Cabernet Franc 2020, Lamoreaux Landing's flagship red. Josh describes it as "the purest expression of Cab Franc that we can put in the bottle," as there is "no interplay of oak tannins whatsoever".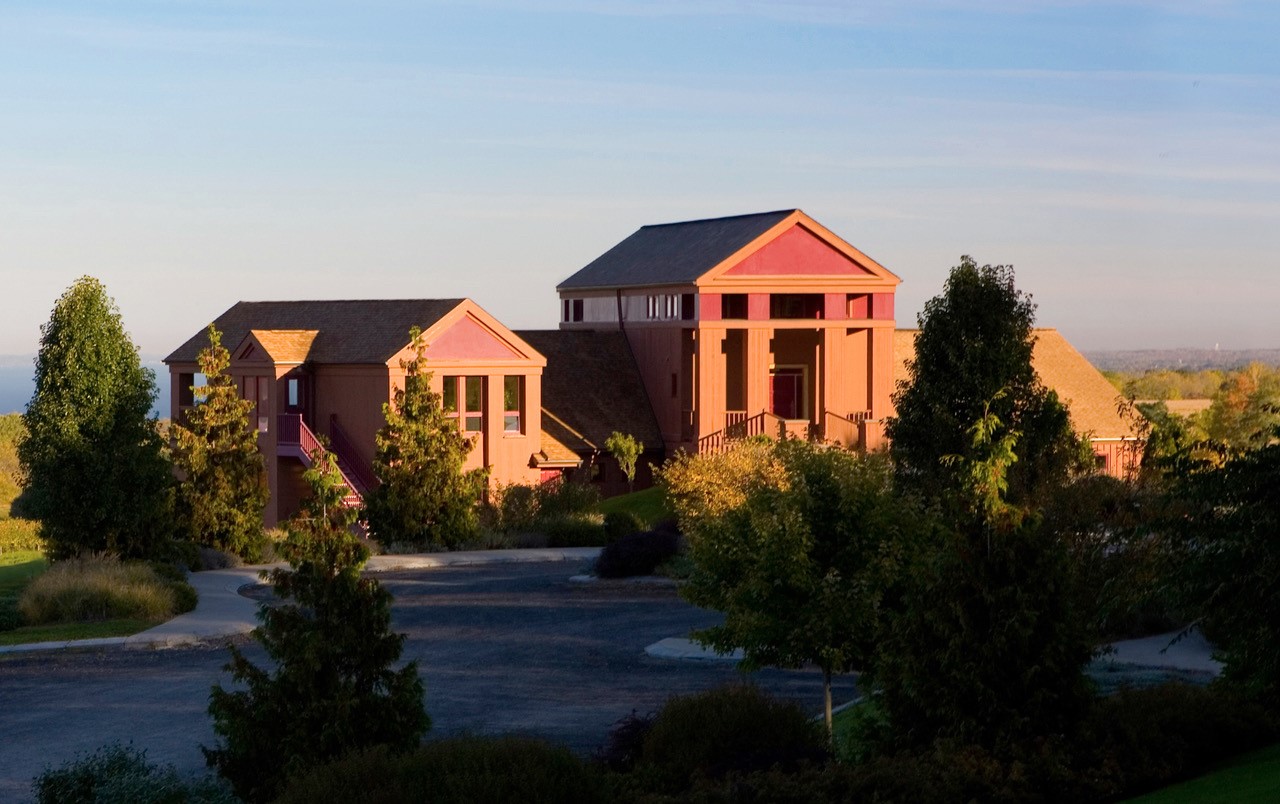 The grapes are machine-harvested when they reach phenolic ripeness but still retain plenty of acidity. "There's a pretty large window in most seasons for Cab Franc in our climate where you have that phenolic, physiological ripeness that comes in and we're going to grab it before we lose our acidity because that, to us, is everything."
The machine also sorts the whole berries, so only "pristine berries" hit the crushpad.
The wine takes its name from the 500-gallon tank 23, although additional tanks are now used to cope with demand. Josh says he favours semi-carbonic maceration "because we see the best characteristics from both yeast and intracellular fermentations. The whole berries get crushed immediately at the bottom of the fermenter and undergo a traditional yeast-driven fermentation, which releases CO2 and provides natural protection from oxidation for the vessel while driving carbonic in the whole berries above. If we closely monitor and press the wine off the skins at just the right time (usually about two-thirds of the way through fermentation), this technique provides the perfect balance of natural tannin, colour and fruit character.
"Because the wine finishes primary and malolactic fermentation in tank, we are able to keep the wine reductive and capture more of the essence of the vineyard with layered aromatics and some natural CO2 in the wine to lift all of that fruit."
Lamoreaux Landing T23 Cabernet Franc 2020Alcohol:
12.70%
Residual sugar:
1g/L
Acidity:
5.90g/L
pH:
3.65
How the Scott-Henry trellis system at Lamoreaux Landing has opened up the fruiting zone and reduced spraying by about 40%.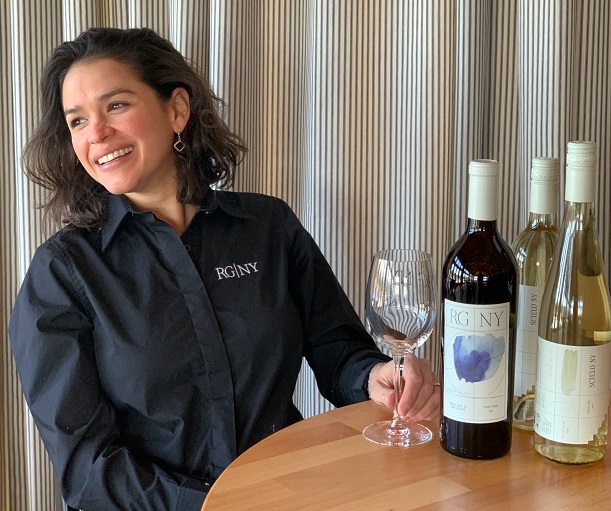 Cabernet Franc is one of 14 grape varieties growing at Rivero González's RGNY estate, one of the newest wine businesses in Long Island's wine country, North Fork.
Here, winemaker Lilia Pérez (
above
), who has worked in Mexico and Bordeaux, produces a light, easy-to-drink style, with lower alcohol, good acidity and good tannins. "This is the style of the island," she exclaims. "We're not pretending to be California or Bordeaux."
Leaf and cluster thinning in the vineyard are crucial to growing grapes here with a good balance between acidity and sugar, she believes.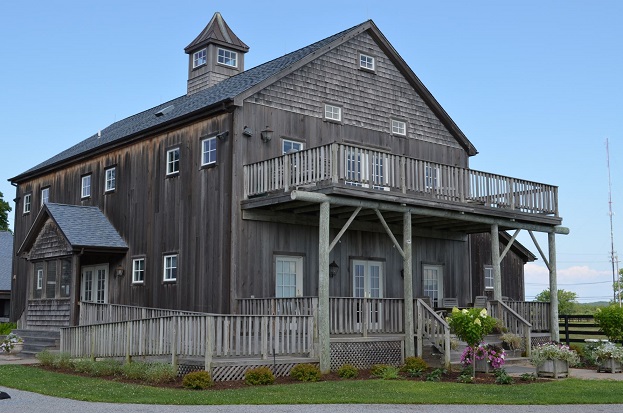 The handpicked grapes are sorted on a table before going through a destemmer and into one-ton Macro Bins. There, the grapes are cold soaked at 50ºF (10°C) for 24 hours before being inoculated with commercial yeasts.
Fermentation is maintained at 75ºF (24°C), with punch-downs two to three times per day. The wine was kept on skins for another two weeks before pressing and ageing for 10-11 months in barrels (45% new). MLF is not initiated or blocked. While in barrels, the wine is racked every three to four months.
"We're trying as less as possible to intervene in the winemaking process," Lilia says. "That's our philosophy."
RG Cabernet Franc 2019Alcohol:
13.30%
Residual sugar:
0.50g/L
Acidity:
5.05g/L
pH:
3.60
Three delicious Cabernet Francs from one up-and-coming wine region. All made in slightly different ways.
Tell us about your favoured Cabernet Franc winemaking method: email chris.boiling (at) wrbm.com